For the 618th Soundtrack of the Week we've got Henry Mancini's Theme from "Z" and Other Film Music.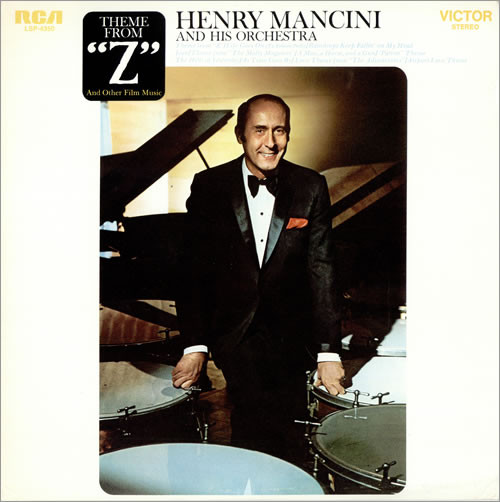 It starts with the theme from Z, an energetic blast in 6/8 with some Greek flavors and horns doing most of the melody work.

Mancini shifts gears dramatically for the next piece, his own theme from The Molly Maguires, a dreamy and pastoral number with a loungey groove and some lush string writing.

Electric and acoustic guitars are featured on the next number, Rod McKuen's "Jean" from The Prime of Miss Jean Brodie. It's a gentle and lyrical piece, very pretty.

Then it's time for Alfred Newman's love theme from Airport, which has been covered by a lot of people. Mancini gives it his "Dreamsville" treatment, very sensuous and unhurried with excellent trombone playing.

The Burt Bacharach/Hal David hit "Raindrops Keep Fallin' on My Head" comes next, with what sounds like pan pipes handling the melody. It's an extremely catchy song but not one that I like so much. Still can't help getting it stuck in my head, though.

For "As Time Goes By" from Casablanca, we hear the sounds of people in a bar and presumably a Bogart impersonator saying "Play It Again, Sam". It's a straightforward piano trio interpretation at first but then the strings come in for the chorus.

"The Hills of Yesterday" is another piece from the soundtrack for The Molly Maguires and deploys the same flute as the lead voice. It's another swaying, bucolic and lovely piece of music and an excellent example of the "Mancini touch".

"A Man, a Horse, a Gun" wasn't familiar to me but was obviously from a spaghetti western. It turns out to be a Stelvio Cipriani theme from a movie called The Stranger Returns. It's got the trumpet and bells and guitar that you'd expect from such a tune, as well as surprise appearance by a loungey chorus. Mancini spices it up with some 12-string electric guitar and electric bass guitar.

The "Love Theme" from The Adventurers is another new one for me, and it's by the great Antonio Carlos Jobim. It's a piano-led tune that's sad and beautiful at the same time and has some unusual dissonances or almost dissonances that make it stand out.

Finally we have Jerry Goldsmith's "Patton" from the movie of the same name. While it's a very straight military sort of piece, heavy on the snare and the bass, Mancini makes it swing and sound a lot groovier than you'd expect!
---