We'll continue with albums of interpretations of soundtrack music with the 617th Soundtrack of the Week, Quincy Jones's Quincy Jones Explores the Music of Henry Mancini.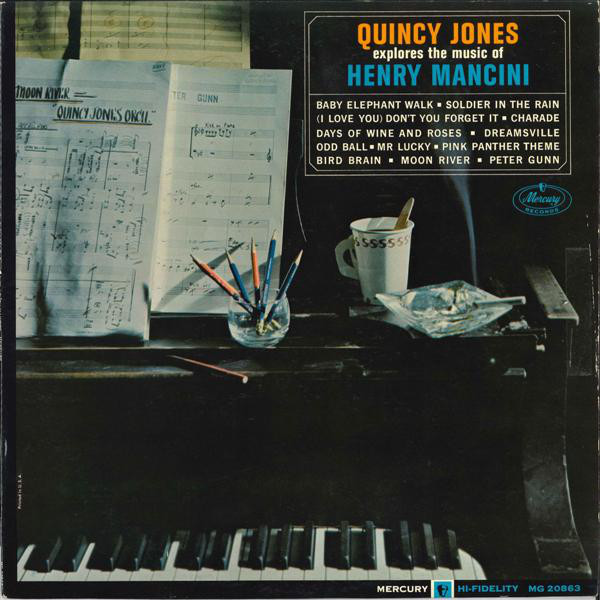 First up is "Baby Elephant Walk", which has great fuzz guitar from Vincent Bell and an astonishingly deep and relaxed groove from drummer Osie Johnson. Gary Burton is on vibes and you'll find Roland Kirk and Phil Woods on reeds.

It's the same personnel for "Charade", for which Jones decided on an uptempo and jittery jazz beat for the melody to float unhurriedly above, only for the band to explode into a brassy swing sound for the chorus. Vincent Bell is a very interestingly watery sound for his guitar here. Sounds like maybe Roland Kirk is soloing at the end.

"Dreamsville" is a different ensemble. Kirk is still here but not Woods. Margaret Ross is on harp and Mundell Lowe on guitar, with Johnson still on drums and Burton still on vibes. There are lots of other musicians, but these are the names that jump out of me. Oh, and Clark Terry on trumpet. Milt Hinton plays bass on most of this record.

(People more knowledgable than I am about jazz will undoubtedly be excited about some of the other players.)

Anyway, "Dreamsville", is a classic late night slow smoker of an intimate song and it sounds absolutely amazing every time I hear it. Jones doesn't go too far from the original, presumably because why would you want to?

So far, so familiar. But then there's a tune called "Bird Brain" from a movie called Soldier in the Rain, which is new to me. (And I thought I knew my Mancini!)

There are three different ensembles on this record and with "Bird Brain" we come to the third: Toots Thielemans on guitar, harmonica and whistle, Gary Burton on vibes, Osie Johnson still on drums, no Kirk but Woods is back on reeds and this time joined by Zoot Sims. (Again, among others.)

"Bird Brain" is a cheerful number in waltz time, sprightly and effervescent. The chorus digs in a bit for a slightly darker and heavier sound but the overall feeling is still very light. Nice alto sax solo as well as some other interesting sounds and choices, such as whistling, humming, electric piano, etc.

"Days of Wine and Roses" isn't just a Mancini tune, or even just an Academy Award-winning Mancini tune, it's also become a jazz standard.

Instead of tackling it as a ballad, Jones gives it a mid-tempo swing feel, actually making this sweet but melancholy song sound breezy and energetic. There's a great sax solo that I would bet is Roland Kirk again. The other candidates are Stanley Webb and Jerome Richardson, but I don't know who they are.

Side A ends with one of my favorites, the theme from Mr. Lucky. Almost everybody else uses this as a chance to exploit the sonorities of the Hammond organ or similar instrument but Quincy Jones is keeping it buoyant again, with a deft rhythmic feel and letting wind instruments do all the talking. Bobby Scott is playing the piano but other than that it's up to the reeds and flutes and such.

How to start the B side? The theme from The Pink Panther seems to be somewhat popular! Quincy Jones gives it a cool arco bass intro from the double double-bass team of Milt Hinton and Major Holley. It starts very restrained and then lets it all go into a profoundly satisfying swing with fantastic saxophone playing.

I've always had a soft spot for "(I Love You) And Don't You Forget It" and it's done with a lot of energy here by the same grouping as "Dreamsville" and "Days of Wine and Roses". The arrangement doesn't stray too far from Mancini's original but Jones has had some fun with interesting intervals and harmonies for the horns, creating some subtly dissonant expressions that work on you almost subliminally. And I assume that the overblown flute playing is from the master Roland Kirk.

After this we're back to Soldier in the Rain and its main title theme. This is a quiet and compelling tune, somber and lovely, with a lot of the impact coming from Thielemans's harmonica and whistling. I have to try to find this soundtrack or watch the movie to hear what else Mancini did for it.

The next tune is from Peter Gunn though the record. doesn't mention it. "Odd Ball" is a great jazz number with great playing from the guitar and reeds/flute as well as yet another brilliant Osie Johnson groove.

"Moon River" had to be on this record, of course, and here it comes. Quincy Jones opens it with a blast, pre-empting any notions of a sappy love song that you might have had. He keeps it as a nimble jazz waltz with constantly percolating energy and veritable barrages from the horns as well as wailing solos, adding what sounds like marimba to the group.

After all that, where else is there to go? Well, lots of places, actually, but if there's only one more piece of music on here it has to be the theme from Peter Gunn.

Again there's some kind of marimba-like percussion here and Vincent Bell's guitar adds nicely to the famous bass line. The saxophone players can really sink their teeth into this one and they do. At the end you'll hear one of Roland Kirk's familiar noise blower things, kind of like a whistle siren kazoo. If you've heard it, you know what I mean.

I love this record! While the front cover and spine say Quincy Jones Explores the Music of Henry Mancini, the back cover is just as right to offer Quincy Digests and Interprets the Wonderful Sounds That Are Henry Mancini.
---