The 616th Soundtrack of the Week is one of the best examples I've ever heard of the "band plays a bunch of movie themes album" type. This is the Japanese Hawaiian music band The Blue Hawaiians with guest guitarist Takashi Ogawa and Steel Guitar Screen High-Lights, an amazingly great record.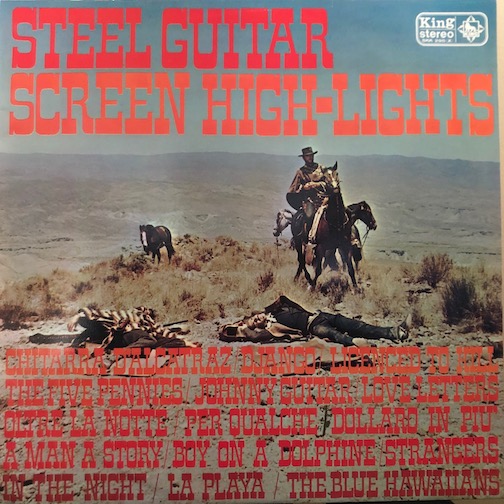 There are some unusual choices of material here and all the arrangements are interesting and cover a fair amount of ground.

The very first song, "Chitarra d'Alcatraz", is both something I hadn't heard before and is very artfully arranged. It starts with nylon-string guitar and bongos. Then the steel guitar comes in, along with the rest of the band: vibes, drums and bass.

It's a hauntingly beautiful song. But what the hell is it? As far as I can tell, it's a piece of music written by Italian composer Abner Rossi and it was featured in a music whose score was not by Rossi but by a Spanish composer named Louiguy.

What movie, you ask? Well it's either one or both of two movies from 1964, both called Anatomy of a Marriage. The two movies tell the story of a romance and marriage that eventually fall apart, but each one tells the story from the perspective of one of the two people.

In the movies' original French titles it's a little clearer. One of the Anatomy of a Marriage movies is actually Françoise ou La vie conjugale and the other Jean-Marc ou La vie conjugale.

All of this was completely new information to me. How did this piece of music end up being the first cut on the first side of this record?

With the second number we're back on familiar ground, the brilliant theme from Django.

Here's another example of a brilliant interpretation. The theme from Django is pretty high energy, but on this record it's taken at mid-tempo with a swinging jazz feel. The vibes play the melody at first and for the second part, where you're expecting a blast of greater intensity, that's when the steel guitar comes in.

The third song also required a bit of research. It's more of a surf feel, very similar in groove to the surf classic "Movin'", but it's the main theme to a 1960s spy movie called Licensed To Kill.

It's another fantastic number, pure joy to listen to, but there's a bit of confusion when the liner notes assert that, "The main theme, a perfect electric guitar melody, became a big vocal hit when Sammy Davis junior [sic] sang it in America".

What's going on here is that the Licensed To Kill, a British movie, was released in the United States in a re-edited version with the ghastly title of The Second Best Secret Agent in the World, and it is that title theme song that Sammy David Jr. sang. It has nothing to do with the Licensed To Kill theme. They sound nothing alike.

Next up is the theme from The Five Pennies, very much in a mellow Hawaiian mood.

Then there's the classic Johnny Guitar theme, which here just oozes atmosphere and sway, a delicious and different take on this much played tune.

The A side closes with another surprise, the song "Love Letters", from the movie of the same name. I didn't know this movie. And while I knew that Victor Young had written "Johnny Guitar" and had written "Stella By Starlight" for the movie The Uninvited, I didn't know that he'd written the song "Love Letter", that it was the theme from a movie with Jennifer Jones and Joseph Cotten, that said movie was about amnesia, multiple personalities and murder, and that it had a screenplay by Ayn Rand. This record has been very educational!

The Blue Hawaiians do it in achingly beautiful style, again with a strong Hawaiian flavor.

The B side opens with a beautiful waltz that I'd never heard before. Called "Oltre La Notte" here, it turns out to be a theme from a movie called Andremo in città" (We'll Go to the City).

The next song is one I've heard a hundred times, Ennio Morricone's theme from For a Few Dollars More. They do a great job with this classic, including stellar whistling by somebody.

This is the first part of a one-two spaghetti western punch, as they follow it with a brisk take on the waltz-time theme by Gianni Ferrio for the movie Un Dollaro Bucato, again with fantastic whistling!

Another unusual selection, the theme from Boy on a Dolphin. They were really enterprising with their selections. This is another intoxicatingly swaying thing of beauty. Really, this band is just perfect!

After this we're back on more familiar ground with "Strangers in the Night", though I didn't know this was from a movie! It's from a movie called A Man Could Get Killed, which seems to have been released in Japan as Operation Diamond. The Blue Hawaiians do it as a sorta bossa nova thing and it's wonderful.

It's sad but the record has to end at some point and the final song is Jo Van Wetter's "La Playa", which I think is a guitar piece that might have been in the movie Never on a Sunday, thus its connection the silver screen. It's a great nylon-string guitar feature, though of course the slide guitar comes in for its own spotlight as well.

What an amazing record! And so many things like this are still only available, as far as I know, on their original vinyl releases and those just keep getting more and more expensive.
---