For Soundtrack of the Week #607 we offer a record that we bought in Chicago, at Dusty Groove, of course: Themes and Cues for Movies and Television composed by legendary trombonist J.J. Johnson.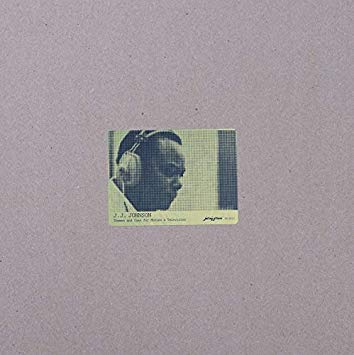 So this is maybe somewhere in between soundtrack music and library music. According to the label, this record contains "recently discovered audition reels" that are from the early 1970s. Side A kicks off with "Here Come De Fuzz", which does have some fantastic fuzz guitar soaring over a killer groove. "Ballad for Bobby" is a jazz/lounge piece with lush strings and an easy sway that might remind you Henry Mancini or Elmer Bernstein.

After this comes "Mr. M", a peppy vocal number that's actually a cigarette commercial, Mr. M being Mr. Menthol. This track does sound very much like an audition. I don't think Mr. Menthol was a real thing but this piece could be easily tailored for any menthol cigarette brand.

"The Hugger" uses hand percussion, electric bass and wind instruments to create a tense action cue that's reminiscent of some of the 1960s soundtrack work of Laurie Johnson and Peter Thomas. There's also a nice subtle use of vibraphone.

Then we're back in Mancini-ish easy listening and lounge territory with "Cosmetics", which reminded me of the song from The Party.

"Chox" is a fairly strange number, perky, upbeat and sunny, almost aggressively so, with some weird electronic sounds bubbling up here and there.

If the point is to show a wide range of different musical ideas, the these audition recordings succeed. "Five/Four Opus" is indeed in 5/4, very short, and featuring electric harpsichord. It ends on a fade out much too quickly. But there's not much of a melody, just a great groove and cool sound.

Things get much more underscore-like with "The Zeroids", which sounds like it could get dropped into an episode of UFO. It also fades out very quickly.

Then we're back in killer funk groove land with "Hot Flash", which has some subtle weird sounds peeking out from behind devastatingly deep rhythmic playing. There's even an unexpected drop out and back in.

Can Mr. Johnson write some music appropriate for westerns? They were all the rage on TV in the '50s and '60s. Sure, why not? "Sun Country" is about a minute of that kind of sweeping, galloping across the scenery score.

"Mistoso" is suspenseful and dramatic and tinged with exotica. Breaking into a safe at the Swedish embassy in Algeria? This is the music you need.

Out of nowhere comes "Moog Rock", a demented collection of woozy electronic sounds over a simple beat. Catchy and kooky.

Side A wraps up, appropriately enough, with "Finale", which is an orchestral number that has some similarities with the famous music for 2001 (the one that everyone knows and I can't be bothered to look up; not the Blue Danube waltz).

The B Side begins with "Percussion Chatter: intro to main title from Across 110th Street", perhaps Johnson's best known score.

Then there's a suite of music from Top of the Heap.

First up there's a title song: "Freedom's just a word that gives you the right to be wrong". It's a really catchy, groovy, hard-hitting soul number.

The rest of the tunes are more or less what the titles suggest, though with a generous helping of wah-wah guitar and hand percussion and other staples of the early 1970s "Blaxploitation" soundtrack. You get "Suspense", "Melodic", "Agitato" and a "Chase". These are all pretty classic.

"Melodic" is actually one that could be from any number of different movies, a string-led, pensive, wistful sort of piece.

The last cue from Top of the Heap is called "Angry Astronaut", an interesting tune with lots of space in it, through which loat fuzz guitar, snare, vibes and some other, harder to indentify sounds.

"Better Days", from a movie called Man & Boy, a western-tinged (harmonica melody) piece that's haunting and groovy at the smae time, concludes the record.
---