2020 February 03 • Monday
The 606th Soundtrack of the Week is Ennio Morricone's groovy score for Slalom!
It's on pink vinyl!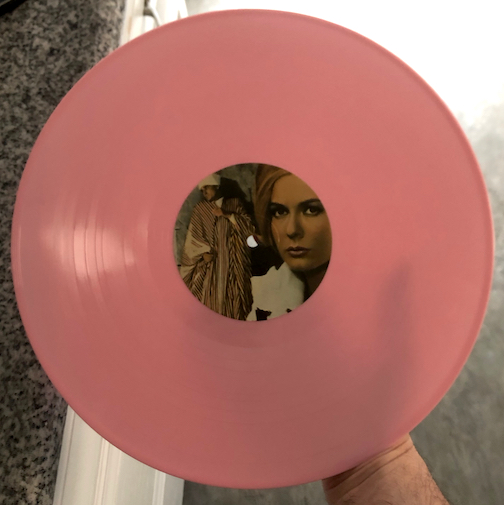 Slalom was apparently a Eurospy movie from 1965 and the main title is practically compendium of mid-'60s Morricone: bells, whistling, electric guitar, rhythmic vocals ("Slalom!") and a groovy beat. There's an alternative version of this on the B side. "Sestriere" is a feature for the vocalists of I Cantori Moderni di Alessandroni, who are feature on several sountrack works by Morricone and other Italian composers. Here they alternate between group sounds and solo whoops and slides. There's also an alternative version of this on the B side.

Combo of guitar, organ, vibes, bass and drums with brushes give us the laidback late-night sound of "Un Caffè Sulla Banchina". The guitar sound is exquisite.

A Middle Eastern sound gets introduced for "Un Agente in Egitto", presumably because the action moves to Egypt. A John Barry Bond influence also becomes so noticeable here that it must be intentionally trying to call our attention to it.

"Incontro Magico I" is the other side of pure Morricone: dreamy, lush, romantic and mysterious with a bewitching use of space and dynamics. Two reprises of this piece can be heard on the second side of the record.

Things get a little odder with "Assassinio Nella Sciovia", in which a low drone is accompanied by sharp percussion with heavy reverb and some irregular statements by horns and strings and some eerie organ playing.

After that long and unusual track, we slide into some medium-tempo easy-listening small-combo jazz, "Una Sera in Albergo". It's a very pleasant West Coast-style tune with some nice clarinet playing.

But then there's "Un Omicidio Misterioso", a short piece mostly for horns, mildly tense.

After that we're back in small jazz combo territory with "Sul Treno", a tune that could have been slipped into an episode of Peter Gunn without most people noticing.

Side A wraps up with "Corsa Nel Deserto", a percussion piece that particularly features the cuíca.

After "Incontro Magico II", Side B gets Middle Eastern again with "Sperduto A El Cairo I", which begins with solo wooden flute that's eventually joined by other instruments that sound like they're geographically appropriate. There's a "Sperduto A El Cairo II" a little bit later on, as well as an "Incontro Magico III".

After the two alternative versions of "Sestriere" and "Slalom"—they both have some additional percussion, I think—comes a combination jazz/lounge/airy sort of cue, "Paseggiata Nella Neve", which also reprises the melody from "Un Caffè Sulla Banchina".

After revisiting "Sperduto A El Ciaro" and "Incontro Magico", we get to the end, a reprise of the "Sestriere" cue.

It's a really fun record and a gem from one of Morricone's most exciting periods!
---