2020 January 20 • Monday
For the 605th Soundtrack of the Week we gave Gerry & The Pacemakers' music for Ferry Cross the Mersey a spin.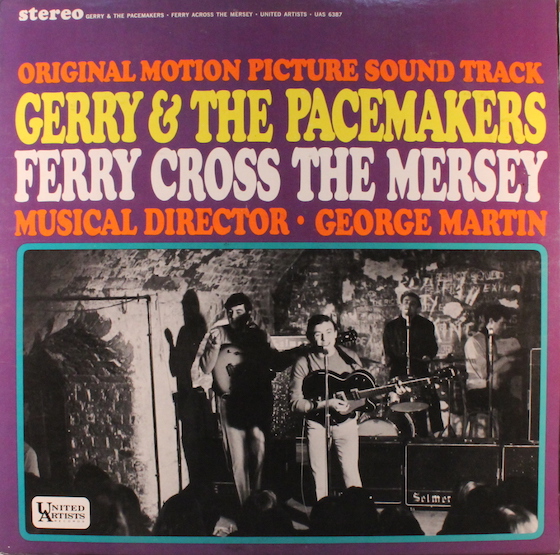 The title track is a really stirring kind of laidback pop song, not a rocker but more of a wistful and melodic crooner with some nice chord changes and melody. Then we get more Beatlesy with the next song, "It's Gonna Be Alright". Very sprightly and peppy with some nice 12-string guitar work. George Martin is credited as Musical Director on this record, and it certainly sounds like it. After that comes "Why Oh Why", also strongly reminiscent of The Beatles. The guitars get a little more snarly and the rhythm a bit more syncopated for "I Gotta Woman", which also makes good use of occasional spaces in the music. This particular one is credited as by The Black Knights, not Gerry & The Pacemakers, but they don't sound a whole lot different. A little, sure, but not a lot.

Gerry & The Pacemakers come back for "Fall in Love", which has a "Sunshine, Lollipops and Rainbows" sort of feel to it.

The last number on the A Side is "Think About Love", a slightly more primitive "beat" offering than what's come before.

Side B opens with "This Thing Called Love", in which love song lyrics lay back and float above a very fast driving musical landscape created by the band, mostly by briskly strummed guitar.

"Baby You're So Good to Me" another jaunty and Beatles-ish song. This is actually a great record if you want to listen to The Beatles but are tired of hearing the same Beatles songs.

Then comes "I'll Wait for You", which has a Johnny Kidd & The Pirates feel to it, but not, alas, that wonderful guitar sound.

The next song is "Shake a Tail Feather" performed by Earl Royce & The Olympics. It's a decent and admirably spare version of this familiar number.

Gerry & The Pacemakers return with "She's the Only Girl for Me", a startlingly atmospheric and dreamy-sounding lover's remorse type song and one of my favorites on this record.

The record closes with "Why Don't You Love Me" by The Blackwells, which sounds very similar to most of the other stuff on here, though it has harmonica and a different singing voice.

All in all, a great record! I wonder what the movie's like.
---