2020 January 13 • Monday
The 604th Soundtrack of the Week is Film Music, a CD of cues from various projects scored by Miriam Cutler.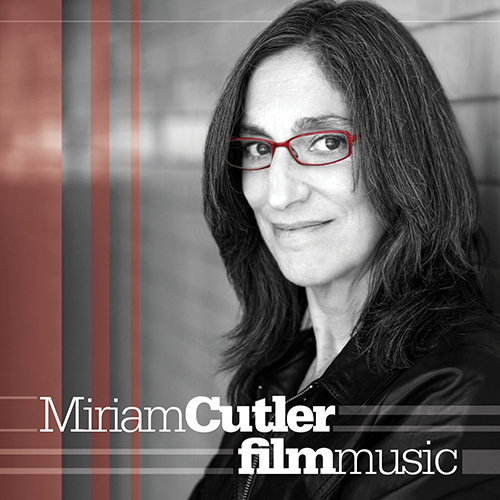 There's a lot of great trumpet playing on here! Some fantastic guitar work as well. And I think that all of these films are documentaries. The cue from Lost in La Mancha starts out with a kind of Spanish sort of funeral music thing and ends up in Nino Rota Fellini-land. Absolute Wilson is represented by some swinging jazz in, I suppose, 1930s style, with some Django influence in the guitar's contribution. It seems that Genius of a Place is represented by a suite of cues, with a wistful piano line running through them and some stirring passages that probably go well with scenes of beautiful Tuscany.

Lovely writing for strings, particularly upright bass and violin, are highlights of the selection from Out of Faithm which also has some really nice electric guitar playing.

The piece of music from Pandemic: Facing AIDS is a lot more upbeat and positive than you might expect and skilfully incorporates some sounds from African instruments.

A Powerful Noise is another uplifting piece that blends in the voices and sounds of a few different cultures, or so it seems to me. Percussion, voice, electric guitars and strings sound like one whole community here.

Things get more ominous, as they should, for Ghosts of Abu Ghraib, with a quietly pulsating and droning bass parts and sombre low figures floating above it.

For Chris & Don: A Love Story we're back in more cheerful territory, as well as back in swinging jazz/Nino Rota land, with guitar and accordion and a happy groove. Unexpectedly, though, different, electric sonorities come in and the whole thing changes to a more atmospheric, pensive piece of music. It ends with a soft trumpet and piano segment.

Vito is an energetic and ascending piece that sounds like it's describing some industrious and aspirational activity. After a few minutes of this we hear some really nice sort of bluesy/funky jazz combo blowing.

The blues and funk elements come out for more in the cue from One Bad Cat: The Reverend Albert Wagner Story, in which harmonica joins the electric guitar and piano, as well as what sounds like some traditional African instruments such as mbira.

Can Cutler cut country? Sure, why not? Here come dobro and slide guitar for All American Cowgirl. Again, the use of percussion and the groove and feel of the piece are great.

Strings and a restrained and tender feeling, along with more subtle percussion, create the sensitive atmosphere for One Lucky Elephant, which is fairly similar to the next track, Finding Kukan.

The Desert of Forbidden Art uses accordion, piano and bowed strings to create a rhythmic pulse most of the time, but things move to a more spacious setting. Again the use of perussion and electronic instruments, as well as voice, is very tasteful.

You might expect something a bit moody for Death: A Love Story and that's what you get, but it's not a downer, more restrained and thoughtful with lines of beauty running through it.

Less cheerful in tone, though still a wonderful creation, is the music from A View from the Bridge: Stories from Kosovo. This presents more of a sound of loneliness and desolation.

Electric instruments and strings introduce the listener to Stolen Childhoods, which ends up taking us to a cool, sort of funky laidback rock/pop groove with some stirring wordless vocals.

Finally there's Stumped, which must be for something political, because it's that American nationalistic marching band stuff, but with some humorous twists and turns as well as a few detours into some other zones.
---