Rob Price
Gutbrain Records
rob + gutbrain.com = email
---
The 654th Soundtrack of the Week is this compilation of funky groovy music from various Japanese crime/action movies of the 1970s. It's called Tokyo Violenta and it's fantastic.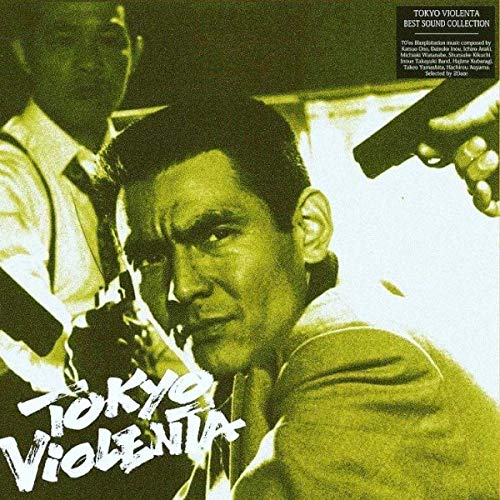 It's on green vinyl!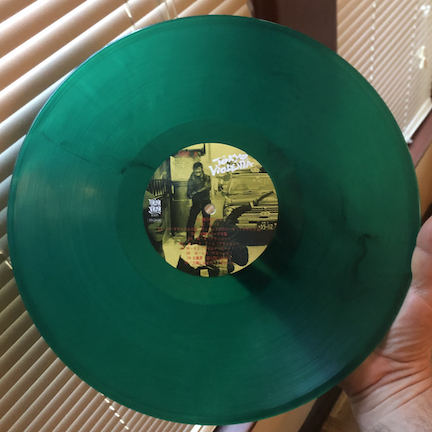 Every track is a blast of guitars, drums, percussion, horns, keyboards, vibes, you name it, all incredibly catchy and slinky and soulful and getting deep into grooves.
But there's not much else I can stay. Even if you read Japanese, the track names don't tell you what movie or composer you're hearing a selection from.
The first track, for instance, translates as "Following Theme", as in the music you hear when somebody's tailing somebody else in the movie.
The second track is even less helpful. It's called "M—4". That's on the A side. The second track on the B side is "M—6".
Occasionally you get something else. Side B Track 10 is "Super Express 109", which is an alternate title for the movie "The Bullet Train". So that's something. But what cue is it? No other information is given.
The names of the composers are dumped after the track listing with no hints about who did what. The names are Michiaki Watanabe, Daisuke Inou, Takeo Yamashita, Ichiro Araki, Hachirou Aoyama, Inoue Takayuki, Katsuo Ono, Hajime Kubaragi and Shunsuke Kikuchi.
It's a wonderful record that I recommend highly, even if the liner notes leave a lot to be desired.
One further curiosity is that the music is described as being from movies that are "70s Japan Blaxploitation". Presumably what is meant by this is that the music was influenced by and is similar to the music from American Blaxploitation movies.
---
2020 December 25 • Friday
Christmas morning and we spent some time online reading about the Nisour Square massacre because, most regrettably, it became news again, more than 13 years after its occurrence.
After that, we decided to chill out with a book about some violent criminals who did not receive presidential pardons and might not have even killed children.
We recently came into possession of this remarkable book, Bullets for Dead Hoods: An Encyclopedia of Chicago Mobsters, c. 1933, "salvaged" by John Corbett, who discovered it in a Chicago shop that was going out of business.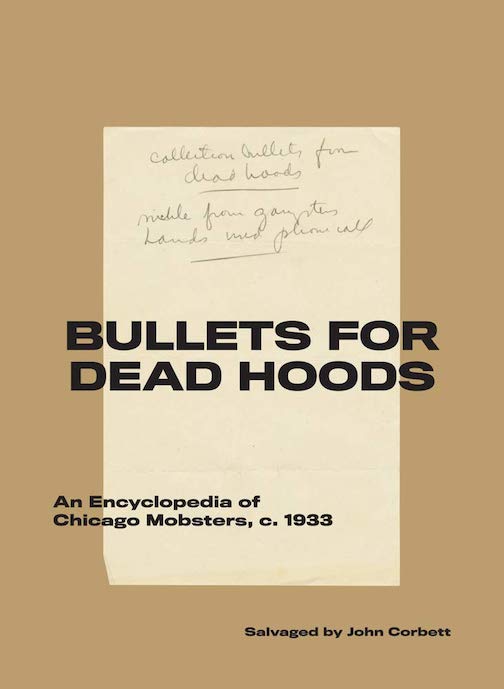 What you have here in this volume is a facsimile of the pages that Corbett discovered. It's not the kind of book you would read straight through, being an actual reference book.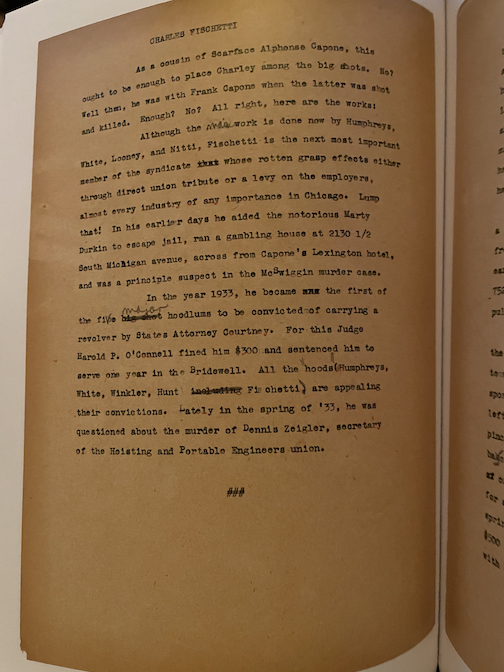 It's written in a casual and conversational style, employing much of the vernacular of the day (some of it, unsurprisingly, offensive in the ways you would expect).
"Another one of the vultures who came to his own little power in the vice belt" begins one entry.
The lowdown on Edward "Spike" O'Donnell begins "Tall, gangling, genial, but dangerous, "Spike" is the most shot-at hoodlum in the city".
It's a fascinating artifact and a significantly pleasanter than the news.
---
2020 December 23 • Wednesday
Glenn Kenny's Made Men: The Story of Goodfellas is an amiable sort of book and a somewhat unusual one.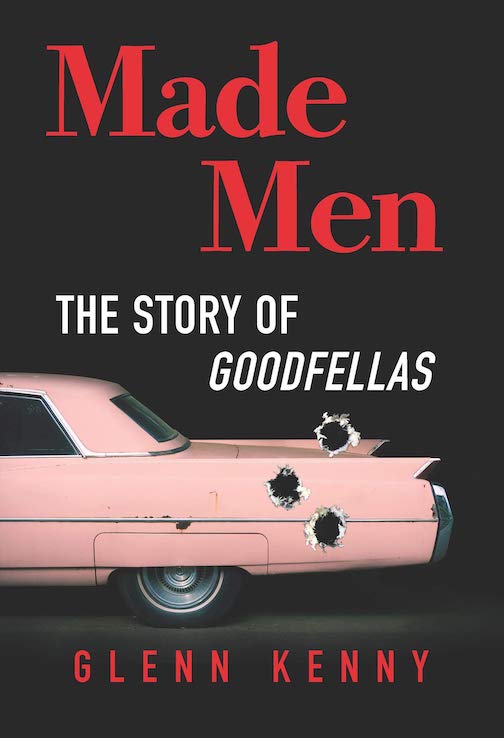 It's not a straightforward "making of" book, although it does cover the production (and pre- and post-production history).
It's a blend of that sort of book with a few other books: the "personal take" book, in which the author gives us glimpses into his experiences, with both the movie and the process of writing the book; the "annotated" book, in which the we're walked through the movie practically shot by shot and given extensive background on any number of details; also the "history" book, in which the real Henry Hill's life is presented in parallel to the movie presentation of same.
If you're a fan of the movie, you'll find all of this to be extremely agreeable and the book a cozy and comfortable read. If you're not a fan of the movie, or haven't seen the movie, it's hard to imagine what reading this book would even be like for you.
Kenny got to talk to almost every significant person involved in Goodfellas and saved the best, Martin Scorsese himself, for last. When you get to that section, you can hear Scorsese's distinctive voice releasing the torrential spiels that each of Kenny's questions summons.
Nick Pileggi, who wrote the book about Henry Hill which was the source material for the movie, also contributes some of the more interesting recollections and observations. This anecdote about the real Hill doesn't fit with the Ray Liotta fellow in the movie.
[Nick] Pileggi remembered the time prior to Hill's coming out, prior to their collaboration. "He couldn't not spend money. And he couldn't not get into schemes that ended up being total busts. He once bought a vintage trolley car in St. Louis, or in Kentucky, I can't remember. And he was going to conduct tours on it. A total bust. And then he would need money. He'd call and say, 'I need money, I need money.' It turns out he 'needed' money because he wanted $7,000 to buy his daughter a pony."
The first line is "'I ran into Paul Schrader in the hall the other day, he's finishing his movie'".
---
2020 December 21 • Monday
The 653rd Soundtrack of the Week is one from the great Maurice Jarre: the score for Grand Prix.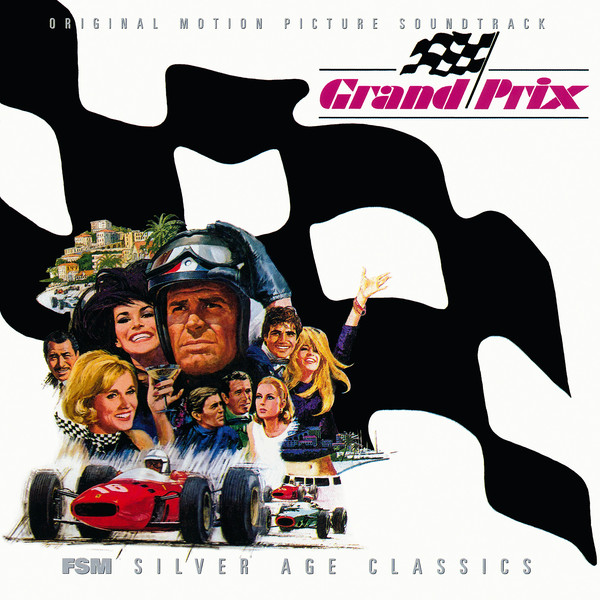 The movie starts with an overture that pretty much presents a digest-version of Jarre's score.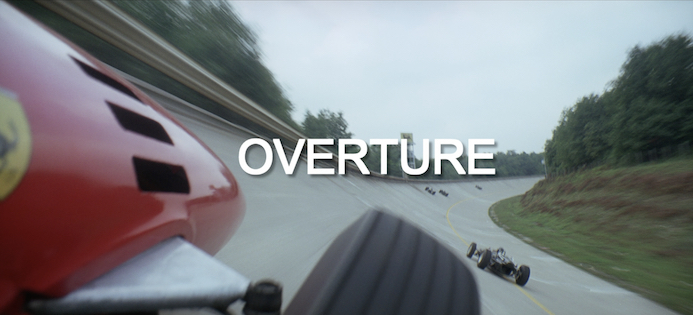 The opening credits for the movie were one of Saul Bass's creations, and it seems that he decided to out-split-screen everyone who ever split-screened.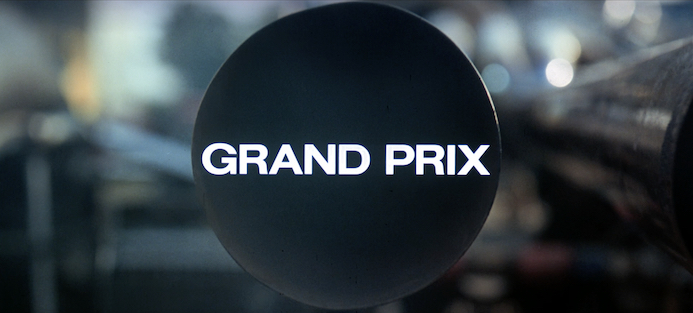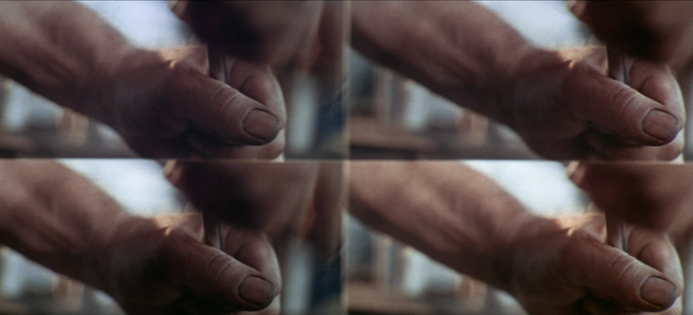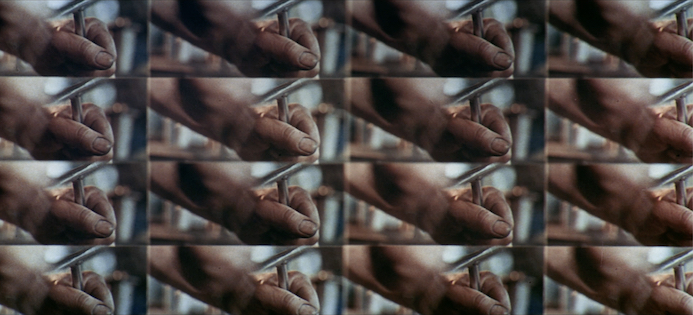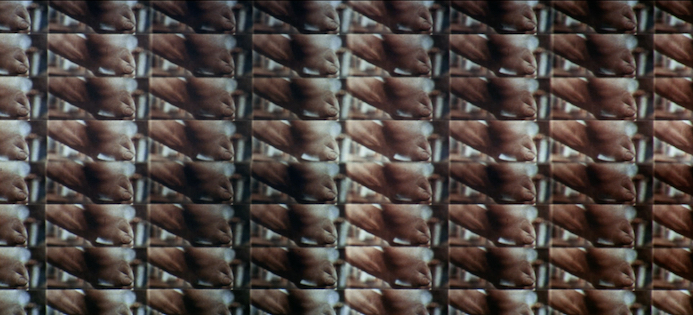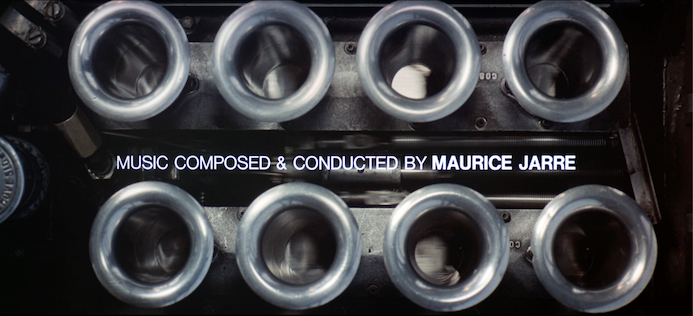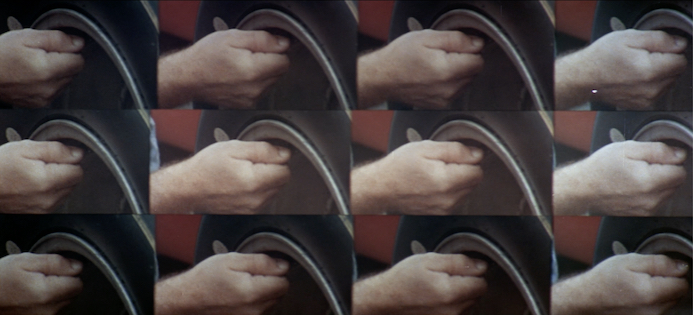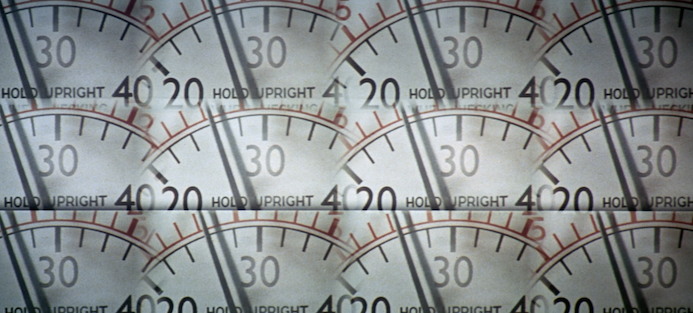 This was obviously supposed to be a huge movie and so it made sense to get Jarre, who had done so much for the success of Lawrence of Arabia.
Most of what you hear is a heroic nad triumphant theme whose melody can also be adapted for gentler and quieter situations, such as in the "Do You Ever Get Tired" cue or even as a waltz "In the Garden".
Now, Grand Prix is just shy of being three hours long and I'll confess that I got sick of hearing this particular theme.
In the movie's final scene, in fact, it seemed like a grossly inappropriate choice, completely at odds with the visual, emotional and dramatic content of the moment.
And of course by that time you've heard this melody, nice as it is, about ten thousand times. It's a testament to Jarre's genius that he gets so much out of this tune. The slight variation heard in "The Clermont-Ferrand Race" is one example of his brilliant arranging.
There's even a bossa nova version for the album release, "Sarti's Love Theme (Bossa Nova)". Bossa nova was hot enough at the time for there also to be a "Scott's Theme (Bossa Nova)".
As usual, the Film Score Monthly release of this music is just about as good as it gets. I really miss that label.
---
2020 December 18 • Friday
Once again we dove into the ocean of, uh, whatever you call these sex and violence paperback series. This one was Decoy #1: The Great Pretender by Jim Deane.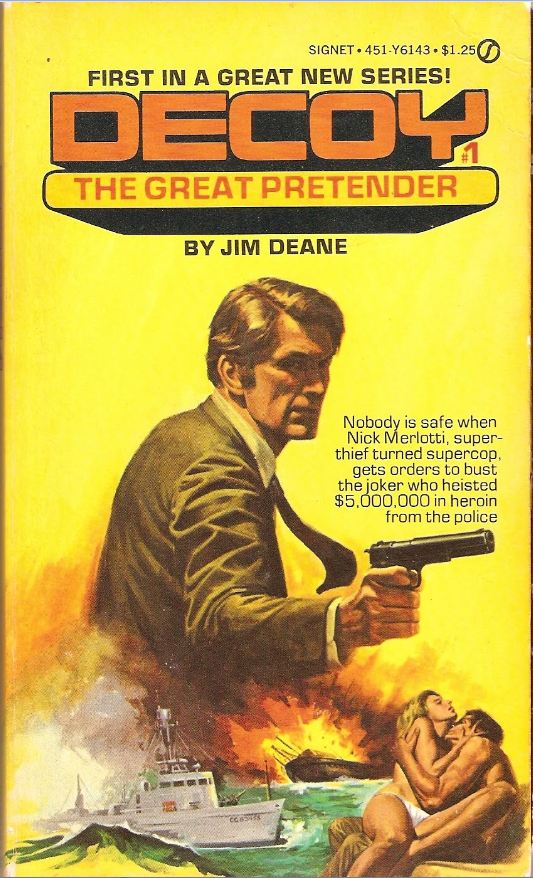 We come to these books without much in the way of expectations, either high or low, good or bad. Curiosity is more our state of mind.
There are a couple of people on the internet who write long and thoughtful criticisms of this genre and I enjoy reading their blogs.
They are more or less the experts and they more or less thought this book was total junk.
And yes, I suppose it is, but I liked it okay, though I wouldn't recommend it to anyone I know.
Nick Merlotti is a super thief who comes out of retirement because he's bored and then gets picked up by the police because while escaping from a solo bank robbery, he accidentally injured a kid on a bicycle and stopped to help him.
So now he's caught and he's offered a deal: to help the NYPD find out how a hundred kilos of heroin went missing from the evidence room. This would involve uncovering the corrupt cops involved and their link to the local mafia don whose heroin it had been.
So that's the basic plot. It's written in a first-person, macho tough-guy voice, has one big action set piece, a few smaller ones and a handful of sex scenes in which the author and/or narrator waxes rhapsodic about women's breasts.
Indeed, the first line of Chapter Seven is "Tits!".
The basic requirements of these books do seem to be a certain amount of sex and violence along with anti-authoritarianism and big cash paydays. Of course the perspective is devoutly male, hetero, conservative, at least leaning toward sexism and homophobia, though the writing generally doesn't have enough interest in others to make an effort to be more than casually offensive and demeaning.
And speaking of effort, the plot seems to have been made up as the author went along, resulting in a veritable orgy of retroactive exposition at the end, as Merlotti monologues for hundreds of words about who did what and when and how, loose threads needing to be gathered so the book can cross the finish line.
Our curiosity was satisfied. We wouldn't go out of our way to pick up the second and only other book in the Decoy series—which title makes no sense, by the way, as there is no decoy employed at any time by anyone—but if we saw it on a shelf we'd probably pick it up if it weren't expensive.
The first line is "I liked the captain of detectives".
---
2020 December 16 • Wednesday
If you listen to music on Spotify, then check out "Don't You Let the Darkness Drag You Down", the new single from Bob Davoli and a preview of the next Gutbrain Records release!
You can pre-order the record now. All proceeds are going to the Chicago Humboldt Park chapter of Food Not Bombs.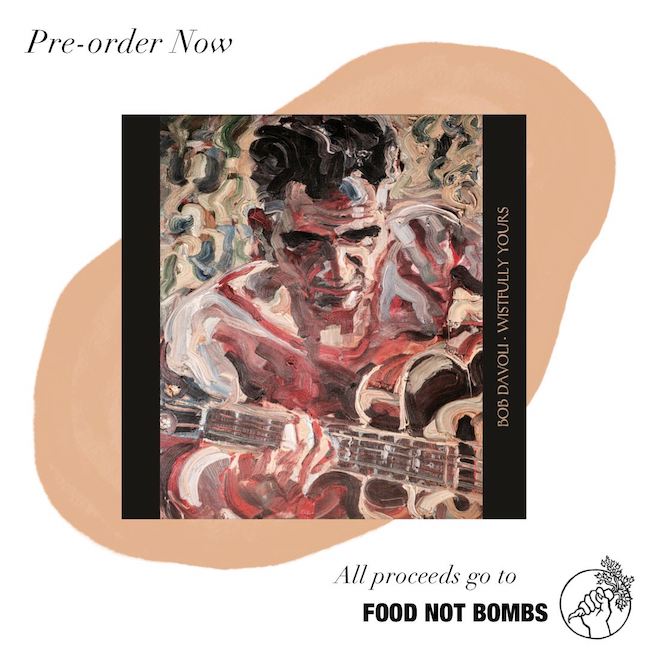 There's going to be a single CD version as well as as triple CD version as well as vinyl (!) and of course digital options.
---
2020 December 14 • Monday
For our 652nd Soundtrack of the Week we're enjoying Harumi Ibe's score for the classic Nikkatsu "borderless action" movie A Colt Is My Passport.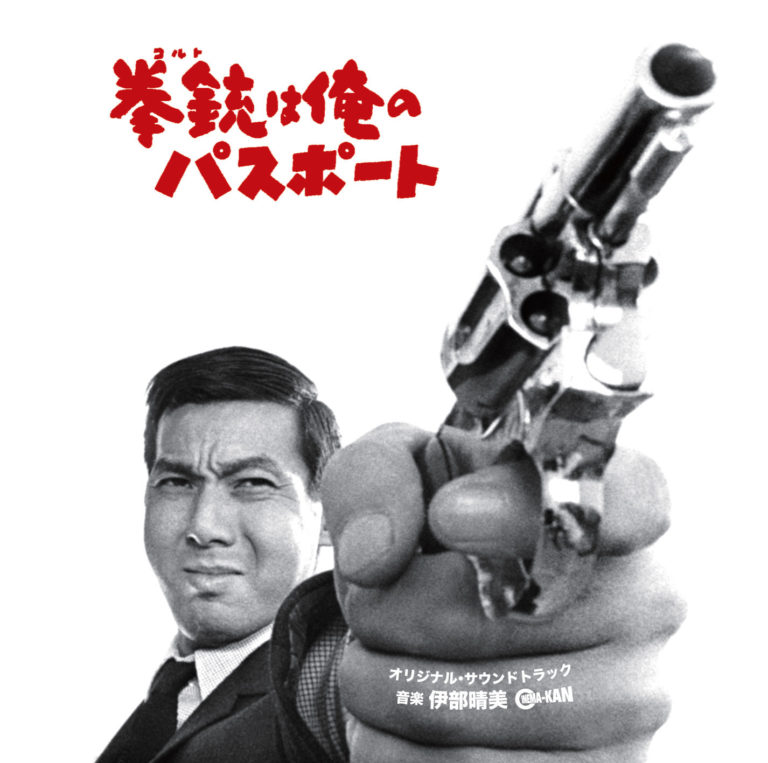 The music is suffused with the spirit and sound of spaghetti westerns. You'll hear harmonica, whistling, twangy electric guitars and so on.
After a gentle opening with acoustic guitar and harmonica, there are some gunshots and then a Django-ish theme with electric guitar and whistling comes in.
Most of the rest of the music is devoted to renditions of this theme. It even gets a swinging jazz combo version with vibes, flute and muted trumpet.
But there are also a few slow, bluesy, late-night sort of jazz cues, a gentle vocal number ("Aitaize") for just a male singer and acoustic guitar and a female vocal number with a larger ensemble as the backing band.
Then there are some bonus tracks, suites of cues from other classic Nikkatsu movies of, I believe, the same period. These selections offer a wider variety of musical styles and we can only hope that the great Cinema-Kan label will release the complete and chronological scores from these films someday!
---
2020 December 11 • Friday
Happy birthday!
Here's a recent addition to our library, a very specific reference book with, as noted by the title, a focus on ephemera: Magic Papers: Conjuring Ephemera 1890–1960.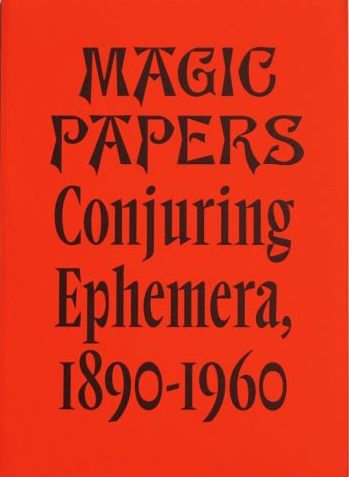 Everything inside is from the collection of Philip David Treece, who also contributes a fascinating an informative introduction.
The book itself is a beautiful object with an unusually pleasurable texture to it. You notice the feel when you're holding it.
And inside you find all sorts of marvelous things.
Like this great design: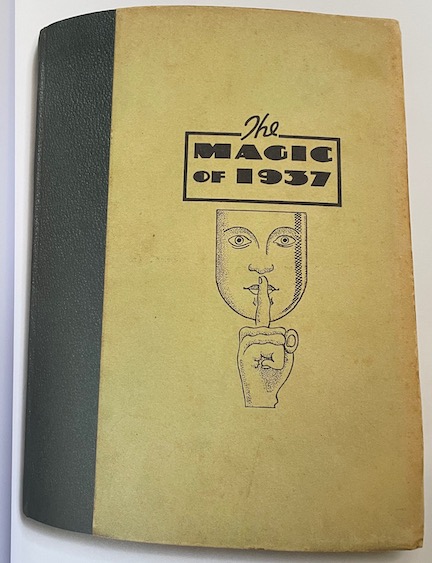 Terrific magazine title and cover: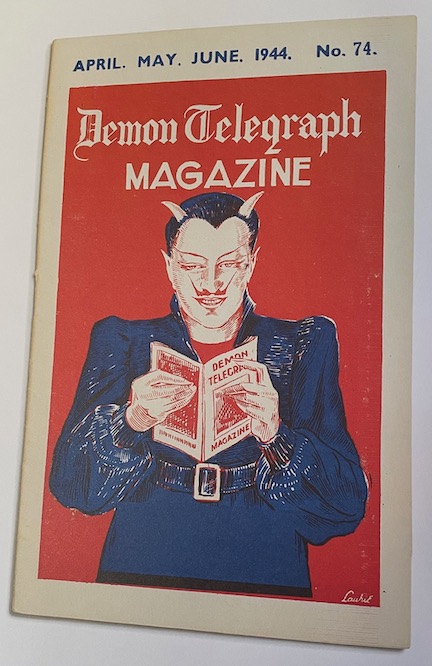 And this design, too, with its powerful use of negative space: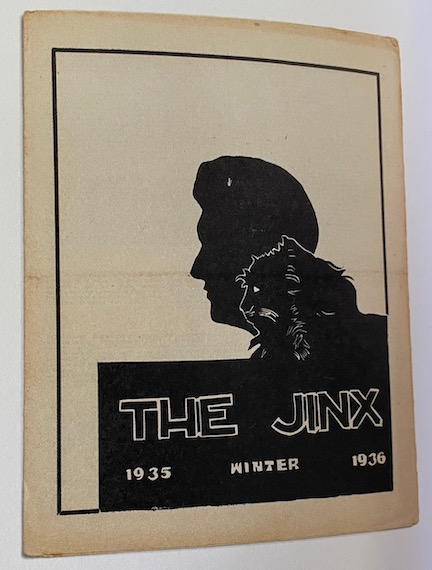 There are some great photographs of the people involved in the world of professional magic. I love this woman's dress: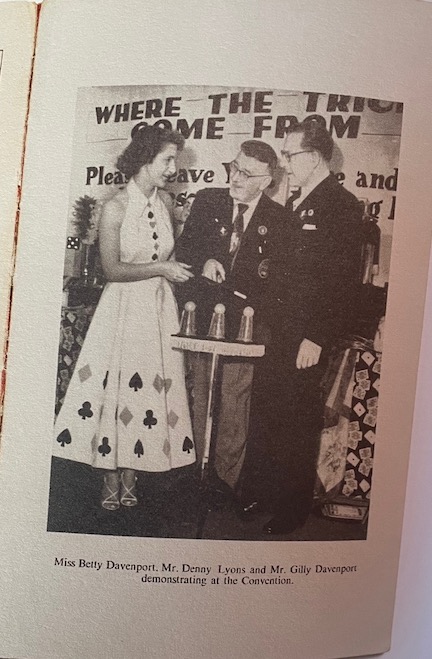 Another perspective on the practitioners is provided by a collection of business cards. I like this one the best: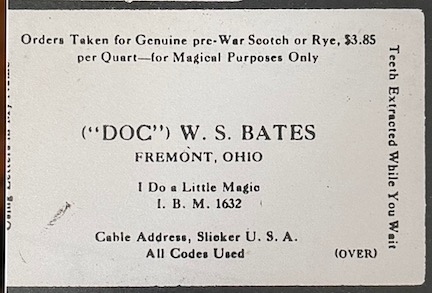 Finally, each book has a 16-page insert that showcases various items used in the trade: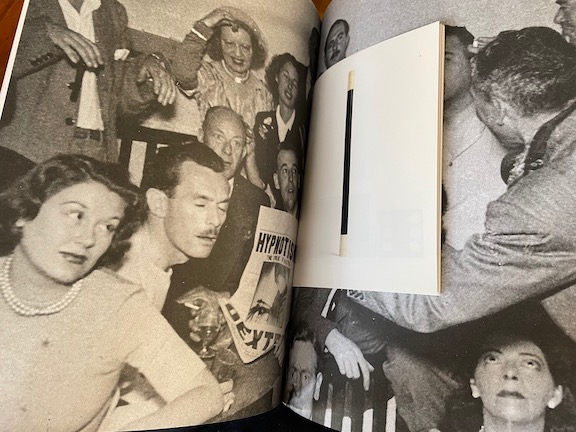 Congratulations to CentreCentre for creating such a lovely volume!
---
2020 December 09 • Wednesday
Once again we're going to highly recommend that you buy Reuben Radding's new photo zine. Once again, it's probably already sold out.
It's called After the End of the World, presumably in a nod to Sun Ra as well as commenting on what this particular moment in this particular time and place might feel like to many.
If it's still available to buy, you can do so here.
You can also look at the photos here.
Here are the cover and a couple of samples.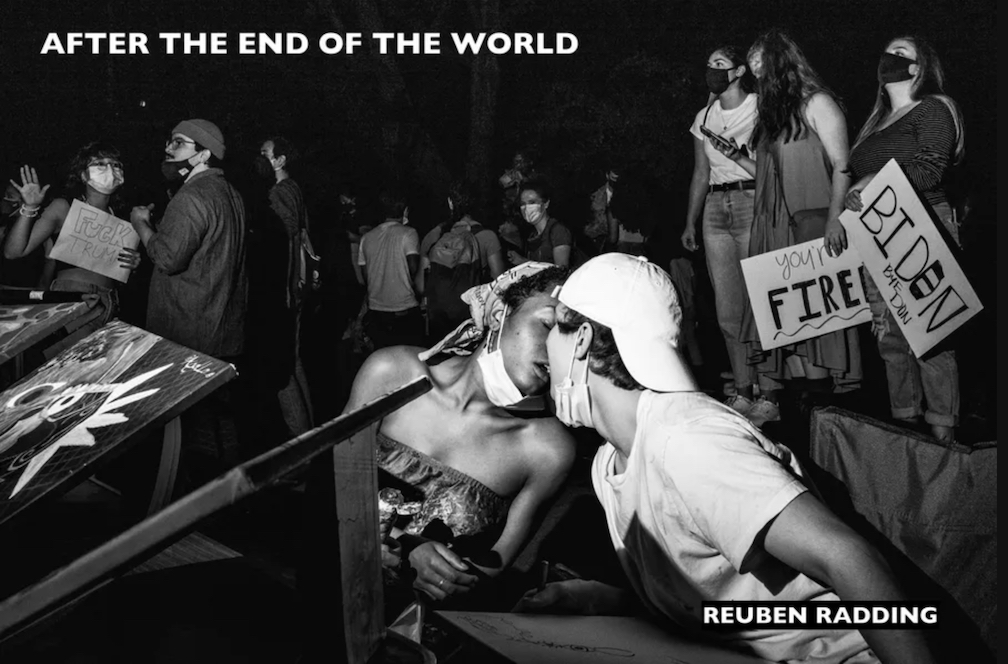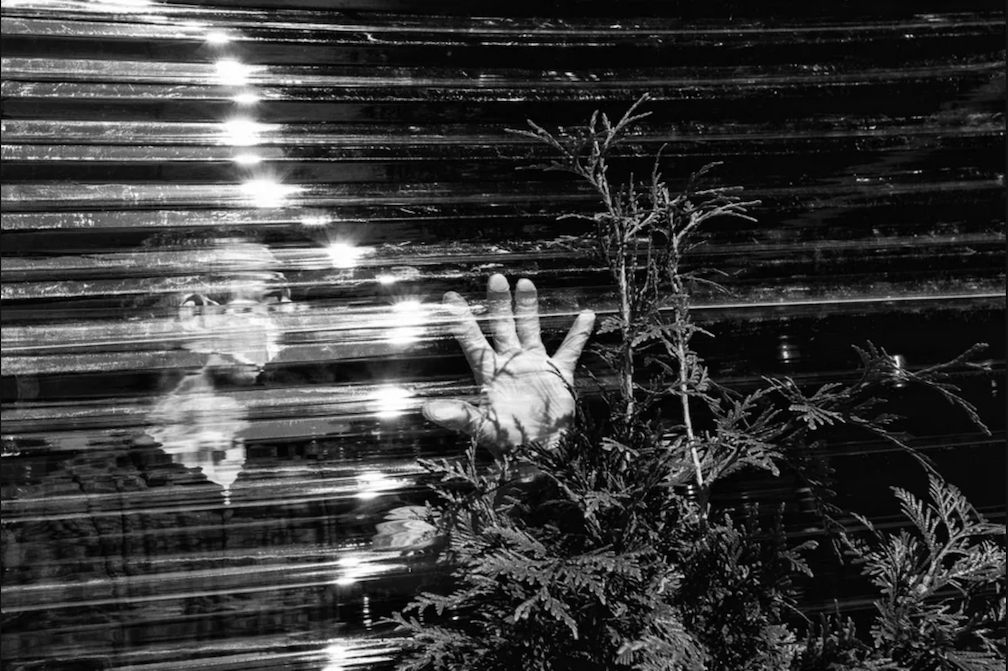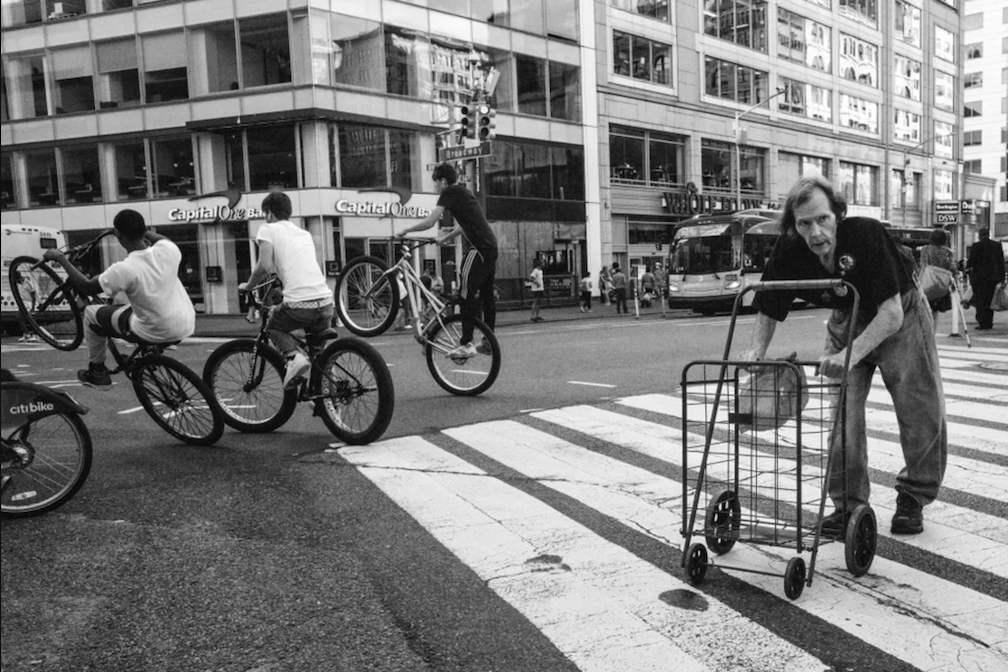 ---
2020 December 07 • Monday

HAPPY BIRTHDAY!!!

Netz Maeschi's music for Jo Siffert: Live Fast - Die Young, a documentary about the famous racing driver, is the 651st Soundtrack of the Week.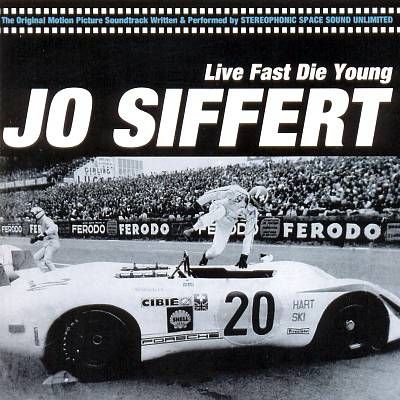 Right off the bat we're in some very cool, groovy, soundtracky territory. "Jo's theme" is like if Lalo Schifrin had been brought on board for a blaxploitation Mission: Impossible treatment.
The 6/8 jazzy intrigue of "Requiem pour un grand pilote", another richly textured swinging number might remind you of John Barry in Ipcress File or Persuaders mode partnered with Angelo Badalamenti's Twin Peaks music.
"Bossa Jo" is sort of a bossa nova but with a tough and assertive sound and with the bossa nova groove not as distinct as it usually is, being one of several rhythmic layers.
After that comes "Highlife at Monza", an energetic sort of neo-psych garage kind of number.
This is such a cool record with great playing, let's meet the band! You'll hear composer Netz Maeschi on guitar, bass, organ and keyboards, Karen Simpson on guitar and percussion, Markus Maggiori on bongos, congas and percussion, Andreas Zitz on upright bass, Benno Bernet on dulcimer and Victor Wanderley (any relation to Walter?) on flute.
Continuing to the next track we now hear "A racer's heart", another slinky and atmospheric and very groovy track, this time with some very nice reverb/tremolo guitar playing.
"The last of the late brakers" mixes several different sounds and ideas, as do several of these tracks. It's kind of like a classic rock groove with Hammond organ and fleshed out with some arrangement ideas that sound influenced by exotica.
Last track on the A side is "On the road to Sicily", one of the more dramatic cues so far, with stinging and reverberent guitar strikes framing the same kind of twangy guitar playing we heard in "A racer's heart". It is, of course, very groovy.
Side B kicks off with "Top speed", which is in the classic surf/hot rod style and very well done, with the lead guitar having a tone similar to Jerry Cole's.
Then there's "70/71", which has a deep kind of surf/soul groove and beautifully shimmering guitar sounds.
"Grid girls 68" is another surf-influenced one with a touch of go-go and again a really great guitar feature. The keyboard sound for this one isn't the best fit, in my opinion, but it works okay.
Next is "Fear theme", which brings a totally different atmosphere to the record. Fear, sure, eeriness, tension, suspense and some sick fuzz guitar playing. This time the keybaord sound seems like the perfect choice to me.
It must be Netz Maeschi playing the electric bass guitar that opens "Young Siffert" since the only bass player is specifically credited with upright bass. It's a bass line that's both slinky and kind of thunky, like a lounge riff on steroids. This one is really a vibes feature, though.
Things get more urgent-sounding with the propulsive "Le Mans nightdrive", which features dulcimer playing over various instruments pushing forward with insistent grooves.
And then finally there's "Brands Hatch 6 a.m", is kind of the Doctor Who theme meets "Immigrant Song" with a bit of the theme from The Saint thrown in, thanks to Victor Wanderley's flute.
This whole record was fantastic.
---
2020 December 04 • Friday
Also in the July 1951 issue of See magazine is a fairly bizarre prediction for women's fashions about fifty years in the future.
So here you are, looking back from 2020 at what 1951 thought the year 2000 might look like, if in fact this was done in good faith.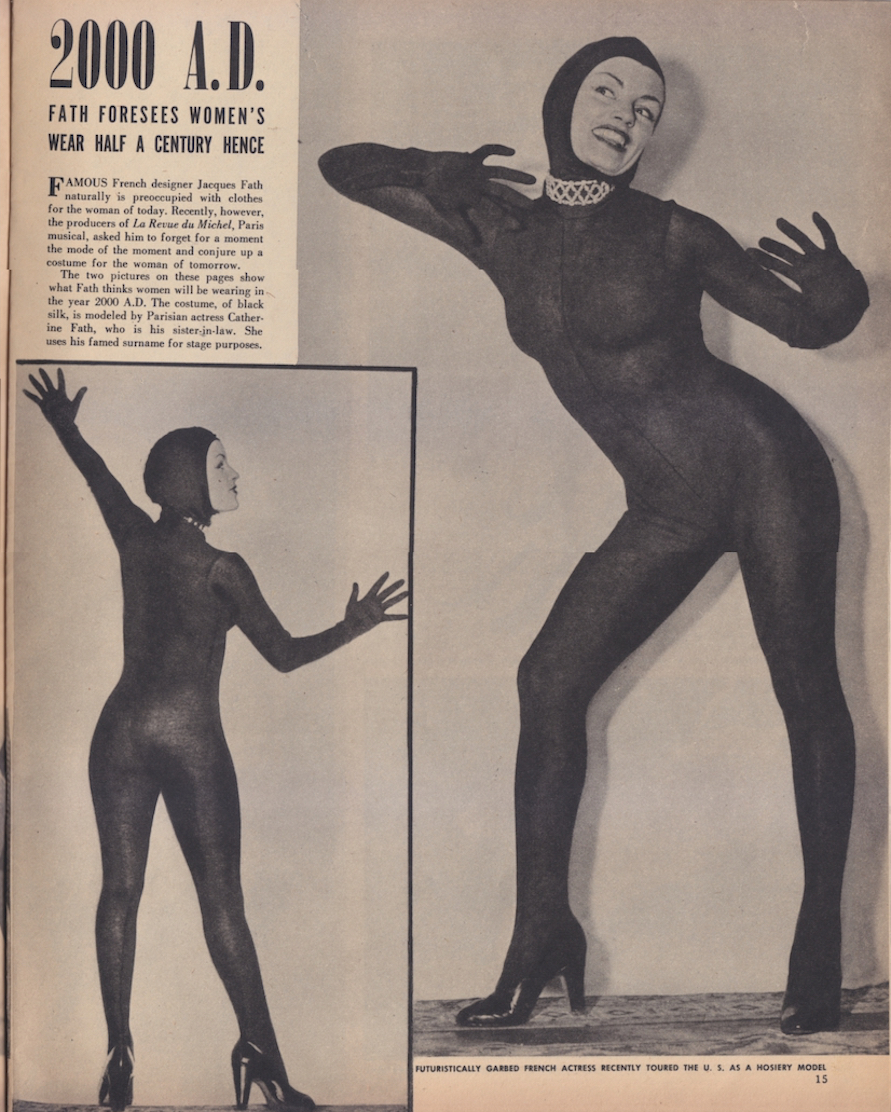 ---
2020 December 02 • Wednesday
In the July 1951 issue of See magazine there's an interesting piece about sculptor Yucca Salamunich. The article seems to imply that he designed the famous Oscar statuette but a whole minute of looking at a handful of web pages suggests that this isn't so.
He did, however, do many busts and statues of famous people, not just movie stars, but all sorts. There's a photo of him with Robert Mitchum.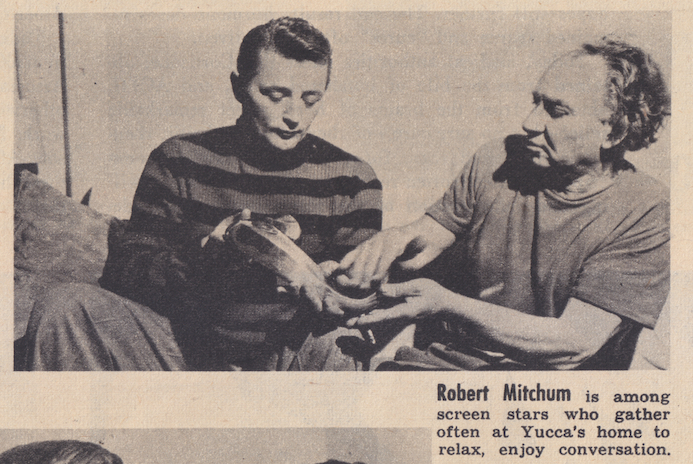 The caption says that Mitchum was "often" hanging out at Salamunich's house but the sculptor doesn't rate an index entry in any of the biographical Mitchum books in the Gutbrain library.
---