Rob Price
Gutbrain Records
rob + gutbrain.com = email
---
The 650th Soundtrack of the Week is courtesy of several different people. It's music from the movie Wild on the Beach.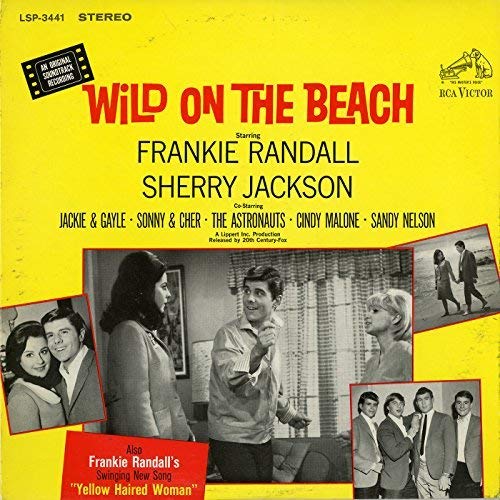 The big draw for us is four numbers by The Astronauts, one of our favorite surf bands ever.
They first show up on Side 1 with "Rock the World", a vocal number, and it really doesn't sound like them. There's a backing chorus, which I don't associate with them. It's a decent song but nothing extraordinary.
"Little Speedy Gonzales" has a "Wipe Out"-sort of groove and lyrics that name check Peter Gunn. It's a cute song.
"Pyramid Stomp" features some fuzzy overdriven guitar and is an actual instrumental that's really cool and driving.
The last contribution by The Astronauts is "Snap It", another instrumental with great energy especially from the drummer.
Frankie Randall, a name new to me, has three songs on the record. He's what you hear first, starting things off with "The Yellow Haired Woman", a peppy pop novelty song with some silly onomatopoeiac lyrics ("My heart went tick ticky ticky tack").
Then he returns a few tracks later with "The Gods of Love", a nice pop love song, kind of like Bobby Darin maybe.
Randall's third song is on the second side, "The House on the Beach". It has a 3/4 intro but the song itself is in common time and sounds like it could be the main title theme for a movie of the same name. It's very up and poppy in a late-'50s/early-'60s way. It has some nice strings that sound like the strings in the Route 66 theme music.
And then there are a few artists with one number each.
Cindy Malone's "Run Away from Him" is an enchanting and somewhat mysterious soul pop number, with a slower pace and an air of mystery to it.
"Drum Dance" by Sandy Nelson is one of his great drum-heavy instrumentals. It's very simple but it has monstrous energy. It could be improved with a louder, thicker, heavier guitar sound, though.
Sonny & Cher, of all people, are on here with "It's Gonna Rain", a real '60s shake with a "Dancin' in the Street" feel to it.
And finally we've got "Winter Nocturne" by Jackie & Gayle, an ethereal and lovely song in 6/8, gentle and wistful.
---
2020 August 28 • Friday
Continuing our sporadic and unfocused survey of old magazines that feature surfing, here's the August 1967 True magazine with a cover story on Bruce Brown and The Endless Summer.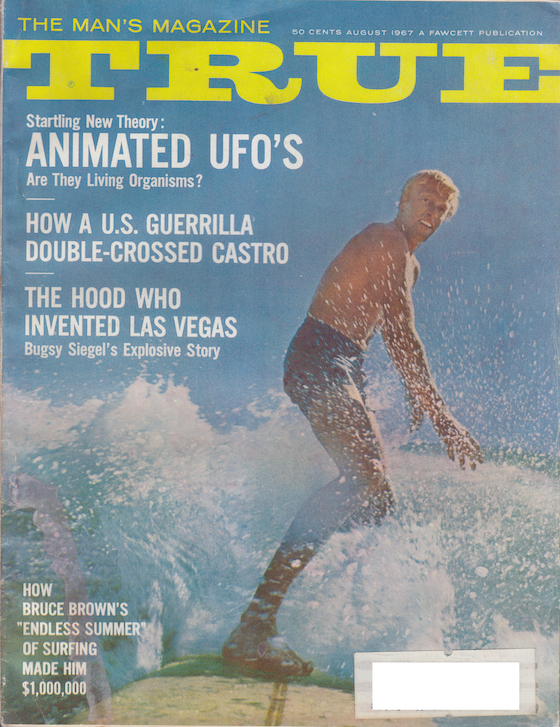 There are several interesting articles before you get to the surfing feature.
Most notable perhaps is the UFO piece: "Are Flying Saucers Really Creatures That Live in Outer Space?", which proposes that alien spaceships are really "giant, glowing animals that inhabit the atmospheric sea".
It's an interesting idea and the article itself is an excerpt from a book,. Vincent Gaddis's Mysterious Fires and Lights, which devotes a chapter to this notion.
But here's the Bruce Brown article, the pages with photos, anyway.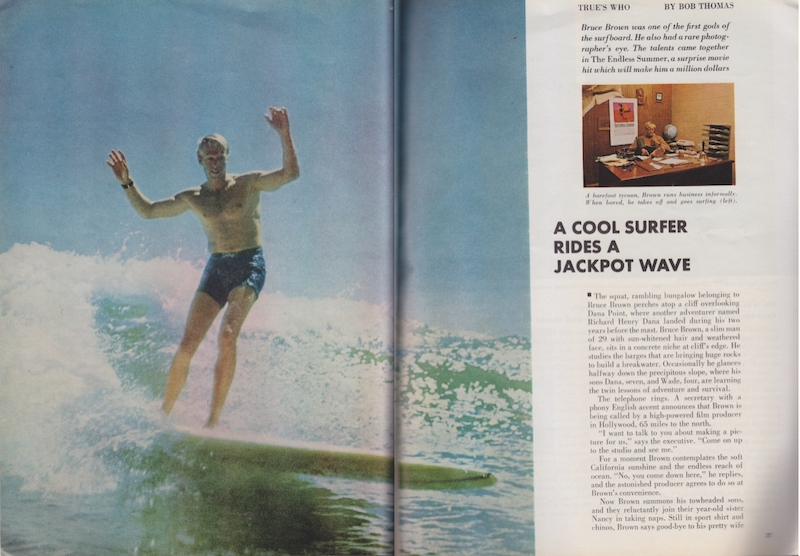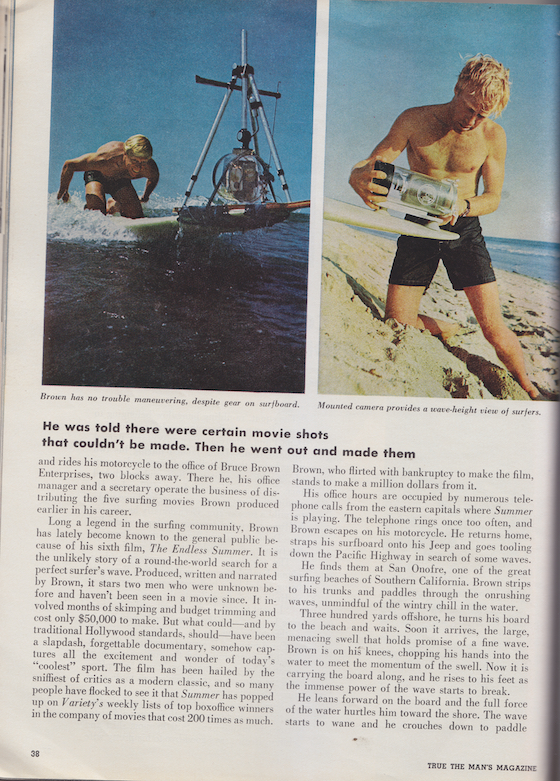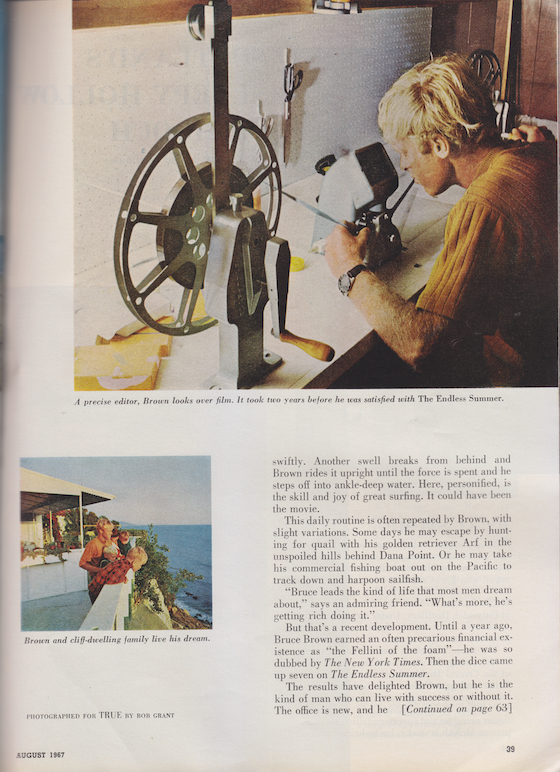 It's interesting to read about his background and of course the determination it took for him to make these surf movies at all, let alone have such success with them.
He says that his next movie (after The Endless Summer) is going to be about swordfishing but I don't think that ever happened.
---
2020 August 26 • Wednesday
This issue of Surfabout is special.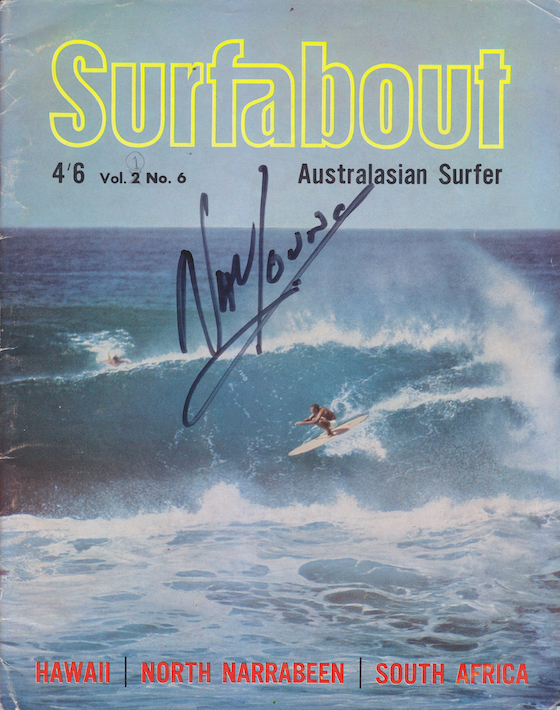 First of all, while the cover says Vol. 2 No. 6, every inside page says Vol. 1 No. 6 (or says nothing at all).
A previous owner has crossed out the 2 on the cover and penciled in 1.
If you've worked in publishing then you know that either number could be the right one, despite the quantity of one outweighing the quantity of the other.
In this case, it seems that they're actually kind of both right.
The first volume of Surfabout magazine appears to have had five numbers. The sixth issue of the magazine was the first number of Vol. 2 but they didn't reset the number to 1.
After Vol. 2 No. 6 came Vol. 2 No. 7, Vol. 2 No. 8 and so on, up to Vol. 2 No. 12.
After that came Vol. 3 No. 1, which went up to Vol. 3 No. 7, then Vol. 4 No. 1, which went up to Vol. 4 No. 4 and then, finally, Vol. 5 No. 1.
This adds up to twenty-four issues and I think that's it.
You can see all the covers here. There are some really cool ones.
Another neat thing about this issue, though, is that the cover photo is of "Australian Invitation Surfing Champion Robert 'Nat' Young" riding a 12-foot wave at Malili Beach in Oahu, Hawaii.
And somebody got him to sign it! That's his autograph there on the cover.
Inside is the usual interesting content, including this feature on surfers who ride waves through pier supports, a very dangerous thing to do.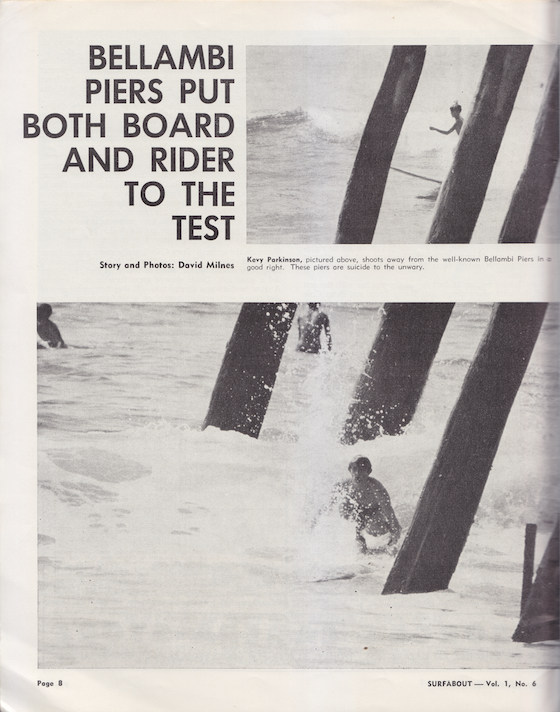 There's also this photo of tandem surfers, which is done competitively as well as for fun. Seen here are two pairs of tandem chapions riding the same wave.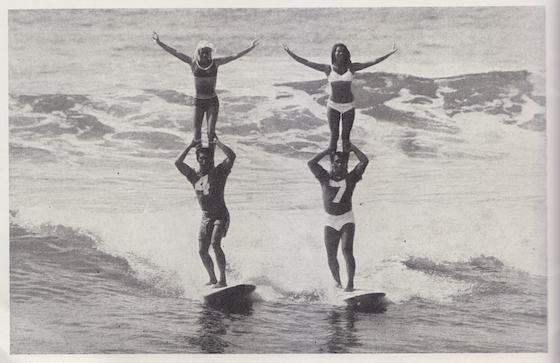 Surfabout was a great magazine based on this example. It's the only issue I have—so far.
---
2020 August 24 • Monday
A lot of different people contributed to our 636th Soundtrack of the Week: music from the surfing movie A Sea for Yourself.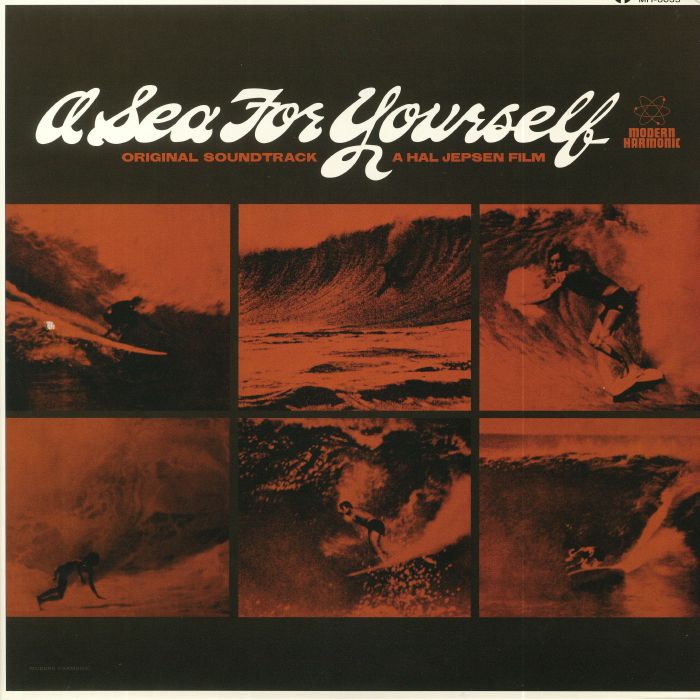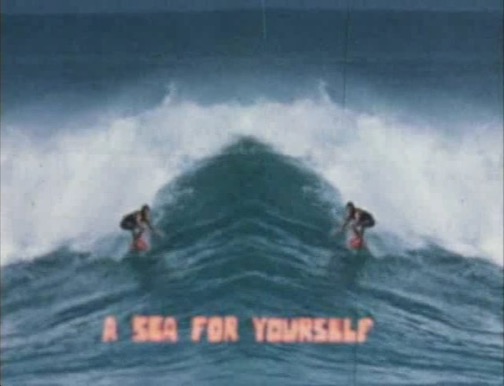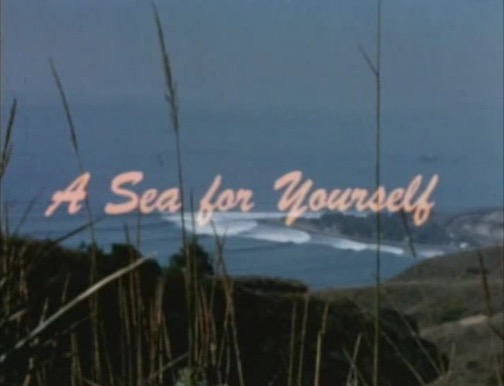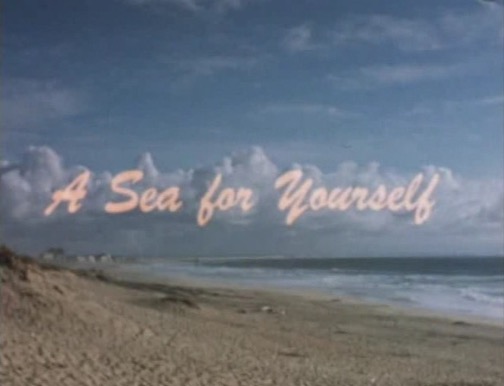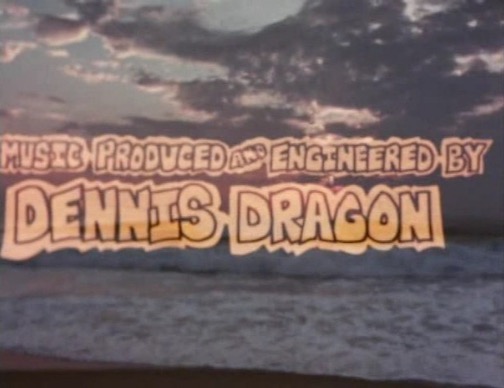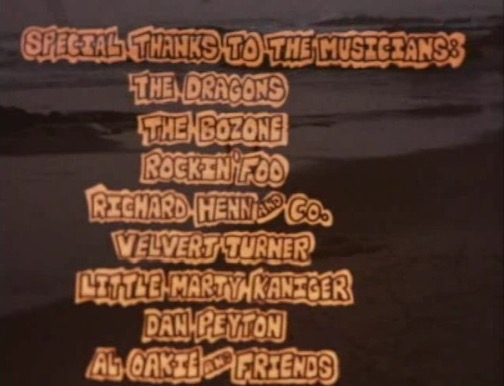 It's on aquatic blue vinyl!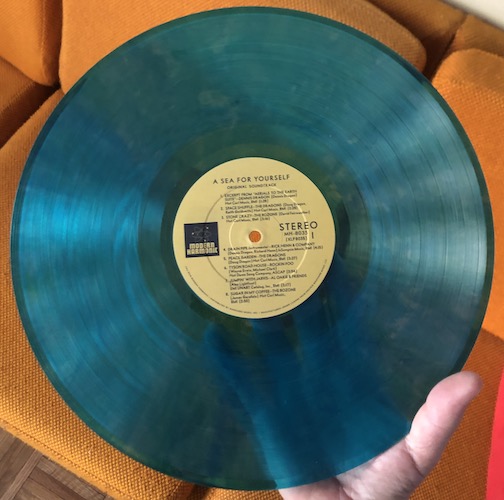 There's some interesting soundtrack lineage here. Dennis Dragon, who plays drums on a lot of these tracks in addition to producing and engineering, is the song of Carmen Dragon, who scored the original Don Siegel-directed Invasion of the Body Snatchers.
Dennis's brother Daryl is on here as well, just about a year before he became the Captain in Captain and Tenille.
So what about this soundtrack?
It opens with "Excerpt from 'Aerials to the Earth Suite' by Dennis Dragon, a cool electronic ambience with synth drones and throbs, tinkling chimes, sirens and other electronic noises.
Next is The Dragons' "Space Shuffle", a pretty straightforward blues rock psych number. As you might guess, Dennis and Daryl Dragon are on here, as is their other brother Doug.
Dennis Dragon is also the drummer for The Bozone and Daryl also contributes synth to this track, "Stone Crazy", a heavy and somewhat cloudy funk/rock song.
Drummer Dennis is also on the next track, Rick Henn & Company's "Drain Pipe", a classic rock instrumental with a Steppenwolf vibe.
Then it's The Dragons again with "Peace Garden", a floaty 6/8 piece with a beautifully sunny and dreamy quality.
Rockin Foo is the first band without Dennis Dragon on drums here, and their "Tyson Road House" is an agreeably tipsy country rock song that might remind you of The Lovin' Spoonful's "Did You Ever Have To Make Up Your Mind".
Al Oakie & Friends also doesn't have Dennis Dragon on drums, although Daryl plays synth on it. "Jumpin' with Jarvis" is definitely on the "up" side, a fast blues with Mr. Oakie's harmonica playing taking the spotlight.
The first album side concludes with "Sugar in My Coffee" by The Bozone, with the ludicrously named Hugh Jorgasm on vocals. It's a country rock/jug blues type of song that I'm pretty sure I've heard before so possibly a cover.
Side Two kicks off with The Bozone's "Zorro's Revenge" which is kind of like an acid prog Santana song.
Then it's The Dragons again with "Hear the Truth/Everybody Needs", a laidback but grooving hippy rock number with really cool keyboard playing.
Rick Henn & Company show up next with "Squeeze Box", an ethereal, late-night, soulful slow burner, different from everything else we've heard so far.
"Karma Cue" is the first tune by Dan Peyton, assisted by Daryl Dragon and a Rhythm Ace drum machine. It's kind of like a surf band doing a cover of a piece of classical music but with different instrumentation (other than electric guitar). It's pretty cool.
The Bozone return to end Side Two with "Bahama Hop", a high-energy party song with a happy druggy bounce.
It's a two-record set so onto Side Three, where Rick Henn & Company get things started with "Rain Ride One & Two", which features Dragon sister Carmen on harp. It starts out as a lovely track with harp and flute creating an airy and peaceful atmosphere and then segues into a mid-tempo funk soul lounge number featuring saxophone and electric piano.
Fast strummed acoustic guitar kicks off "Little" Marty Kaniger's "Wish I Knew", a post-'60s folk/rock number with infectious energy.
Then we get two in a row by The Dragons: "Night Cruzer Two" and "Cataclysm", the former being a short funk groove lounge instrumental and the latter a sort of neo-classical rock piano- and other keyboard-driven piece with lots of arpeggiated playing.
"Fair Thee Well" is another one by Rockin Foo and another classic rock song with a strong backbeat and slide guitar.
Two more by The Dragons, "Soul Teacher" and "Urantia Plains" wrap up the third side. "Soul Teacher" is a groovy and swinging rock song with a real feel good energy to it. ("Soul teacher, won't you teach us more?")
"Urantia Plains" is quite different, a spacy groovy instrumental with a pleasant driftiness to it.
And then we're on the last of the four record sides and The Dragons once again with "Cosmosis", kind of a proto-prog funk number that's partly in 7/4.
"Slidin'" by Dan Peyton comes next, a kind of goofy number that sounds like, I don't know, cartoons or ice cream trucks or something.
We then get one more Rockin Foo track, "When the Money Comes", a piano driven country rock song that's a bit like The Grateful Dead or something like that, though without electric guitars. It's very similar to something that I can't remember right now.
The Dragons have two more songs to give us after that, "Power Jam One & Two" and "Food for My Soul". The first one is a hard-driving keyboard-centric funk soul prog whatever number and one of the best tracks on the record with a truly wailing guitar solo.
"Food for My Soul" is another deep groove piece with great energy and great musicianship, with piano and vocals being the main focus though there's also a great organ solo.
And finally the last two tracks of the record are both by Rick Henn & Company.
"Cholo" is a very fast proggy number with great drumming, tricky syncopations and invaluable contributions from the horn section.
"Rain Ride Three" features Carmen Dragon on the harp again and is a beautiful, dreamy piece with a strong element of wistfulness to it and some Edda Dell'Orso-like wordless singing courtesy of Cheryle Brandon.
---
2020 August 21 • Friday
As excited as we are to watch the two-part surfing episode of Dr. Kildare, we refuse to skip ahead. We're watching the whole series in order, not on a regular schedule, and we'll get there when we get there.
There's no reason not to look at Life magazine's cover story about that particular episode and its guest star, Yvette Mimieux, however.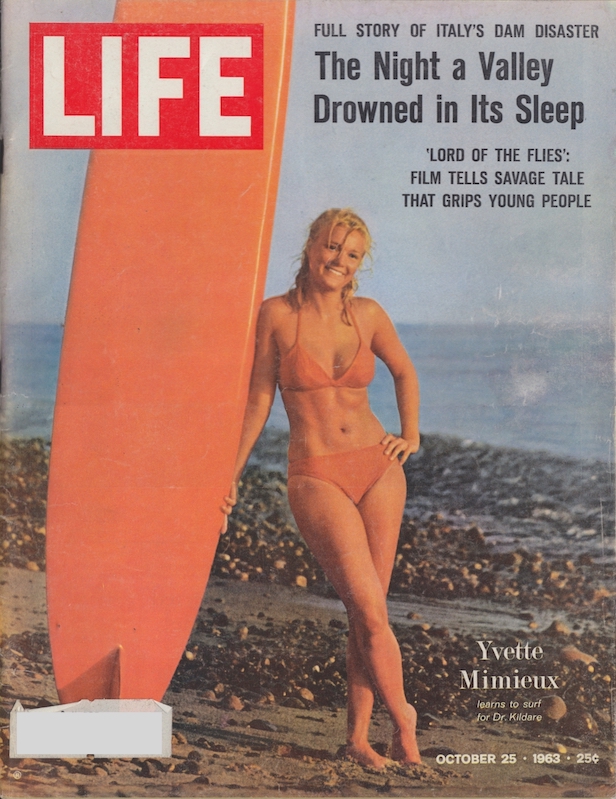 The article comes with some serious spoilers, it seems to me, though perhaps readers at the time wouldn't have had any doubts about the fate of Mimieux's character on the show.
Mimieux plays a "superphysical" woman who loves surfing but also suffers from epilepsy. While Mimeux had absolutely no experience with surfing, she trained to develop the necessary skills, not just to surf well but also to deliver a realistic performance of an epileptic fit while surfing.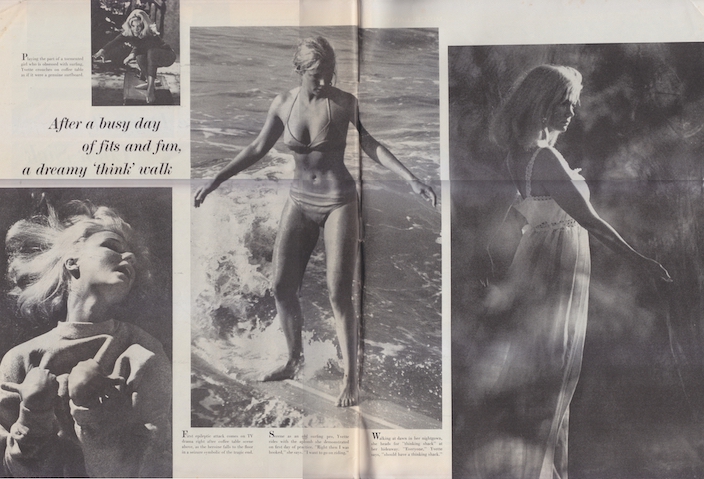 We have high expectations for this episode and every reason to suppose that it will live up to them!
---
2020 August 19 • Wednesday
By July of 1964 surfing was probably receiving some kind of peak of mainstream attention. What was left to say about it?
That month's Argosy (or The New Golden Argosy as it was calling itself by then) announced a "New Water Sport — Inland Surfing" a.k.a. "Surfing Without Surf".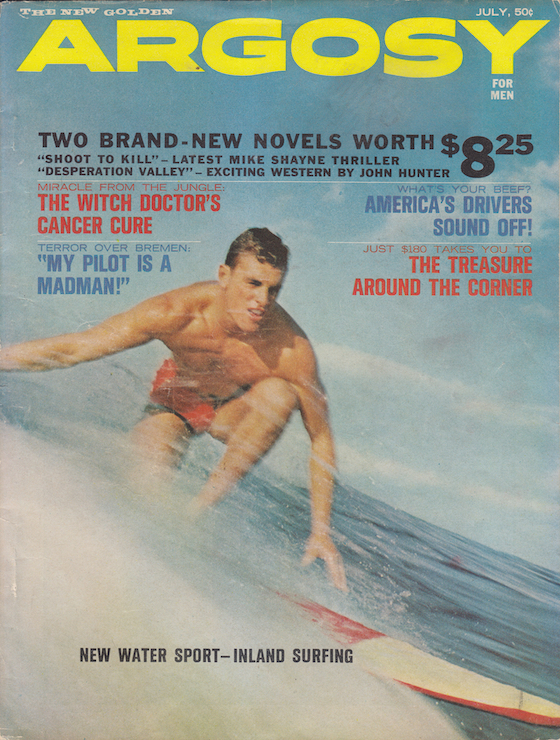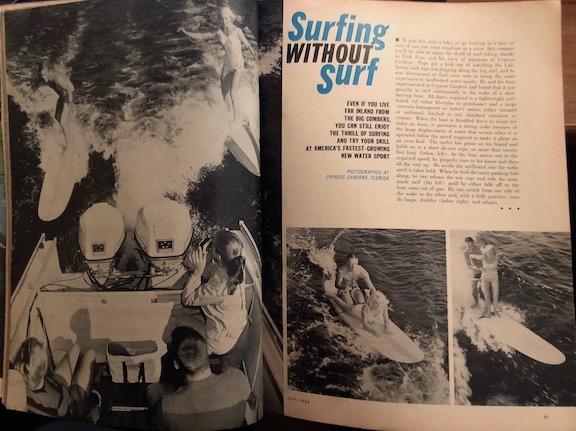 The idea is to get on your board in a big lake or whatever and then get towed by a motorboat that creates a big enough wake as well as enough speed and momentum for you to drop the line and surf the wake.
While I have never surfed myself—I was hoping for lessons at the Rockaways this summer but it looks like that's not happening—this sounds pretty unappealing to me. I guess if it's your only option?
---
2020 August 17 • Monday
Our 635th Soundtrack of the Week is Vic Mizzy's music for Don't Make Waves.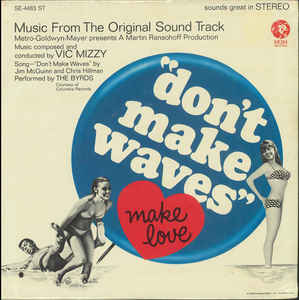 While we haven't seen the movie, we found just its trailer to be hard to sit through. Seriously, halfway through the trailer, we wanted to bail. It's hard to imagine watching this whole movie, even though it has Claudia Cardinale and Sharon Tate in it. (Tony Curtis is not a draw for us.)
But the music is really cool, so it might be worth it for that.
The record opens with the main title theme, not by Vic Mizzy but composed by Jim McGuinn and Chris Hillman and sung by The Byrds. It sounds like The Byrds but with a slightly harder edge and aggressive bass and drum presence. And maybe I'm projecting but it also sounds like they're not really into this. It's a good song but somewhat lacking in energy. It fades out on the electric 12-string guitar solo, which seems like a really bad decision.
Then we got to Mizzy's score with "Daybreak in Malibu". Now this has much more positive energy, with a popping rhythm section, great surfy electric guitar sounds and Mancini-ish strings and horns swooping in and out, as well as some subtle use of organ. I bet that this was originally the main title theme but the financial incentive of getting a hit single from a pop band was irresistible.
Sultry saxophone and beautiful tremolo guitar introduce the slow burning organ combo blues of "Malibu". This sounds like it might be Plas Johnson in places and there are a few different electric guitar sounds, all great.
Peppy, humorous, determined and almost martial-sounding music, or perhaps music for a hunt, set the scene for "Confidence Man" but it segues into very light and buoyant moods perhaps for some comedic bit of business.
"Stradella" is a laid-back Italian folk music-flavored waltz.
"Zip Zip" is something of a call back to "Confidence Man" but with a very different feel, jazz brushes on the drums, very swinging but not fast, great use of electric guitar, particularly whichever one appears to be using some kind of early example of a wah-wah's pedal, and precise placement of statements by the various instruments.
Side 1 wraps up with "Vox Box", a classic '60s guitar-driven "shake" number. Love the drums on this one and they even throw in a "cha cha cha" a few times!
The second side opens with the "Love Theme From—'Don't Make Waves'", a very Mancini-like lounge number with velvety strings and flutes creating a lush and cushiony atmosphere.
A somewhat similar melody gets a very bright and chirpy treatment in the next cue, "Driverless", which also features an overdriven electric guitar sound that I don't think has been heard prior to this. This is a very sprightly cue with a melody that scampers all over the place.
Things then calm down for "Madame Lavinia", which as a really solidity and weight to it while also being gently swinging. This is another one that features that weird, possibly was, guitar sound, as well as the usual expert deployment of flutes and organ.
After this come reprises of both "Daybreak in Malibu" and "Malibu", great cues both and I won't complain about hearing them again but since we have heard them before, wouldn't the space be better allocated to different cues?
And then we come to the last number, "Girl on a Trampoline". This is another awesome shake piece with some crazy electric guitar sounds, extremely unusual. It starts really frantic, immediately switches gears to a "Peter Gunn" bass break, then goes into a dreamy, spacey, surf-lounge zone.
---
2020 August 14 • Friday
There were a lot more 1960s teen surfing movies than I realized. Are any of them any good?
For Those Who Think Young was pretty awful. I didn't actually watch the whole thing.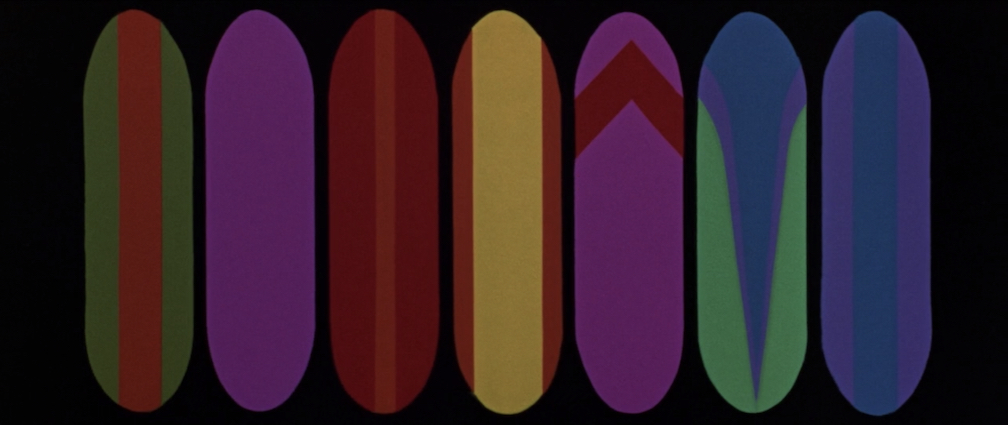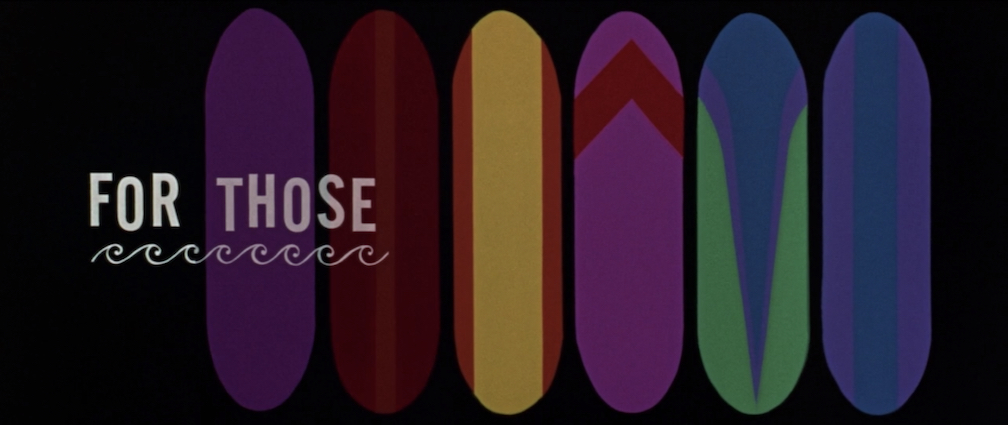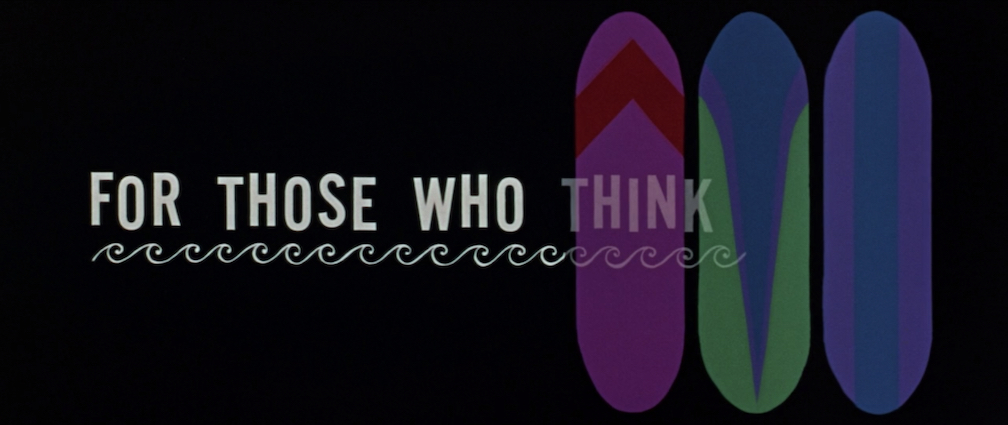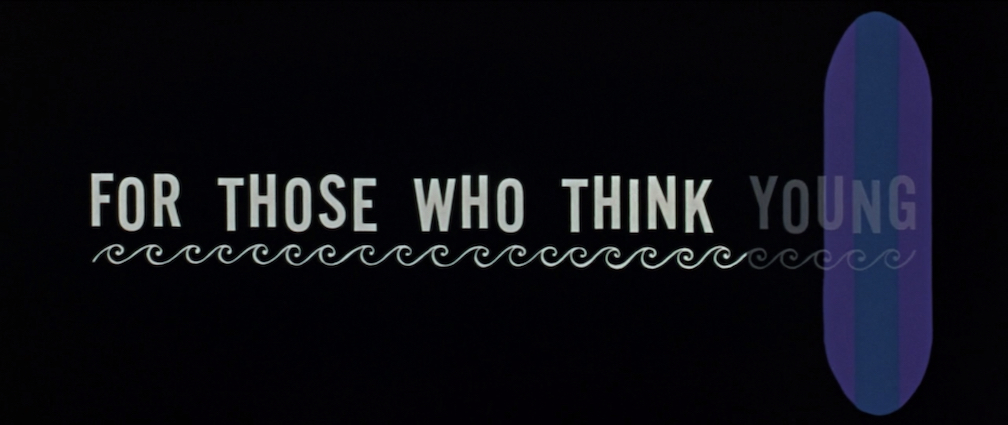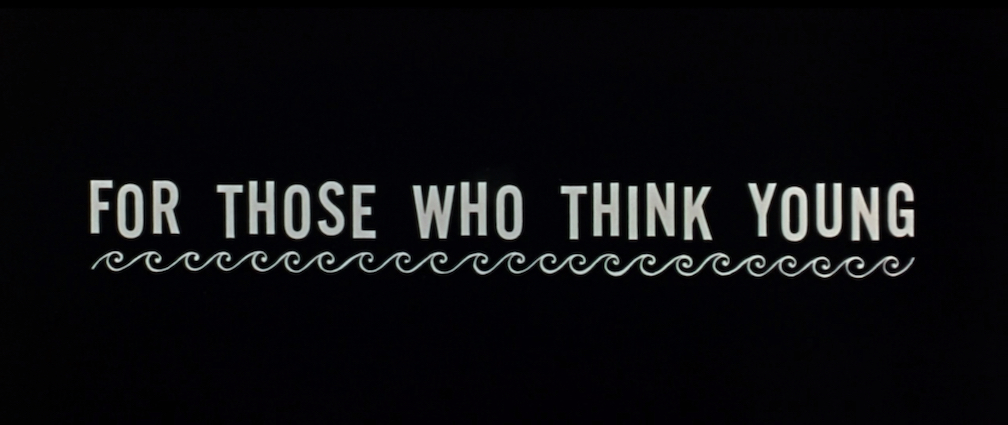 It does have a few points of interest, though. It's a footnote in the career of soundtrack great Jerry Fielding, for instance.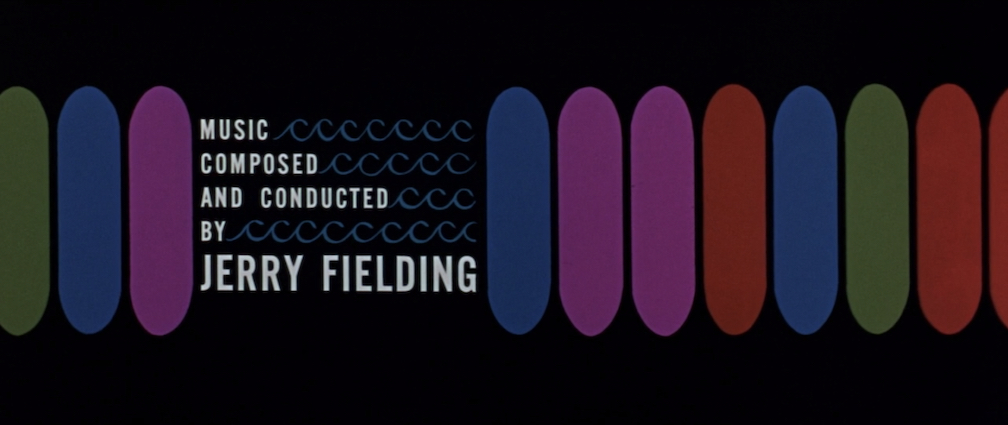 It stars James Darren, no stranger to this genre thanks to his career-making appearances in the Gidget movies, and Darren also sings the title song.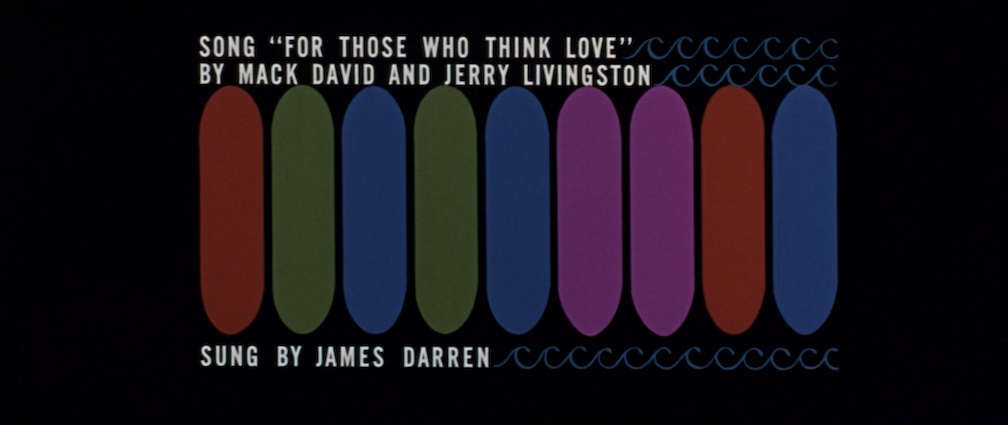 Darren is a spoiled rich kid surfer hunk who's supposed to be sympathetic for reasons that are never made clear, at least not in the hour or so of the movie that I watched.
He's shown to be quite the Lothario but of course the woman he really wants is the one who doesn't want to have anything to do with him, the character played by co-star Pamela Tiffen.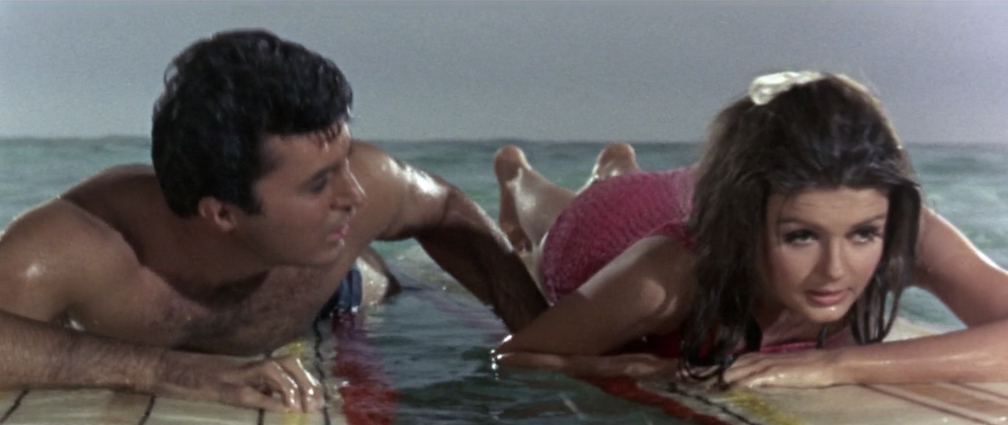 Her deal is that her uncle, a washed-up vaudevillian, is putting her through college, a pursuit that she takes extremely seriously.
His act at the local stip-club dive bar (featuring Tina Louise as the bump and grind specialist) gets canceled and so he cuts loose during his final performance, presenting a caustic and free-wheeling improvised comedy act to the handful of jaded patrons.
In the tradition of Lucky Jim and about a hundred thousand other movies, books and tv shows, this is of course a huge hit and he becomes the star attraction and the broken down booze pit becomes the hot place to be in town.
One of the worst things about this sub-plot is that the jokes and comedy routines are dreadfully unfunny.
The whole thing was baffling to me until some lazy internet research revealed that this character, Woody Woodbury, is played by a real person named Woody Woodbury, who was actually very successful as a comedian at the time the movie was made.
It's also in these scenes that you notice the Pepsi product placement all over the place. Woodbury even has a giant Pepsi bottle on his piano.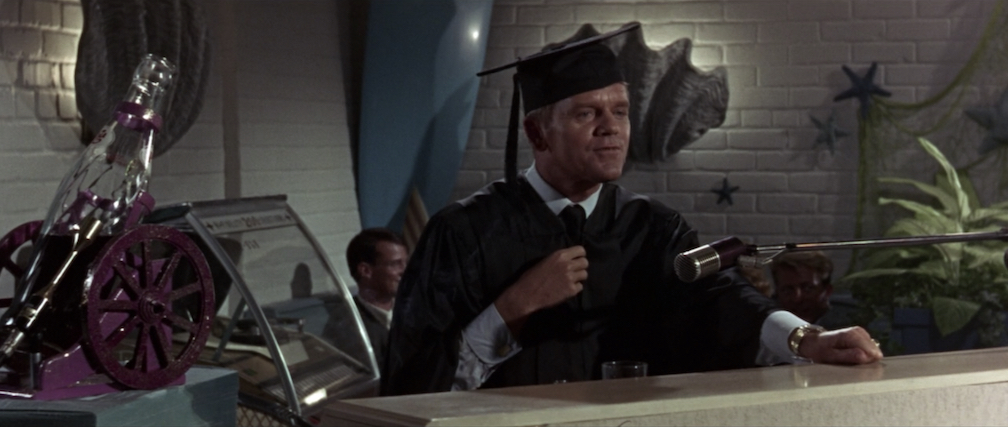 Customers order Pepsi, everybody appears to be drinking Pepsi, and the Pepsi logo is in most of the shots.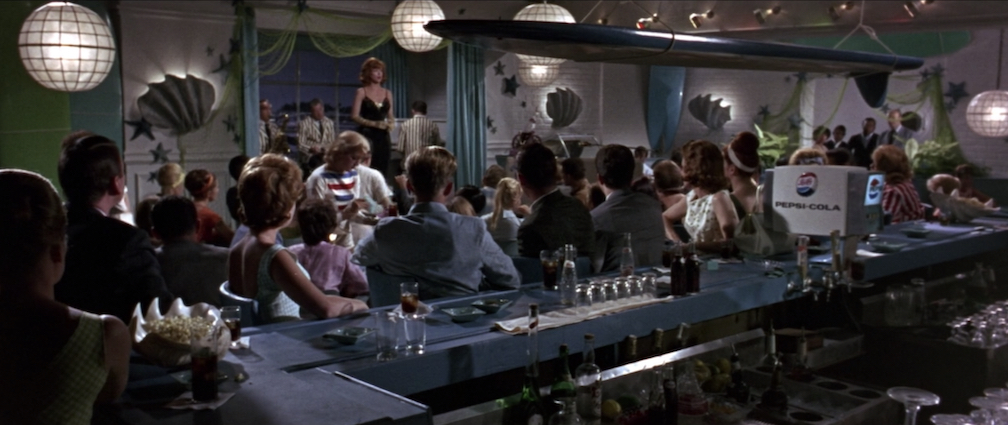 In fact, Pepsi's real-life slogan at the time was, apparently, "Now It's Pepsi For Those Who Think Young". Wikipedia asserts that the title was changed to For Those Who Think Young from A Young Man's Fancy for this reason.
The other notable product placement was for Baskin Robbins. The gang goes there when there's an ice cream eating contest and the store is advertising its new surfing tie-in ice cream flavor, "Gremmie Nut".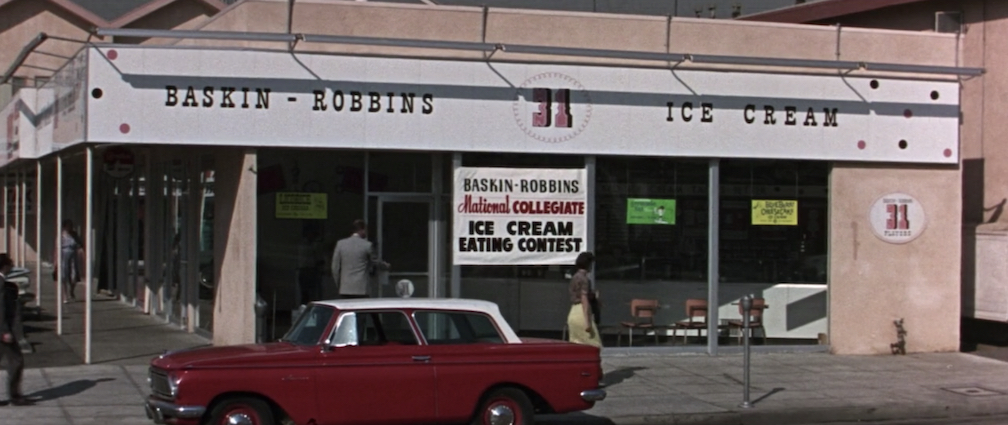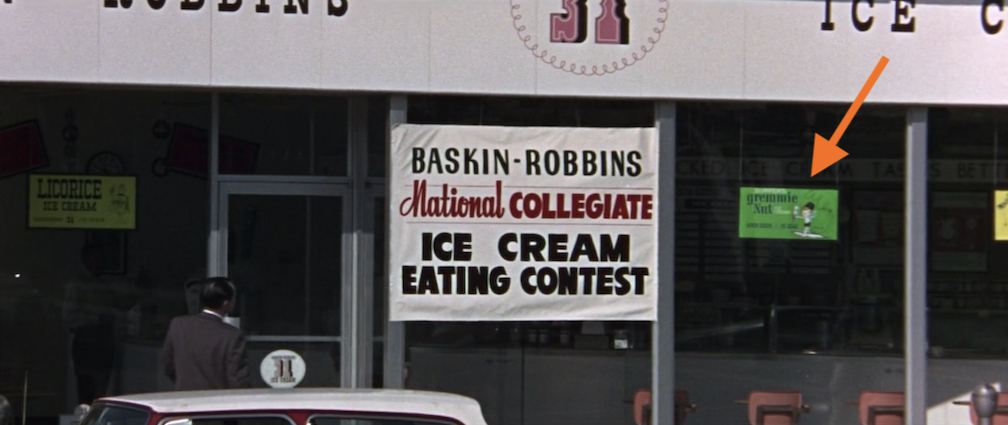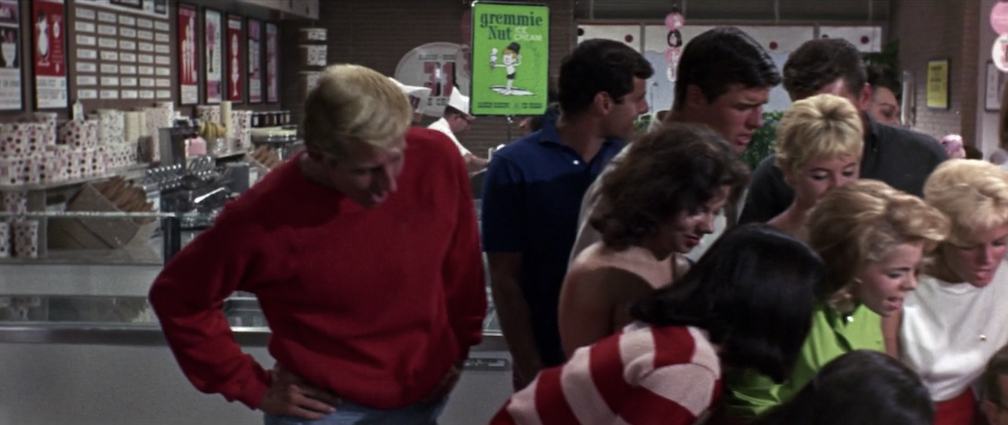 This is apparently a real San Fernando Valley Baskin Robbins, at least on the outside. According to the July 15, 1964 Valley Times newspaper, a San Fernando-specific daily, Gremmie Nut is "The only ice cream ever invented to star in a motion picture" and was for sale at real Baskin Robbins locations in the valley.
The paper notes that the ice cream company "gleefully furnished precise blueprints for a complete store plus all equipment" and that in the movie, "considerable action centers around an ice cream eating contest". This is true depending upon how you define "considerable". Or if the last third of the movie has a lot more ice cream in it than the first two thirds do.
No word on what it might have tasted like.
What else? Oh, yeah, Bob Denver added to his impressive collection of undignified roles with the part of Kelp, sidekick to the hero.
There's lots of goofiness with him and one of the low points is when he's buried in the sand and has his face painted so that his chin looks like the top of a person's head when you're looking at him upside down and he sings this horrible song, "Ho Daddy, Surf's Up" while everybody dances in a circle around him.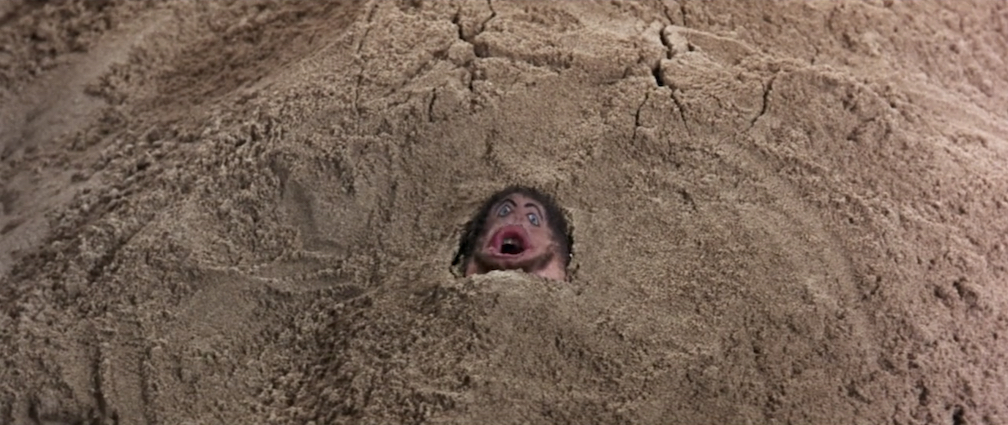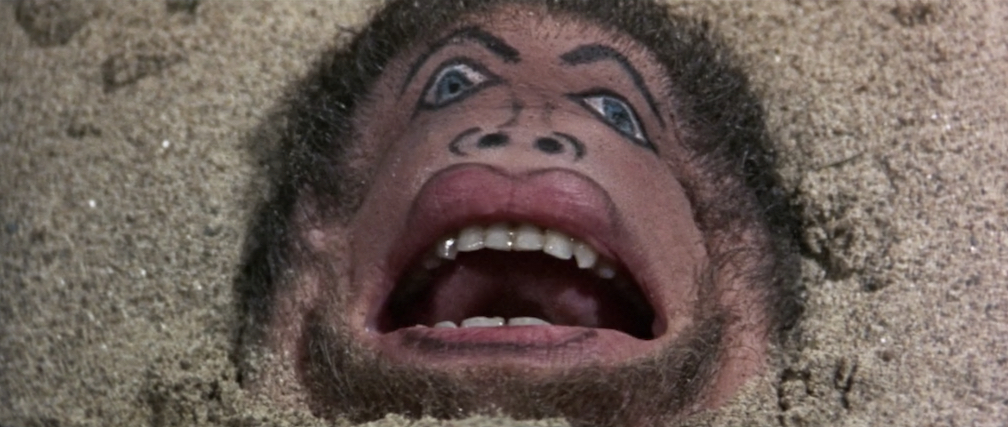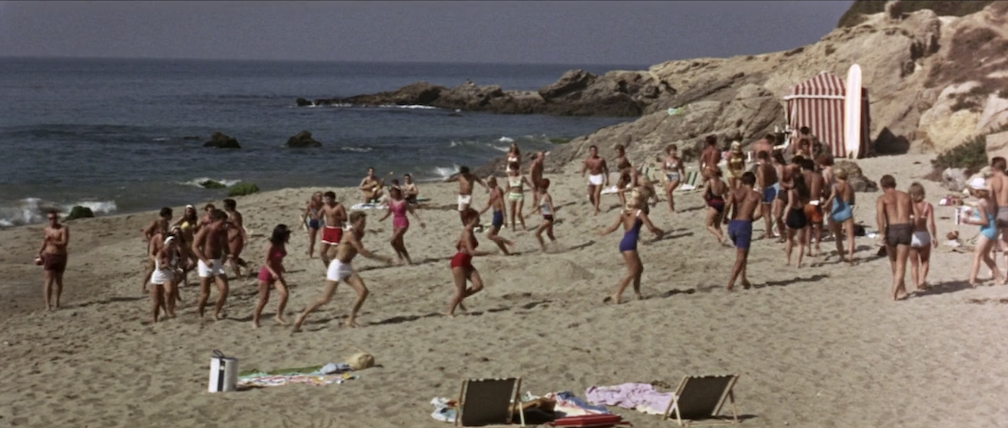 And there's some surfing footage that looks like the real thing.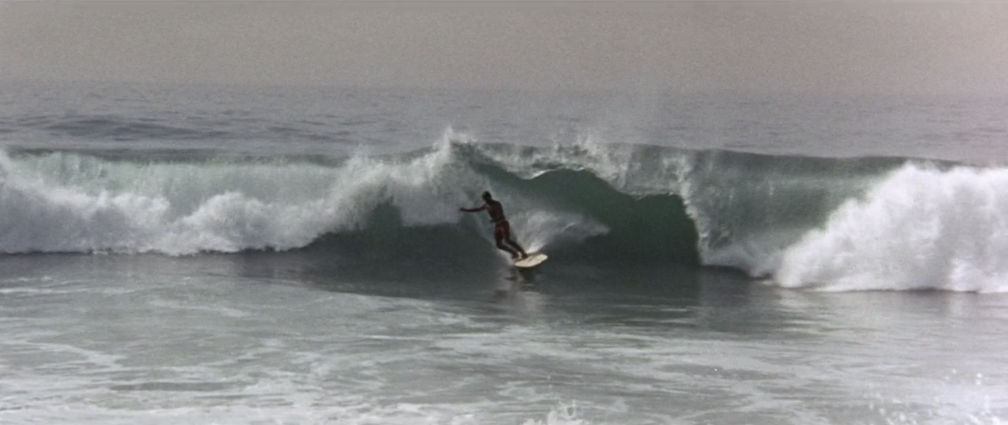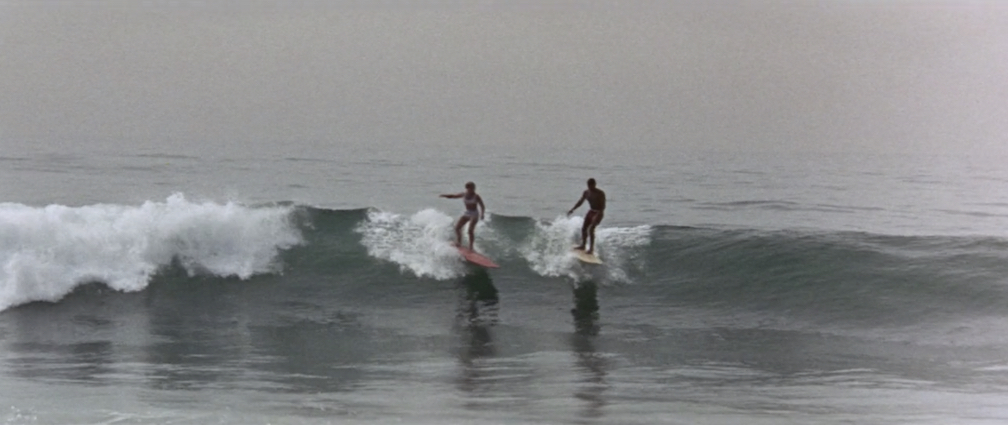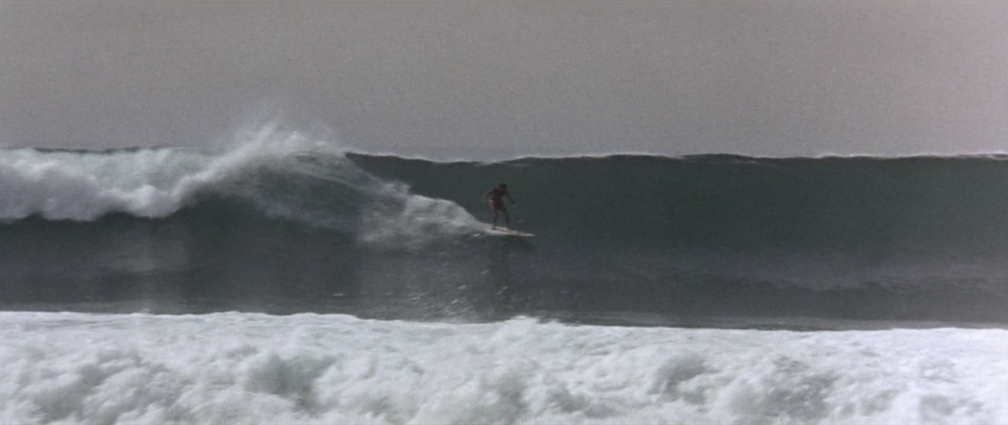 Maybe I'll watch the rest of it one of these days.
---
2020 August 12 • Wednesday
The June 1966 issue of 'TEEN magazine was a special surfing issue.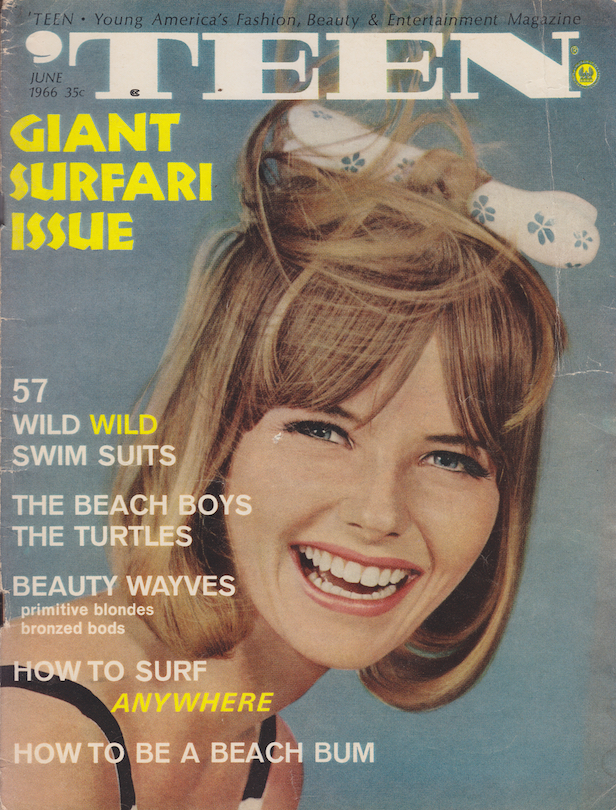 This article about how to be a beach bum and how to surf anywhere appeqrs to use Cooper Black for its headers, the same typeface you see on the front cover of The Beach Boys' Pet Sounds, which would have just come out.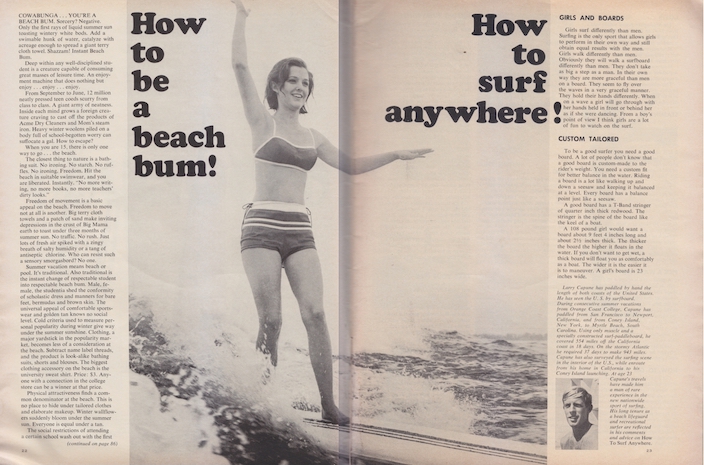 The article mentions boat-wake surfing as well as sand-dune surfing, something I still need more evidence of before I can believe it existed.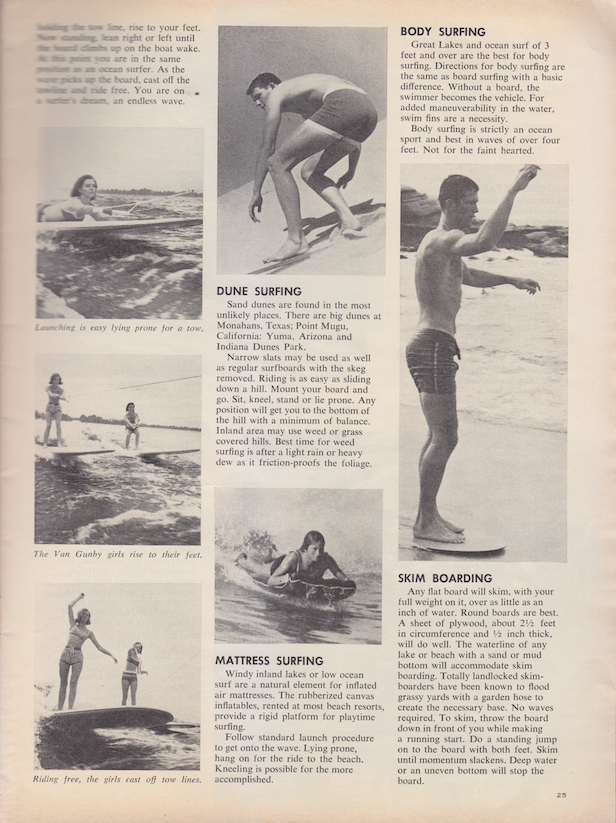 There's "Wipeout in Tandem", a piece of surfing short fiction with a very nice illustration.
This is followed by an article on and interview with "girl surfer supreme" Joyce Hoffman, a five-year veteran of surfing who "has collected 45 surfing trophies, among them women's titles in the World Surfing Contest in Peru and Hawaii's Makaha International".
She's not only a freshman history major, she's also the U.S. Surfing Association's Woman Surfer of the Year!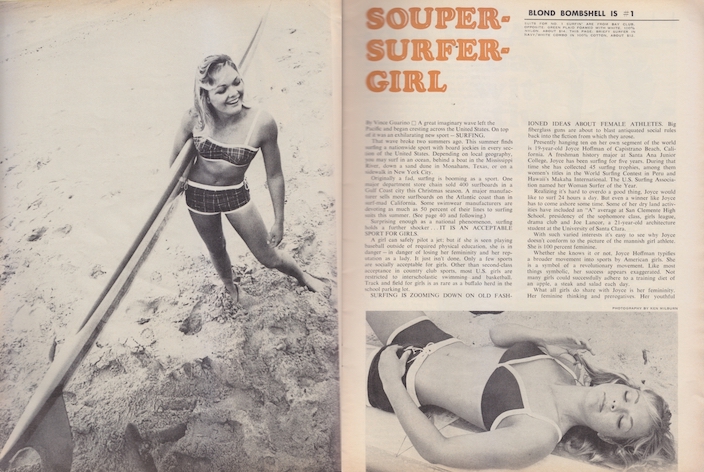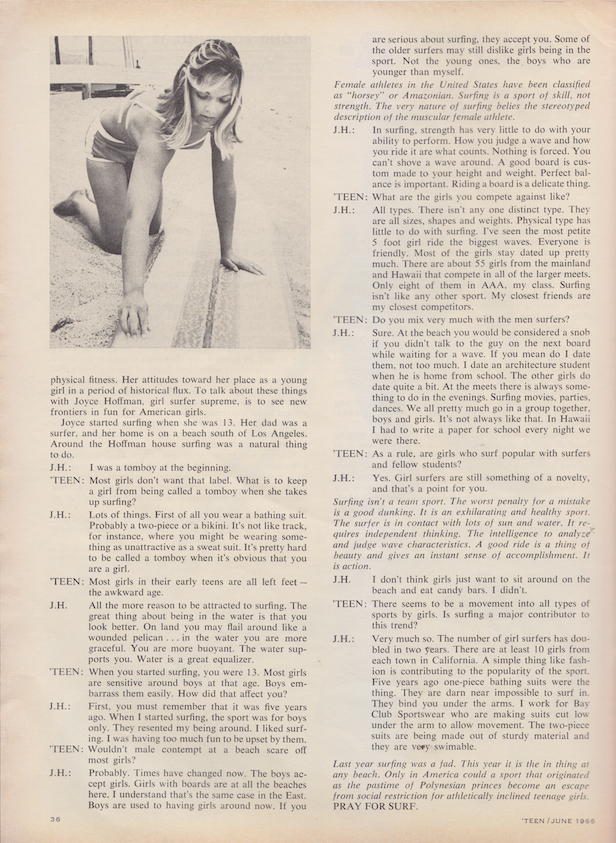 There are three pages of some 'TEEN readers hanging out with The Beach Boys at Pacific Ocean Park.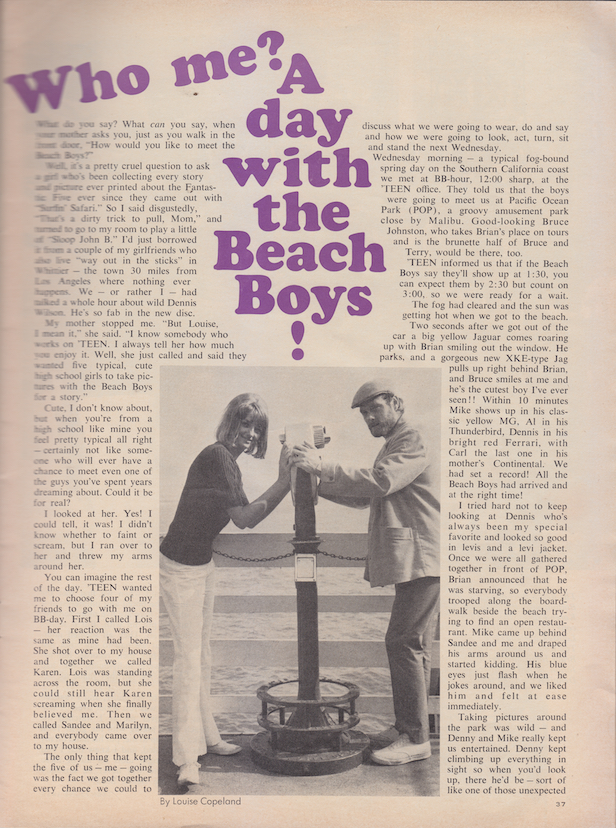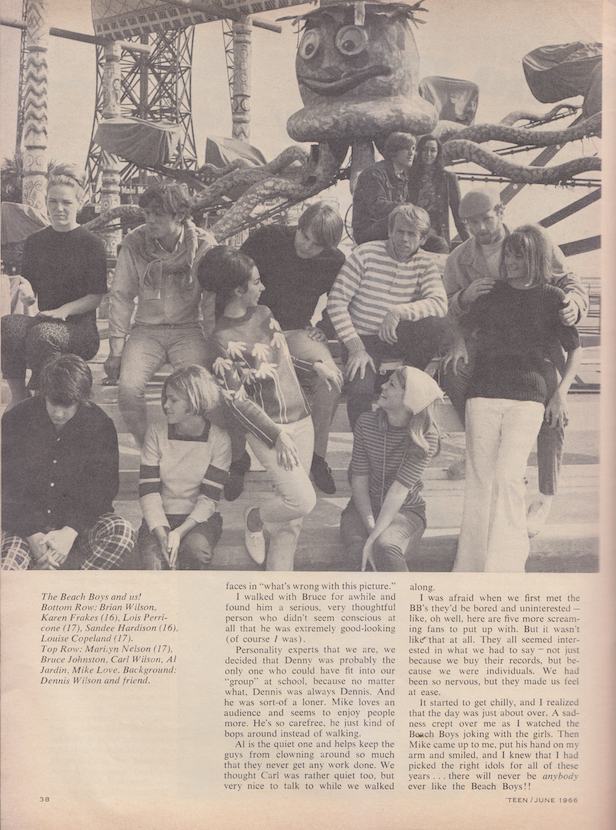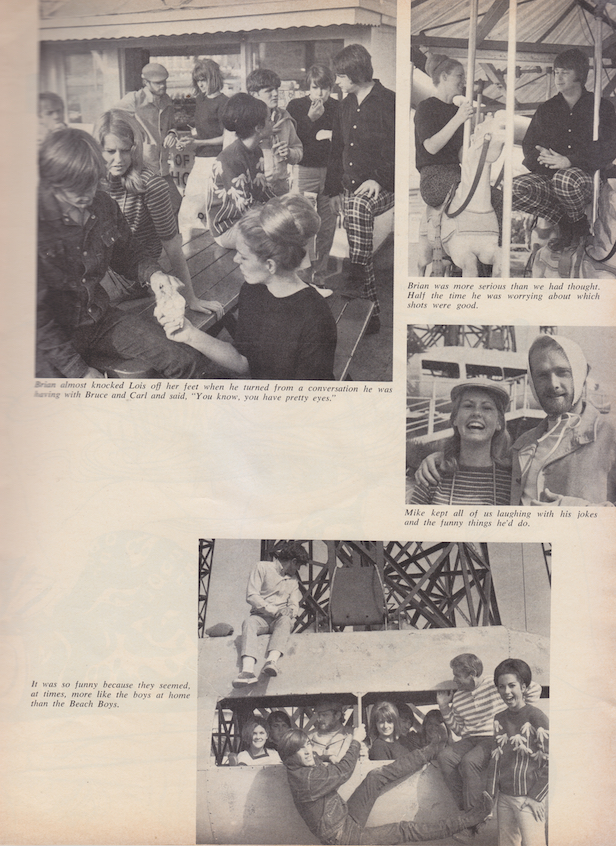 And finally, Jan & Dean make an appearance on the last page with their skateboard, as a nod to "sidewalk surfing".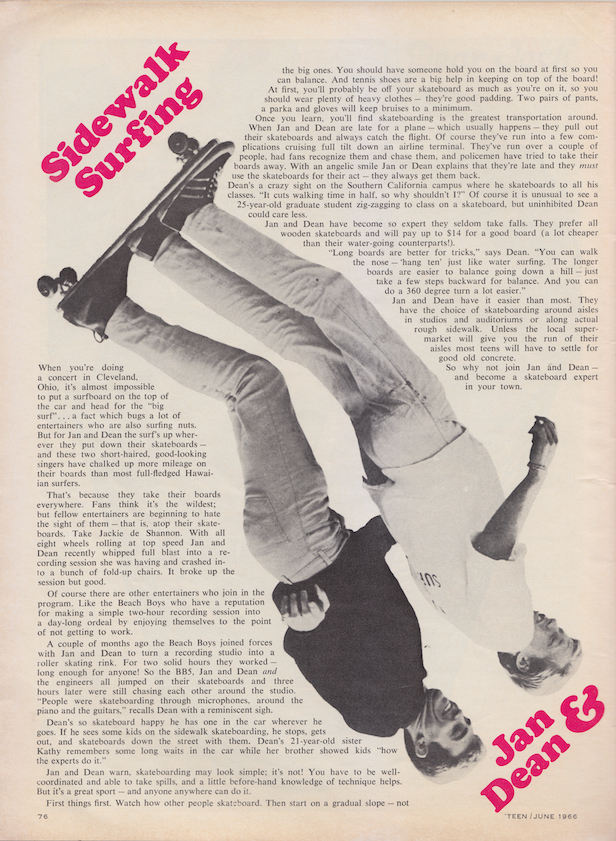 This is the June 1966 issue of 'TEEN but it must have hit the stands quite some time before that date since Jan Berry had a life-changing car accident in April of 1966 and was in a come for more than two months after.
---
2020 August 10 • Monday
The 635th Soundtrack of the Week is music from The Surfer Girls, mostly by Michael Gabbert.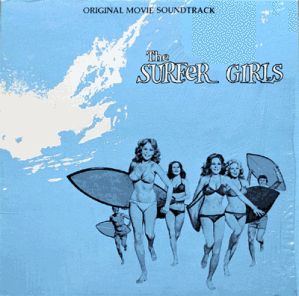 According to the LP sleeve, the movie itself "was filmed in the sensational new StereoVision 4-D". "In order to exhibit this film the theaters must install a special screen in addition to the StereoVision 3-D lenses and special effects equipment installed in the projection booth, lobby and auditorium of each selected theater."
That's some serious ballyhoo right there.
The movie itself is pitched as a drama-comedy as well as "one of the most bizarre stories of adventure ever filmed".
With "gorgeous teenage girls and savage island splendor" as well as "shocking jungle rituals never before presented in any motion picture, 'THE SURFER GIRLS' in StereoVision 4-D [is] destined to become the entertainment event of 1979".
Was it? It has a 4.8/10 on IMDb and, according to that site, "was released in 3-D as Surfer Girls in 1978 and Kahuna! in 1981, but issued 'flat' as The Senior Snatch in 1982".
So it doesn't sound like it was the entertainment event of any year, though they took a shot at it in three different years.
And none of this concerns us here. It has music. What's that like?
The first song is "Ocean Girls", a bouncy and swaying song that's a bit like The Grateful Dead's "Rambiln' Rose". "Looking for love and feeling so alive." The singers are heavy on the vibrato at times. So it's like a '70s surf Dead dance Joan Baez? Not really.
The kind of hippie classic rock feel continues in "Love's Fool", which has a CSN&Y and/or Simon & Garfunkel sound to it, with pretty and delicate male vocal harmonies and gentle acoustic guitar support. "I think I've always loved you and I think I always will." They repeat the words "always will" a lot which makes me think that the track listing is wrong and that this is the song "Always Will". It would makes sense.
Slinky and sensuous electric guitar and keyboard set the mood, for the third song, which is supposedly "Always Will", according to the sleeve. (The LP itself has two Side 2 labels on it, so consulting it doesn't help.) The melody line at times has a shape and length more suited to musicals and at other times is simpler. It's a nice song.
Again there's a very mellow country rock sound to the next song, "My Love". Melodically and harmonically it's likely to remind you of some classic '60s song that I can't think of right now. Something like "Me and Bobby McGee", for instance.
"Grateful Daydreams" doesn't stray too far from this model either, reminiscent of "Our House", perhaps. The lyrics clearly have the words "grateful daydreams" in them, so no confusion here.
And then side one ends with "Seaview Shuffle", one of two numbers by Kendall Keyes, which are also the only two instrumentals on the record. This one is a mellow lounge jazz tune that features the saxophone.
"Surfer Girls" starts the second side and mostly features women singing about a "spirit man of the island". They're going to miss him and kiss him, they say, and always remember his mystical wonder. I guess that's good.
Another hippie sort of number comes next with "Good Place To Be", harmonically simple and familiar but with a nice melodic line and lovely vocal blend of men and women singers.
"When I met you, you were falling / For that same old come-on line" starts what might be the song "Brotherhood". It might be worth while to look at the song titles and lyrics and come up with a more plausible sequence than what's presented here. We're not doing it now, however. This is a simple, stripped down song, just quiet vocals with some soft backing by guitar and keyboard.
The next song is called "Sunflower" and that must be right because the lyrics mention sunflowers glowing in the dark while ladybirds sail through the park (unsure of their destination), or something like that. This one has a very strong resemblance to Simon & Garfunkel.
A cross between disco and jazz fusion informs "Sailin' On", which has a lovely lyrical melody and lovely vocals. This is the only song on here written by Victoria van Tamelen & Derek Bianchi. Except for the previously mentioned "Seaview Shuffle" and the upcoming "Disco Stretch", which were written by Kendall Keyes, all the songs are by Michael Gabbert.
And here's "Disco Stretch", which is a straight-up disco number for sure. If you've heard disco, you know what it sounds like, though this is a somewhat minimalist approach to the genre.
---
2020 August 07 • Friday
After watching the movie Puberty Blues, I read the book.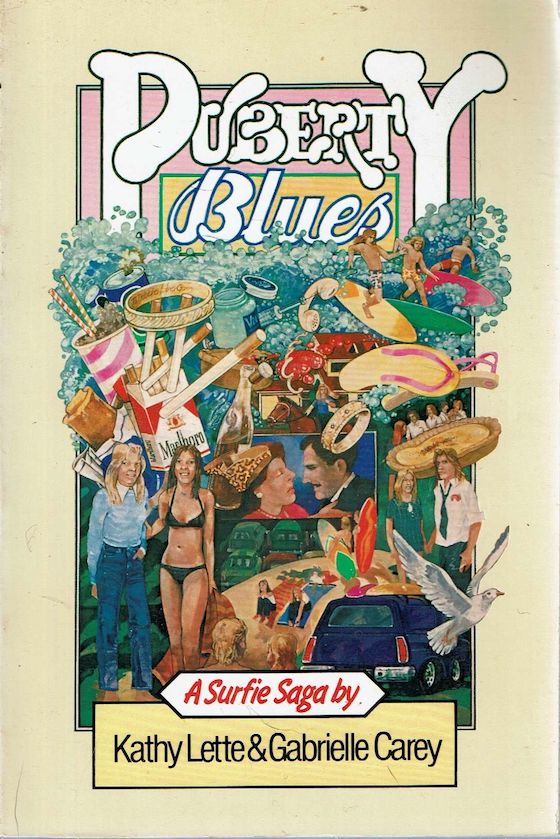 This was apparently a very celebrated book in Australia when it came out. It was written by two teenagers in a very naturalistic, unforced style and presumably tracks their real lives very closely.

Because of this, the book is sometimes called "faction", which I suppose is the same thing as what's now referred to as autofiction.

While the book is linear and has shape, it was originally published as a series of newspaper columns and retains an episodic feel as well as some occasional repetitions which would have been less noticeable if you were reading a chapter a week, if that was the frequency of its first presentation.

The book is harsher than the movie in its depiction of this particular teenage milieu, and the main characters are more phlegmatic and matter-of-fact about their experiences.

What seems to be a relentlessly authentic recreation of slang and speech might come across to some readers as a separate dialect of English.

And perhaps it is.

'Deadset?'

'Yeah, it was unroole.'

'Wadja Mum say?'

'Nuffin'. She never knew.'




They talk like that all the time. While many of the words and pronunciations were new to me, their meaning was always pretty clear.

Some of the more obscure terms are explained in the text. "Dog-eat-dog", for example, is linked to a footnote that explains: "Dog-eat-dog—pronounced 'doggy-dooog' which means a daggy girl—a girl wearing too much make-up, a girl who's too fat or with scraggy hair or just plain ugly".

That footnote is itself a vivid indicator of some of the laws of this teenage jungle.

The book notes the transition from alcohol to drugs and the destruction that follows. It's a huge change and not everybody survives it.

The first line is "When we were thirteen, the coolest things to do were the things your parents wouldn't let you do".
---
This Australian movie Puberty Blues was a really pleasant surprise.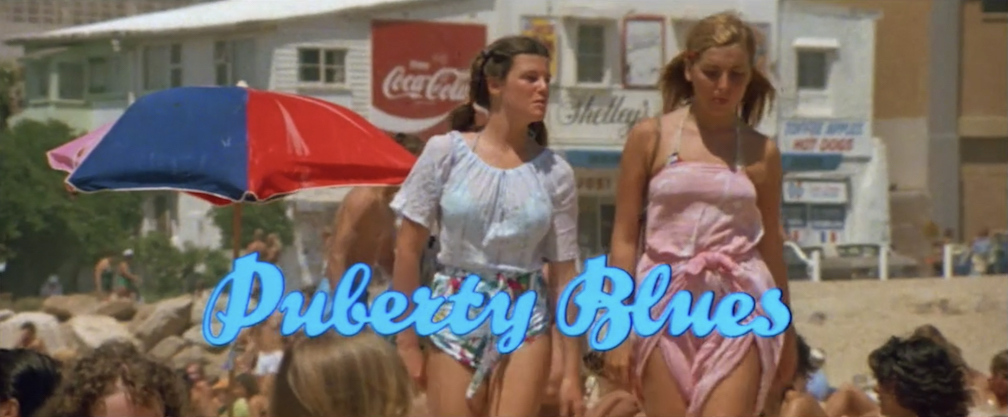 The title doesn't do it any favors. But it's based on a book of the same name, an autobiographical novel written by Gabrielle Carey and Kathy Lette.
The movie is from 1981 but another adaptation of the book, this time as a tv series, appeared in 2012.
It's about two high school girls, Deb and Sue, in a suburb of Sydney. They manage to get accepted into the "cool kids" group, which consists of surfing boys and the girls who hang around them, and the movie follows their path into this clique and how their new "friends" change their lives.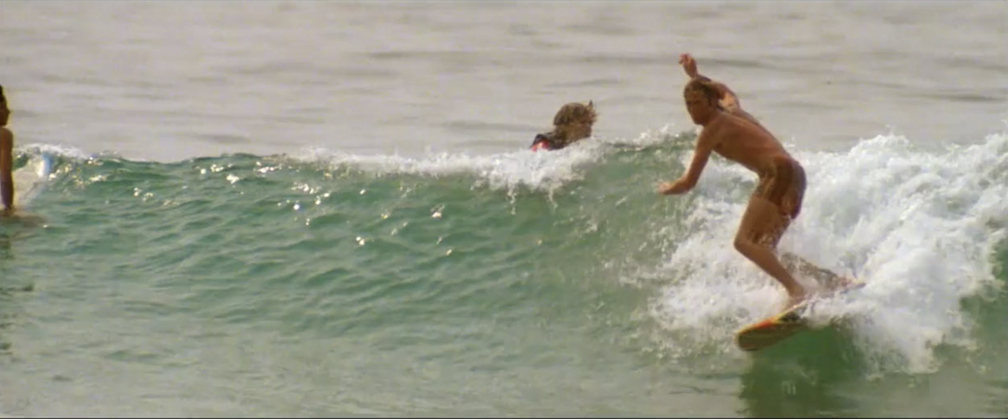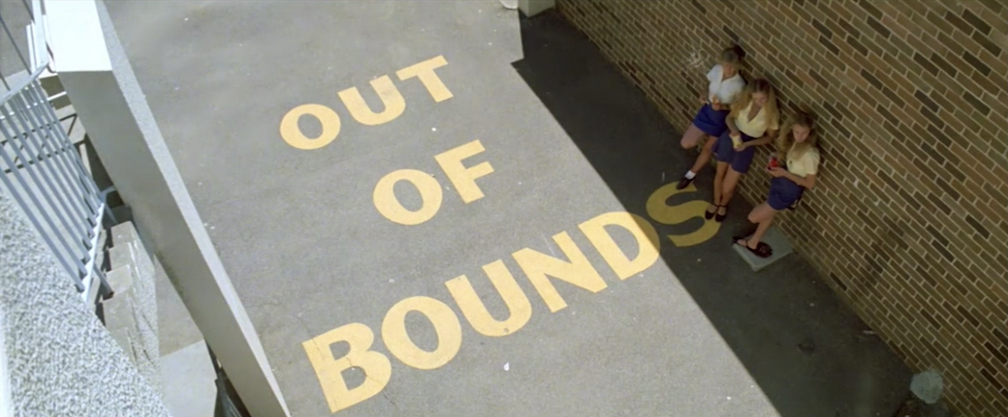 It might remind you of Freaks and Geeks, having a similar departure point, but this is a much braver and less watered down account of adolescent triumphs and humiliations. (It also stays clearly focused on the two female leads, while Freaks and Geeks spent a lot more time on its young male geek characters, presumably because that's really the area where creator Paul Feig and most of the writers had the most experience to draw upon.)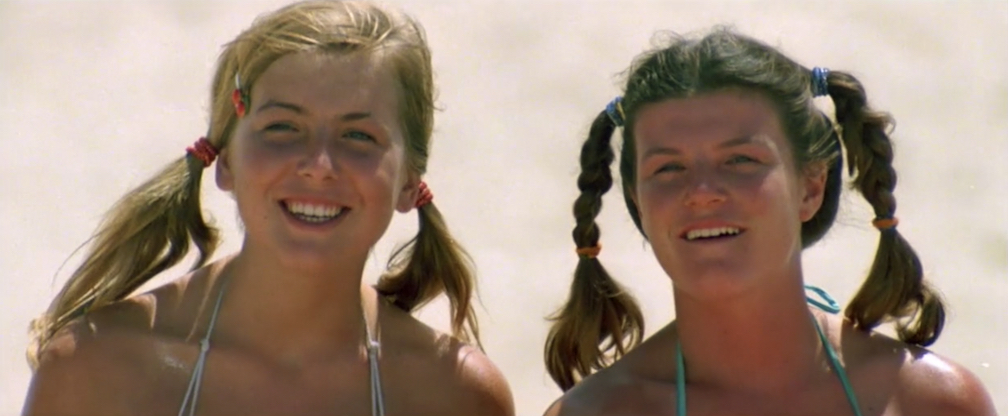 It's a solidly R-rated movie, with sex, violence, nudity, drug use, lots of drinking and nasty language. And it seems completely authentic.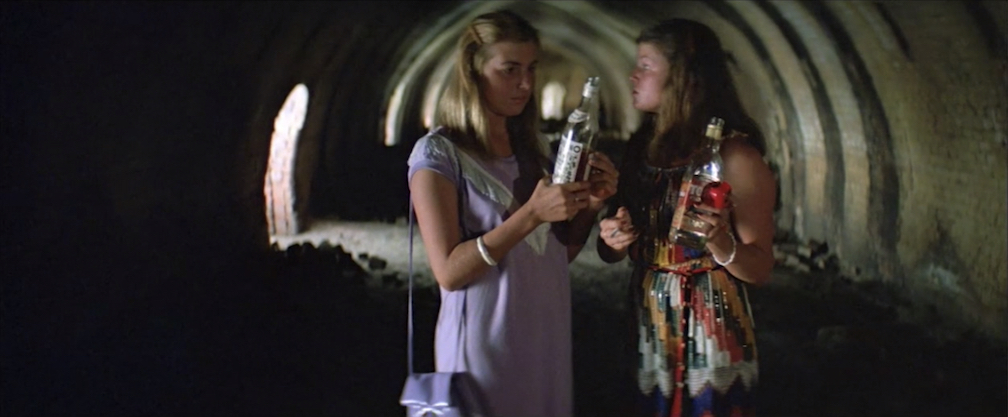 In one harrowing scene, a pitiable girl who isn't liked or accepted by anybody, is picked up by three of the surfer boys and used and abused by them for sex. Their manipulation of her and complete disdain for her, treating her exactly like an object and not recognizing any human value in her life at all, is sickening.
When they dump her back in town—not even driving her home, which had been the pretext for getting her into their van in the first place—she leaves the frame and behind her the camera focuses on a sign that says BOYSWORLD.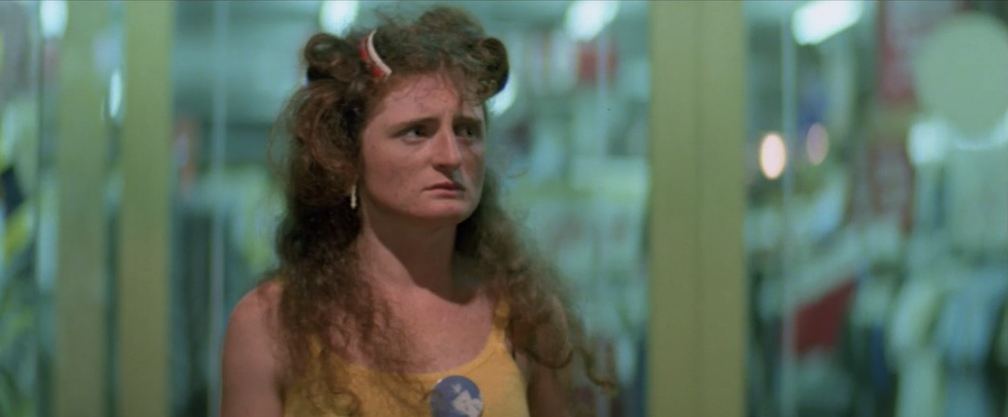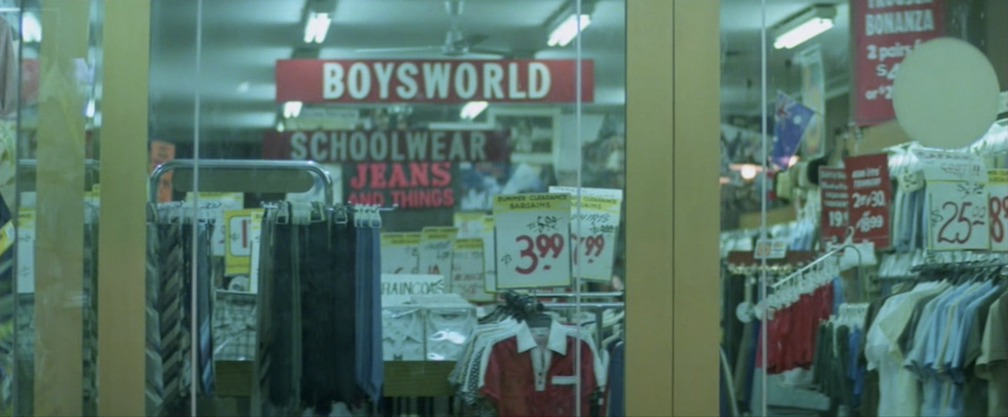 This is one of the only incidents that departs from the point of view of the two main characters, though they do witness the last moments of her ordeal.
Deb starts out with a truly awful boyfriend and then moves onto a guy who cares for her more. At one point she and Sue spend the night in an abandoned beachfront house with their boyfriends and there's a sweetly innocent "playing at adulthood" aspect to what they're doing.
One of the guys even creates a fake surf tv show on the broken television set.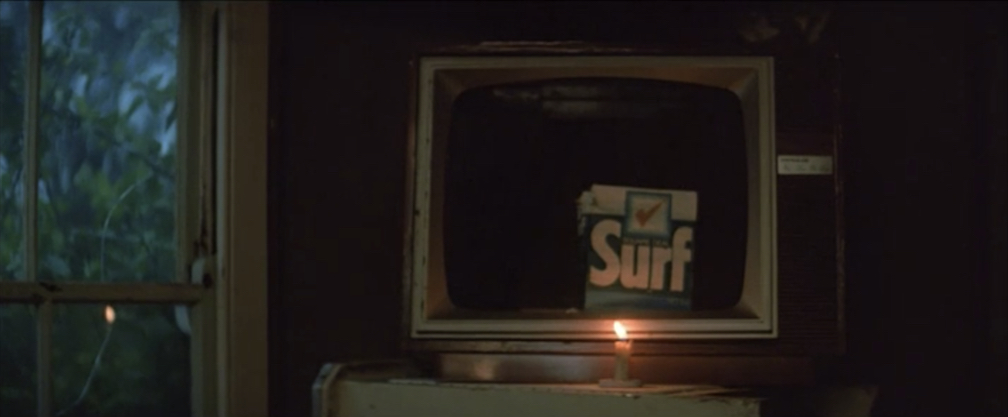 But Deb and Sue want more than being hangers on. They're tired of just sitting around while everything revolves around the surfer boys and their whims.
Can't they surf too? No, they're told. Girls don't surf. And no boy will lend them their board.
Even inside the group, they still feel like outsiders.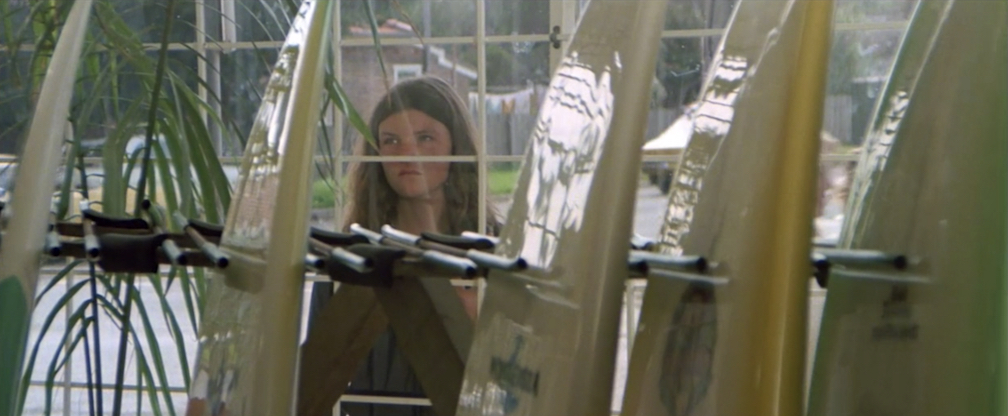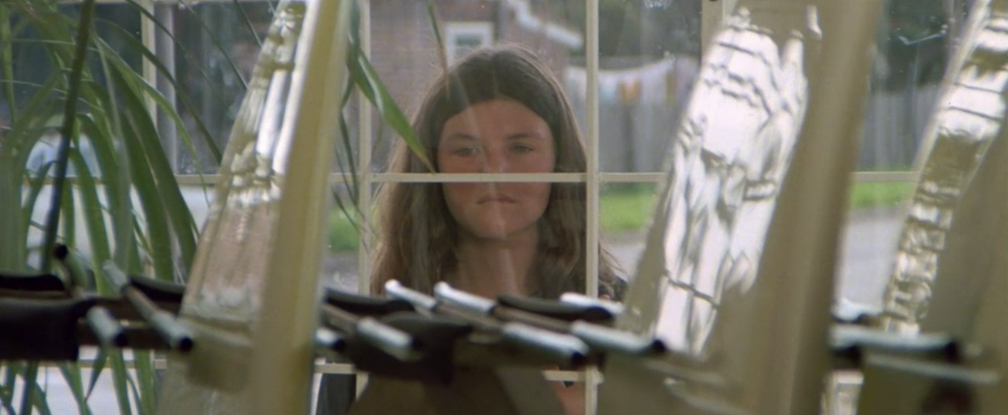 Eventually, after a shock to the system, Deb and Sue get their own damn surf board.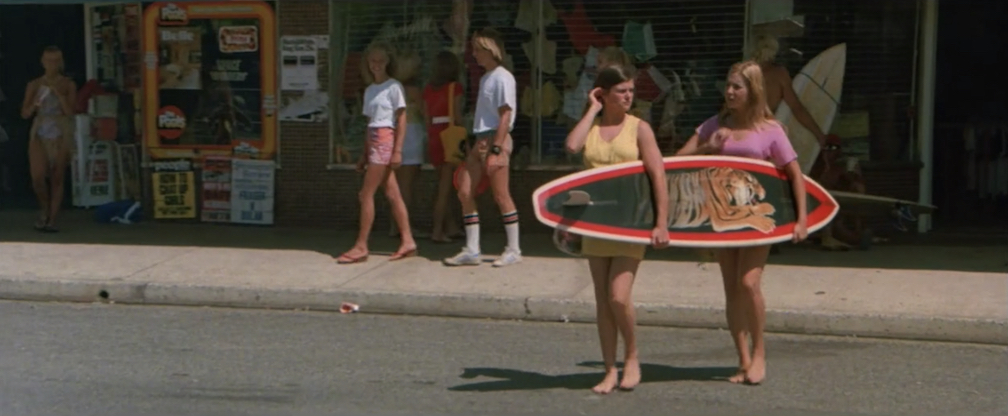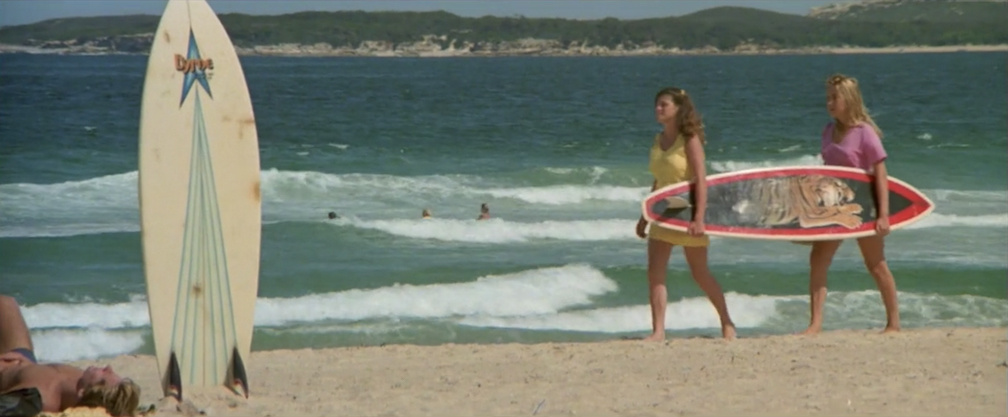 It's an impressive film. Everybody in it seems like a real person and not an actor, especially the two leads.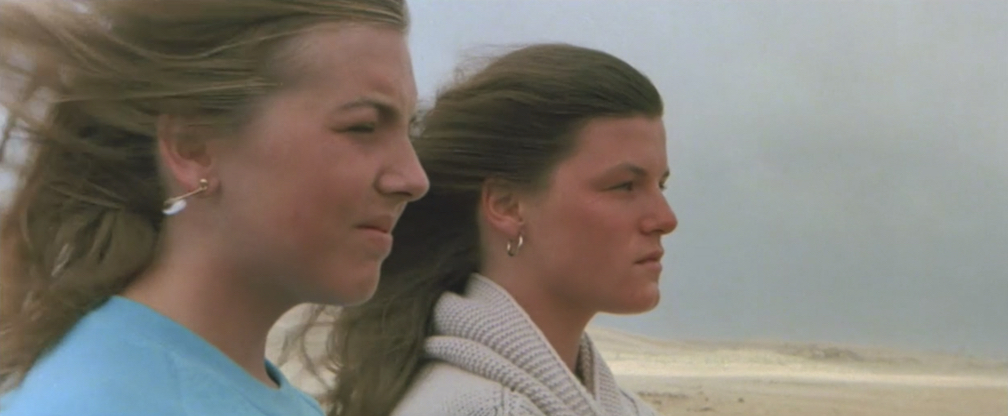 Finally, it seems that when they go to the drive-in at one point, the movie on the screen is the Australian vampire movie Thirst, whose soundtrack was our 624th Soundtrack of the Week!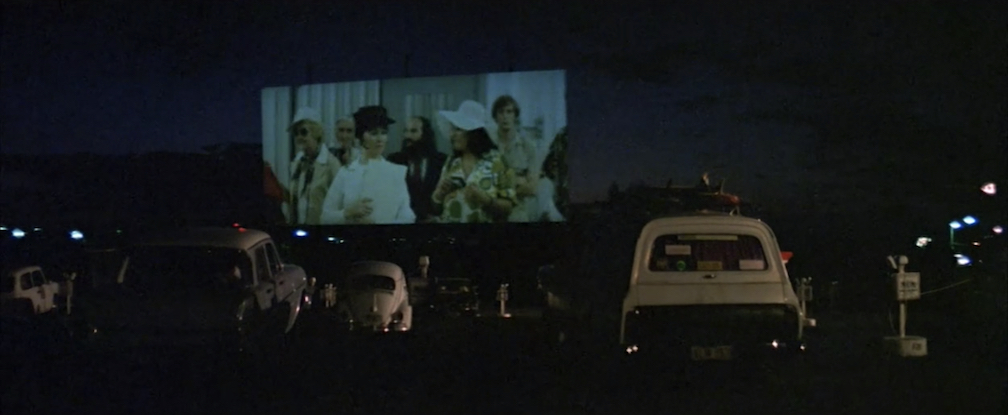 ---
2020 August 03 • Monday
The Fantastic Plastic Machine's music by Harry Betts is the 633rd Soundtrack of the Week.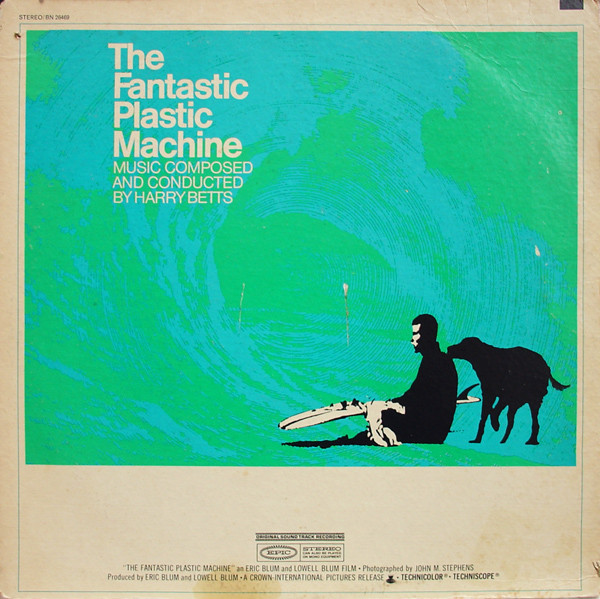 The "Theme from 'The Fantastic Plastic Machine'" starts with bongos and fuzz guitar before becoming a more traditional-sounding surf song with reverby and double-picked guitar. Interestingly, though, the rhythm section gives it a sort of swing that isn't typical of the genre and there are strings and some unusual percussion and keyboard sounds, as well as what sounds like a Hammond organ. At the end of the piece it goes into a bit of an acid rock freak-out. Even though it's not in 3/4, the melody is a little bit like the theme from The Cincinnati Kid.
The movie itself sound like a similar venture as The Endless Summer, with California surfers going to Fiji, New Zealand and Australia. "Endless Summer" is the name of the second track but it's not the famous piece by The Sandals. It's more of an easy listening lounge sort of piece that features harmonica and could work well as part of the score for several 1970s movies and television shows.
"Night Flight" immediately recalls "Ain't No Mountain High Enough" but quickly shifts into a more surfy zone, mostly because of the guitar. The rhythm section stays with kind of a disco funk soul thing and there's also harmonica and Hammond organ.
Things stay groovy with "Green-O", which almost sort of quotes "Wipe Out" while presenting a '70s disco rock take on a Hully Gully rhythm (I think).
Things get jazzier for the airy "Day Groovin'", which is a mid-tempo jazz blues that features the Hammond and electric guitar.
For "Straight Ahead" Betts seems to summon some Neal Hefti energy. It would be easy to imagine this cheerful tune as the opening credits for a 1970s television program. There's a saxophone solo near the end.
Flip the record and you've got "Rock Slide", another quirky piece with a lot going on in it. Chirpy flutes and pinging percussion, punchy horn section, more funk lounge disco electric bass guitar playing but also an occasional rock backbeat and a Vegas feel to it.
Apparently surfer and surfboard designer Bob McTavish is in the movie and he gets his own piece, "McTavish", which sounds like it used "Wipe Out" as a departure point and took it to a place with bongos and slightly overdriven guitar, as well as keyboards and horns.
And "Nat's Theme" is almost certainly for surfer Nat Young, also in the movie. His cue starts very gently with flutes and a pastoral mood, even perhaps an electric harpsichord. Harmonica comes in and when the rest of the ensemble also joins the mood stays very mellow and sweet.
"Outtasight" comes up with another mood, a bright and happy tune that sounds like it's celebrating something triumphant. The melody line is nice and there's some good drum breaks as well as some guitar and keyboard soloing.
The most dramatic piece on the record is definitely "Green Grotto", which starts out building atmosphere and suspense, suggesting even the famous (second) theme from The Twilight Zone as well as using chimes very melodically in combination with twangy guitar, a spaghetti western soundtrack signifier.
Finally there's "Long Reef", which is kind of a primitive rocker, much more in the classic surf tradition than the other tunes on the album. Very simple and pounding with the guitarist not playing too many notes. The keyboard comes back but otherwise it's a stripped down old-fashioned rocker.
---