Rob Price
Gutbrain Records
rob + gutbrain.com = email
---
The 628th Soundtrack of the Week is Bernard Herrmann's music for his final collaboration with Alfred Hitchcock: Marnie.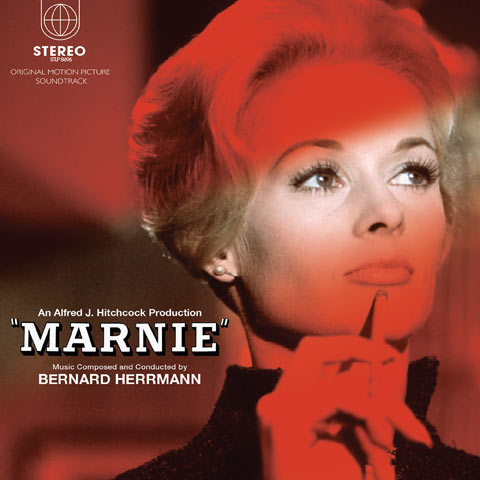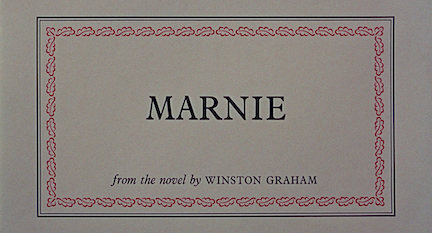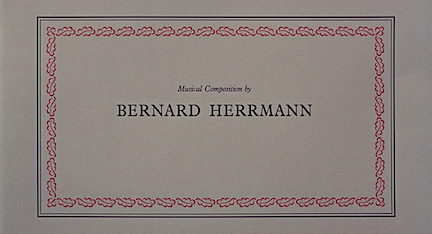 It's on red (of course) vinyl!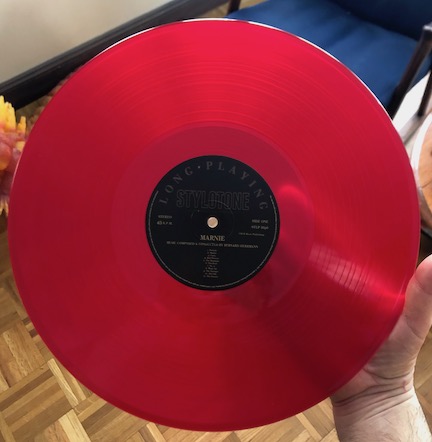 This was the end of the road for Hitchcock and Herrmann. While Herrmann would score Torn Curtain, Hitchcock would fire him and ditch the score for no good reason and that was it.
It seems clear to me that Hitchcock's ego couldn't handle how much of a contribution Herrmann made to his films. Hitchcock himself thought Psycho was a failure until Herrmann added music to it. It was the Promethean spark that animated the whole movie.
When Vertigo came around, Hitchcock was well aware of Herrmann's genius, even leaving at least one whole reel just for Herrmann's music.
While not as extreme a case as Psycho, Vertigo is entirely dependent on its visual and musical beauty, as well as the impressive performance by Kim Novack. The plot is probably the stupidest plot in the entire history of movies. Without music, and probably without, specifically, Bernard Herrmann's intense and luxurious soundscape, it would be hard to care about or believe in anything that happens on the screen.
But Marnie…. Well, in Marnie it just doesn't work. I watch it every few years to make sure and also because I manage to forget almost everything about it every few years.
It's a ludicrous Freudian story and frankly offensive in many ways. Sean Connery and Tippi Hedren are wasted in their unforgiving roles and even the visual quality of the images, their framing and movements and compositions, aren't up to what we expect from a Hitchcock movie.
Herrmann wrote gorgeous music for it anyway, but it's not enough. The theme for Marnie herself, which you'll hear about ten thousand times, is stirring and lovely.
There's also a tension/excitement theme, which echoes the galloping horses that are a key part of the movie.
Interestingly, since there was a lot of pressure to get a hit song attached to a movie, synergy and bigger pay days and all that, Herrmann's main theme got the Nat "King" Cole treatment.
"Moon and mist make rainbows in your hair / When I see your smile there's sunlight everywhere / But your world is lonely, Marnie / Oh, Marnie."
So that's that. The Marnie theme is one of my favorite Herrmann themes, and the score itself is many variations and arrangements of it, alternating with other passages as fits the action on screen.
But this is where it just didn't come together and it wasn't Herrmann's fault. It wouldn't have been his fault in Torn Curtain either. I think that by this point, Hitchcock had expressed everything he needed to express and no longer had the same sure footing and drive.
---
2020 June 26 • Friday
We're not the only ones sitting around reading Brides in Love, are we?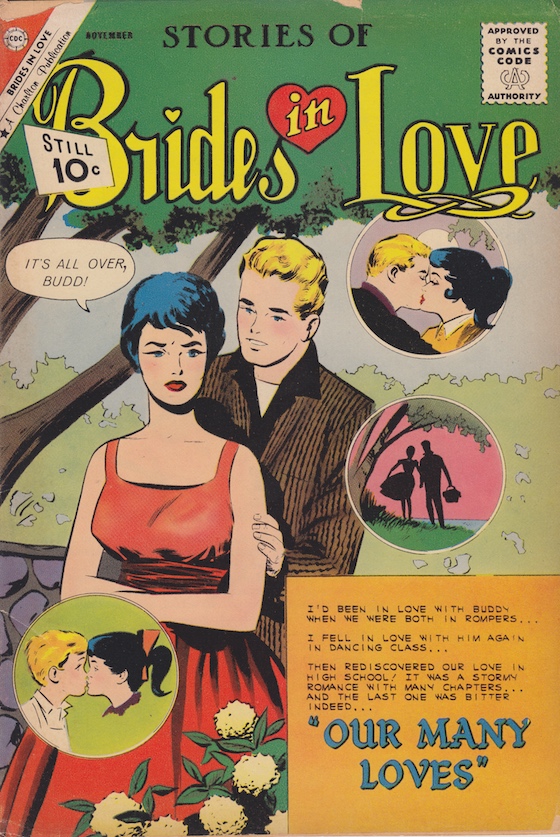 This is the only example of this particular romance comic book title that we have there. No names are given for the writers or illustrators or anybody else other than Executive Editor Pat Masulli.
This is Volume 1, Number 27, from November, 1961.
It has three comic book stories and one text-only story.
Up first is "Stigma", in which a young woman suffers from low self-esteem and it's ruining her life. A doctor says that it's a psychosis caused by how much she hates her nose.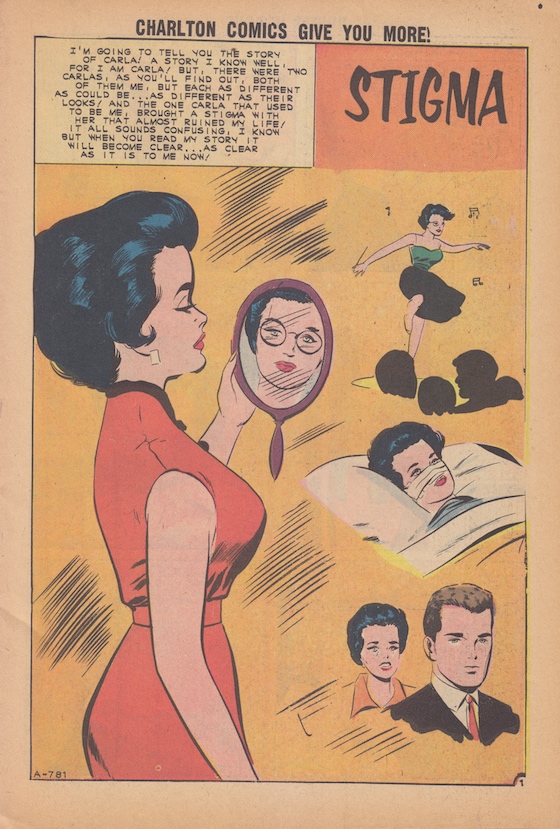 He prescribes plastic surgery but by this time she's already been overcompensating by going completely wild and dancing like crazy and has a "reputation".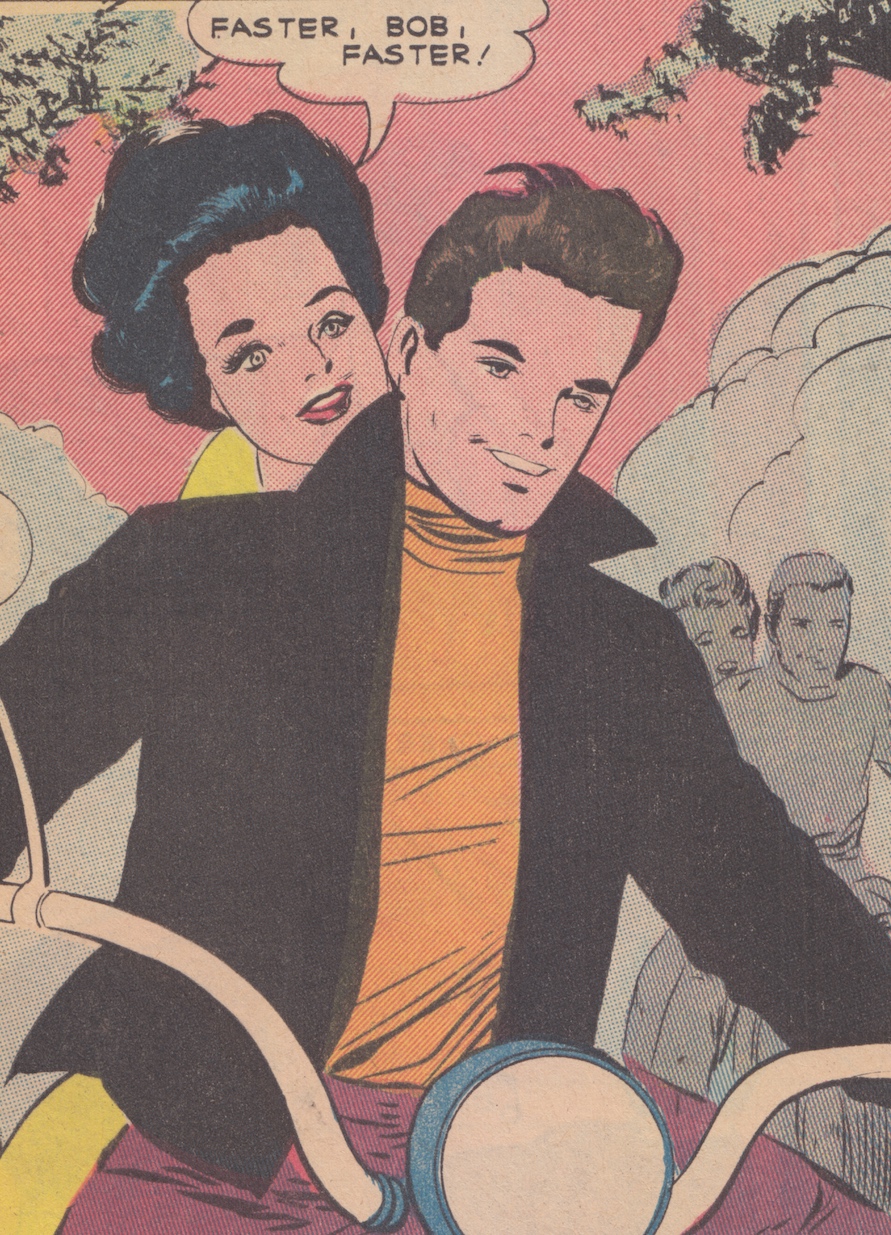 The second story, "The Busy-Body Pioneer", is a bit of a cheat as it's about neither bride nor in love.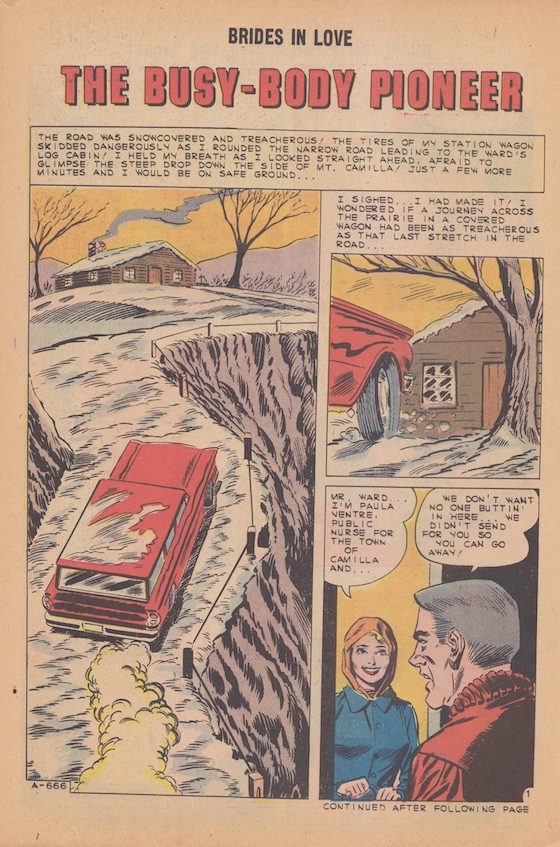 A nurse tends to a sick woman in a rural area despite the hostility and contempt of the patient's husband, who ends up apologizing to her for his manner and treating her with respect.
Then there's the text story which I did not read. It's two pages and called "Love Logic, and Lotus Blossom".

Then we have the cover story, "Our Many Loves".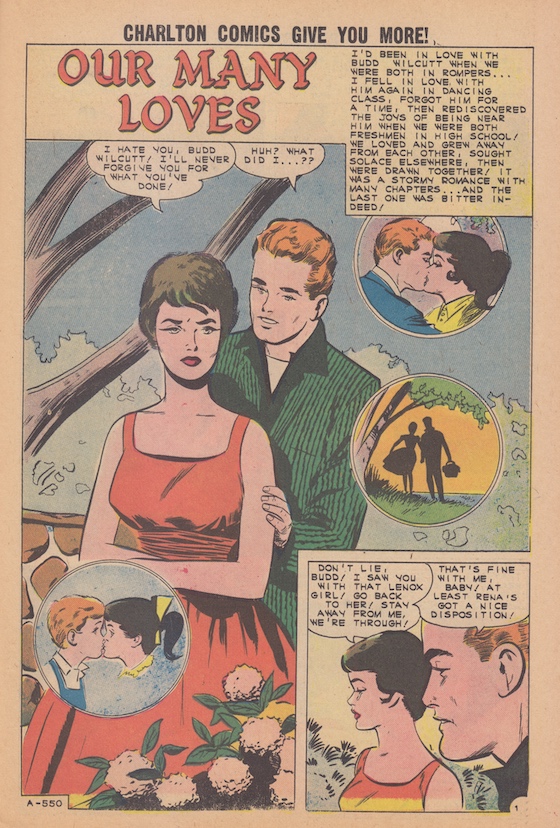 Budd and Carol have known each other forever but they keep breaking up and getting back together, mostly because of Carol's jealousy and hot-headedness. Love conquers all, though, at least in this story.
It's worth noting how the same page of art, I think, is used for both the cover and the title page for the cover story.
---
2020 June 24 • Wednesday
By the time you read this, Reuben Radding's second Corona Diary photo zine will have sold out, just like the first one did.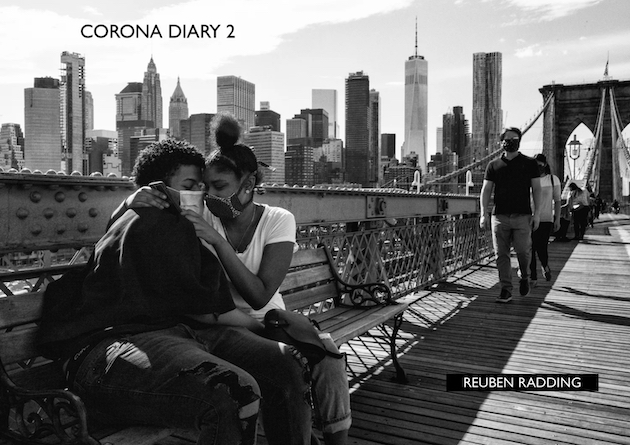 And that's why you should follow him on Instagram or wherever else.
Not only is he one of the best and most productive street photographers in New York City (and perhaps the world?) but you'll want to jump on the chance to get these limited offerings.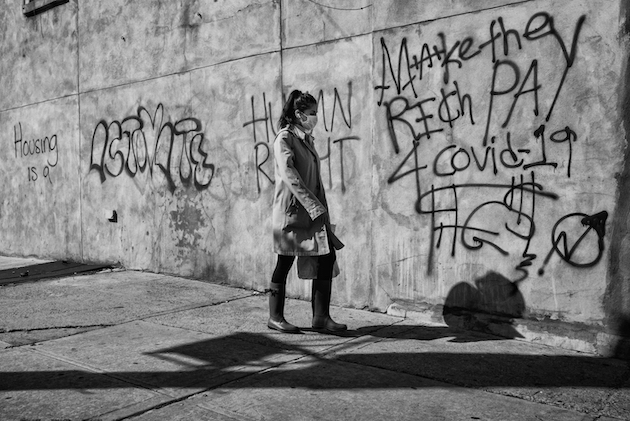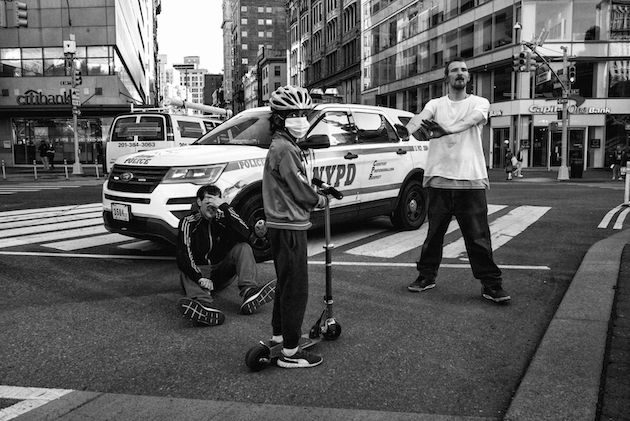 I hope there will be a third one but I think he said something about ending with number two.
---
2020 June 22 • Monday
The 627th Soundtrack of the Week is Bert Kaempfert's music for A Man Could Get Killed.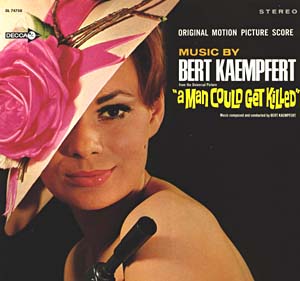 The main title starts with explosive blasts of horns and some of the intervals suggest what a 1960s Bond score written by Akira Ifukube might have been like. Pretty soon it settles down into an atmospheric and mellow zone with prominent electric bass guitar.
Then it sways and some plucked instruments that sound like they might be East European in origin create a totally different setting and it's only then that we get the main title theme.
You've heard this theme before. You'll hear it many times on this record but the theme itself was so catchy that after it had lyrics added to it it became a little song called "Strangers in the Night".
"Explosive Welcome/Bi-Naveled/Key Note" is a fairly elaborate three minutes of dramatic underscore that suggests some comic hijinks as well as some suspenseful action and romance.
Lush, Mancini-esque orchestrations follow for "Beddy Bye", which reprises the main theme after some "laughing" trumpets.
Then, for "Beddoes Shadows", things get slinky and Mancini-like again with the electric bass guitar suggesting The Pink Panter and Peter Gunn while once again we hear the main title theme. The rhythm section really swings in this one.
Pizzicato strings start off the gently swaying "Clues Dropper/A Tape Sandwich/Rude Awakening". You'll also hear a quote of "Rule Brittania" and some high-tension dramatic music before the inevitable return to the main theme.
Spanish classical guitar with some flamenco flourishes opens "Noted Arrival" There's a little bit of support from strings but it's really the acoustic guitar's show.
The B side starts with "Taking De-Tour", which is a jaunty number that certainly sounds like it accompanies a scene of characters on the move.
Again we have the kind of Eastern European or possibly Mediterranean-sounding strummed instruments, this time with upright bass and jingled bells, as well as the rest of the orchestra, for the tranquil "Sale Fish".
"Down to the Docks/A Deadly Game" is another one with a Mancini-like bounce to it. This time the flutes are the principal voice until the strings take over for a reprise of the main theme. After that comes the tenser and more adventurous "Deadly Game" part that nonetheless resolves into a placid and romantic cue.
Sprightly intrigue music with a definite Middle Eastern touch, and a bit of Tchaikovsky's sugar plum fairies, describes the driving 3/4 piece "Foiled in Oil".
Another two-parter is next, "Handy Brandy/Hail the Azalea", which has perhaps a Russian dance flavor—or Star Trek fight music—quality to it. It winds things up in a velvety, loungey, late-night mood with lush string arrangements.
And then we get the main theme one more time for "No a Go Go (End Title)", which presents it as you've already hears it but builds to a big finish.
---
2020 June 19 • Friday
Just in time for Father's Day, here's the June 1955 issue of Bluebook magazine.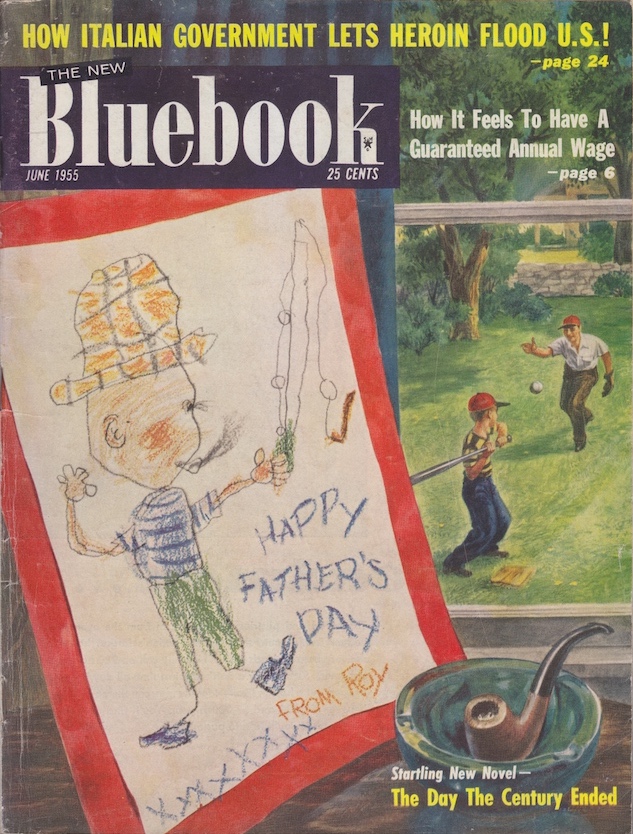 There's a lot of great content in here. For instance, there's a short story called "The Rumble" by Frederic Sinclair in which an ex-con who's got a nice honest life going as a husband and father and professional crop-duster gets forced into a bank heist by rough customers he knows from prison.
What ends up happening involves a helicopter, a school bus full of children, lots of Molotov cocktails and lots of guns.
There's a whimsical story about professional wrestling by Charles Einstein and an intriguing feature on tennis, in which Jack Kramer, Frank Sedgman, Maureen Connolly, Don Budge and Lloyd Budge all give detailed advice on very specific shots and strategies.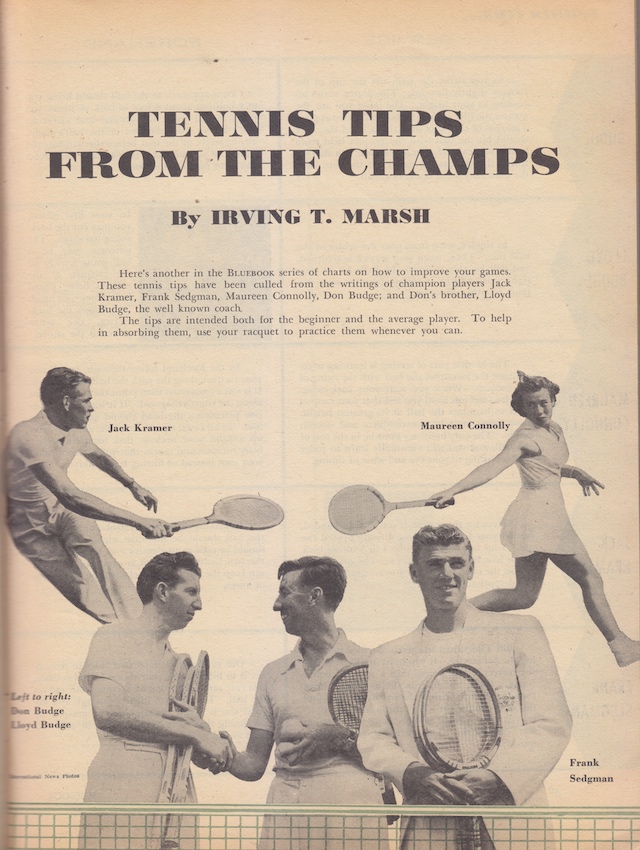 There's also an excellent John D. MacDonald short story, "Virus H".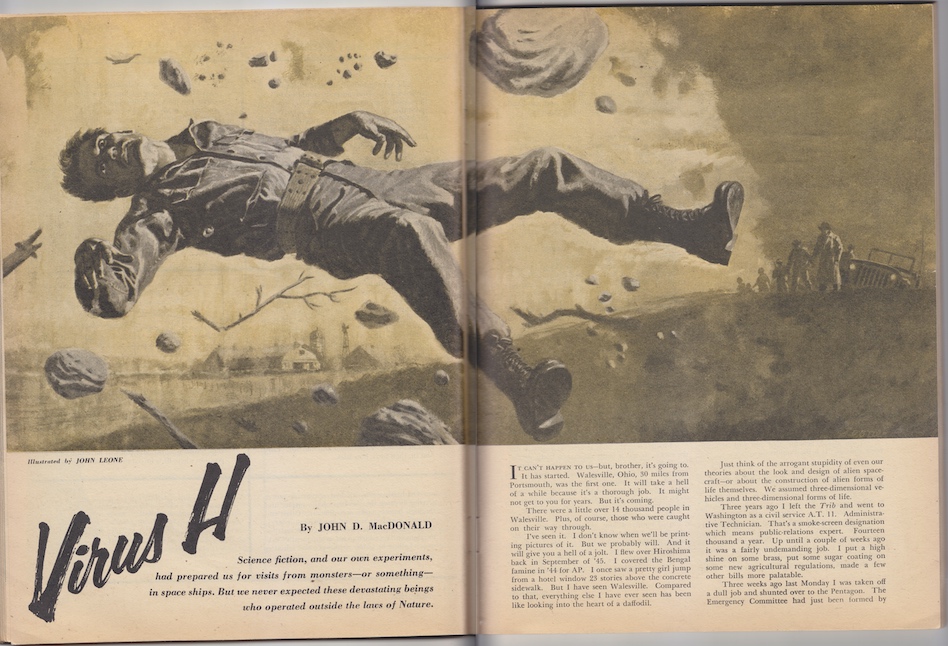 It's a simple enough premise, one that might have already occurred to you, and a few elements might remind you of Arrival or Annihilation, but MacDonald's precise and seemingly effortless prose makes this an example of near perfect writing.
It's also a bleak and doom-laden story, diverting but devastating.
And speaking of bleak, the novel included in this magazine, Francis Irby Gwaltney's The Day the Century Ended, is a gruesome and harrowing World War 2 saga, about a perfect life that a young man gives up to ship out to the Pacific.
He encounters so much trauma and violence and disgustingly cruel behavior, sometimes stupid, sometimes evil, that he starts to break apart piece by piece, mentally and emotionally at first but by the end of his story, with permanent physical damage as well.
This is not some Greatest Generation celebration, this is a true horror tale about all kinds of pain and misery.
So Happy Father's Day!
---
2020 June 17 • Wednesday
New releases don't get played a lot around here but those that do tend to be pretty impressive.
One of the most impressive by far is this moving and beautiful and startlingly original record by Gabriela Martina: Homage a Grämlis.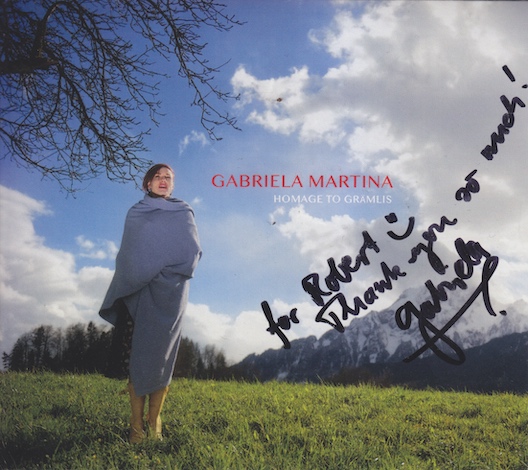 As you can see, I've got an inscribed CD!
I'm honored to know Ms. Martina and even more honored to have performed with her. I wasn't worthy but it happened anyway.
You only need to hear her once to realize she's an astonishingly powerful musical force.
Listen to this incredible record, which is really hard to describe but has been more or less adequately described as soul jazz yodel, and you''ll also realize that she's a genius.
And of course she's struggling to survive this pandemic as a musician. She had invested a lot in a European tour that, of course, ended up being canceled.
So buy her record, check out her web site, watch her live streams (of both music performances and her seemingly indefatigable "Dinner with My Neighbor" cooking series!) and donate to help her out.
She deserves it and you'll love this music.
---
2020 June 15 • Monday
It took a longer time than expected for the 626th Soundtrack of the Week to get an official release but here it is! The music from Freaked, not just the score by Kevin Kiner but also the songs from the movie, including local favorites Blind Idiot God!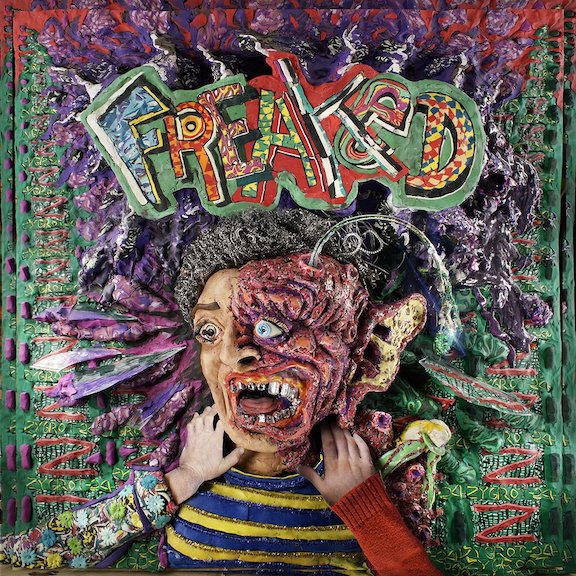 It's on totally freaked vinyl!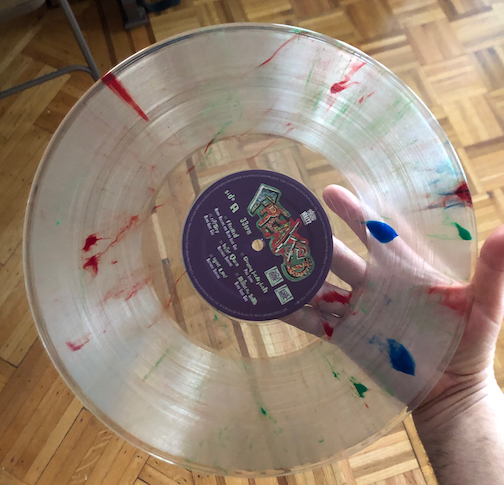 My brother and I saw this movie in the theatre when it came out and kept our ears open for Blind Idiot God. We didn't hear much of them at all, except for the main title song. But that's them backing Henry Rollins and the song is more in his style than in theirs. Good song, though, and nice to have it here.
"Rip/Stop" sounds more like them but it's only about fifteen seconds long, so not exactly a mystery that we would have missed it during the movie.
"Midget Man Skank" finds them in dub mode and is a really cool number but also quite short at about a minute and a half.
The last piece from them is "Gluehead Stomp" which is another agreeably loud and pounding instrumental. Only a minute long though!
What else is on here?
Paul Lear's "Gumby Jack Flash" is a blazing and blistering high-energy heavy rock instrumental.
"Hideous Mutant Freekz" by Axiom Funk is good and has great grooves but is kind of long at over seven minutes.
Tim Burns's "Pick-a-Freek" sounds like 8-bit music for a video game and there's quite a lot of it, almost four minutes' worth.
Butthole Surfers have two songs on here, the hilarious "Sweat Loaf" which jumps off of Black Sabbath's "Sweet Leaf" and the Melvins-ish "Butter Queen".
Finally there's a demo for a title song that Iggy Pop did for the movie but I guess wasn't used. The filmmakers were hoping for something more like the Repo Man theme and what Iggy gave them was more sedate.
That's the first LP, which covers the songs from the movie. Sides three and four contain the score.
Kevin Kiner's soundtrack covers a lot of musical ground energetically and efficiently, easily keeping up with movie's madcap pace. There are 35 cues on one LP, so you won't be surprised to learn that many of the cues are quite short.
The "Intro" is suitably dramatic and building and then "Sky's Theme" captures perfectly the style of TV show opening credits of the period.
After that it was kind of difficult to match the tracks to the titles since I can't see the grooves on the record.
But suffice it to say that it's an incredibly dynamic and wide-ranging score that takes on numerous genres of music and creates some perfect dramatic underscore for a variety of moods.
---
2020 June 12 • Friday
Adding support to some of Adam Mars-Jones's obervations about Ozu's Late Spring, made in Mars-Jones's exhilarating book Noriko Smiling, is this issue of the Saturday Evening Post dated October 9, 1948.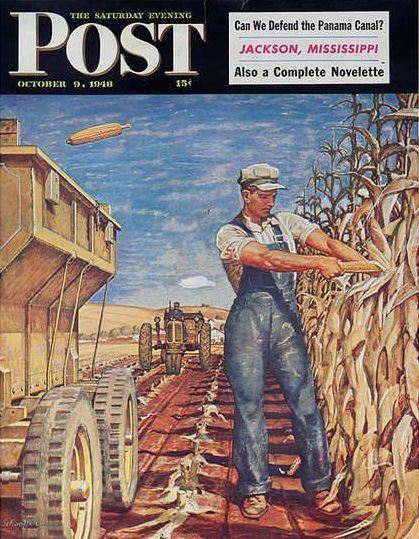 This is the scene on top of a pile of books and magazines in the home of Noriko's friend Aya, who is thoroughly Westernized, a divorced, independent woman who works as a stenographer and is fluent in English with a home furnished in Western style and, in the scene that features her pile of books and magazines, trying to get Noriko to eat a very Western cake that she's just made.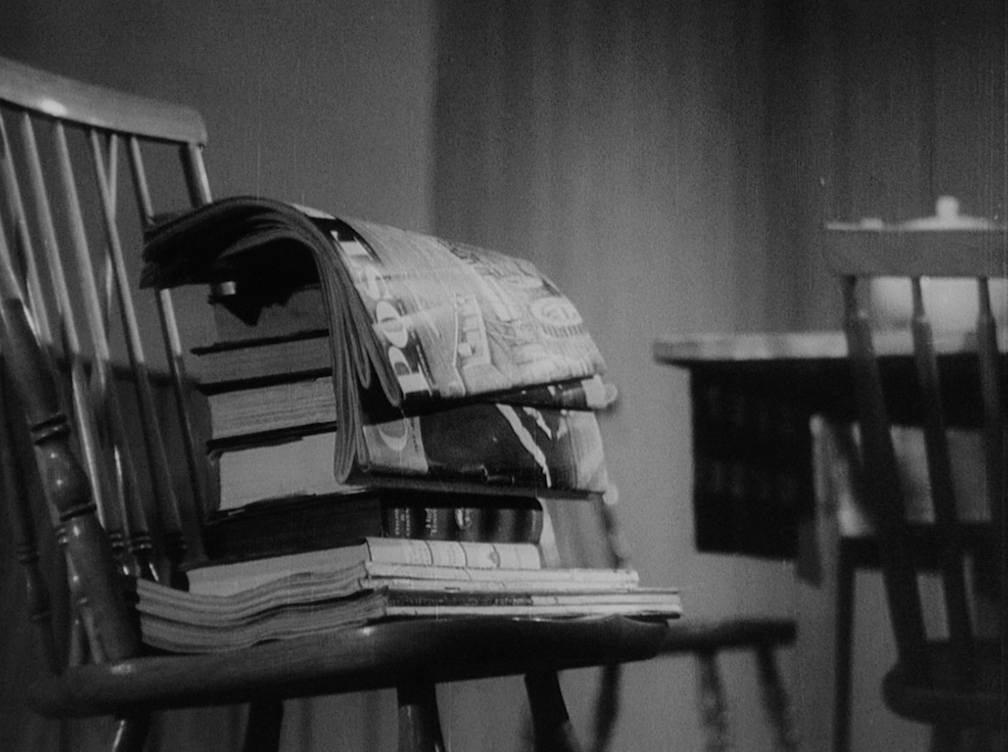 The Post and a few other magazines are obscuring the book titles there, but when Noriko leaves, the magazines fall and you can see that they include Inside U.S.A. and Woman as Force in History.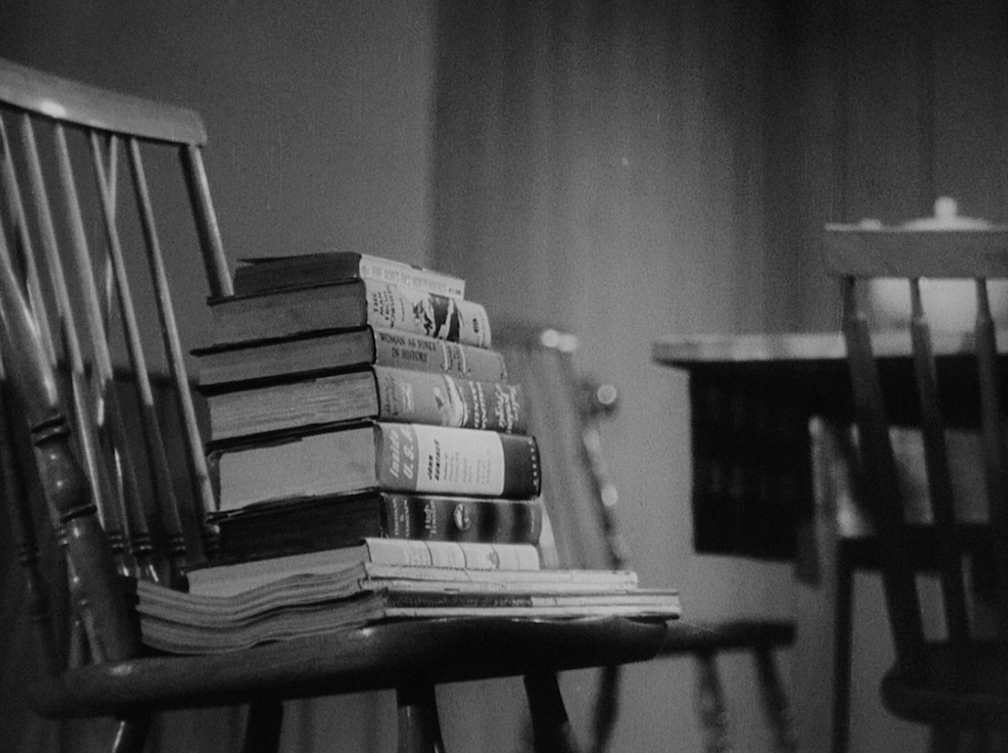 That second volume in particular could be relevant to Mars-Jones's theory, that Late Spring is about sexual violence and trauma. Written by Mary R. Beard and published in 1946, it appears to be about "the roots of sexual discrimination, the subjection of women throughout legal history, and the impact of women on politics, economics, culture, social and intellectual developments since ancient times" (according to a description that responds quickly to search engine queries).
The presence of this book is very suggestive and I doubt that it's placement there is an accident.
And this particular Saturday Evening Post has no fewer than three stories about women in states of divorce, exploitation or, it seems, traumatic marriage situations.



I'm prepared to read all three of these just to see if there's any direct connection to any of the elements of Late Spring but that's probably overkill.
---
2020 June 10 • Wednesday
Yet another life goal achieved! I've been wanting to read Adam Mars-Jones's Noriko Smiling, a book-length essay on the Ozu movie Late Spring, for years but wanted to watch the movie again first. And then I had the thought, why not watch Late Spring in late spring? And so I did. And then I read the book and it was excellent, one of the best pieces of film criticism I've ever read and the most exciting work of film criticism since Pauline Kael, as far as I can remember.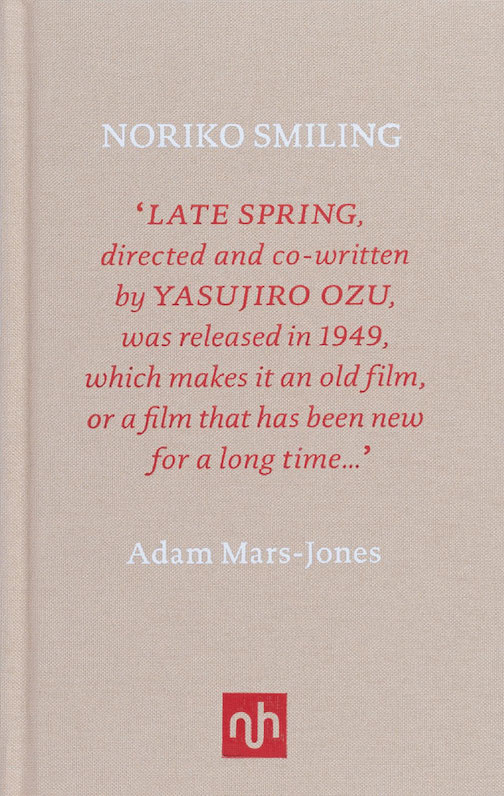 (Adam Mars-Jones has for years been the only film critic in the world who does the job right, as far as I'm concerned.) Noriko Smiling presents insight, wit and erudition, as well as aphorisms worthy of Oscar Wilde. Some examples: "Hollywood cinema, like the World Series in baseball, lays claim to the planet without particularly noticing it". "It may seem self-evident that knowledge of censorship will alter the experience of watching a film, but it isn't necessarily so. Art is built around absences anyway. Like consciousness, it is honeycombed with the things it doesn't know." "If the blind spot in human eyesight was clearly labelled 'blind spot' then it wouldn't be one. It's the way the frayed patch of missing information seems to lead on, without a break, to the areas of functioning vision around it that makes it so treacherous." Mars-Jones states one of his aims early on, in a passage quoted on the back of the book: "Sometimes works of art need to be defended against their advocates, and great films rescued from their reputations". And so his book is not just about the film but also about other books about the film. For instance, with an acknowledgement of Edward Said, Mars-Jones notes that Western film critics might be overwhelmed by what they perceive as inscrutable Eastern exoticism. He proceeds from there.

It seems more sensible to start from the notion that Ozu's films are not pieces of Zen but pieces of cinema. They may have a particular relationship with film language but they still work, or we would have no prospect of enjoying them, however strongly their transcendental virtues were touted. Even if art has its roots in the sacred, there is no possibility of turning it back into a purely religious experience, any more than you can turn cider back into apples.


And then, noting an important visual clue in the films first scene, Mars-Jones can't resist: "If you can bear to keep your eyes open and not to murmur 'Gosh how Zen' the whole time, you may notice that Noriko is shown from the beginning of the film as belonging to two worlds". Mars-Jones might have missed a trick or two. He acknowledges his own replacement of "violin concert" with "cello concert" and gives a fairly feeble reason why he continues to make the slip instead of correcting it. But his observations of the relationship between Noriko and Hattori, and the importance of the concert itself, are strengthened if you discover the fact, unmentioned here, that the performer in the concert, Mari Iwamoto, was a real person and a very big deal. This isn't just any old violin concert, this is something special, which adds gravity both to Hattori's offer of a ticket and Noriko's refusal of same. And despite Mars-Jones's persuasive dismantling of both Zen and formalist readings of the movie, at one point he had me wondering, through his own analysis, whether the whole movie is actually about enryo, a cultural concept without a clear single English analog, variously described as a combination of reserve and restraint and tact and such. It doesn't appear to have a religious connotation but Late Spring is arguably immersed in it. For someone who has watched this film as many times as Mars-Jones has, analyzed it and researched it and gone through certain scenes frame by frame, sensitive and responsive to numerous possible subtexts, one of the more surprising omissions concerns the shots of the Hattori building, ostensibly used to establish Tokyo settings but discovered by Mars-Jones to have some compelling additional meanings. And yet he didn't notice or didn't mention (unless I simply missed it) that the building also shares its name with an extremely significant character, the Hattori with whom Noriko comes close to having something like dates with, drawing the line at that significant concert, an action that Mars-Jones rightly emphasizes as a loud and clear statement. But this is one of the reasons Late Spring is such a compelling film. There will always be more to see in it. The first line of Noriko Smiling is "Late Spring, directed and co-written by Yasujiro Ozu, was released in 1949, which makes it an old film, or a film that has been new for a long time".
---
2020 June 08 • Monday
The 625th Soundtrack of the Week is Chris Martell's acid rock psych garage fuzz groove music for It's a Revolution Mother!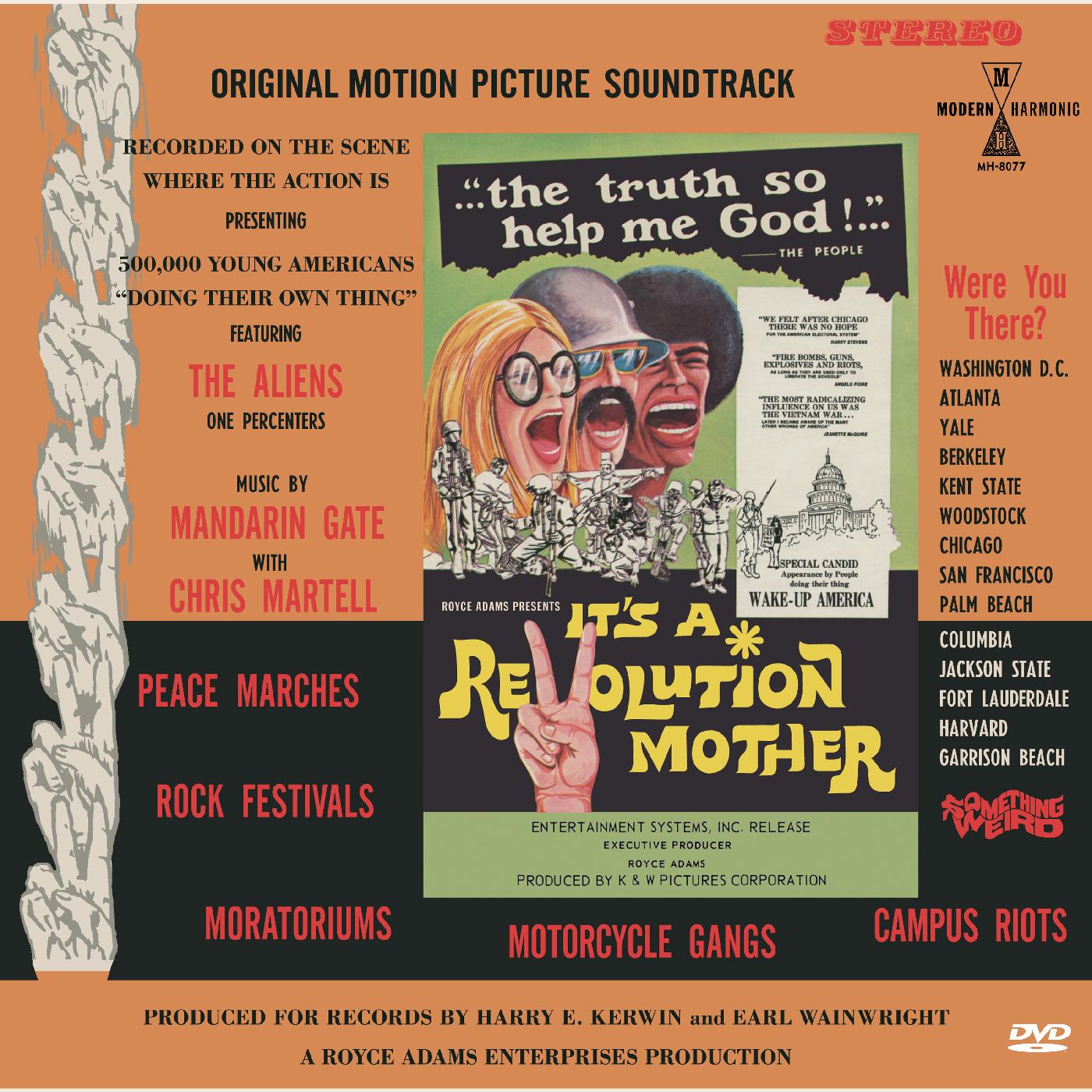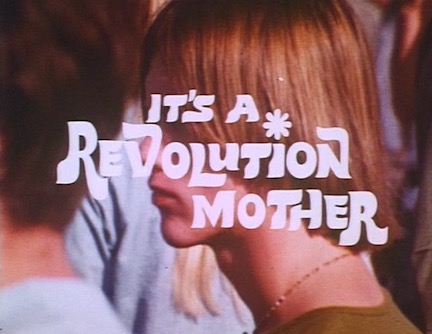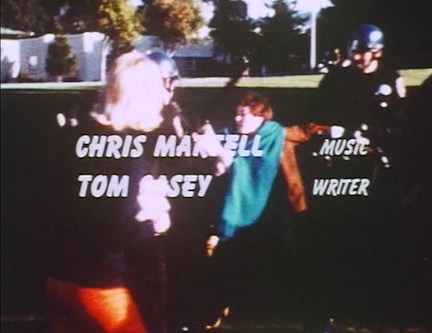 It's on "cannabis green" vinyl!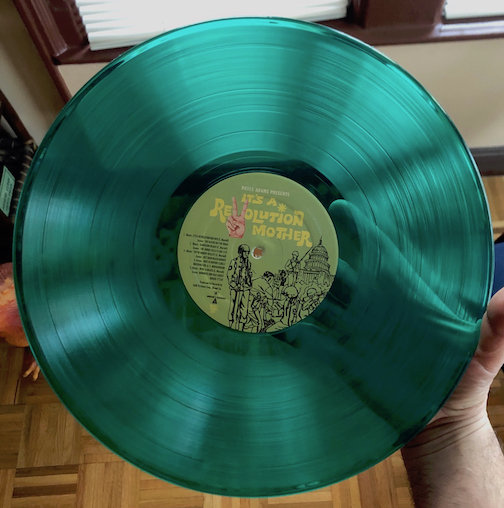 This movie is apparently a documentary of sorts, about the drug, music and protest scene of the late-'60s. Mostly it follows a motorcycle gang called The Aliens.
Since every track has a narrator talking over it and earnest yet "streetwise" fashion—"Tough as they look, not one of these cats could cut it in society and they like it that way"; "climb on board and we'll zap the whole lousy world, brother"—you have to work for the music a bit. Some of the best bits are buried under talking and other sounds from the movies (sirens and motorcycle engines, for instance).
Four of the tracks on the album aren't really proper music tracks at all but simply audio from the film, though some of them have music in the mix. In one case it's a repeat of a cue we heard earlier ("Rap Session").
So what about the music cues?
Well, first up there's the main title theme, a lean and mean stripped-down garge rocker with great energy and good lyrics. ("And I wonder if I've been wasting my life / Living in the shadows of my yesterdays.") There's a part of the song where they change up the rhythmic feel in a way similar to what John Bonham does on "Black Dog".
"Garrison Beach" is a funky, groovy and laid back number with Hammond organ up front.
A relaxed and jazzy/bluesy number (think a combination of "Summertime" and "Come Together") follows with "Top of Mount Reality", which accompanies scenes of an anti-war march in Washington, DC.
The last music track on Side A is "Wine and Grass", which has some blistering overdriven guitar playing on it, wailing over a relatively sedate groove from the rest of the band.
The second side kicks off with "Rap Session", another soul jazz/ bluesy Hammond-oriented piece with a great groove and more of the wailing overdrive guitar.
And finally there's "Youth Power", a song that brings together all the elements we've heard so far, the Hammond grooving, the tough garage rock band sound, great feel from the rhythm sound and energetic soloing.
It's all really cool. Who is Chris Martell? The Internet Movie Database can tell you that he 5'11" as well as the names of a few other movies he was involved in, in one way or another. Other than that, though...?
---
2020 June 05 • Friday
The Film Noir Foundation and the UCLA Film & Television Archive have been doing great work in restoring and making available some lesser known or long lost movies.
Too Late for Tears (1949) is one of the best so far.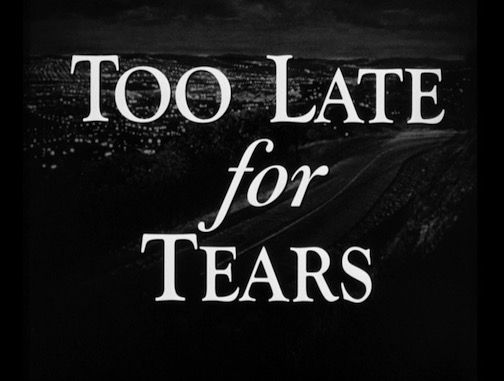 This is really Lizabeth Scott's movie. She plays a bored and frustrated housewive on the edge. In the opening scene she and her husband are going to another couple's house for yet another dull and, for her, excruciating evening.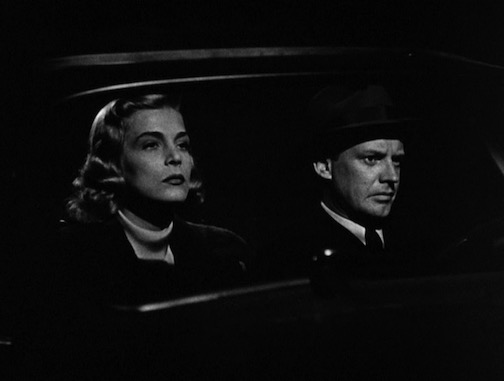 Desperate to make her husband turn the car around and take her home, she almost causes an accident. And the erratic driving ends up getting them mistaken as the intended recipient of a large cash payoff that's meant for a gangster.
Scott's character is transformed by the money and, tellingly, she takes the wheel now and out drives the gangster who was supposed to get the money in a hair-raising night-time chase.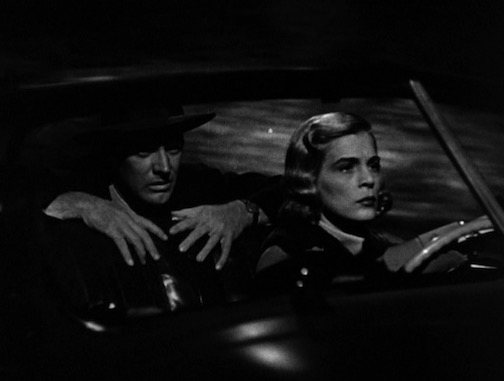 For her this is the start of a new life and the only chance to make up for the desperations and deprivactions of the past.
Nobody's going to stand in her way. Not even the gangster himself, played by Dan Duryea, who tracks her down and demands the money back.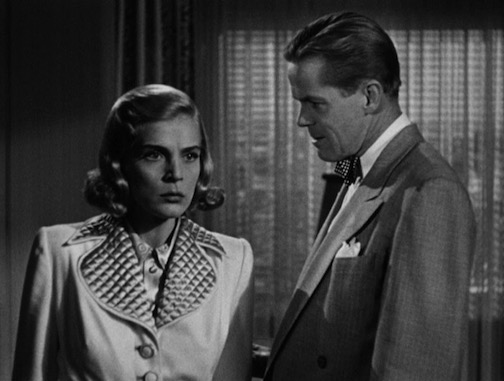 He's a tough guy, violent and experienced and accustomed to getting his way by force and intimidation. But he's severely underestimated his opponent here. Lizabeth Scott's character is a force of nature, more like something out of Greek or Roman mythology than post-war California.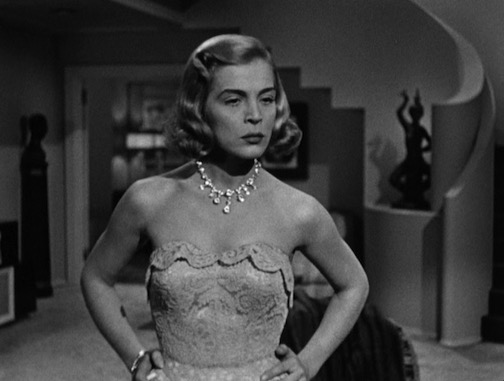 I won't ruin anymore of the story. But film noir enthusiasts need to see this.
---
2020 June 03 • Wednesday
Thanks are due yet again to Valancourt Books for making available a great horror novel from the 1970s in an excellent and affordable paperback edition.
The latest that we've read from them is Thomas Cullinan's The Bedeviled.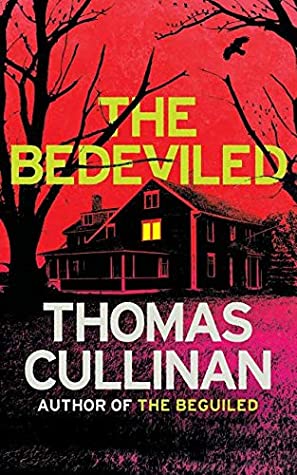 Thanks also to Centipede Press, possibkly our favorite small press. If it weren't for their deluxe hardcover edition of this novel, we might not have known about it.
But we can't always pay $75 for a book, especially one we haven't read and don't know if we'll like.
Anyway, The Bedeviled was great. It really draws you in and keeps you there.
With the exception of one chapter, the book is presented as the journal of the main character, Maggie Caine, and told in her first-person voice as she sets down the strange and horrifying experiences she's been having ever since she, her husband and their two children, have relocated from Scarsdale, NY, to an old farmhouse in Ohio that has been in her husband's family for generations.
You might be thinking haunted house but it's closer to Rosemary's Baby and The Exorcist.
Way back when, the man who built this house, Maggie's husband's great-great-grandfather, was a Civil War hero on the Union side of the conflict. In fact, he built the house as a replica of the Confederate prison where he was held captive for a while.
Why would he do such a thing, you might wonder. You''ll find out.
Without giving away too much, it probably can't ruin the book for you to know up front that this ancestor messed around with Satanism. And, you know, he might still have some presence and some power.
Especially with the help of some evil witchy type neighbors.
While nothing gruesome or explicit ever happens in this—if books had movie ratings it would probably be fine as a PG-13— Cullinan is good at telling the story, keeping the pace steady and creating so much dread and creepiness and, well, horror, that it was more unsettling to read than most other books I can remember.
The device of the journal allows several chapters to end in suspenseful chapters that make it really hard not to continue. "It was the last time I heard him play his flute until the night he died", for instance, or "On the way home—I learned much later—he tried to sexually molest his ten-year-old sister".
The first line is "I spend much of my time lately watching Franny, and wondering what she's thinking about".
---
2020 June 01 • Monday
It's the great Australian composer Brian May again for our 624th Soundtrack of the Week: Thirst.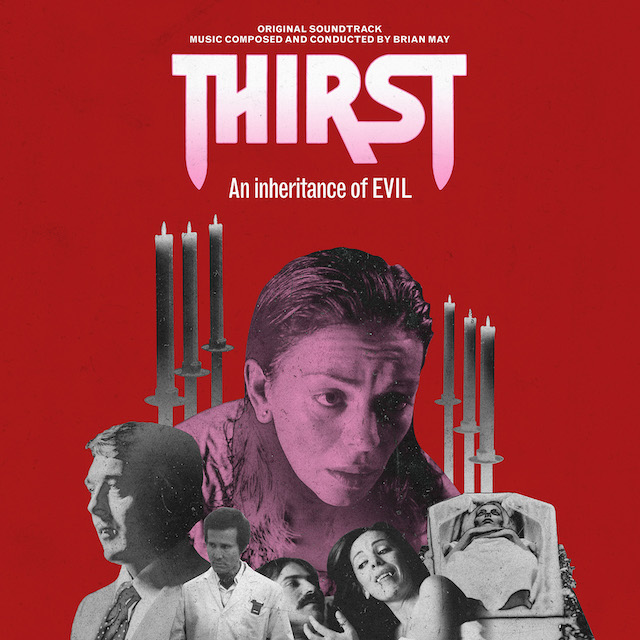 This isn't the Brian May who was in Queen.

And the record is special bloody vinyl!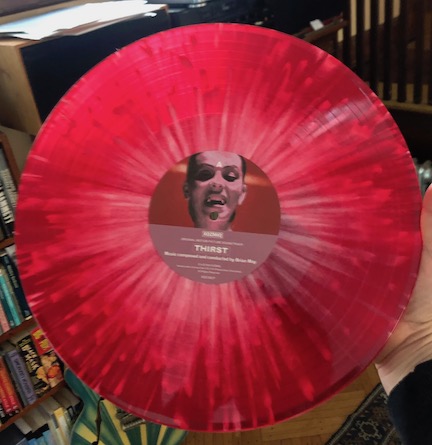 The "Main Title" is a dreamy and haunting piece that blends acoustic piano with electric guitar for an ear-catching contrast. Strings come in, as well as electric bass and drums, making things groovy, but they're gone very quickly. Then after a bit more spacious sound, the whole orchestra comes in for some dramatic horror underscore. But then the mood shifts again as the electric guitar responds to some long string tones. There's a lot of call and response and alternating atmospheres in this short piece as you hear all these ideas come in and out. It's a remarkable cue.
"Someone's Watching" is a very pretty and loungey number with strings playing the melody while the piano embellishes.
Things get much more recognizable "horror movie" with the next track, "Full Cream Blood—The Brotherhood". There's a lot of tension and dread, stabbing and explosive sounds from the orchestra and just a lot of scary atmosphere in general.
After that, "The Blood Farm" starts off sounding a lot gentler and more laidback than you might expect. About halfway through, though, it gets urgent and driving with shrieking strings and pounding winds.
This feel smoothly morphs into "Kate Escapes", which has som Lalo Schifrin-like touches, nice piano and flute playing and a slightly more hopeful air to it.
Very harmonious and classical-sounding incantations make up most of "Vampire Ceremony" The orchestra joins them for some dynamic and urgent music at the end.
The A Side concludes with "Injected", which sounds like more trouble and peril and suspense.
Side B begins with "Kate Hallucinates", in which I first notice this theme' that you can hear a few times's come up before on Side A. A solo flute performance of it starts this track and then piano comes in, then the orchestra. It's quite lovely but soon we're back in horror tension land!
Some very pretty piano and celeste (or glockenspiel?) playing are highlights of "Blood Shower—Kate as Child". Also the mysterious howling sound that accompanies the descending piano line at the end of the cue.
"Evil Forces" definitely sounds like evil forces with a see-sawing bass line and stabbing and shrieking horn lines, violins bowing notes about as high as they go and, I think, some subtle use of electronics.
Fans of John Barry will admire some of the arranging of "Kate Gives In", which has some richly layered horn parts. Then there's a genuinely creepy combination of strings and voices, both sliding down scales. The use of chorus with orchestra here is very good throughout.
"Initiation Ceremony" is another choral piece, similar to "Vampire Ceremony". Again, the orchestra comes pounding in, building things to an exciting climax.
I guess the initiation must have happened because now "Kate Thirsts". This uses more or less the same instrumentation as the preceding two cues and has musical similarities to them, both in the writing and the blend of chorus and orchestra.
And finally, "Dr. Fraser Helps—End Titles" starts off with a reprise of the lovely, loungey theme we heard on the first side of the record before going on to run through several different moods and atmospheres, of which most recall what's come before in one way or another (though May is excellent at deploying new approaches and arrangements). There's also a two-note horn bit that reminds me of a favorite Star Trek cue and a very '70s groove at the end.
---