Rob Price
Gutbrain Records
rob + gutbrain.com = email
---
Another fun peel-off label from Other Half Brewing. This one is for their "Burrito" beer.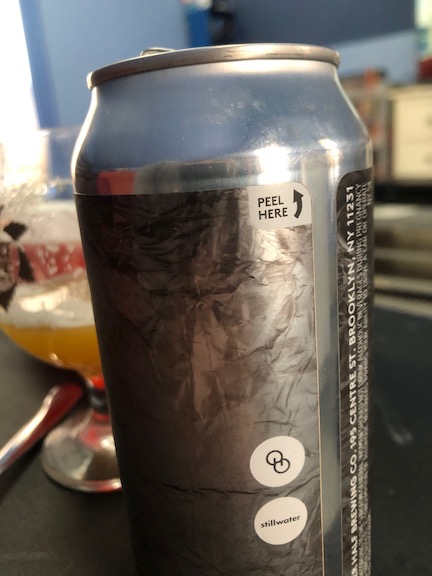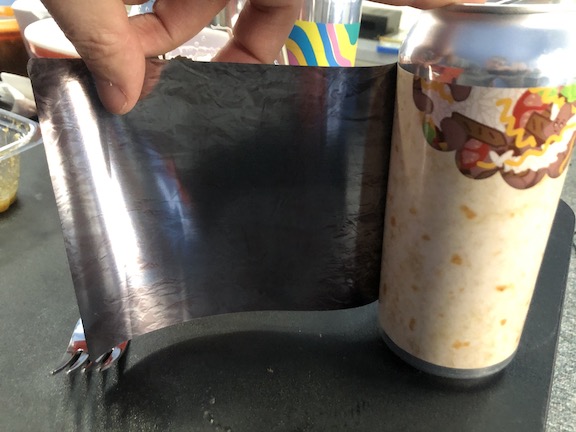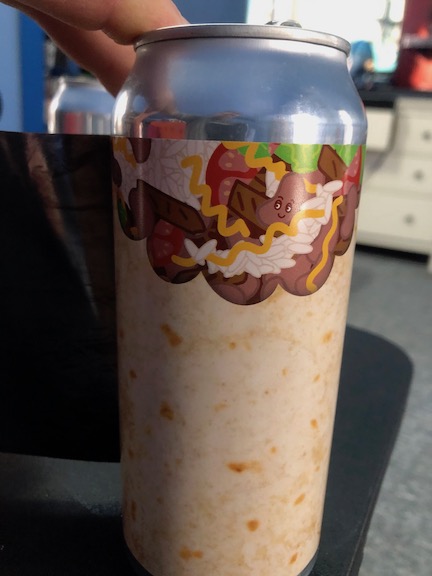 ---
2020 April 27 • Monday
Continuing this month's theme of compilations of interpretations, the 619th Soundtrack of the Week is Bud Shank's Bud Shank Plays Music from Today's Movies.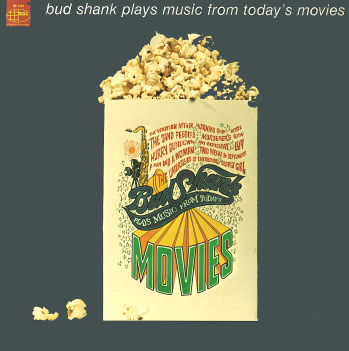 Who's in the band? Well, Shank plays only alto on this record. Dennis Budimir and Herb Ellis are the guitarists, Ray Brown on bass and Frank Capp on drums. Jimmy Zito plays flugelhorn, Victor Feldman on vibes and percussion and then there's Mike Melvoin on organ and harpsichord (including electric harpsichord as well as the regular unplugged harpsichord). Bob Florence did the arrangements and also plays piano.

They hit the ground running with one of my favorite pieces, Jerry Goldsmith's "Theme from Warning Shot". They take it at a very up tempo which nonetheless has a relaxed and swinging feel to it. Shank has a great solo in it and there's some nice organ playing as well.

Next is "Georgy Girl", which I didn't think I wanted to hear again. But with the harpsichord and the breezy feel of the band, along with more excellent improvising from Shank, it's wonderful.

The theme from Any Wednesday is a new one to me, and is a laidback number with a Mancini-ish quality to it though the composer is George Duning.

"Watch What Happens", from The Umbrellas of Cherbourg, is another one I hadn't heard before. As played here it also has a late-night Mancini in "Dreamsville" mode sound to it.

Michael Magne's "Two Weeks in September", the theme from the movie of the same name, is a very delicate piece, starting out with just sax and guitar. The bass joins them after a bit, and then other musicians. It's a very restrained and quietly intense number.

"Venice After Dark", from Lalo Schifrin's score to The Venetian Affair (a spy movie with Robert Vaughn but he's not Napoleon Solo), is a lightly grooving 6/8 piece, very cool.

Lalo Schifrin returns to open Side B, with the funky and rocking "The Pin" from his score to Murderers' Row, another spy movie. The organ almost gives it a gospel feel but not quite. Everybody plays great, as usual, but what stands out in this one is the rhythm section and the flugelhorn.

Francis Lai's music for A Man and a Woman is represented here by "Love Is Stronger Than We Are (Plus Fort Que Nous)", a sweet and slow love song, another late-night, soft atmosphere. Shank can blow fast through changes and play very gently and softly with equal agility.

The next tune I'm really curious about. It's the theme from a movie called Luv, which was scored by Gerry Mulligan. I would like to hear this actual soundtrack so I ordered the movie, since the soundtrack itself doesn't seem to have been released.

The tune itself is a jazz waltz with an interesting and somewhat haunting melody, though the feel in general is more or less sunny. About halfway through they switch to a walking feel for the flugelhorn solo. Really cool tune.

After this we get another Jerry Goldsmith piece, "And We Were Lovers", a.k.a. the theme from The Sand Pebbles. It's a gentle loungey piece with a bit of a bossa feel to it. And it features the electric harpsichord, which sounds fantastic!

"This Year", from Johnny Keating's music for the movie Hotel, starts out very somber and maybe somewhat reminiscent of Nino Rota's magnificent theme for The Godfather (which of course didn't exist yet). It's another soulful slow burn of a tune with compelling power in check from Shank's saxophone and wonderful atmosphere provided by Feldman's vibes.

Finally it ends with the theme from Hurry Sundown, another favorite of mine. Hugo Montenegro wrote this jazzy and dramatic cue and Shank's combo goes into full pop-jazz-soul dance mode with it, turning it into an irresistible organ and sax-driven groove tune.
---
2020 April 24 • Friday
There are over 250 books in the OSS 117 series and a handful of those translated from French into English. As a fan of the spy/secret agent genre, I wanted to read one and thus obtained Pole Reaction by the creator and original author Jean Bruce.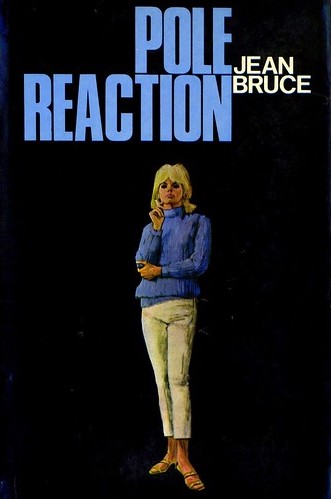 Bruce wrote the first 88 or so, then his wife took over after his death and managed over a hundred, after which her daughter and son-in-law wrote the last bunch of them.
There were a few movie adaptations in the 1960s and then a couple of over the top parodies more recently.
This book has a really good cover. And that's the only nice thing I can say about it.
It's terrible, one of the worst books I've ever read.
If you thought the James Bond novels were racist and sexist (which they certainly are, to a degree that was standard for their point of origin), Pole Reaction is off the chart, despite having few opportunities to reflect on non-white and non-male characters.
The action takes place in an Arctic base where almost everybody is a white man. We meet two women characters up front, and one of them is a disgraceful stereotype.
Another officer has "a big countryman's head, with an Asiatic touch about the eyes which earned his nickname: 'the Chink'". This same character is also described, in the author's voice, as having "Mongoloid" features.
You don't even want to know about the aforementioned woman.
But even if you could wave a magic wand and make these elements of the book disappear, the book itself is still awful.
It's more of a mystery than a spy story. What's the mysterious something or other that's happening on the polar base leading to death and injury and attempted murder? Who is the traitor leaking secret information to the Russians?
It's not a terrible idea for a story and the Arctic location lends it a different flavor, but it's extremely light on action or suspense.
The writing is also just plain bad throughout. Some of this has to be blamed on the translation as there are some words and phrases which simply don't make sense, not even in context.
For example:
For a split second, Duruy seemed disconcerted. Then he shrugged his shoulders and said:
"He's probably right. Dedecker is a primitive of the most unpleasant type, but he does know his job. You can't say as much for a good many around here."
He glanced hypocritically towards the door and sat up in his chair.
Hypocritically?
Another example: "Hubert began to walk backwards and forwards across the room, thumping his right fist in the palm of his left hand".
Walking backwards? Obviously "back and forth" would be the correct way to put it.
Another problem is with "Hubert". That's OSS 117 himself, Hubert Bonisseur de la Bath.
A decent name for a Frenh secret agent. Except he's not supposed to be French, he's an American CIA agent. Huh?
Of course I realize that an American name can be literally anything, but why not just have him be French?
Occasionally it appears that French idioms totally unfamiliar to Anglophones have been translated literally and left to die onthe page and at other times the text is British English as opposed to American English (lift and lorry, e.g.).
These are all defects that could be bulldozed over by really good action and characters. In a couple of spots Bruce gets a spark of excitement going with some description of the environment and, memorably, the attempted murder of a character who tries to save himself by using tempest winds to sweep him out of danger.
But it's almost completely a dull and ugly book. With so many books in the series, and a handful of different authors, perhaps Pole Reaction isn't the best representation of OSS 117, but it is one of the few translated into English, so somebody must have thought it was good enough.
The first line is "Hubert suddenly had the feeling that something was wrong".
---
2020 April 22 • Wednesday
One of the problems with trying to elevate the comic book medium by using the phrase "graphic novel" is that much of the best work being done is non-fiction of one kind or another, and this clashes with the "novel" part.
The versatility and felxibility of comics, the ease and immediacy with which it can present information in various ways also makes it ideal for informal approaches to non-fiction.
And that's more or less what Koren Shadmi's Twilight Man: Rod Serling and the Birth of Television is, a light and loose telling of Rod Serling's biography, but told in the first person by Serling himself, with the borders between Shadmi's words and Serling's words agreeably invisible.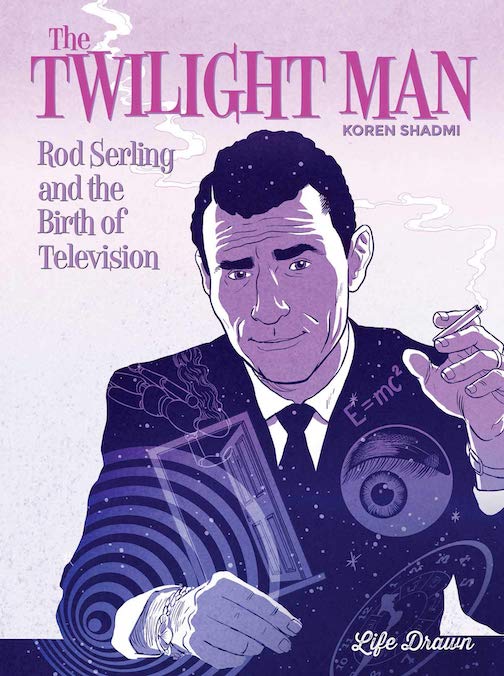 It could use a better subtitle. "Birth of Television" doesn't seem accurate or relevant here. The "Twilight Man" part is good enough.
It's interesting to learn a bit about Serling's early life and pre-Twilight Zone struggles, and gratifying that Norman Corwin gets recognition here.
Serling was one of many to have traumatic experiences in World War II. He's shows as suffering from PTSD and having horrific flashback experiences as a young man. But this never comes up again, once mentioned, and I wonder how and if it just went away.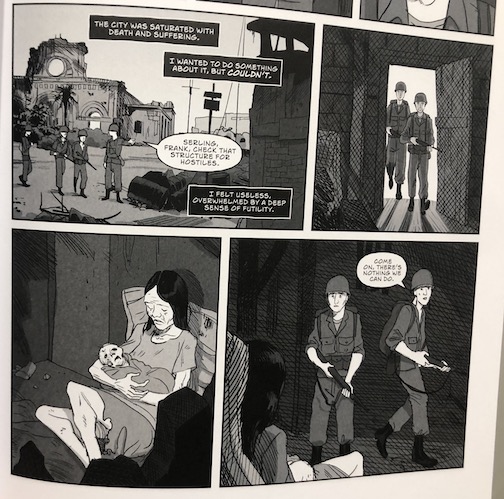 Shadmi's black and white illustrations are well done and perfectly suited to the subject, who lives for most of us in a black and white television world.

(Night Gallery was in color, of course, but that was more or less the coda to Serling's career. Which reminds me, I would have liked to see some mention of The New People in here.)

Autobiographical comics have been a big deal for decades now, and are still often as good a use of the form as any other, though they might have reached or even passed a saturation point.

Biographical comics are beginning to multiply and all of them that I can recall reading have been really good.

Twilight Man is a biographical comic told in an autobiographical voice, as Serling tells his life story to a fellow passenger on an airplane. At first I wasn't sure about this framing device but at some point I saw where I thought it was going and sure enough, that's where it went and it was a good choice, very appropriate and effective.
---
2020 April 20 • Monday
For the 618th Soundtrack of the Week we've got Henry Mancini's Theme from "Z" and Other Film Music.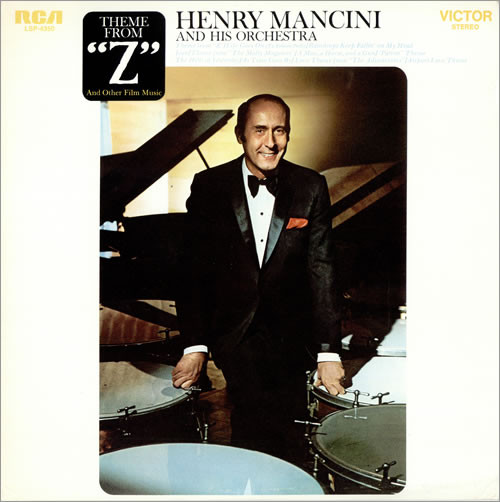 It starts with the theme from Z, an energetic blast in 6/8 with some Greek flavors and horns doing most of the melody work.

Mancini shifts gears dramatically for the next piece, his own theme from The Molly Maguires, a dreamy and pastoral number with a loungey groove and some lush string writing.

Electric and acoustic guitars are featured on the next number, Rod McKuen's "Jean" from The Prime of Miss Jean Brodie. It's a gentle and lyrical piece, very pretty.

Then it's time for Alfred Newman's love theme from Airport, which has been covered by a lot of people. Mancini gives it his "Dreamsville" treatment, very sensuous and unhurried with excellent trombone playing.

The Burt Bacharach/Hal David hit "Raindrops Keep Fallin' on My Head" comes next, with what sounds like pan pipes handling the melody. It's an extremely catchy song but not one that I like so much. Still can't help getting it stuck in my head, though.

For "As Time Goes By" from Casablanca, we hear the sounds of people in a bar and presumably a Bogart impersonator saying "Play It Again, Sam". It's a straightforward piano trio interpretation at first but then the strings come in for the chorus.

"The Hills of Yesterday" is another piece from the soundtrack for The Molly Maguires and deploys the same flute as the lead voice. It's another swaying, bucolic and lovely piece of music and an excellent example of the "Mancini touch".

"A Man, a Horse, a Gun" wasn't familiar to me but was obviously from a spaghetti western. It turns out to be a Stelvio Cipriani theme from a movie called The Stranger Returns. It's got the trumpet and bells and guitar that you'd expect from such a tune, as well as surprise appearance by a loungey chorus. Mancini spices it up with some 12-string electric guitar and electric bass guitar.

The "Love Theme" from The Adventurers is another new one for me, and it's by the great Antonio Carlos Jobim. It's a piano-led tune that's sad and beautiful at the same time and has some unusual dissonances or almost dissonances that make it stand out.

Finally we have Jerry Goldsmith's "Patton" from the movie of the same name. While it's a very straight military sort of piece, heavy on the snare and the bass, Mancini makes it swing and sound a lot groovier than you'd expect!
---
2020 April 17 • Friday
Continuing our survey of various old magazines that feature surfing, here's the July 1963 Car Craft, which has a section about "Wild 'Woodies' and Surf Wagons".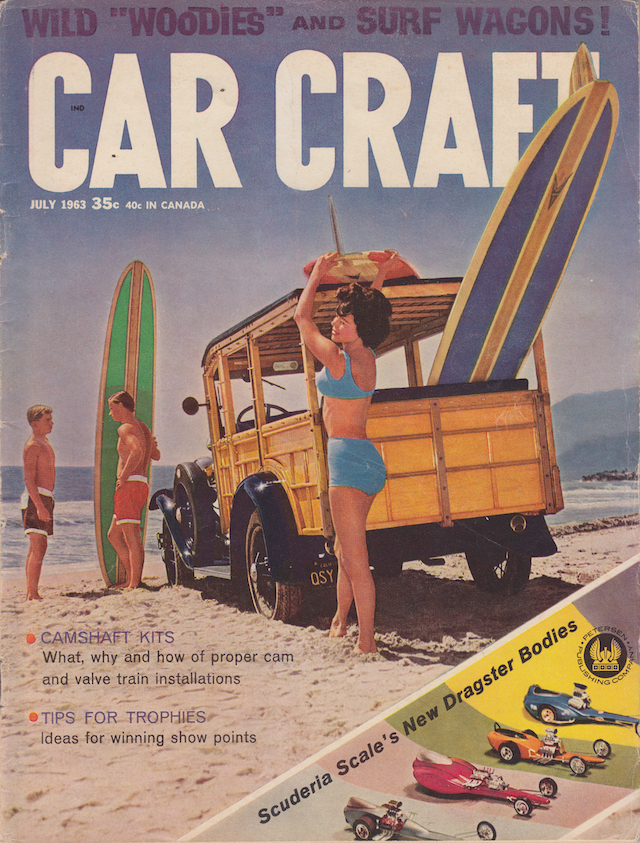 This is pretty serious gearhead reading so there isn't a lot about surfing. They're more interested in the cars. But you can glimpse surboards in a couple of photos.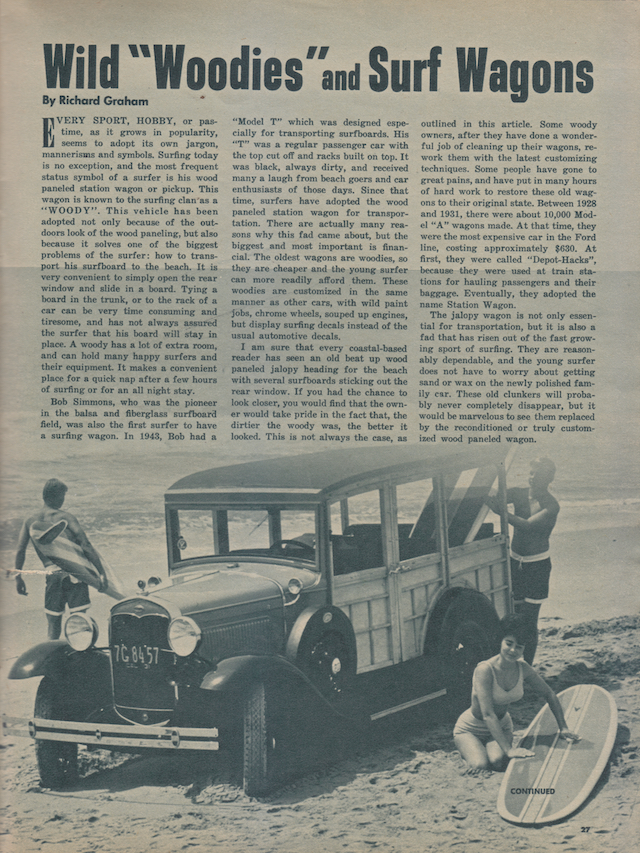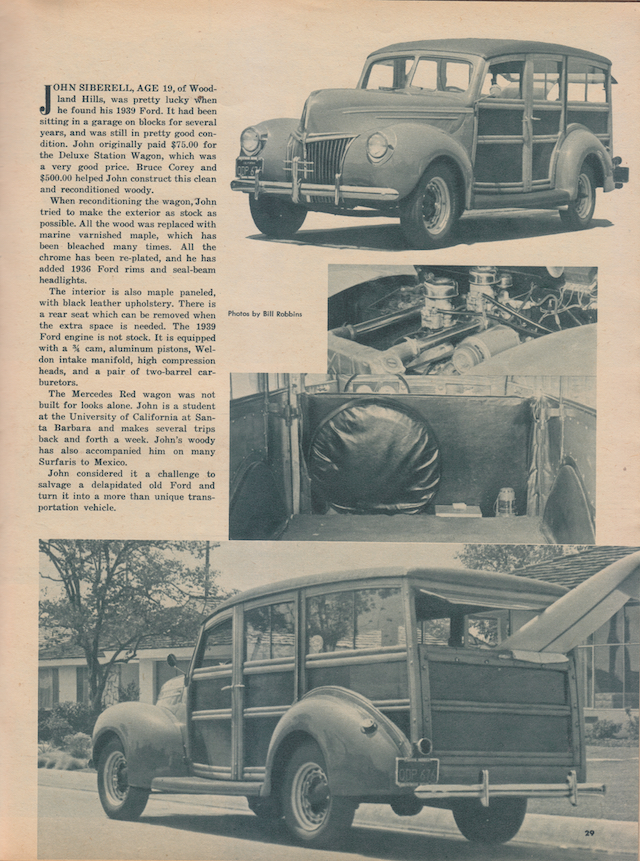 There's an ad for the Surfing Yearbook that we also saw advertised in the June 1964 Petersen's Surfing Magazine. If you bought two records by the Beach Boys and/or Dick Dale, you got it free!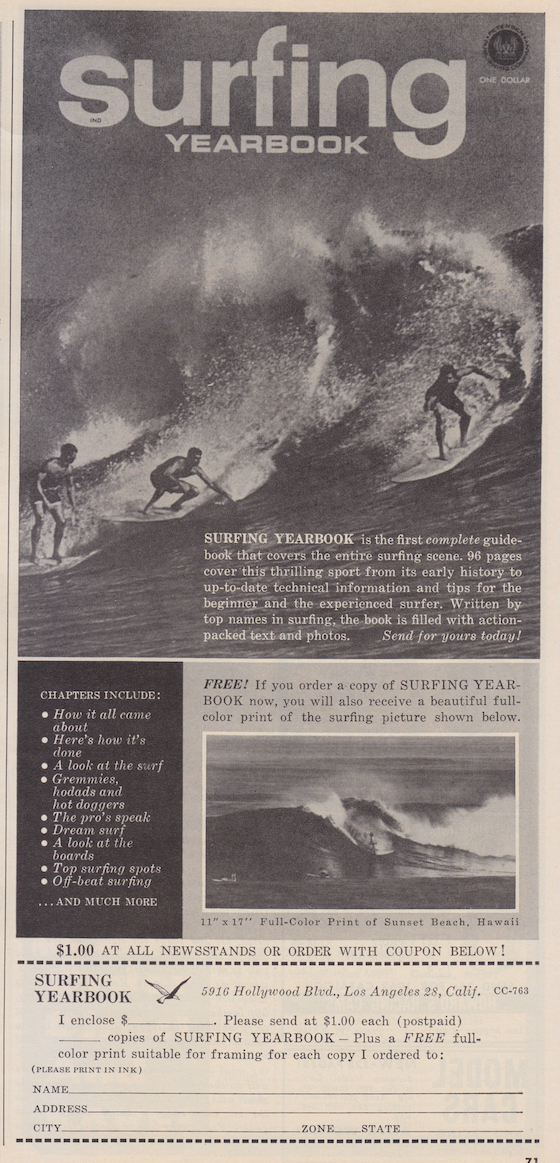 Other items of interest in this issue of Car Craft include this "handbuilt three-wheeler", winner of the Handbuilt class at the 11th Annual Michigan Hot Rod Association presentation.
There's also this crazy custom deuce, made by a 23-year-old Toronto native, using a 1932 Ford frame as a starting point. Check out the bat wings! And while the photos are in black and white, note that the car's color is a "wild Candy Red with Metalflake". Sounds fantastic!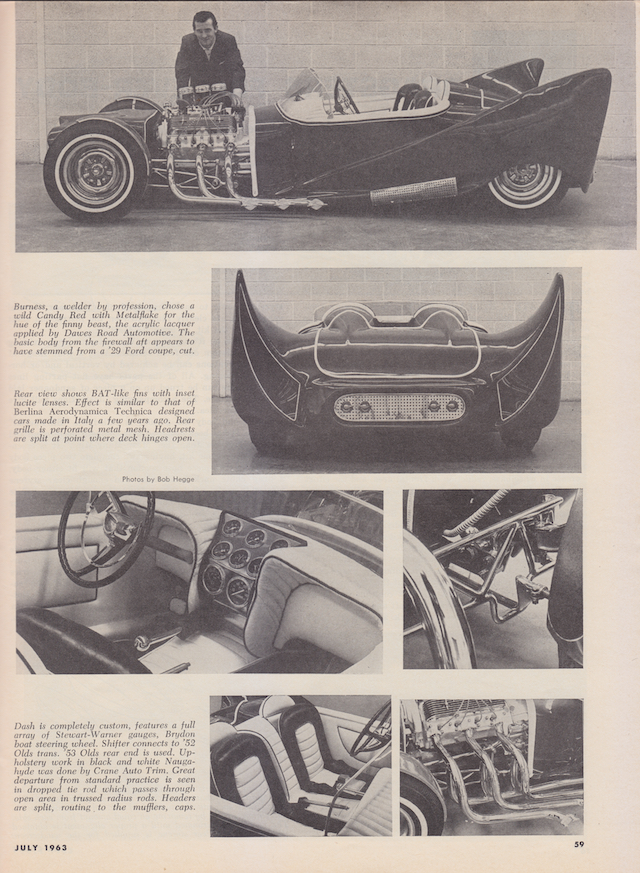 And finally, the inside front cover has this pretty awesome ad: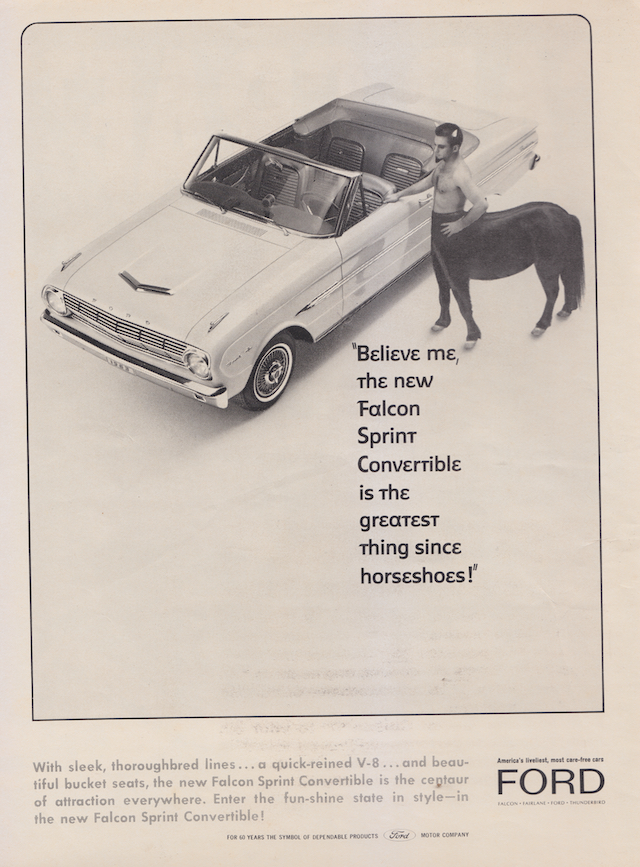 ---
2020 April 15 • Wednesday
Here's a magazine we'd never heard of before: Holiday. This is the September 1967 issue and it has a surfing feature in it.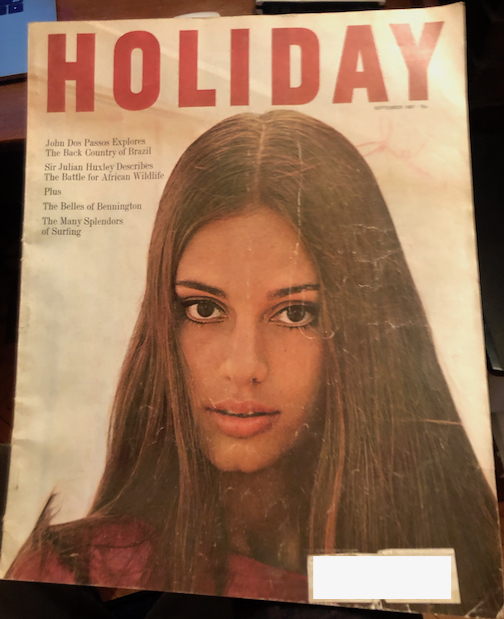 Before you get to the surfing article, though, your eye might be caught by this photograph of a surfer in a travel ad for South Africa.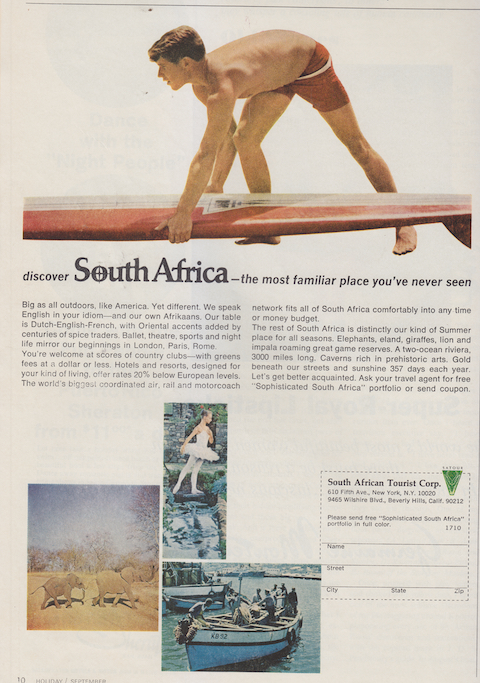 While the cover says "The Many Splendors of Surfing", the surfing piece itself goes with "Hanging Five".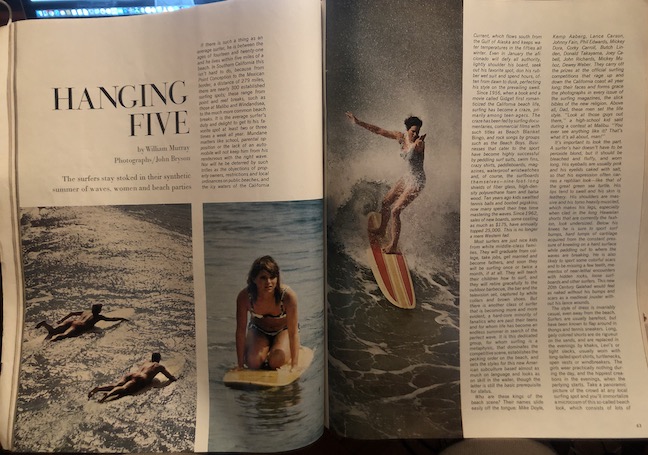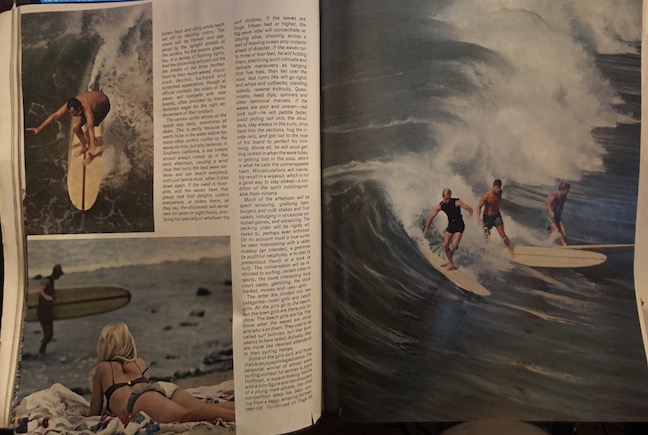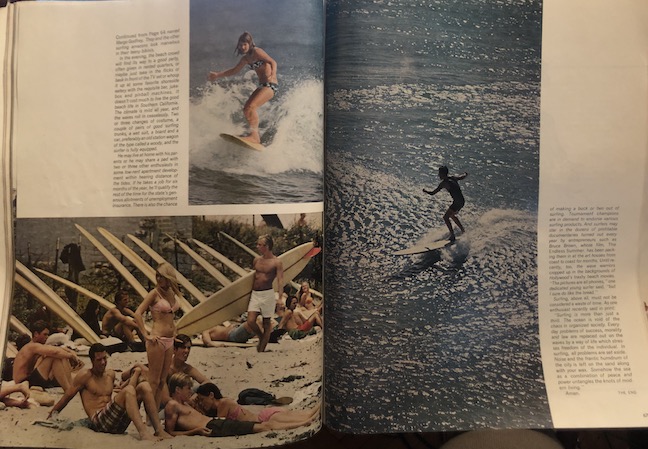 By 1967 surfing had been a feature of mainstream media for quite some time and was probably on its way out. The article notes the importance of 1956's Gidget (a great book, terrible movie, not bad tv show) and of course Bruce Brown's The Endless Summer, which came out in 1966.
And maybe that's the biggest decade for surfing. Easy Rider would come out in 1969 and then it's motorcycles.
Think surf in the '50s and '60s and you might find yourself thinking also of lounge music, exotica, stuff like that.
This issue has an ad for a Hilton hotel in Hawaii, dangling the promise of exotic food and Polynesian entertainment.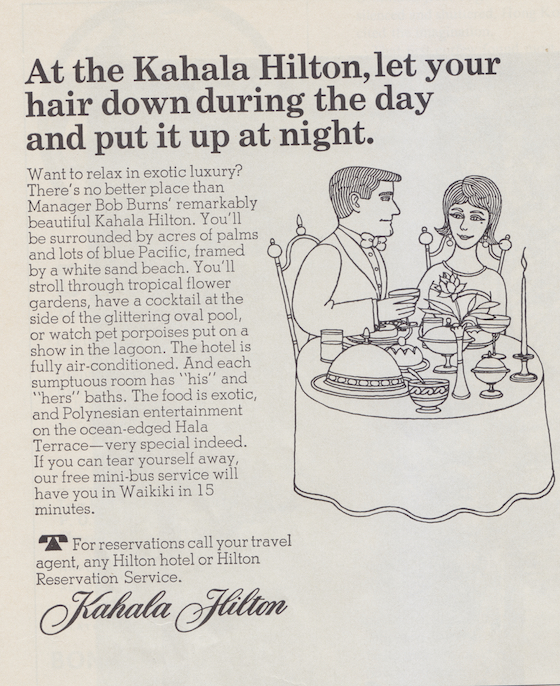 On the same page is an ad for "Tahiti Joe's Authentic Cocktail Mixers".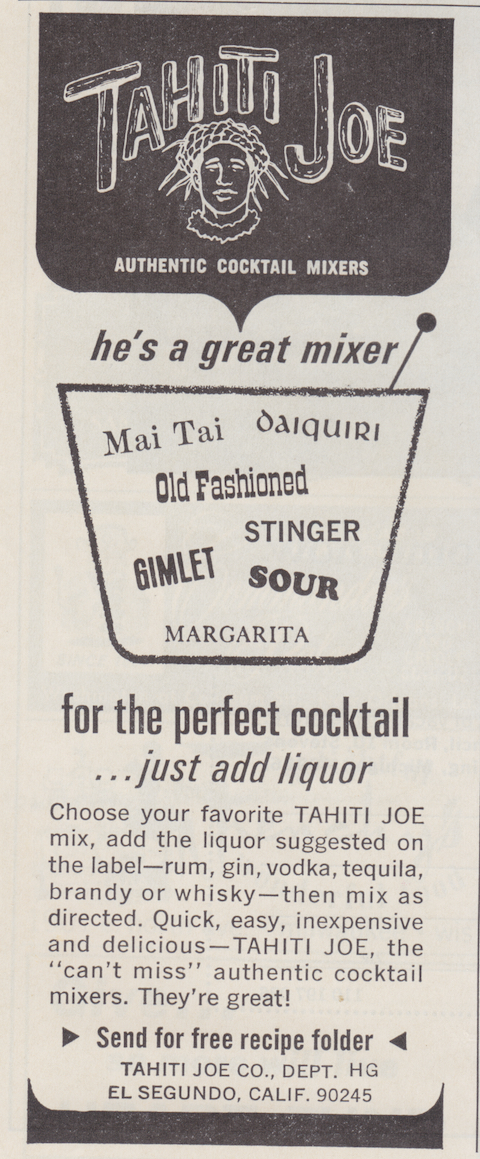 Probably the best ad, though—and I think I've seen this one somewhere before—is the Gray Line Sightseeing Company item that's completely dominated by this photo of Moondog.
Did Moondog get paid for that? Would he have wanted to?
And finally there's this ad for a new phone. We're all pretty familiar with ads for new phones by this point. But this new phone has an "extra long cord" and is "scandalously easy to use".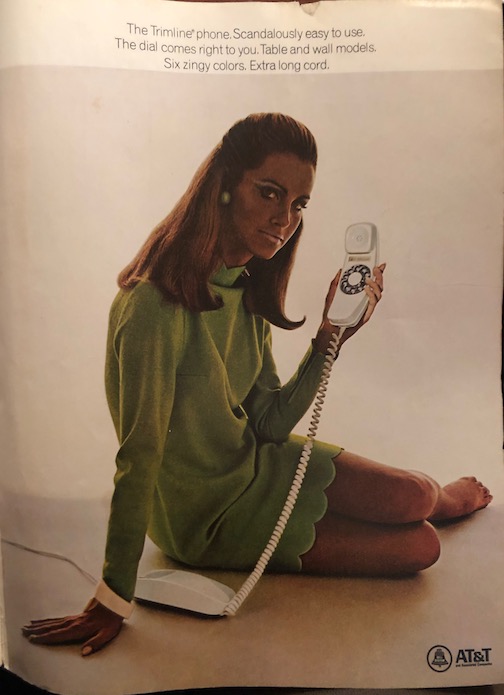 ---
2020 April 13 • Monday
We'll continue with albums of interpretations of soundtrack music with the 617th Soundtrack of the Week, Quincy Jones's Quincy Jones Explores the Music of Henry Mancini.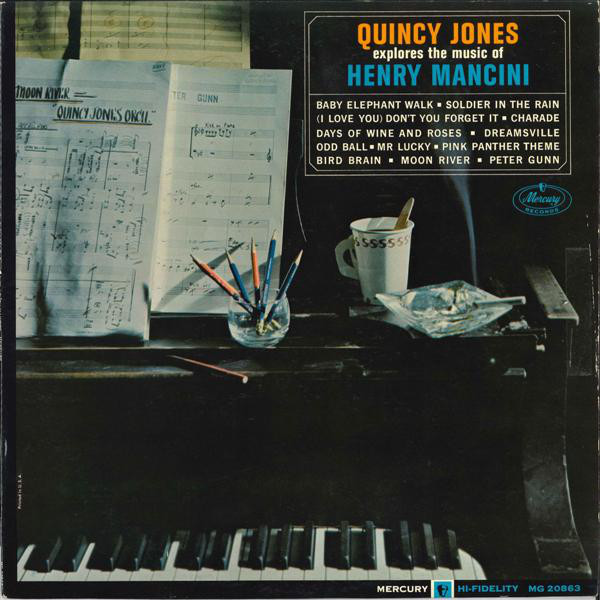 First up is "Baby Elephant Walk", which has great fuzz guitar from Vincent Bell and an astonishingly deep and relaxed groove from drummer Osie Johnson. Gary Burton is on vibes and you'll find Roland Kirk and Phil Woods on reeds.

It's the same personnel for "Charade", for which Jones decided on an uptempo and jittery jazz beat for the melody to float unhurriedly above, only for the band to explode into a brassy swing sound for the chorus. Vincent Bell is a very interestingly watery sound for his guitar here. Sounds like maybe Roland Kirk is soloing at the end.

"Dreamsville" is a different ensemble. Kirk is still here but not Woods. Margaret Ross is on harp and Mundell Lowe on guitar, with Johnson still on drums and Burton still on vibes. There are lots of other musicians, but these are the names that jump out of me. Oh, and Clark Terry on trumpet. Milt Hinton plays bass on most of this record.

(People more knowledgable than I am about jazz will undoubtedly be excited about some of the other players.)

Anyway, "Dreamsville", is a classic late night slow smoker of an intimate song and it sounds absolutely amazing every time I hear it. Jones doesn't go too far from the original, presumably because why would you want to?

So far, so familiar. But then there's a tune called "Bird Brain" from a movie called Soldier in the Rain, which is new to me. (And I thought I knew my Mancini!)

There are three different ensembles on this record and with "Bird Brain" we come to the third: Toots Thielemans on guitar, harmonica and whistle, Gary Burton on vibes, Osie Johnson still on drums, no Kirk but Woods is back on reeds and this time joined by Zoot Sims. (Again, among others.)

"Bird Brain" is a cheerful number in waltz time, sprightly and effervescent. The chorus digs in a bit for a slightly darker and heavier sound but the overall feeling is still very light. Nice alto sax solo as well as some other interesting sounds and choices, such as whistling, humming, electric piano, etc.

"Days of Wine and Roses" isn't just a Mancini tune, or even just an Academy Award-winning Mancini tune, it's also become a jazz standard.

Instead of tackling it as a ballad, Jones gives it a mid-tempo swing feel, actually making this sweet but melancholy song sound breezy and energetic. There's a great sax solo that I would bet is Roland Kirk again. The other candidates are Stanley Webb and Jerome Richardson, but I don't know who they are.

Side A ends with one of my favorites, the theme from Mr. Lucky. Almost everybody else uses this as a chance to exploit the sonorities of the Hammond organ or similar instrument but Quincy Jones is keeping it buoyant again, with a deft rhythmic feel and letting wind instruments do all the talking. Bobby Scott is playing the piano but other than that it's up to the reeds and flutes and such.

How to start the B side? The theme from The Pink Panther seems to be somewhat popular! Quincy Jones gives it a cool arco bass intro from the double double-bass team of Milt Hinton and Major Holley. It starts very restrained and then lets it all go into a profoundly satisfying swing with fantastic saxophone playing.

I've always had a soft spot for "(I Love You) And Don't You Forget It" and it's done with a lot of energy here by the same grouping as "Dreamsville" and "Days of Wine and Roses". The arrangement doesn't stray too far from Mancini's original but Jones has had some fun with interesting intervals and harmonies for the horns, creating some subtly dissonant expressions that work on you almost subliminally. And I assume that the overblown flute playing is from the master Roland Kirk.

After this we're back to Soldier in the Rain and its main title theme. This is a quiet and compelling tune, somber and lovely, with a lot of the impact coming from Thielemans's harmonica and whistling. I have to try to find this soundtrack or watch the movie to hear what else Mancini did for it.

The next tune is from Peter Gunn though the record. doesn't mention it. "Odd Ball" is a great jazz number with great playing from the guitar and reeds/flute as well as yet another brilliant Osie Johnson groove.

"Moon River" had to be on this record, of course, and here it comes. Quincy Jones opens it with a blast, pre-empting any notions of a sappy love song that you might have had. He keeps it as a nimble jazz waltz with constantly percolating energy and veritable barrages from the horns as well as wailing solos, adding what sounds like marimba to the group.

After all that, where else is there to go? Well, lots of places, actually, but if there's only one more piece of music on here it has to be the theme from Peter Gunn.

Again there's some kind of marimba-like percussion here and Vincent Bell's guitar adds nicely to the famous bass line. The saxophone players can really sink their teeth into this one and they do. At the end you'll hear one of Roland Kirk's familiar noise blower things, kind of like a whistle siren kazoo. If you've heard it, you know what I mean.

I love this record! While the front cover and spine say Quincy Jones Explores the Music of Henry Mancini, the back cover is just as right to offer Quincy Digests and Interprets the Wonderful Sounds That Are Henry Mancini.
---
2020 April 10 • Friday
This magazine just showed up in the mail, the Spring 1961 Man to Man Annual.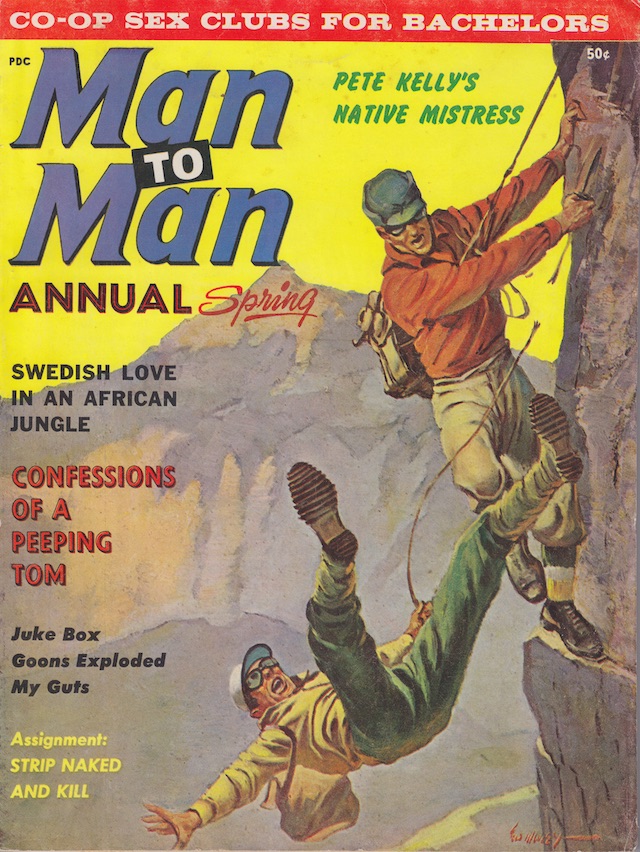 At first I couldn't remember why I had bought this. In general it looks like a pretty good sample of the genre, but what specifcally about this issue?
Turns out it was "Juke Box Goons Exploded My Guts". I wanted to know what that was all about.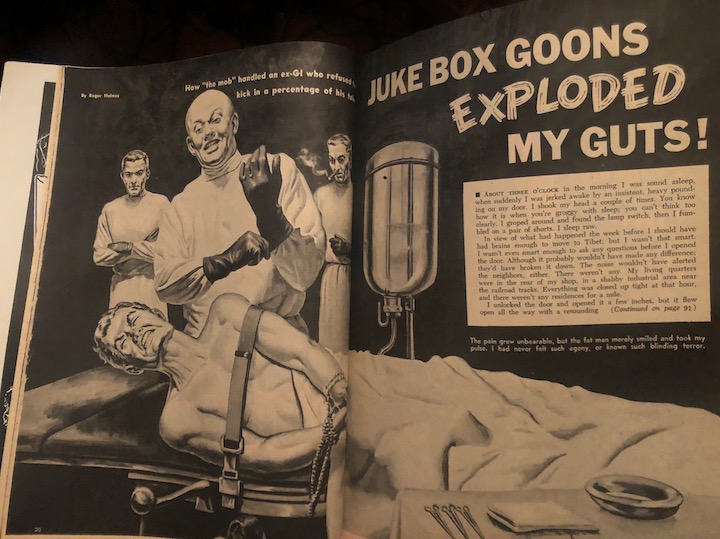 It's pretty awful. A guy starts his own juke box business, the mob shakes him down, he refuses to pay, and then they strap him down and give him an enema. They never stop pumping fluid into him and it destroys his colon. Then they also force his eyelids open and make him stare at a bright light for long enough to permanently impair his vision.
It's an astonishingly downbeat story. Justice is not served. It ends with him regretting not just giving into their demands and paying the money.
Another unusual article, not featured on the cover, was about a female bullfighter.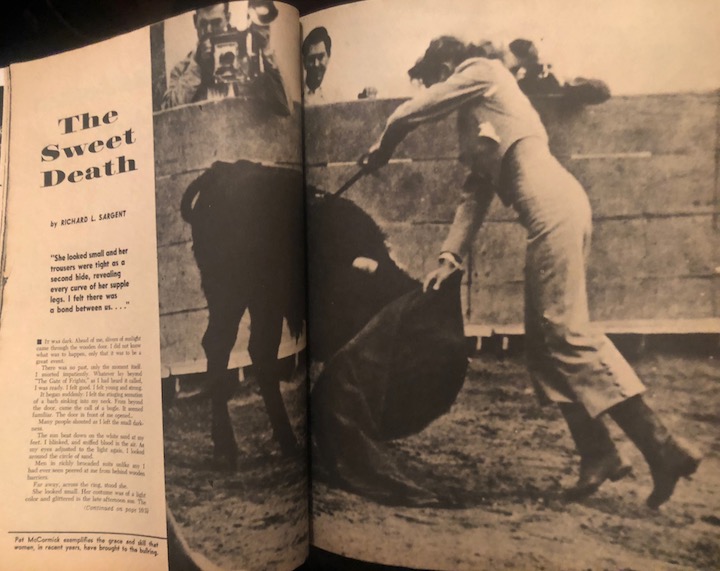 And of course the ads are interesting. I was surprised to find a big chunk of space given over to these books about female impersonators and, it seems, dominatrixes.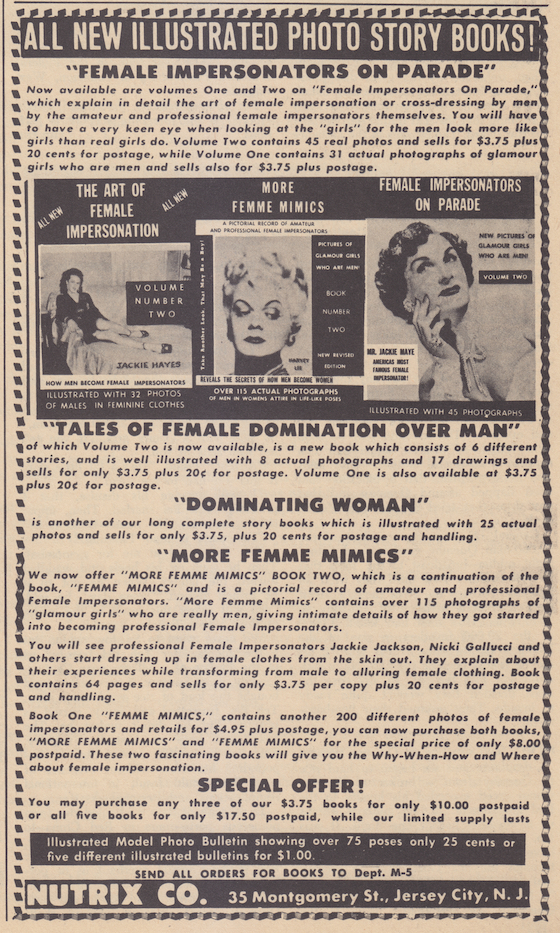 On the opposite page there's a much smaller ad for "women on top" items.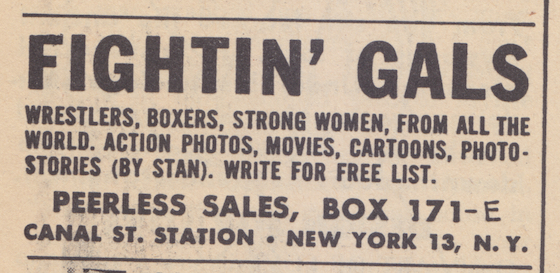 ---
2020 April 08 • Wednesday
Sam Wasson's The Big Goodbye: Chinatown and the Last Years of Hollywood seems to have been very well received but I found it hard going.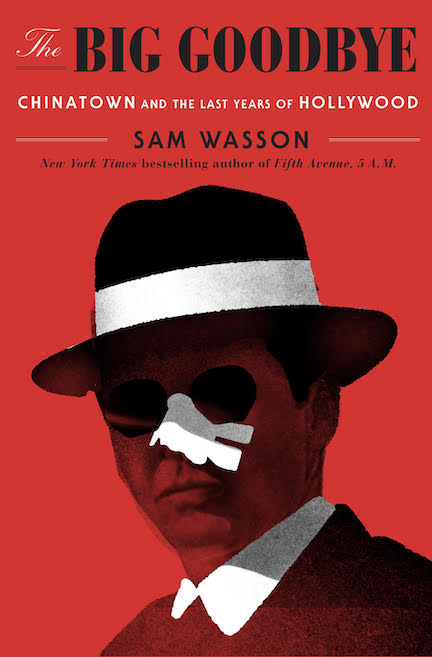 The best thing about it is that front cover design. That's extremely well done and did a lot of the work in selling this book to me.

The book itself, though...

Well, if you think that the title The Big Goodbye is an absolutely brilliant contrivance that gives you shivers of ecstasy, then this is the book for you.

But if you found that immediately kind of tedious and you're also inclined to see rich and famous power players who consider themselves great artists as maybe more like assholes than gods who walk among us mere mortals, then you're probably going to find as little enjoyment in this book as I did.

And while I don't want to pick on Wasson, his writing strains so hard for various stylistic effects and pre-fab profundities that it's just really hard to take.

Here's an example. Anjelica Huston is described as having a "valiant nose, long and fine, like a beautiful bayonet or a cherished family tradition".

To me, that just sounds ridiculous. And who the hell cares about her nose anyway?

Another example: "To believe in the viability of the dream, a litle bit of forgetting was required. Maybe that's what a dream was".

A dream is what? Forgetting? Forgetting what? The dream? What's the point?

It seems that in Wasson's head his writing sounds like real cutting edge hepcat film noir beat poetry like art of writing word jazz or something while still being rigorous and thorough and the scholar as detective and anaylst or some such thing, but for me it fell flat on every page.

The bigger problem is the worship of assholes who manage to create things that are actually really good, maybe even great.

It's somewhat reassuring to learn that Jack Nicholson suffered from crippling hemorrhoids, for instance, and that Robert Evans was often flat on his back from sciatica.

Not because I wish for them or anyone else to suffer, but because it's a reminder that these were people made out of the same stuff as everybody else, much as they're frequently made out to be supermen of some sort.

What's good about the book is the technical details on the actual making of the movie Chinatown. Things like production design, set design, costume design and the music are given attention they fully deserve.

The book carries its story through to the making of the Chinatown sequel, The Two Jakes, and thus deals with the degradations of everybody involved, via cocaine, divorce and, in the case of Polanski, a hideous episode involving a thirteen-year-old girl.

Wasson seems determined to let Polanski off the hook as much as possible while of course not condoning the director's actions.

But just going by the information given in this book, it's not just statutory rape but a textbook example of grooming followed by multiple rapes after drugging the child.

And when the judge in the case wants to react to public opinion by at least appearing to give Polanski a harsher sentence, we're meant to be just shocked by the "corruptibility" of the judge. And we're also meant to believe that the lawyers in the case (lawyers!) are similarly shocked.

But really, who cares and who would be surprised, let alone shocked?

And when Polanski leaves the country, Wasson writes, "He would never return to America".

But Polanski is still alive and could return to America right now if he wanted to or was compelled to. Wasson doesn't know anything more about what Polanski will do next year or in ten years than anybody else does. It's a small point, but it would be just as easy to write, "To this date he has never returned to America".

And more troubling still about this episode is how free and easy Wasson plays with sharing insight into the thoughts, feelings and motivations behind Polanski's actions at every other point in this book except when Polanski is manipulating a thirteen-year-old girl into a situation where he can drug and rape her.

Partying around the clock after Sharon Tate's murder, we're told how this is his handling of grief or whatever, and there are numerous similar examples.

But when it comes to Polanski the criminal, Wasson is unusually silent on the subject of Polanski's motivations. Perhaps because what Polanski did was indefensible. So why not just say so? And perhaps look a little more critically at the Polanski who was married to Sharon Tate, while you're at it.

So, for me, it wasn't a book I needed to read and I didn't enjoy it much at all. But it's a best-seller and lots of other people love it. And there is some interesting information about the making of Chinatown, but nothing really essential.

The movie still stands on its own quite well. (Wasson could have mentioned its surprising second life in the Johnny Depp-starring animated film Rango.)

The first line is: "Jack Nicholson, a boy, could never forget sitting at the bar with John J. Nicholson, Jack's namesake and maybe even his father, a soft little dapper Irishman in glasses".
---
2020 April 06 • Monday
The 616th Soundtrack of the Week is one of the best examples I've ever heard of the "band plays a bunch of movie themes album" type. This is the Japanese Hawaiian music band The Blue Hawaiians with guest guitarist Takashi Ogawa and Steel Guitar Screen High-Lights, an amazingly great record.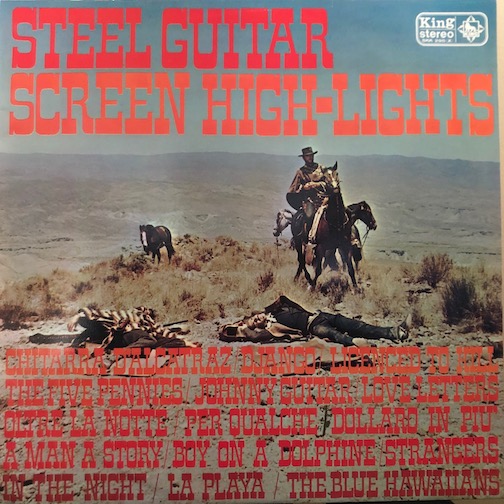 There are some unusual choices of material here and all the arrangements are interesting and cover a fair amount of ground.

The very first song, "Chitarra d'Alcatraz", is both something I hadn't heard before and is very artfully arranged. It starts with nylon-string guitar and bongos. Then the steel guitar comes in, along with the rest of the band: vibes, drums and bass.

It's a hauntingly beautiful song. But what the hell is it? As far as I can tell, it's a piece of music written by Italian composer Abner Rossi and it was featured in a music whose score was not by Rossi but by a Spanish composer named Louiguy.

What movie, you ask? Well it's either one or both of two movies from 1964, both called Anatomy of a Marriage. The two movies tell the story of a romance and marriage that eventually fall apart, but each one tells the story from the perspective of one of the two people.

In the movies' original French titles it's a little clearer. One of the Anatomy of a Marriage movies is actually Françoise ou La vie conjugale and the other Jean-Marc ou La vie conjugale.

All of this was completely new information to me. How did this piece of music end up being the first cut on the first side of this record?

With the second number we're back on familiar ground, the brilliant theme from Django.

Here's another example of a brilliant interpretation. The theme from Django is pretty high energy, but on this record it's taken at mid-tempo with a swinging jazz feel. The vibes play the melody at first and for the second part, where you're expecting a blast of greater intensity, that's when the steel guitar comes in.

The third song also required a bit of research. It's more of a surf feel, very similar in groove to the surf classic "Movin'", but it's the main theme to a 1960s spy movie called Licensed To Kill.

It's another fantastic number, pure joy to listen to, but there's a bit of confusion when the liner notes assert that, "The main theme, a perfect electric guitar melody, became a big vocal hit when Sammy Davis junior [sic] sang it in America".

What's going on here is that the Licensed To Kill, a British movie, was released in the United States in a re-edited version with the ghastly title of The Second Best Secret Agent in the World, and it is that title theme song that Sammy David Jr. sang. It has nothing to do with the Licensed To Kill theme. They sound nothing alike.

Next up is the theme from The Five Pennies, very much in a mellow Hawaiian mood.

Then there's the classic Johnny Guitar theme, which here just oozes atmosphere and sway, a delicious and different take on this much played tune.

The A side closes with another surprise, the song "Love Letters", from the movie of the same name. I didn't know this movie. And while I knew that Victor Young had written "Johnny Guitar" and had written "Stella By Starlight" for the movie The Uninvited, I didn't know that he'd written the song "Love Letter", that it was the theme from a movie with Jennifer Jones and Joseph Cotten, that said movie was about amnesia, multiple personalities and murder, and that it had a screenplay by Ayn Rand. This record has been very educational!

The Blue Hawaiians do it in achingly beautiful style, again with a strong Hawaiian flavor.

The B side opens with a beautiful waltz that I'd never heard before. Called "Oltre La Notte" here, it turns out to be a theme from a movie called Andremo in città" (We'll Go to the City).

The next song is one I've heard a hundred times, Ennio Morricone's theme from For a Few Dollars More. They do a great job with this classic, including stellar whistling by somebody.

This is the first part of a one-two spaghetti western punch, as they follow it with a brisk take on the waltz-time theme by Gianni Ferrio for the movie Un Dollaro Bucato, again with fantastic whistling!

Another unusual selection, the theme from Boy on a Dolphin. They were really enterprising with their selections. This is another intoxicatingly swaying thing of beauty. Really, this band is just perfect!

After this we're back on more familiar ground with "Strangers in the Night", though I didn't know this was from a movie! It's from a movie called A Man Could Get Killed, which seems to have been released in Japan as Operation Diamond. The Blue Hawaiians do it as a sorta bossa nova thing and it's wonderful.

It's sad but the record has to end at some point and the final song is Jo Van Wetter's "La Playa", which I think is a guitar piece that might have been in the movie Never on a Sunday, thus its connection the silver screen. It's a great nylon-string guitar feature, though of course the slide guitar comes in for its own spotlight as well.

What an amazing record! And so many things like this are still only available, as far as I know, on their original vinyl releases and those just keep getting more and more expensive.
---
2020 April 03 • Friday
Here we have an issue of Everybody's magazine, but the Australian version. It's from November 18, 1964 and it's the "Great Surfing Issue"!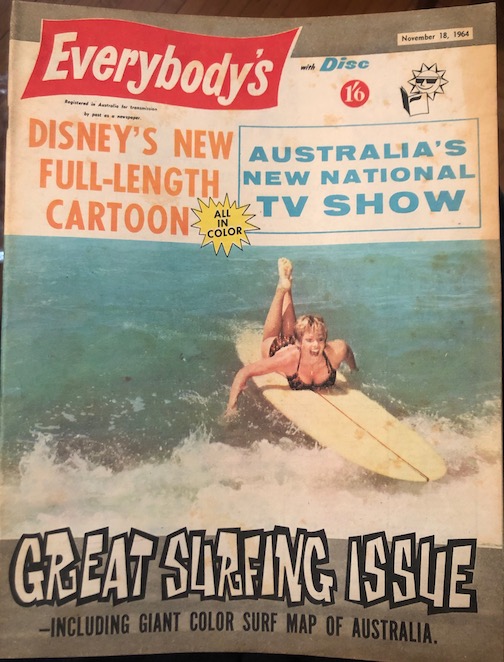 The back cover has an ad for tape recorders.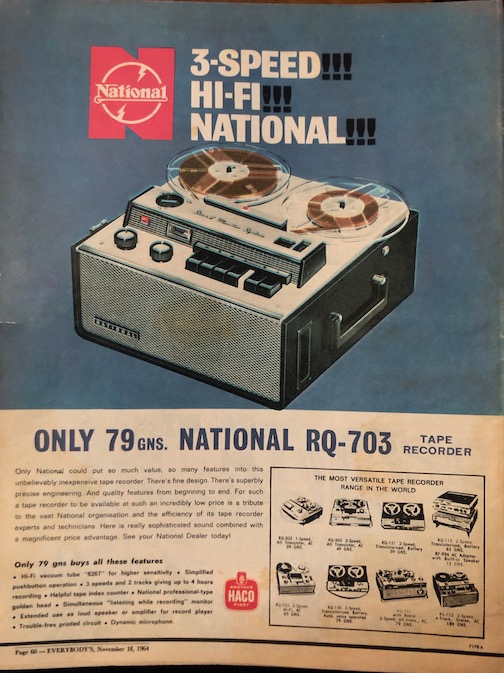 It's not a particularly impressive magazine. There's an article about Julie Newmar, who had just started My Living Doll.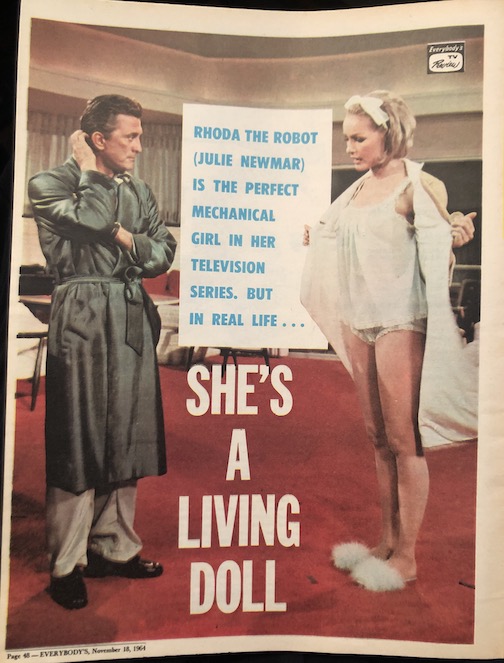 There's a small item about female fire fighters in New Zealand.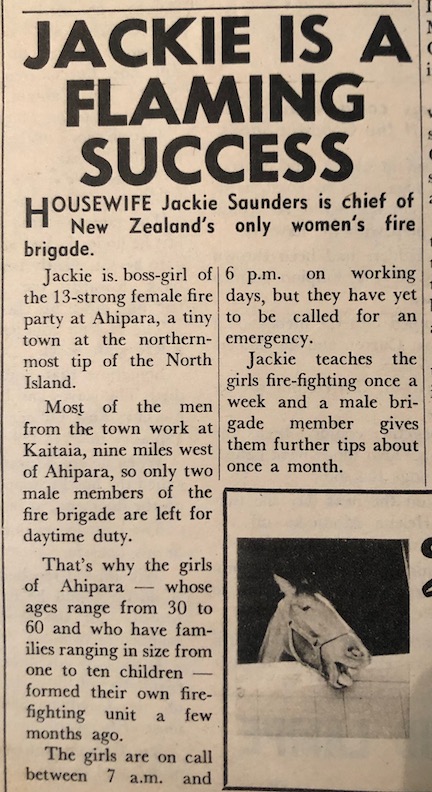 And then there's some miscellaneous surfing stuff.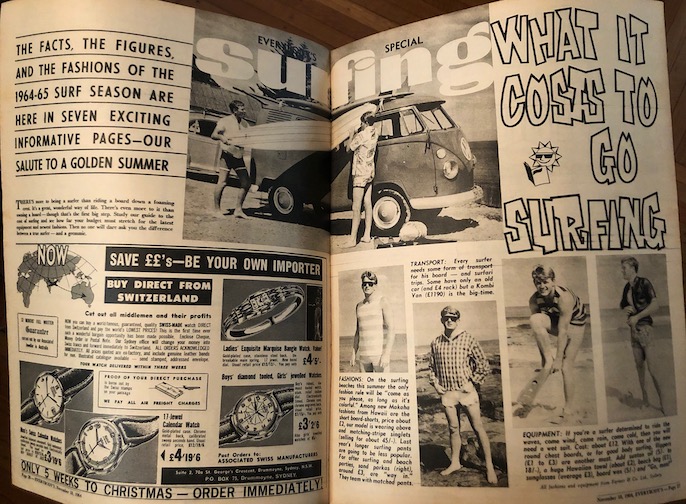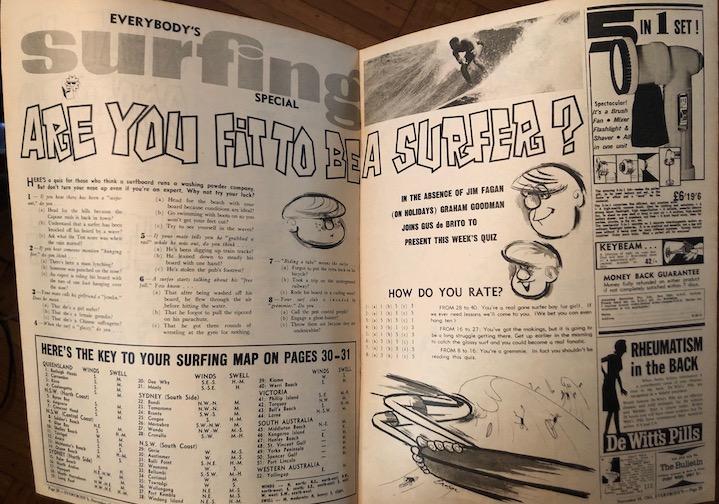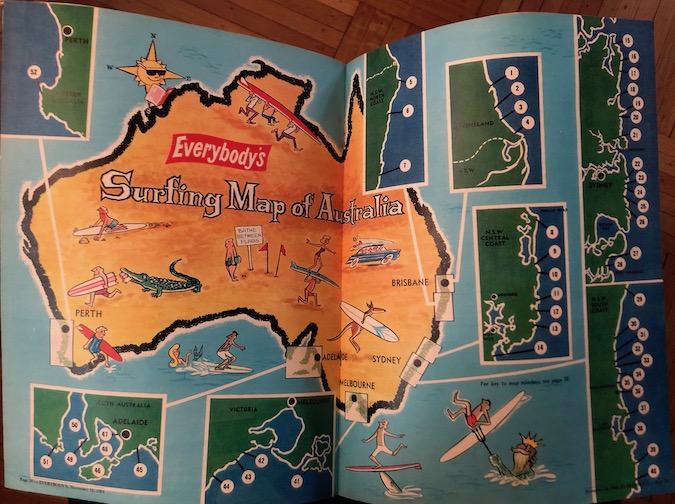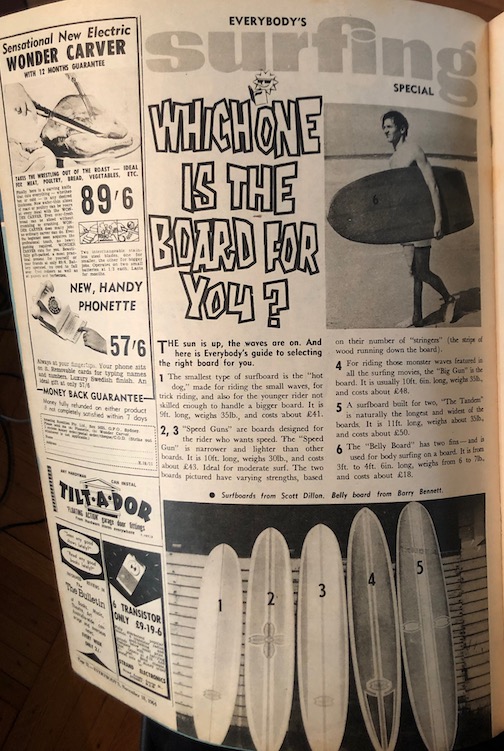 Perhaps the most startling thing in here is this ad for Kellogg's Rice Bubbles, which of course we (and I thought everyone) know as Rice Krispies.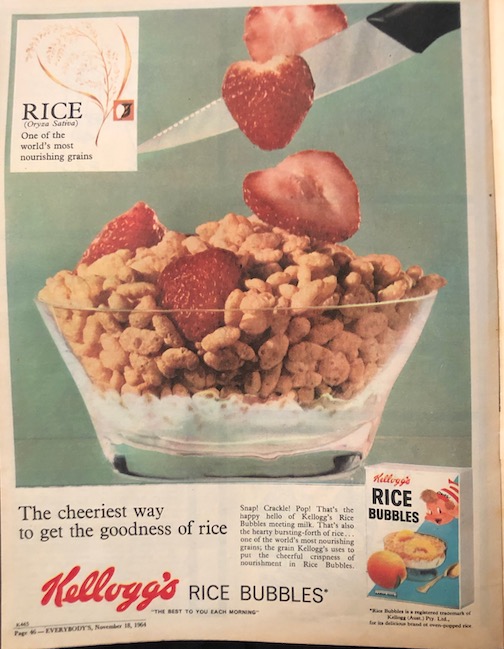 ---
2020 April 01 • Wednesday
April is the gnarliest month, as they say, so let's look at the June 1964 issue of Petersen's Surfing Magazine.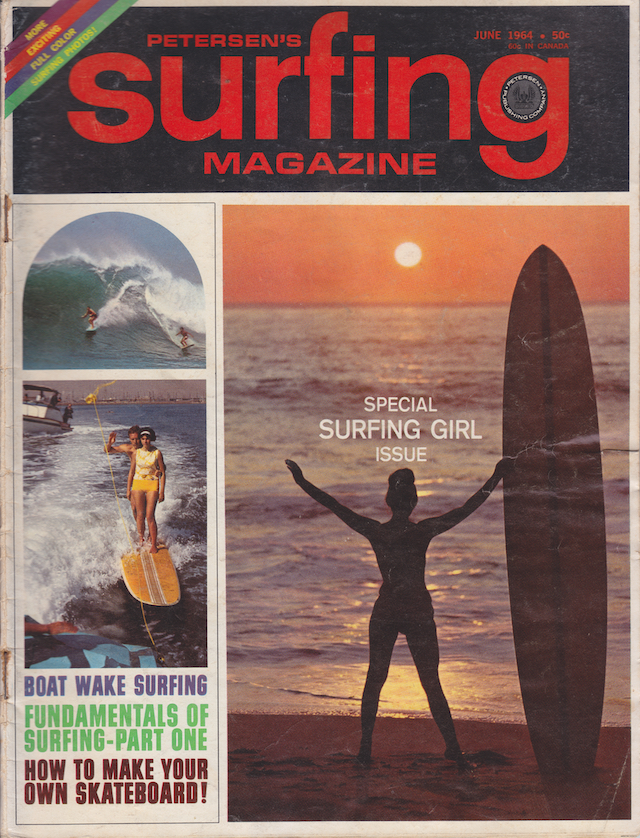 As you can see, it's the "Special Surfing Girl Issue" and sure enough there are several pages about the "Sirens of the Surf".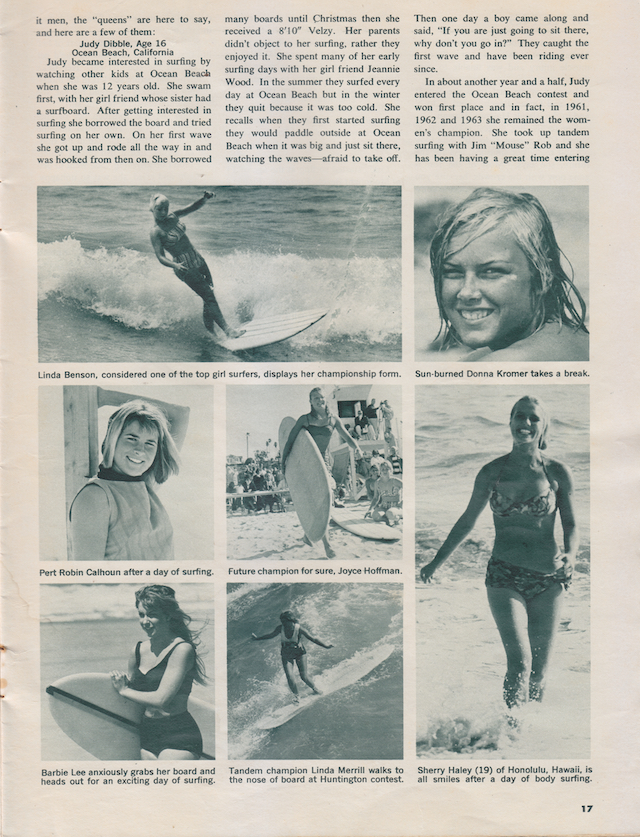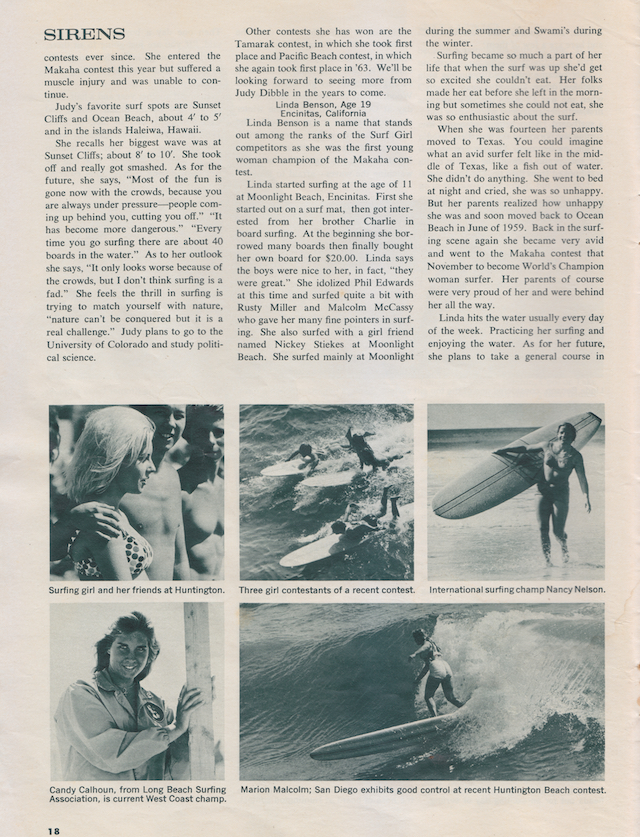 The layout and design of the magazine are really good and there's terrific photography.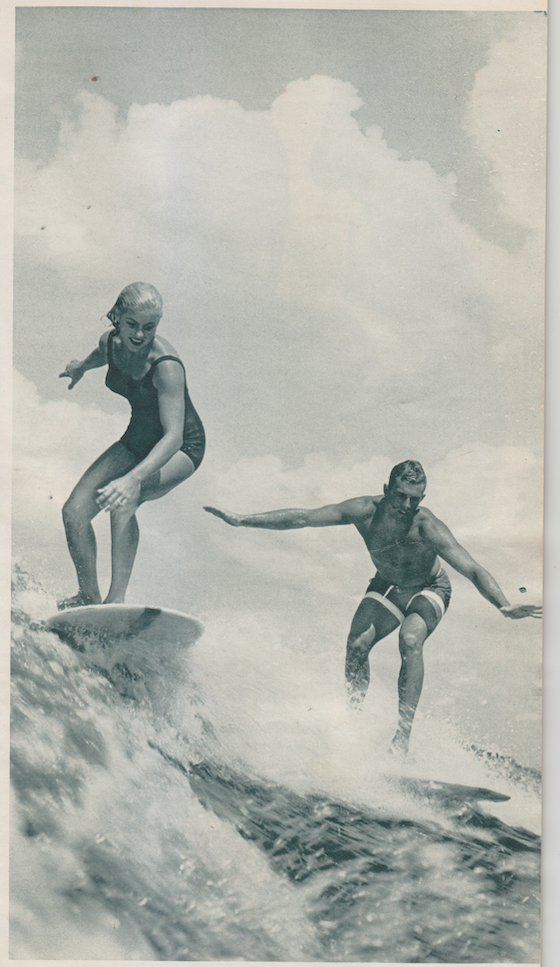 If I could send in for these records and get a free copy of the Surfing Yearbook I'd do it in a second!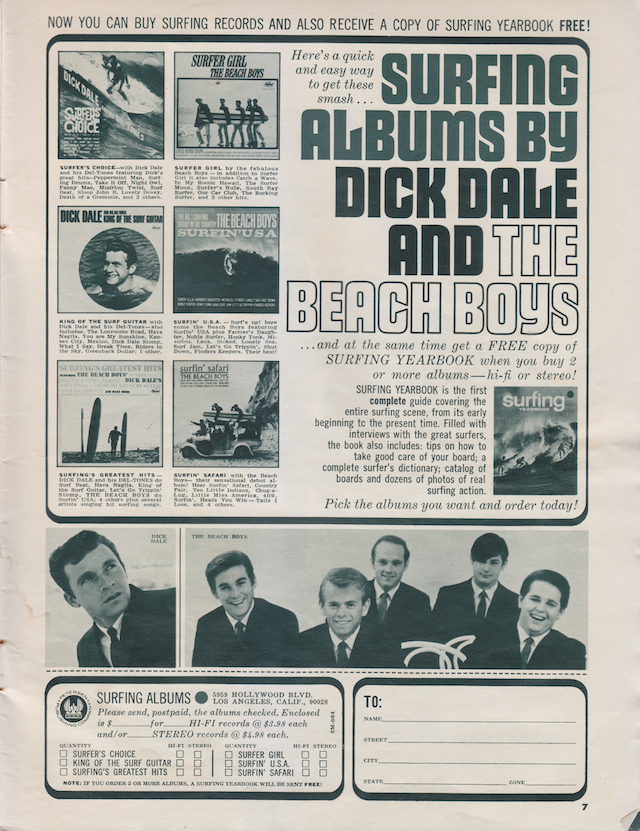 But the best thing about this magazine is the amount of practical information it offers. For instance, there's the first of three articles about the "Fundamentals of Surfing".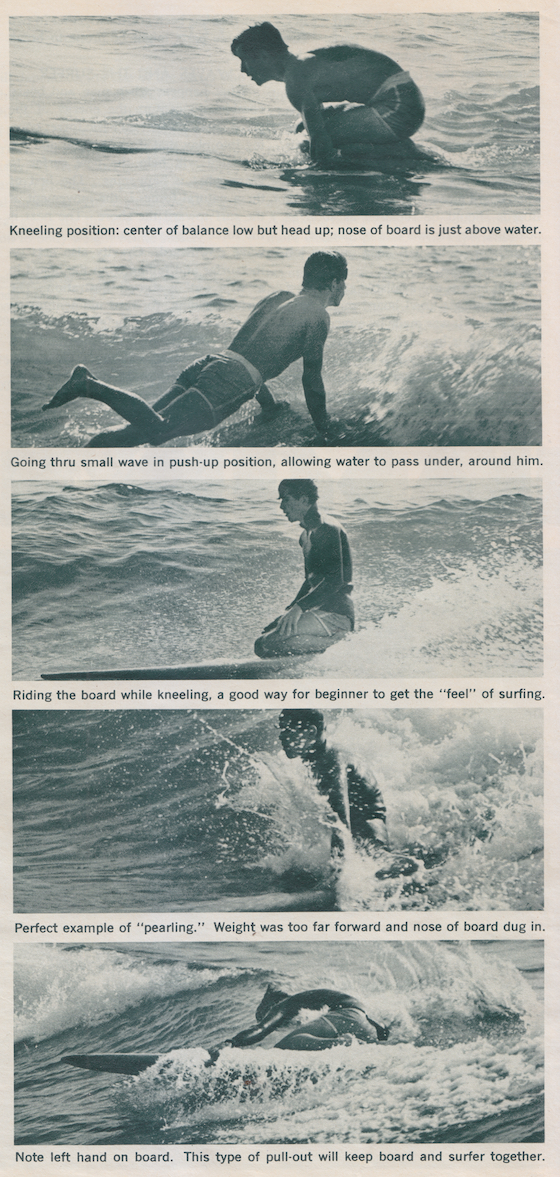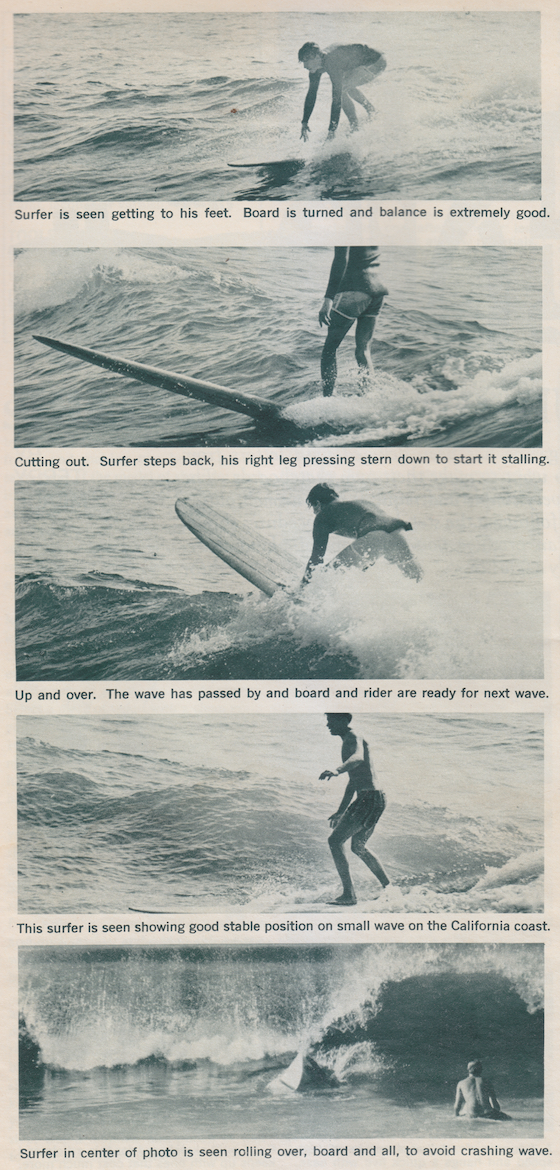 And even better is this DIY guide to making your own skateboard, for sidewalk surfing!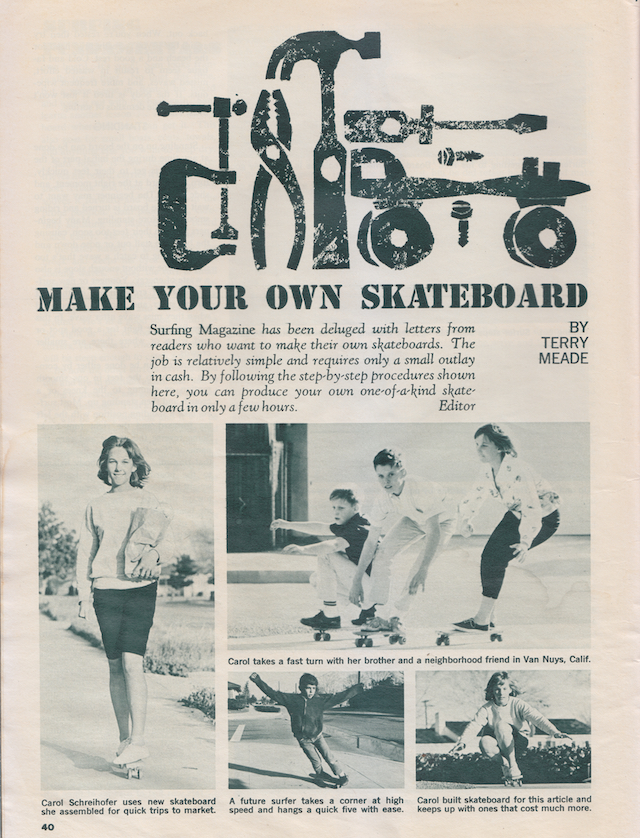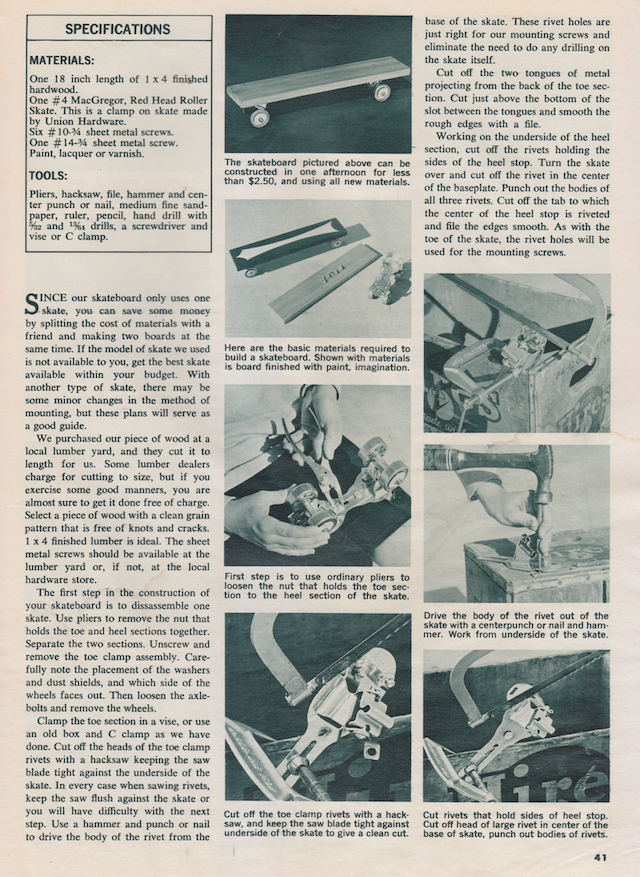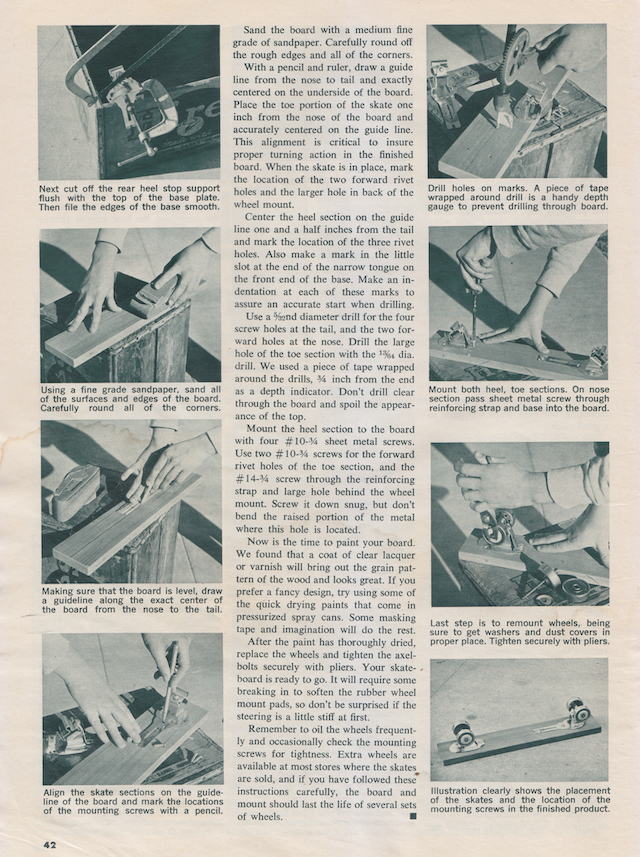 I'm kind of tempted to try it though I think the only thing I would do worse than actual skateboarding would be making a skateboard!
---