Rob Price
Gutbrain Records
rob + gutbrain.com = email
---
Here are two different approaches to crafting a headline for the same news story.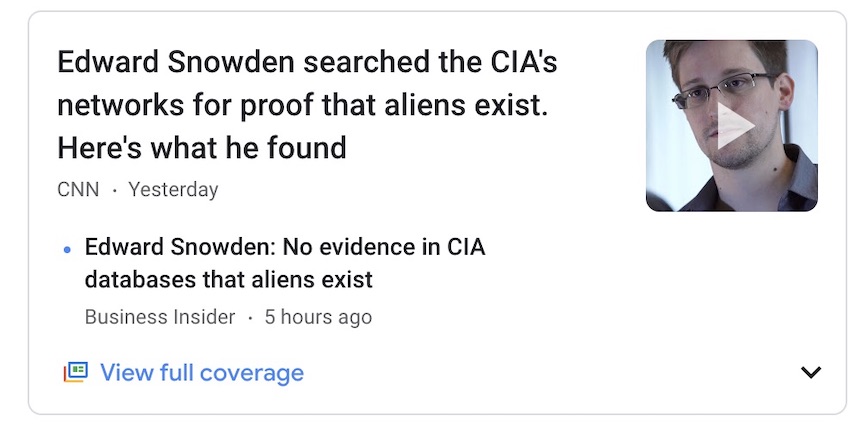 The first example is clearly trying to jerk you around. They want your click. Even worse, it links to a video.
The second headline has the decency to satisfy ordinary curiosity and leave it up to you whether to pursue the details.
I'm too stingy with my clicks to have looked at either one but I would have avoided the CNN link on principle.
---
2020 January 29 • Wednesday
This is not as epic a proofreading fail as chiseling mistakes into gravestones—we've seen that—but it's still pretty bad.
I only picked up this book because it was by Eric Ambler, and when I saw "Eric Amber" staring at me from the shelf I thought at first that the mistake had been mine.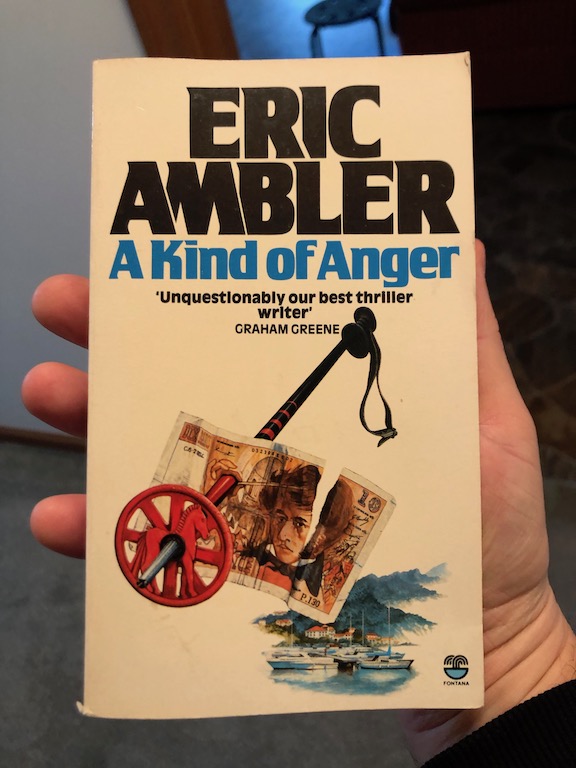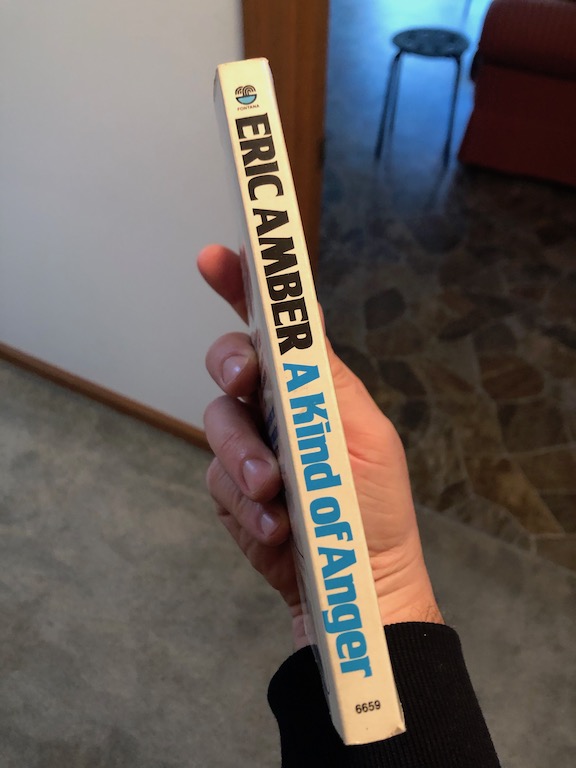 ---
2020 January 27 • Monday
It's John Barry again, this time for the 606th Soundtrack of the Week: his music for Four in the Morning.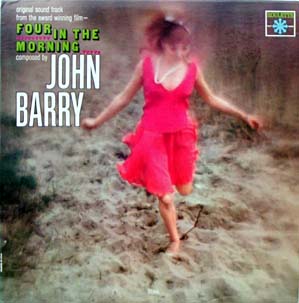 This is a quiet and restrained score for what seems to be a melancholy drama. This isn't James Bond territory, but almost like chamber music. You will hear a little bit of the Bond sound in "River Ride" from the A Side and "Lover's Tension" on Side B, however. The main theme is haunting and lovely, and is heard in numerous variations throughout, often from flutes and strings. There's also some dialogue from the movie, never my favorite thing, but not a disaster here.
---
2020 January 24 • Friday
The latest reissue we're excited about here is Heart Full of Soul: The Motown Anthology, two discs of fantastic music by Blinky Williams.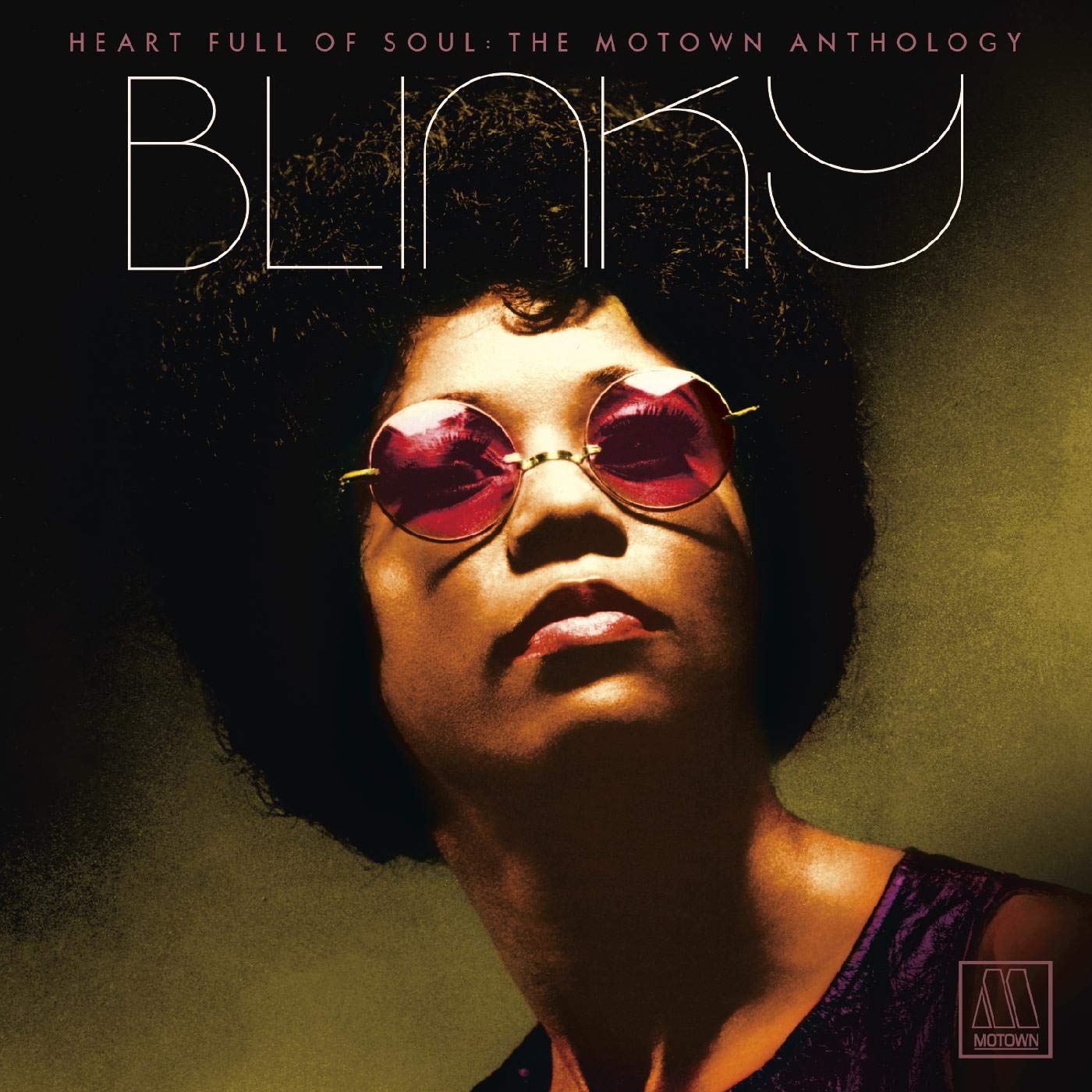 Incredibly, a lot of this stuff is previously unreleased. For instance, there's a whole unreleased LP called Sunny & Warm.
There are some live cuts and a whole disc of songs "from the vault".
Blink has an amazing voice and blazing energy and of course there's a lot of great songwriting, musicianship and production.
She had a hit with her version of "T'Ain't Nobody's Bizness If I Do", from the soundtrack to Lady Sings the Blue and Blinky successfully channels Bessie Smith. That song is included her.
Her take on "God Save the Child" is much more her own thing and just as powerful, perhaps even more so.
As wonderful as it is to hear great new music, there is an at least equal delight in discovering these treasures from our past.
---
2020 January 22 • Wednesday
Courtesy of Chicago's redoubtable Bucket o' Blood shop (books, records, videos, t-shirts, comics, etc.) we picked up The Third Level, a collection of short stories by Jack Finney, who also wrote Invasion of the Body Snatchers.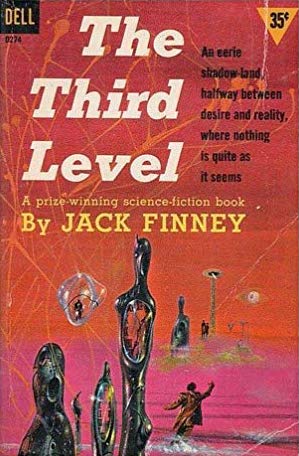 Most of the stories involve time travel in some way. Even those that don't involve some kind of escape from the anxieties of contemporary life, such life mostly being represented by working hard for a living in New York City in the 1950s.

The first story, also the title story, involves a man's accidental discovery of a third level in Grand Central Station, which really only has two levels. The third level exists in time, in the late nineteenth century. Eager to leave today for yesterday, the main character gets some period-appropriate currency and tries to find his way back there. There's a nice little ending to this story.

"Such Interesting Neighbors" tells the same story but from a different point of view. In this case, the present-day setting of the reader is the distant past for people from the future who have made the same decision as the main character from the first story. The future sucks and they move back to our time, permanently.

The third story, "I'm Scared", develops this theme further. Jung, I think, thought that modern anxiety was being experienced on such a large scale, by so many people, made uneasy by the same things, that it was changing consciousness and (I think) causing people to see UFOs and such. In "I'm Scared" this same anxiety is disrupting time itself. So strong is the desire of people to leave their current time, the mid-twentieth century, for an earlier, simpler, romanticized past, that time itself is being damaged and distorted, and thus people and events are slipping forward and backward in time, with results both amusing and disturbing and sometimes deadly.

After that you need a break, and "Cousin Len's Wonderful Adjective Cellar" is an amusing and imaginative trifle about a device that operates like a portable vacuum cleaner for adjectives. Run it over a page and it sucks up all the adjectives. How many it takes depends on how close you hold it to the text. And then you can empty it out and the adjectives will fly away and insert themselves into people's spoken conversations. It's quite a charming story.

"Of Missing Persons" is another escape story, but in this case concerns people's efforts to travel what seems to be a different planet, a paradise compared to the grim grind of the urban rat race. Well written and paced and with an ending that you'll probably see coming but it's still the right ending.

After this comes a fairly silly and sappy "boy meets girl" tale, "Something in a Cloud", in which a young man's fantasy of his imminent blind date, and the corresponding young woman's fantasy of same, compete with reality. The fantasy itself manifests as actual clouds above their heads. This is Finney at his most labored and least satisfying. It's a pretty short story but felt long.

After this comes another change of pace, sort of a time travel story, sort of a ghost story, sort of a... well, I don't know, alternate timeline, alternate universe story? In "There Is a Tide…" the main character is up all night in his apartment trying to make an important decision. He sees another man there, apparently the ghost of someone who lived in the same apartment years ago, and who was also struggling with a weighty decision late at night. Except this ghost isn't dead. The man still lives, decades older now, and our protagonist visits him and speaks to him. Or does he?

"Behind the News" is a story somewhat in the It Happened Tomorrow mold, and is maybe like something Fredric Brown could have written. The young owner of a small-town newspaper finds that if he types something up, sets it and prints it in the paper, then it comes true. Within reason. You can't make thigs that would never happen, happen, but you can definitely manipiulate within reason. A neat twist comes at the end when you discover what the young man's father had done with this ability.

"Quit Zoomin' Those Hands Through the Air" is about Union soldiers in the American Civil War who travel into the future to steal and airplane and bring it back to the past to help with the war effort. There are complications.

Most, perhaps all of these stories were written for magazines of a sort that were comsumed voraciously by a large reading public. The form itself gets teased in "A Dash of Spring", in which the fantasty world of magazine stories is set against the realities of their readers. It's much more successful than "Something in a Cloud".

"Second Chance" is kind of a prototype of Christine, in which a young classic car enthusiast lovingly restores an old 1920s roadster, and drives back in time with it. But that's not quite all that happens. There's also a Back to the Future development.

Contents of the Dead Man's Pocket has nothing to do with time travel or fantasy or anything supernatural or out of the ordinary but it might be the masterpiece of this volume. Desperate to retrieve an important work-related document that's been whisked by the wind out of his apartment window, a man goes on a extremely risky expedition out onto his building ledge, risking everything for some scribbles on a piece of paper. Finney's writing and pacing here are incredibly effective and powerful and the suspense is almost unbearable.

It's the last story in the book, and a good thing, too, because it's a show-stopper
---
2020 January 20 • Monday
For the 605th Soundtrack of the Week we gave Gerry & The Pacemakers' music for Ferry Cross the Mersey a spin.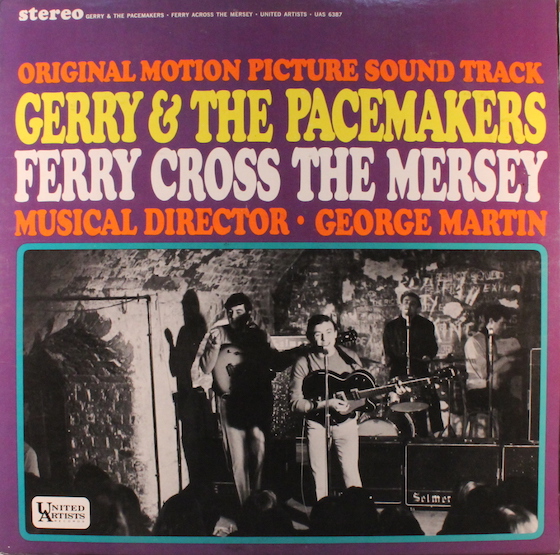 The title track is a really stirring kind of laidback pop song, not a rocker but more of a wistful and melodic crooner with some nice chord changes and melody. Then we get more Beatlesy with the next song, "It's Gonna Be Alright". Very sprightly and peppy with some nice 12-string guitar work. George Martin is credited as Musical Director on this record, and it certainly sounds like it. After that comes "Why Oh Why", also strongly reminiscent of The Beatles. The guitars get a little more snarly and the rhythm a bit more syncopated for "I Gotta Woman", which also makes good use of occasional spaces in the music. This particular one is credited as by The Black Knights, not Gerry & The Pacemakers, but they don't sound a whole lot different. A little, sure, but not a lot.

Gerry & The Pacemakers come back for "Fall in Love", which has a "Sunshine, Lollipops and Rainbows" sort of feel to it.

The last number on the A Side is "Think About Love", a slightly more primitive "beat" offering than what's come before.

Side B opens with "This Thing Called Love", in which love song lyrics lay back and float above a very fast driving musical landscape created by the band, mostly by briskly strummed guitar.

"Baby You're So Good to Me" another jaunty and Beatles-ish song. This is actually a great record if you want to listen to The Beatles but are tired of hearing the same Beatles songs.

Then comes "I'll Wait for You", which has a Johnny Kidd & The Pirates feel to it, but not, alas, that wonderful guitar sound.

The next song is "Shake a Tail Feather" performed by Earl Royce & The Olympics. It's a decent and admirably spare version of this familiar number.

Gerry & The Pacemakers return with "She's the Only Girl for Me", a startlingly atmospheric and dreamy-sounding lover's remorse type song and one of my favorites on this record.

The record closes with "Why Don't You Love Me" by The Blackwells, which sounds very similar to most of the other stuff on here, though it has harmonica and a different singing voice.

All in all, a great record! I wonder what the movie's like.
---
2020 January 17 • Friday
Gabrielle Bell's July diaries are so good that it's a shame we only get them once a year. Maybe we could lobby her to do another month in addition to July?
There's something inherently interesting about autobiographical comics but of course you're going to be more impressed by some than by others.
Gabrielle Bell is one of the best in the world, synthesizing comics' roots with its more recent developments and infusing the result with her precise observations of her unique inner and outer worlds.
Her latest is My Dog Ivy* and that asterisk is a brilliant touch that directs you to a small sub-subtitle, *It's Not My Dog.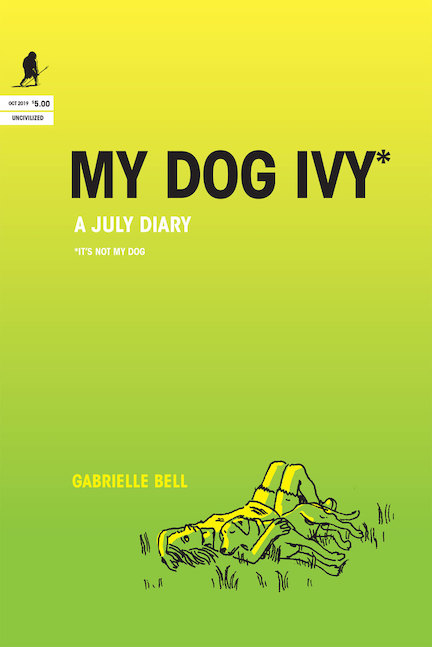 The cover alone should encourage you to pick up the book. The use of color and space is extraordinarily exciting.
Inside is the story of Bell housesitting for friends of hers and taking care of their pets, particularly Ivy the dog.
The book presents, I believe, one comic per day of July, and miraculously Bell is able to make each page a stand alone story, all of them even with basically a set-up and a pay-off, perfectly structured.
Fans of her work will be relieved to find that she's still one of the greatest articulators of ambivalence, anxiety and longing that has ever put pen to paper.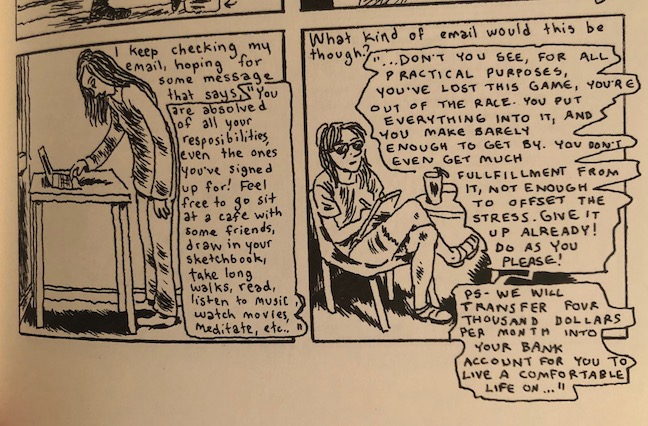 And in addition to her brilliant linework, she's very funny.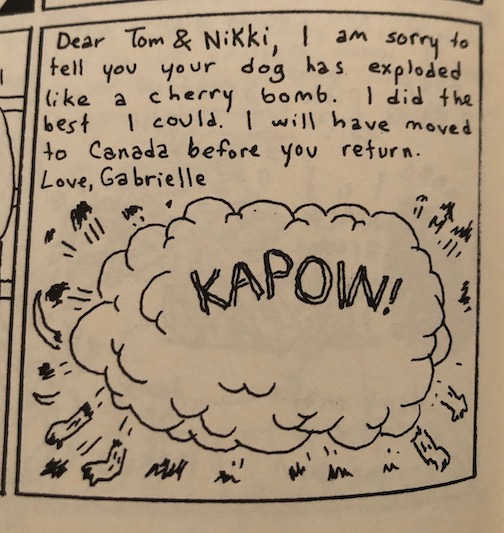 If you haven't read her yet, now's the time!
---
2020 January 15 • Wednesday
Is Gone Girl a good book and/or movie?
I don't know, but it's made enough of an impression that I don't think it's possible to write the name Gillian Flynn without also writing "author of Gone Girl".
See? I just did it myself. Gillian Flynn, author of Gone Girl.
Of course as much as her publisher appreciates her success, they probably get a little impatient waiting for more Gone Girls. Some people might reach for the bourbon to take the edge off, while others might take a short story and publish it as a slim hardcover volume.
Such is the case with Gillian Flynn, author of Gone Girl. Her short story The Grownup, winner of an Edgar award (usually a good sign), is available for purchase and even for reading!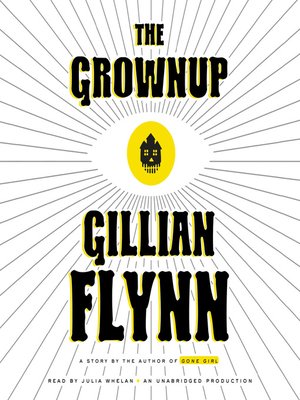 And this is a good thing because The Grownup is a delight, a charming and assured riff on the ghost story, laced with irony and wit.
It makes references to several classics of both the ghost and gothic genres: The Turn of the Screw, The Haunting of Hill House, The Woman in White and even Rebecca, if memory serves.
Even the tiniest bit of too much information will take away some of The Grownup's pleasant sting, but the gist of it is about a phony psychic who wants to take advantage of somebody who believes her house is haunted.
The first line is "I didn't stop giving hand jobs because I wasn't good at it".
---
2020 January 13 • Monday
The 604th Soundtrack of the Week is Film Music, a CD of cues from various projects scored by Miriam Cutler.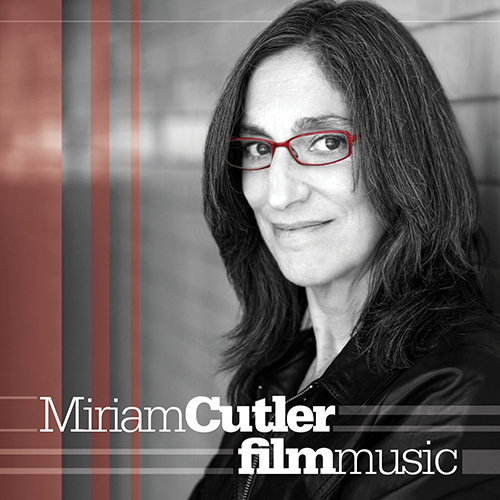 There's a lot of great trumpet playing on here! Some fantastic guitar work as well. And I think that all of these films are documentaries. The cue from Lost in La Mancha starts out with a kind of Spanish sort of funeral music thing and ends up in Nino Rota Fellini-land. Absolute Wilson is represented by some swinging jazz in, I suppose, 1930s style, with some Django influence in the guitar's contribution. It seems that Genius of a Place is represented by a suite of cues, with a wistful piano line running through them and some stirring passages that probably go well with scenes of beautiful Tuscany.

Lovely writing for strings, particularly upright bass and violin, are highlights of the selection from Out of Faithm which also has some really nice electric guitar playing.

The piece of music from Pandemic: Facing AIDS is a lot more upbeat and positive than you might expect and skilfully incorporates some sounds from African instruments.

A Powerful Noise is another uplifting piece that blends in the voices and sounds of a few different cultures, or so it seems to me. Percussion, voice, electric guitars and strings sound like one whole community here.

Things get more ominous, as they should, for Ghosts of Abu Ghraib, with a quietly pulsating and droning bass parts and sombre low figures floating above it.

For Chris & Don: A Love Story we're back in more cheerful territory, as well as back in swinging jazz/Nino Rota land, with guitar and accordion and a happy groove. Unexpectedly, though, different, electric sonorities come in and the whole thing changes to a more atmospheric, pensive piece of music. It ends with a soft trumpet and piano segment.

Vito is an energetic and ascending piece that sounds like it's describing some industrious and aspirational activity. After a few minutes of this we hear some really nice sort of bluesy/funky jazz combo blowing.

The blues and funk elements come out for more in the cue from One Bad Cat: The Reverend Albert Wagner Story, in which harmonica joins the electric guitar and piano, as well as what sounds like some traditional African instruments such as mbira.

Can Cutler cut country? Sure, why not? Here come dobro and slide guitar for All American Cowgirl. Again, the use of percussion and the groove and feel of the piece are great.

Strings and a restrained and tender feeling, along with more subtle percussion, create the sensitive atmosphere for One Lucky Elephant, which is fairly similar to the next track, Finding Kukan.

The Desert of Forbidden Art uses accordion, piano and bowed strings to create a rhythmic pulse most of the time, but things move to a more spacious setting. Again the use of perussion and electronic instruments, as well as voice, is very tasteful.

You might expect something a bit moody for Death: A Love Story and that's what you get, but it's not a downer, more restrained and thoughtful with lines of beauty running through it.

Less cheerful in tone, though still a wonderful creation, is the music from A View from the Bridge: Stories from Kosovo. This presents more of a sound of loneliness and desolation.

Electric instruments and strings introduce the listener to Stolen Childhoods, which ends up taking us to a cool, sort of funky laidback rock/pop groove with some stirring wordless vocals.

Finally there's Stumped, which must be for something political, because it's that American nationalistic marching band stuff, but with some humorous twists and turns as well as a few detours into some other zones.
---
2020 January 08 • Wednesday
Sydney Horler's The Curse of Doone is not a good book but as ludicrous as it is, the sentence structure is rewarding in the same way that the pace and rhythm of camera movements and editing in older movies are.
It's a fairly ordinary interwar British action thriller that reads like Horler just made it up as he went along. It's part of a family of British supermen such as Bulldog Drummond and shares some of the casual bigotry, prejudices and assumptions of such books.
Every time I read one of these I'm reminded anew of how good a writer Leslie Charteris was, how unusual and superior the Saint books were compared to their contemporaries; at least the first dozen or so of them.
The Saint was a hybrid of Bulldog Drummond, Raffles and Psmith, while Sydney Horler's book is more along the lines of the Inspector Mould novel created as parody by P. G. Wodehouse in "The Strychnine in the Soup".
While my copy of the US edition lacked a jacket, the original jacket would have looked like this.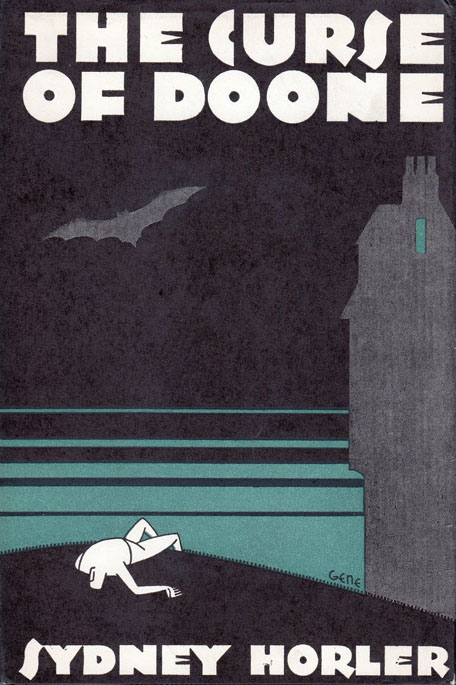 Now that is extraordinary and beautiful. It's also a faithful depiction of a scene from the book.
This appears to be one of several books about British Secret Service agent Ian Heath, and not the first one. Normally I would start with the first one but the only reason I picked up this book in the first place was that I had read somewhere that it was about a Nazi vampire.
This isn't accurate, though there are evil Germans and a monstrous bat terrorizing a remote moor.
Silly as it is, culminating in an embarrassingly large number of coincidences, there are some admirable stylistic flourishes.
One character secretly reads "the type of weekly periodical which purveys palpitating passion to the populace". While this might sound like a put-down, later on there is a reference to "those modern novels which are all talk and soul-analysis and no action or story", so perhaps not.
Some interesting words might catch your eye as well, such as "inspissated" ("It had an atmosphere of inspissated gloom") and "objurgation" ("Blighted ass! Reproaching himself with his favourite objurgation, he squared his shoulders").
The first line is "Heath caught her as she was about to fall".
---
2020 January 06 • Monday
After the last two American Godzilla movies, I'm thinking about Gamera. They were making great Godzilla movies in Japan right until everything went off the rails with the American Godzilla, the Japanese Shin Godzilla and then the Japanese animated Godzilla movies, which I thought could have been really good but I didn't actually make it through the first one...
But Gamera! Almost all of those movies were for kids until they relaunched the giant flying monster turtle in the '90s with a real special effects budget and a more serious approach to storytelling.
Perhaps the biggest revelation was showing the collateral damage caused by giant monster battles. When Gamera breathes his fire breath to attack or defend, thousands of people on the street get incinerated. And this fact of life itself becomes a major plot point later on in the trilogy of 1990s Gamera movies.
This new approach required the right music, of course, and Cinema-kan in Japan has just released a three-CD set of the music from these movies. Ko Otani's score for Gamera: Guardian of the Universe is our 603rd Soundtrack of the Week.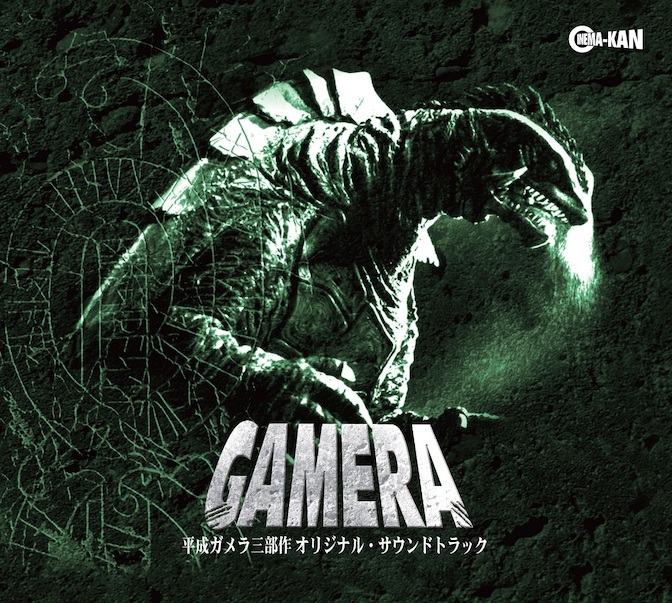 Otani came up with a strong and heroic main theme for Gamera and while the music in general doesn't have a wide range of orchestral color, there are some interesting sonorities that pop up in the midst of the strings here and there, such as whatever that weird electronic sound is on "Terror Closes In". The strings do most of the work here, always chopping and pulsing when they're not drawing various figures. Horns and percussion are frequently stabbing and popping and propelling and I think you can hear the influence of John Barry in places. And then out of nowhere there's a kicky and bubbly pop song, "Myth", by Bakufu Slump. This has more of an '80s feel to it and is par for the course for Japanese movies of the '90s. But it's a really good score for a really good movie! Let's hope they start making some better Godzilla movies soon. And another Gamera movie!
---
2020 January 03 • Friday
Continuing with our video cassette theme, here's the most recent issue of Strange Tapes: VHS Oddities Unearthed!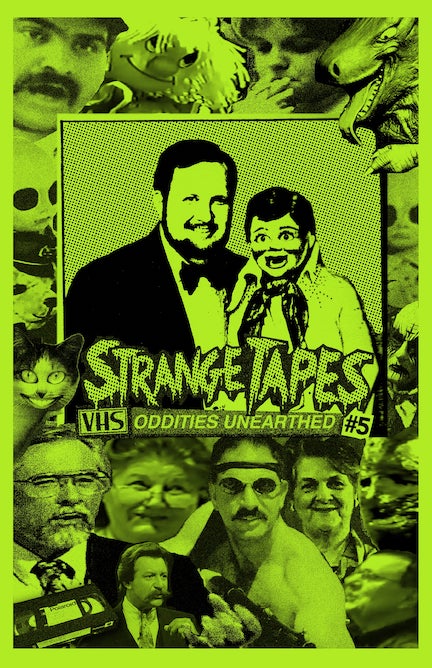 Not only is it rather delightful that people still give videotapes some attention, it's even more delightful that some people persist in making old school fanzines.

This is the fifth issue of Strange Tapes and I picked it up at Quimby's in Chicago.

There are reviews of found footage tapes (birthday parties, wedding vow renewals with Elvis impersonators, etc.) the most obscure and lowest budget movies you would ever have heard of if you had ever heard of them before (including an interview with one of the filmmakers!), a gallery of bizarre VHS covers and honest reviews of some the odder video cassette offerings out there (you might just be persuaded to watch Barbara Sher's "Idea Party", produced by Iowa Public Television).

Strange Tapes now has its own YouTube channel, so that's something to check out as well!
---
2020 January 01 • Wednesday
Happy New Year!
It's 2020 and that means video cassettes! Here's a neat book about this obsolete medium: Portable Grindhouse.
Its focus is on the packaging of commercial videotapes and contains scans of the front and back covers of the boxes. Quite a few of these I recognized. Others, not so much.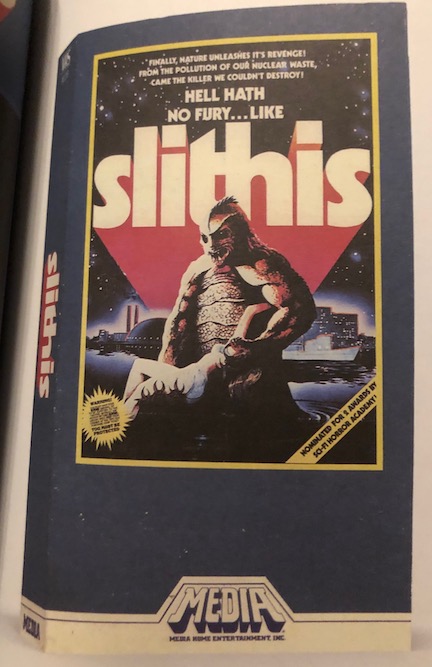 I'm pretty sure that I saw Slithis, but I think it was broadcast on a UHF channel, not on videotape, when I did.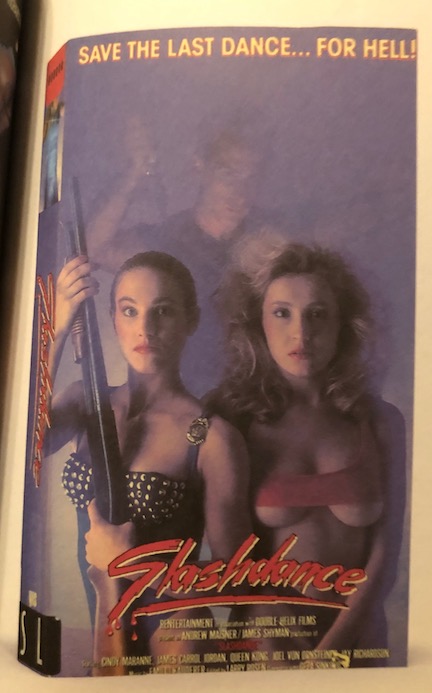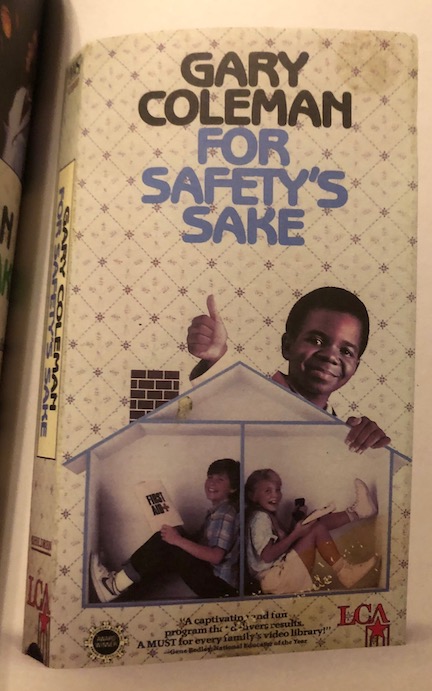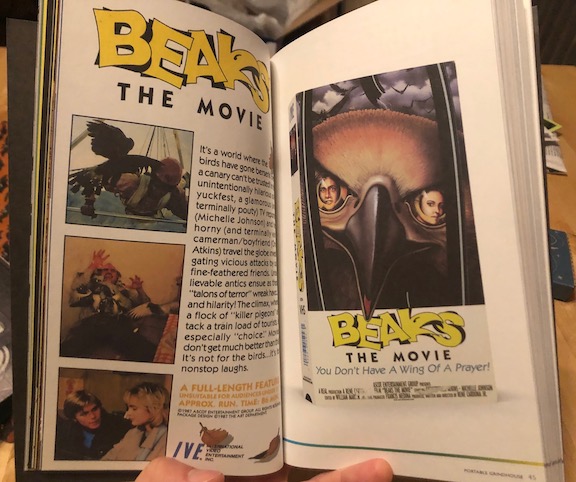 ---