2019 November 04 • Monday
The 594th Soundtrack of the Week is Marcello Giomnini's music for L'ossessa.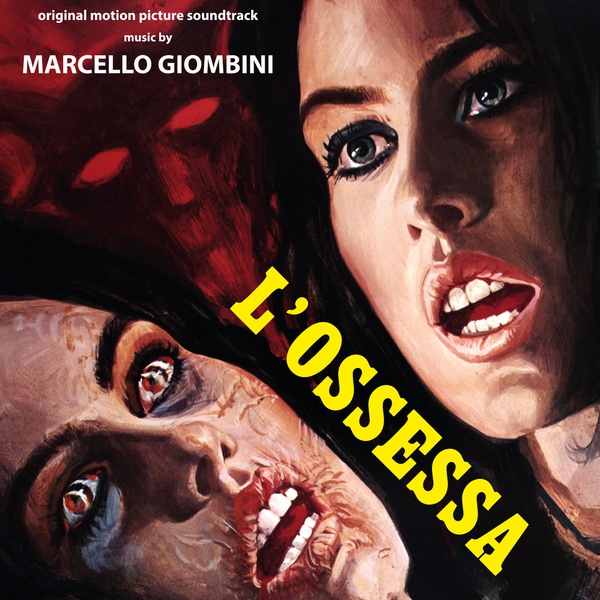 The main title theme is some weird electronic noises and screaming at first, followed by a chorus of voices speaking something in Italian. This morphs into a chorus singing what sounds like unholy church music. The weird clanging and bell sounds never stop. Those unsettling sounds return in "Suspence Diabolica", along with another element that's like an electronic didgeridoo. This is very much like the later cue "Tema Trillato/Magmatico", of which the second half just removes the trilling.

"Suspence in Crescendo" is a variation on this with more space and some deep and mysterious drumming.

"L'ossessa (Samba)" is almost absurd or perhaps actually absurd in its druggy spacey lounge grooviness. It also sounds very low budget, perhaps all the instruments played on the same keyboard. This is followed by "Tema Agitato", which has a similarly stripped down keyboard-dominated aesthetic but which manages to create a persuasively tense atmosphere. Is "L'ossessa (Mozartiana)" actually Mozart? I don't think so but it does sound like "classical music" with piano, violin and cello. The "Tema Ossessa" that was hinted at in the main title track gets a keyboard work out here. It depends more on harmonic movement than having much of a melody. Again sounds like all one keyboard. After that comes a choir without instrumentation singing "Miserere Mei Deus", which sounds like actually standard church music. "Esorcismo Ex Abea" is similar.

"Ritmico Triste" is another cheap-sounding keyboard lounge track but this one is pretty nice, with a cool melody and a laidback groove.

Things get weird again, and kind of Radiophonic Workshop-like, in "Suspence Diabolica B".

"Tema Drammatico" blends the keyboard with strings successfully for a fuller sound and a classical-influenced piece of dramatic underscore.

An excited and creepy-sounding group of chanting and calling voices gives us "L'ossessa (Litania Satanica)" and then there's a massive 11-minute track that kind of does it all: weird electronics, groovy drums, wailing choir, beats and keyboard drones...

"Messa Nera" is perhaps even more alarming, with genuinely weird vocal parts that might be processed somehow, combined with an insistent and relentless clanging sound and more hard to identify electronic sounds.

Things get wrapped up with the moody "Tema Mistico (Finale)", another keyboard special.
---