2019 September 09 • Monday
The 586th Soundtrack of the Week is a combined effort but not, I think, a collaboration. The soundtrack album for The Electric Horseman has Willie Nelson singing songs on the A side and a score by Dave Grusin on the B side.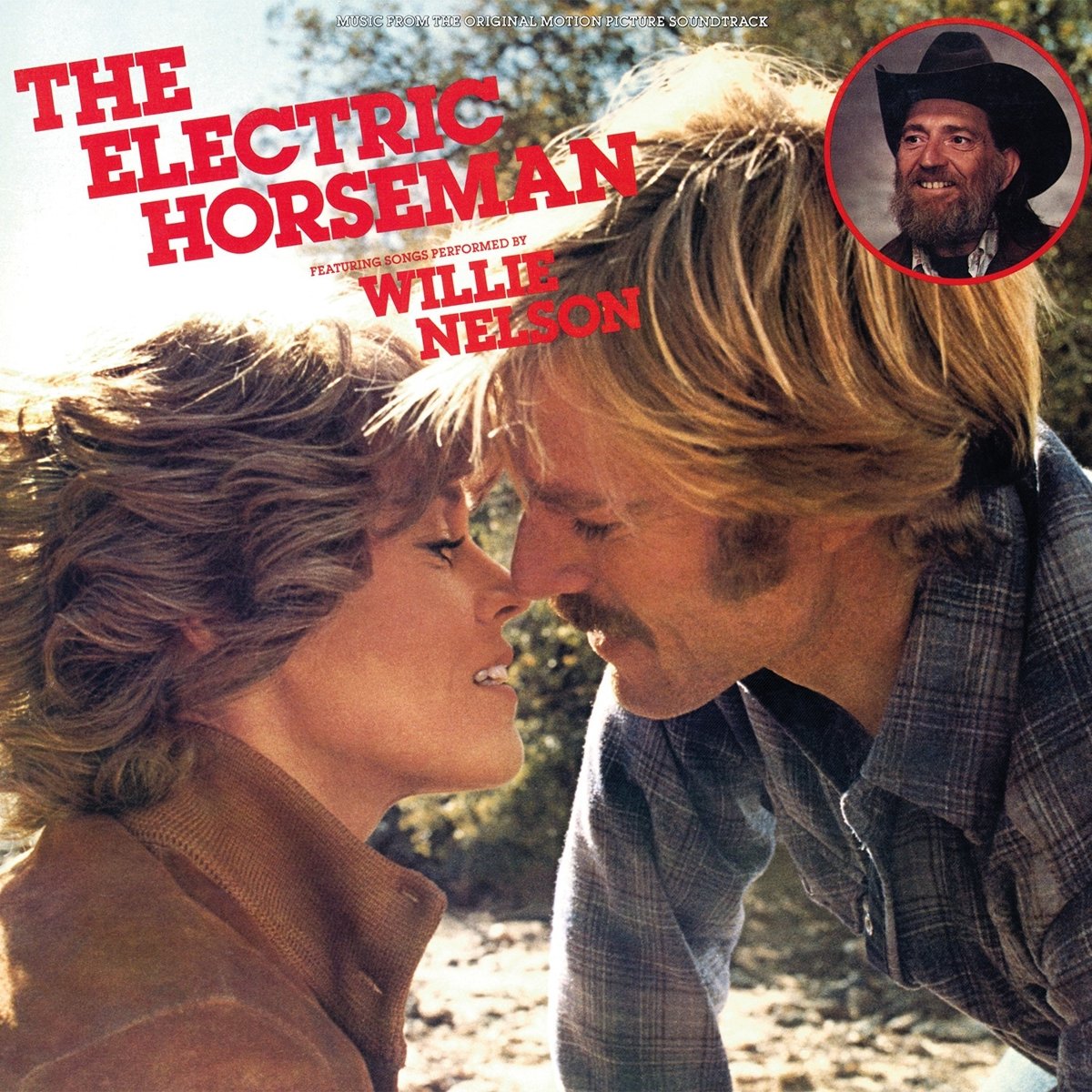 The first thing you hear is Nelson singing the Allman Brothers classic "Midnight Rider". It's more than a cover, it's a re-interpretation that allows the singer to make it more of his own kind of song. It's really good!

Next is the famous "My Heroes Have Always Been Cowboys", written by Sharon Vaughn and recorded first by Waylon Jennings. It's a lovely waltz that Willie Nelson sings in his perfectly modulated strong/delicate voice. Speaking of Waylon Jennings, he and Willie Nelson had a number one hit with "Mammas Don't Let Your Babies Grow Up To Be Cowboys". That was in 1978 and The Electric Horseman was 1979, so why not have Willie Nelson sing it again for the soundtrack? It's another one in 3/4 and just another perfect Willie Nelson performance. As both a singer and a guitarist he does everything just right!

Next up is a song that I think Willie Nelson actually wrote, "So You Think You're a Cowboy". It's another heartfelt and low-key waltz song with lyrics about being more or less doomed but fairly amiable about it.

Finally there's "Hands on the Wheel", which had been on on Nelson's Red Headed Stranger album a few years later. Beautiful song.

So then we flip the record to hear what Dave Grusin added to this movie.

The first track is called "Electro-Phantasma", which is my kind of title. It's basically a disco instrumental, I guess. Sounds like something you might hear on The Love Boat.

Then there's "Rising Star (Love Theme)" which sounds familiar. Maybe it just sounds like some other love themes. There are some nice blends of instruments, getting the harmonica in there, for instance, which connects it to the cowboy theme of the story.

"The Electric Horseman" is maybe the main title theme. It's got a lot of energy and some cool late-'70s sounds to it. Probably the most "up" song on the record with some striking rhythm guitar work.

Things get spacious, briefly, for the meditative "Interlude—Tumblweed Morning". It's a very shortlude, too short.

And it's a bit of shock, after that, to be plunged straight into "Disco Magic", a slab of pure disco with lyrics and everything, that no doubt was hoped would be a big hit. ("Move it up, move it down, listen to that funky sound" etc.) The arrangement sounds like they were reaching for "Stayin' Alive".

The album concludes with "Freedom Epilogue", a short and sensitive piece that recalls the love theme. It's a decent record. I got it for five dollars, somewhere...
---