2019 July 29 • Monday
For the 580th Soundtrack of the Week we sat down with Francis Lai's score for The Bobo, one of the few Peter Sellers movies I haven't seen.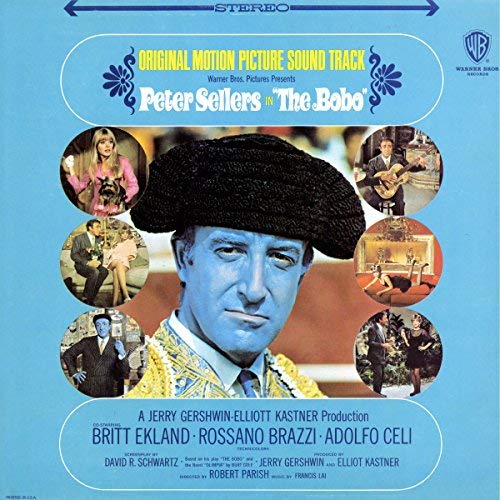 It starts with "The Blue Matador", which combines Spanish guitar and mariachi-ish horns for a lovely slow waltz.

Then there's a bossa nova, "Olimpia's Theme", similar to "Insensatez" and quite nice. There's a reprise of this later with Stan Getz-like saxophone playing and a nice saxophone solo. Urgently driving strings propel "Imagine (Retreat Version)" but it quickly shifts gears into a gently swaying waltz similar to the "Blue Matador" theme. This also alternates with some denser and more dramatic writing. Peter Sellers himself sings "Girl from Barcelona" in a Spanish accent in a clip from the movie. After this comes a vocal version of the title song, very poppy and with that jazz chorus that was very fashionable in the late '60s but which I don't care for. The lyrics are kind of cute and reference "The Girl from Ipanema". Then there's a vocal version of "Imagine", again with the chorus, but I will admit that it's a good way to highlight the strengths of the melody. And then there's another clip from the movie with Peter Sellers singing "The Bulls of Salamanca". "Bobo's Lament" has Spanish trumpet and guitar and wouldn't be out of place in a spaghetti western. The support given by the strings is quite good. Bossa nova abounds and we get an arrangement of the title song now in that style, again with the tenor saxophone featured. The record concludes with our jazz chorus singing a vocal version of "The Blue Matador".
---