2019 June 10 • Monday
The promisingly titled Ishk Ishk Ishk brings us our 573rd Soundtrack of the Week: music by R. D. Burman and lyrics by Anand Bakshi.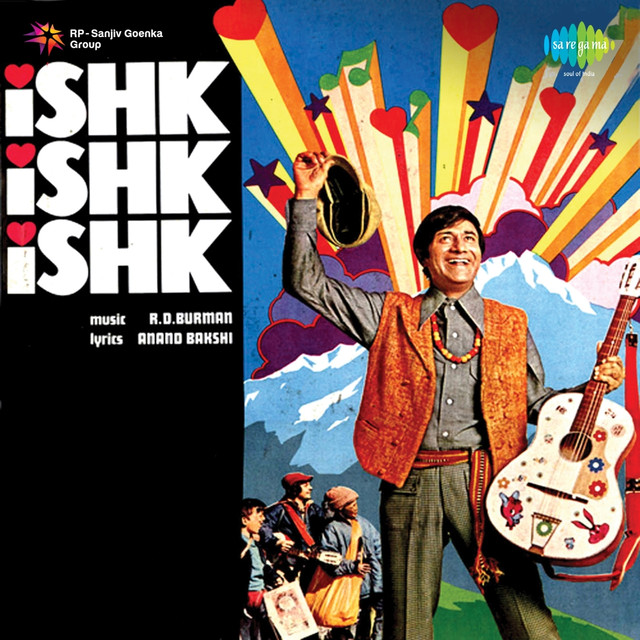 Could you have resisted a record with that cover? The first song on the A Side, "Chal Saathi Chal", starts out with some yodeling and swings into a lilting groove with tabla, other percussion, strings, guitar and accordion and/or harmonium. Kishore Kumar, the singer, is occasionally answered and joined by a female chorus. Then a solo female singer steps out and they both do some crooning and yodeling. It's a cool song. "Achhe Bachche Nahin Rote Hain" has a loping sort of groove and similar instrumentation, though you hear more from the flute and what might be a 12-string guitar. "Mujhko Agar Ijazat Ho" has a sprightly harmonium intro as well as playing from that instrument throughout, and a laidback, flowing groove. "Tim Tim Chamka" is the first song here to credit Asha Bhosle as well as Kishore Kumar, though I think that Bhosle was on the first song too. Her voice and an urgently strummed guitar get things going and eventually harmonium and percussion join in. It's a more sparsely arranged piece with fewer instruments. Kumar comes in about halfway through. Side two opens with the title track, another one featuring both singers and a buoyant rhythmic feel. There's more use of the strings here and a rare electric guitar appearance as well as some saxophone playing and even an organ break. The percussion section gets stronger and more propulsive for "Wallah Kya Nazara Hai", which adds the chorus to our two singers. Various instrumental voices swirl around while the song itself drives forward and takes several interesting turns. Asha Bhosle gets a song to herself in the sinuous "Kisi Na Kisi Se", which seems to be in 12/8 and uses flutes more than the other songs do. The record concludes with "Bhigi Bhigi Ankhen", which brings both vocalists together for a song with a different sort of sound in places, perhaps more western-influenced. There's even banjo in it or something doing a good job of imitating a banjo! All the melodies and song structures are really good and the percussion playing is sublime.
---