Hopping on the subway to see qualifying rounds at the US Open for free is a great thing about living in NYC.
Another is being able to see the master guitarist Gene Bertoncini in a variety of intimate settings.
He really is incredible. Just now we're listening to this record that he self-released in the seventies, Bridges, which is a duo with bassist Michael Moore.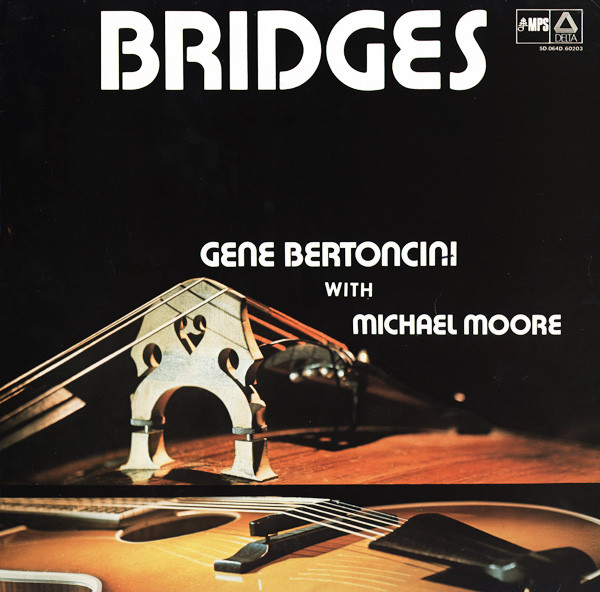 The very first track indicates that Bertoncini can do anything. It's an arrangement of Gabriel Fauré's "Pavane" (Opus 50) and it starts out pretty straightforward. Gene's mastery of both jazz and classical guitar playing is well known. But then halfway through the tones and timbres become electric and kind of grooby and this duo takes Fauré places he probably hadn't been before. From there they go into a bossa nova groove for Clare Fischer's "Pensativa". It's exquisite. And then the last track on the A side is the first of three intriguing musical marriages. This first one is Bertoncini's arrangement of a Bach lute suite with the chestnut "How My Heart Sings". It's frankly astonishing how Gene retains the concepts and feel of the Bach piece throughout. It's a seamless transition, perhaps not even a transition but a blending.

Flip the record and you'll hear "Eleanor Rigby". I didn't think I'd ever need to hear this song again, but this is a very exciting take on this piece, with lots of energy and superb execution by both players.

The second marriage is Chopin's "Prelude in E-minor" with Jobim's "Insensatez". Chopin and bossa nova why not? They both create an immediate and very strong mood. Again these two very different pieces seem fused and made into something new together.

For the last tune, we're back to Bach, with Betoncini's arrangement of a "Prelude in D-minor" cross-pollinated with the classic "My Funny Valentine". Moore does some impressive arco playing on this tune and the two pieces go so well together you might wonder why more people don't play them like this.

Though of course nobody else can play like this. That's one reason.
---