2019 April 22 • Monday
We'll admit that the 566th Soundtrack of the Week is a bit of a stretch. It's The Archies! And it's on colorful splatter vinyl!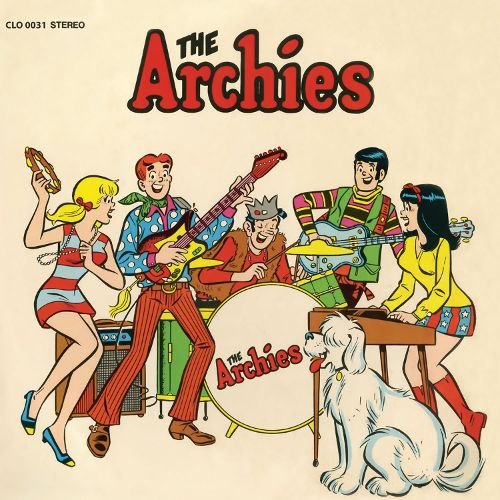 > Is this actually a soundtrack? It's songs from a fictional band of comic book characters and they had an animated tv series and the band was in the tv series and I think these songs probably were too and that makes it likely that this is a collection of original songs composed for a tv series and so our final verdict is a tie between "who cares?" and "close enough!".

Most of the songs were written by Jeff Barry.

It begins with "Archie's Theme", unsurprisingly. This is a very Beach Boys-influenced song that calls out all the character names. It's not bad but it seemed like it was lacking in energy. The next song, "Boys and Girls", is similar to both "Summer Nights" and "We Go Together" from Grease. "Time for Love" is bouncy and a bit on the insipid side, a sunshine pop song that sounds under-orchestrated, since they're sticking with just the band. It could use more of "Veronica"'s keyboard playing! (In real life this was apparently Ron Frangipane.) There's some whistling but that's not the same. The first song here that has real energy and feels really solid is "You Make Me Wanna Dance" Letting the organ do more and having the electric guitar play something a bit smokier were good choices. The drums also have an edge to them that was missing from the previous songs. "Reggie" (probably either Chuck Rainey or Joey Macho) even steps out on bass! "La Dee Doo Down Down" does in fact feature that five-word phrase quite a lot. It's a bit like "Da Do Ron Ron", I guess, which isn't a surprise. "Truck driver, where are you bound?" asks the singer, "Archie" (Ron Dante), in "Truck Driver". He wants a ride to follow his girlfriend but he doesn't know where she went. There are lots of different license plates on the truck so that suggests a quite a few options. Baltimore or Hollywood? Or New York City where "the skies are grey but the lights are pretty"? This is a decent song and "Archie" gives the vocals some emotional urgency. When I first heard "Sugar Sugar" I assumed it was just a straight cover of a popular song. But this is where that song actually comes from! According to wikipedia it "went to number one on the pop chart in 1969, sold over six million copies … [and] was ranked as the No. 1 song of that year, the only time a fictional band has ever claimed Billboard's annual Hot 100 top spot". "Catchin' Up on Fun" has a nice lilt to it. It's a sunshine pop number that works well with this band. The instruments mesh nicely, the vocal harmonies add some nice layers and the lyrics are better than most and even hint at some possible psychedelic experiences. "I'm in Love" picks up the pace and intensity and maybe has a "Back in the USSR" feel to it. Something like that anyway. The bass playing is especially active on this one. Things slow down a little bit for "Seventeen Ain't Young" but there's more going on here than there is in a lot of the other songs. Again the singer seems to mean it a bit more and the tremolo guitar adds a nice sonic atmosphere. The influence of Chuck Berry in general and "Johnny B. Goode" in particular can be heard clearly in "Johnny Ride, Ride, Ride", a straight up-tempo rocker that might work in the cartoon but on the record needs to be rougher and louder. A fuzz guitar solo and some car noises are a welcome addition and the guitar even adds a touch of freak out at one point. It's kind of close to being a great song but it doesn't quite get there. "Hide and Seek" has a really great beat and organ playing. This is one of the best songs. It has a nice arrangement, with some hand percussion and a few other little details, like various cool guitar figures. And hide and seek is a geat subject for a song, a natural. Finally we get another big hit for this fictional band. "Bang-Shang-A-Lang" apparently reached #22 in the charts. It's also the sound "Archie"'s heart made when he saw "her". There's some nice ascending harmonic movement in the chorus and the verses are agreeably perky.
---