One more Soundtrack of the Week, #550, for 2018. What should it be? Well, after being stirred by the MS 51 Vocal Music Department Winter Concert, of which one of the highlights was A. R. Rahman's "Jai Ho", from the movie Slumdog Millionaire… we'll do that!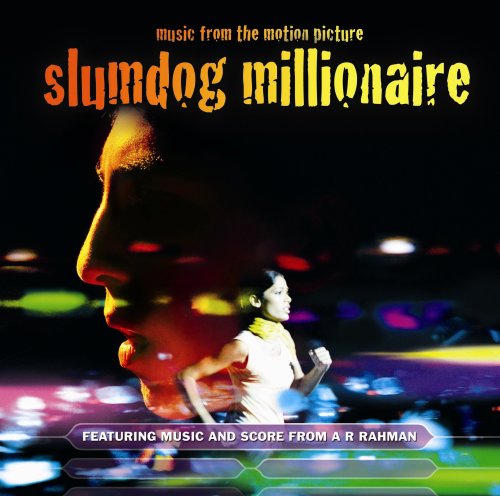 It starts with "O… Saya", which has great percussion and a few other instruments laying down a driving and catchy rhythmic foundation over which a melody can take its time before giving way to M.I.A.'s rapping.
M.I.A. also has one of her own songs here, "Paper Planes", which has a lilting and agreeably tipsy reggae sort of feel to it, using the sounds of cash registers and guns as rhythm in parts.
There's also a remix of the same song by DFA Records, and they do a great job with it, giving it a different groove that's at least as compelling as the original.
Rahman's "Riots" effortlessly mixes pop and dance sensibilities with the demands of dramatic underscore. Like most of the tracks on the album, it has several layers of rhythm parts played on different instruments. It's not always easy to tell what's electronic, what's acoustic and what's electronically altered acoustic.
"Mausam & Escape" brings us into heavier and more menacing territory, some virtuosic sitar playing trading off with string section and foreboding synthesizer lines.
Things lighten up with "Ringa Ringa", which has vocals and a melody similar to what you might hear in a Bollywood movie. It's a cheerful song that takes some unexpected turns into minor chords, keeping it from being too sunny.
Some crazy fast vocals, perhaps a sped-up recording, open "Liquid Dance", which I guess is maybe like house music? It sounds like it's supposed to be loud and make you dance.
After that things slow way down, with the pretty "Latika's Theme", no doubt the love theme for the movie. (I've seen it but I don't remember a lot of it.) There's a surprisingly brisk rhythm track that's light enough to be effective, as well as some tasteful guitar playing and affecting wordless vocals from Suzanne D'Mello.
"Aaj Ki Raat", which is credited to Sonu Nigam, Mahalaxmi Lyer and Alisha Chinoi, starts with a pounding backbeat before shifting gears to a sinuous and seductive mood, with an enchanting melody.
The track "Millionaire" is fairly straightforward, another solid foundation of propulsive and powerful rhythm with a melody soaring above it.
"Gangsta Blues" is more in a soul/hip-hop zone with vocals from BlaaZe and Tanvi Shah as well as some playful use of electric piano.
This is followed by the pensive and lovely "Dreams on Fire", again with Suzanne D'Mello, and another love song, this time with lyrics: "You are my waking dream / You're all that's real to me / You are the magic in the world I see".
And then finally we end with "Jai Ho", the song that brought me to this record in the first place and which I gather was a hit. It's a great song, irresistible in both rhythm and melody. The chorus really hits it out of the park.
---