The 549th Soundtrack of the Week is the music composed by Bengt Arne Wallin for a Swedish movie called Dear John.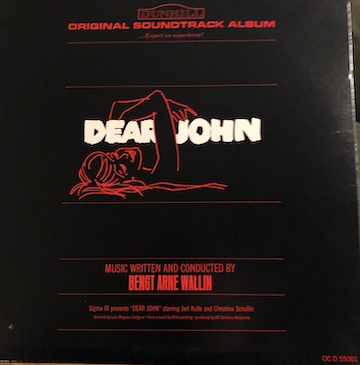 The movie and composer were both unknown to me. It's a great score played by a great small ensemble.

It opens with the Dear John theme, starting as solo accordion then becoming a wistful small big band waltz, slightly reminiscent of Glenn Miller maybe. The record sleeve notes that the theme is "mixed with Cottage Waltz".

Some great electric jazz guitar playing, similar in tone and feel to Kenny Burrell, and really good saxophone soloing, are "In the Cafe".

"In Zoo" starts with flute and percussion. The rest of the band enters without making a big deal about it and there's additional impressive contributions from the electric guitar, as well as another great saxophone solo.

After that, "On the Beach" breaks with the energetic nature of the last few cues for a subtly lush and delicate atmosphere that suggests a quiet, warm night on the edge of the sand by the water.

Then "Under the Tree" creates an unexpectedly tense atmosphere while maintaining a solid and swinging jazz groove. The winds stab out unexpectedly from the band with brief, strident statements.

"Phono-Pop" is pretty much just what I'd hoped, a sophisticated primitive slice of instrumental pop/rock unpretension. A different guitar sound makes an appearance for a brief and tasty solo.

"On the Freight Tramp" is another surprising cue, starting with a shadowy and menacing lower-register pulse but turning out to be a swinging song with a melody and structure that sounds like an arrangement of a folk song. Again the guitar stands for its positive contribution.

After that we return to the theme but this time it's very haunting with a martial snare drum throughout.

Side Two opens with the theme again, similar to what's heard on the first album side. It's a piece of music that increases in strength and effectiveness with each iteration.

The mood changes again with "Muscles", another swinging groover for the combo, this time with great baritone sax playing.

"Anita's Song" was co-written by Bengt Thomas and has an anthemic quality to it, with ethereal and powerful wordless female vocals.

Then comes another surprise with "Helena", which adds some kind of electronic keyboard to the combo for the first time. It's an unusual-sounding one, whatever it is, with delicate yet persistent back up from guitar and a string section.

The record concludes with "Swedish Love Song". The female vocalist is back with an almost Yma Sumac-like presence in the very beginning of the cue. Then the music settles down into something calmer, with a pocket of Mancini-like writing here and there but definitely always retaining its own individualistic sound and personality. The Hammond organ takes a solo here and the band swings as always.
---