2018 December 17 • Monday
The 548th Soundtrack of the Week is a real surprise and a treasure. It's Matt Berry's record of Television Themes.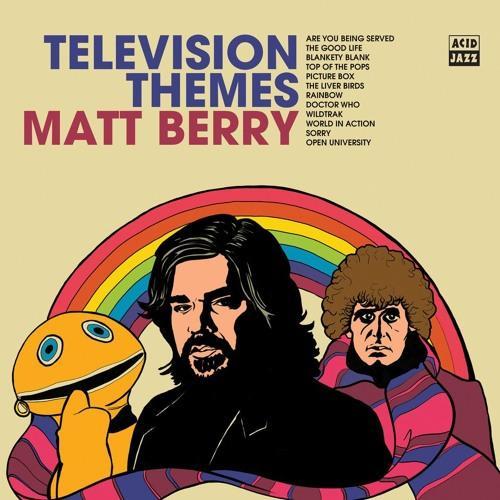 While Berry is best known as an outrageous and often self-mocking comic actor, particularly from The IT Crowd and his starring vehicle, Toast of London, this recording is entirely serious and demonstrates not just formidable musicianship but a sincere love of the original material he and his band present here in their own versions.

Berry himself, who has already released several recordings of excellent songs that are sort of in a psych-folk zone plays, many different instruments on this album, ranging from vintage synthesizers and organs to percussion and guitar.

In an interview with Shindig! magazine, Berry explains that his choices in themes to cover were guided by love and nostalgia as well as a desire to make commercially available some music that so far was not.

The theme from Are You Being Served? recreates the use of cash-register sounds as a rhythm part but add drums, which aren't in the orignal. The band really swings and the melody is irresistible.

The Good Life's theme is also really swinging and radiates positive energy. The arrangement and recording bring out a delicacy and precision in the music that might be easier to miss in the original recording.

Then there's the theme for London Weekend Television, all eight seconds of it. It's included mostly for nostalgia's sake, it seems, and Berry noted that it was a lot of fun to do.

Blankety Blank is a weird piece of music, the theme for a comedy game show that I've never seen. The original already had a Minimoog and a kettle drum, so that makes it quite suitable for Berry's group. James Sedge's drumming throughout the whole CD is fantastic and Andy Vickery's numble guitar playing is a highlight of this piece.

There's been more than one theme to Top of the Pops, but the one Berry recreates here, in all of its dramatic and moody splendor, is the one that was used on the show from 1982 to 1986 and was written by Thin Lizzy members Phil Lynott and Midge Ure. In its original incarnation it was called "Yellow Pearl". I had never heard it before and it's a tremendous song.

Picture Box is another perhaps unlikely television theme, sounding like what you might hear if there were a merry-go-round in an opium den. Berry says he "messed with quite an old transistor organ, where every note isn't exactly in tune" to get a worthy match for the unusual instrumentation of the original.

Things get pretty rocking and funky but also sweet and light with the theme from The Liver Birds, which features "la-la" vocals by Berry, as well as the band clearly enjoying some deep grooves and lovely instrumental breaks.

Then there's another eight-second tune, the ID music for Thames Television, performed by Graham Mann.

Rainbow is a theme from a kids show that has some psych-folk energy of its own and prominently features Berry's usually unmistakable voice singing the lyrics. (Sometimes in his music work his singing voice is quite different from his speaking voice, but not so here.) This might be my favorite track on the record.

Things get much more familiar with the Doctor Who theme, certainly a classic and always fun to hear. To their credit, Berry and his group are faithful to the original while adding all sorts of subtle sounds and colors with various sythesizers.

Next is a piece of music that's apparently from John Barry's score for Midnight Cowboy but was re-used as the theme for a show called Wildtrak. It's a sprightly piece of music, sunny and cheerful, and a nice bonus to have Berry meet Barry. The theme from World in Action was, according to Berry, extracted from a half-hour jam between Shawn Phillips on guitar and Mick Weaver on Hammond. Berry's own version, heavy on the Hammond and with Berry playing at least six instruments and the redoubtable James Sedge on drums, is stunning.

Sorry!'s theme was one of a couple that Berry and his band had been playing live a lot before making this record. It's got a whole reggae sunshine thing going on and it's a great tune.

And last there's another one just for trombonist Graham Mann, who layers different trombone parts on top of each other for something called Open University. The music would apparently preceded boring programmes Matt Berry would have to watch at school.

This is a delightful record and a sincere, serious, brilliantly produced and extremely musical one as well!
---