Once upon a time I bought a Caterina Valente album. The impetus was that she sang "Poinciana" on it and after listening to Ahmad Jamal's famous recording of that a few hundred times, I wanted to hear other versions and I was curious about the lyrics. And when I discovered that Bear Family, one of my favorite record labels, had released a box set of soundtracks for Caterina Valente movies, I thought it was exactly the kind of thing we needed here at Gutbrain headquarters. So the 540th Soundtrack of the Week is going to be the music for the Caterina Valente vehicle Casino de Paris. The jazz/lounge/easy listening music is probably mostly by Gilbert Bécaud and Heinz Gietz though Bear Family's book also credits Paul Durand and Heinz Kiessling.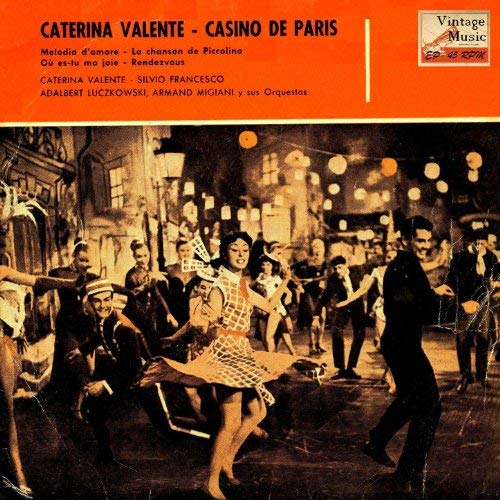 The first track is "Rendezvous", very much in the Glenn Miller vein in terms of sound and atmosphere and quite similar to "Moonlight Serenade". The lyrics are in French.

After that comes the very brisk and breezy German-language "Midinetten-Lied", followed by a goofy duet between Valente and a male singer. They both do a bit of scatting and the music borrows a bit from the vocabulary of cartoon music.

"Melodia d'Amore" is a satisfying easy listening number with a wavy melodic line that's a perfect fit for Valente's voice. No surprise that this was (apparently) released as a single and/or part of an EP. There are also two other versions of it here.

The next song, "Papa Piccolino (Ein Gold'ner Stern)", sounds a bit like other German songs I've heard, similar to some of the famous drinking songs but light and airy. There's also a French version, "La Chanson de Piccolino", and I guess an Italian one in "Pupa Piccolino".

A Latin influence makes it's way into "Komm' Noch Heut' Zu Mir", another sinuous melody that's perfect for Caterina Valente and is a bit similar to "The Carioca".

"Schreibmaschinenlied" is a feature for the male vocalist and makes use of a rhythm track created by typewriter. It's a mambo or a samba and similar to a Serge Gainsbourg song or two.

Then comes "El Bajon", which is kind of like a Spanish-language Andrews sisters song but with only acoustic guitar accompaniment, quite nice and toe-tapping.

A return to German-language, upbeat easy listening follows this with "Heut' Kauf' Ich Mir Die Welt/Country Girl".

"Sainte Catherine" is almost a rearrangement of "Midinetten-Lied" with French lyrics this time but it's similar without being the same.

We get another silly duet, this time with tap-dancing, in "Square Severine".

Latin percussion introduces the beautiful song "Ou Es-Tu Ma Joie", which is a fantastic feature for Valente's voice, often with very minimal accompaniment and at times pulling off some Yma Sumac-like vocal lines.

This movie and music are both from a different time that seems almost completely lost. But it seems like Caterina Valente was a pretty big deal back then. The images I've seen from the movie make it look very coloful and maybe it would be fun to watch.
---