2018 September 17 • Monday
Joe Greene's music for On Her Bed of Roses, apparently also known as Psychedelic Sexualis, based on Kraft-Ebbing's Psychopathia Sexualis, is the 535th Soundtrack of the Week.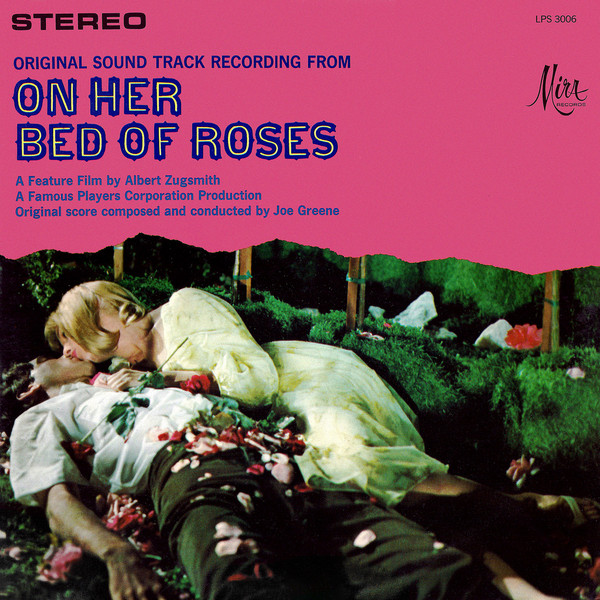 The record opens with a full blast of some of the most exciting, forward-looking and avantgarde music I've ever heard composed for a score.

How to describe it? The liner notes indicate that the first fourteen minutes of the movie have music but no dialogue and Greene apparently felt that a strong impression and some very strange moods and atmospheres were needed. There are obsessively repeating guitar and piano strikes, tape delays, saxophone that comes barreling out of nowhere, strange wordless vocals, looped figures, numerous layers and textures... That mostly describes the first track, "Main Title & Walk to Hell". Things get even more interesting as the record proceeds to "Walk to Hell—Destruction". Here Greene combines the aforementioned techniques with abrupt cuts between different musical ideas and genres. It very much seems to anticipate John Zorn pieces such as "Spillane" and "Godard" and, as electric guitar, cello and drums come to play more important roles and country and jazz idioms recur, particularly the Zorn-arranged Bill Frisell piece "Hard Plains Drifter". After all this comes "Rose Theme", a lush and romantic piece of music that suggests swelling passion and stirring emotions. Near the end it lightens up and sways a bit. The album side concludes with "Melissa Pensive", a lovely theme handled mostly by flute backed by electric guitar and what sounds like glockenspiel or some similar instrument. Side Two opens with "Melissa Glad", a pleasant and breezy jazz swinger that continues the theme heard previously in "Melissa Pensive", though with a much different feel, as you might expect. "Mother's Blues" starts out with just saxophone, electric guitar and bass. The drums come in only when the tune changes to a different section and the addition of percussion is very dramatic. There's also a great guitar solo. I'd love to know who's playing here. The notes and the tone are great. After this comes what sounds like the same combo playing "The Boozer", an uptempo number with unusual chord changes and some great and frantic and even skronky guitar playing. Unexpectedly there's the addition of piano and what sounds like xylophone. It's a really interesting piece, high energy and off kilter. The record closes with "The Bar Fly", a jazz waltz with a drunken edge and a lurching sort of feel to it. The music throughout benefits from very strong ideas that sound ahead o f their time. I imagine that Joe Greene took some risks with his compositions and arrangements and the musicians fearlessly went all the way with him.
---