The 528th Soundtrack of the Week is really only barely a soundtrack. But it says "Motion Picture Soundtrack" right on the album cover and that's good enough for me on a lazy summer day. It's the recording of the David Bowie concert captured in the documentary Ziggy Stardust and the Spiders from Mars.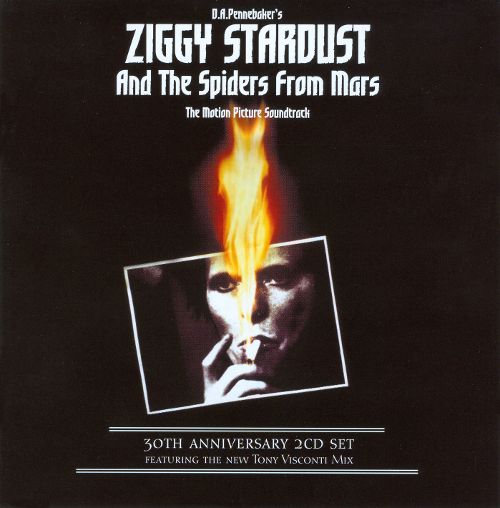 This album wasn't released for a while, apparently because Bowie wasn't happy with the recording quality. I like it, though. I like live recordings in general and while I love it to sound as good as possible the relative roughness of the sound can add to the intimacy and immediacy of the listeners' experience.
And so it is here. Though it doesn't sound "rough" to me, more like a democratization of the different voices with Bowie as the elected leader and representative, always up front and above.
A good demonstration of this is "Wild Eyed Boy from Freecloud", in which Bowie's singing hovers over all the other instruments while at the same time you hear the musicians doing all sorts of neat little things, adding embellishments and their own personal touches.
Live performance allows for different presentations of familiar material, such as stringing songs together, as Bowie does here with "Wild Eyed Boy from Freecloud", "All the Young Dudes" and "Oh! You Pretty Things".
The other way to go is to stretch songs out. And so there's an almost 16-minute rendition of "The Width of a Circle", with some great guitar playing.
Also included is Bowie's famous announcement that this show would be "the last show" this band would every do, which I think was the case. It's great that this document exists.
---