2018 June 25 • Monday
For the 523rd Soundtrack of the Week we're listening to Stephen Trask's amazing rock score for the movie version of Hedwig and the Angry Inch.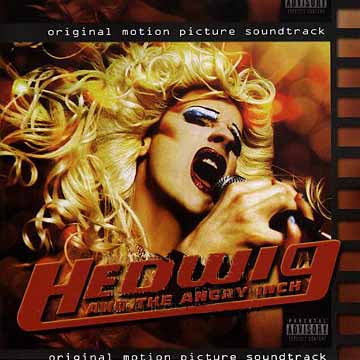 The first track, "Tear Me Down", immediately establishes the energy level and emotional intensity of the movie, using the Berlin Wall as a metaphor for other obstacles and oppressions that we inflict on ourselves as well as on others. While Hedwig's journey is intially presented as the seeking of justice, it becomes apparent that love and acceptance, both internal and external, are at least as powerful motivations.

After this opening blast, "The Origin of Love" starts tenderly, as a ballad, before increasing the volume and aggression. As with all the songs on this record, the lyrics deserve your attention.

"Angry Inch" is a straight shot of punk rock that refers to the main character's not entirely successful sex-change operation.

And again, after this they bring down the volume and intensity for a beautiful love song, the minor key and wistful "Wicked Little Town". It's hard first as sung by Trask, in character as Tommy Gnosis, and then heard later as sung by John Cameron Mitchell as Hedwig.

"Wig in a Box" suggests Hedwig's German roots, with a cabaret swing to it that also realls some of the glam rock activity that came from and was inspired by Berlin.

After this comes "The Long Grift", which I think actually isn't in the movie but was nonetheless recorded and is sung by Miriam Shor. It's another beautiful sad song. "Hedwig's Lament" is Hedwig accompanied just by piano, perhaps a nod to Marlene Dietrich, and is the kind of song you might expect from the association.

So of course it's time to pick up the pace again, with the very upbeat "Exquisite Corpse", which definitely has a Bowie influene, "Life on Mars" for one.

It's a hard act to follow, which might explain why the show-stopping number from the movie, the climactic "Midnight Radio", a heavy rock waltz again with a strong Bowie influence, is placed here instead of at the end of the album.

"Nailed" is another great solid rock number with cool chord changes, great melody and wonderfully textured sound. This time the influences sound more recent, like Nirvana, for one.

This band can take on all styles and they deliver a wonderful country song with "Sugar Daddy", to describe Hedwig's first love and the beginning of her journey. Then there's "Freaks", which references the Tod Browning movie of the same name and has a certain resonance with the story. It's another rocker, a little more restrained and less quirky than some of the others, but still compelling. And that leaves us with "In Your Arms Tonight", a dreamy and sensual love song, which is just right for this unusual and very touching movie.
---