Yesterday was Father's Day so we'll look at something by Peter Bernstein, whose father was the great Elmer Bernstein. Peter turns out to be a great composer too and the 522nd Soundtrack of the Week is his music for the television series 21 Jump Street.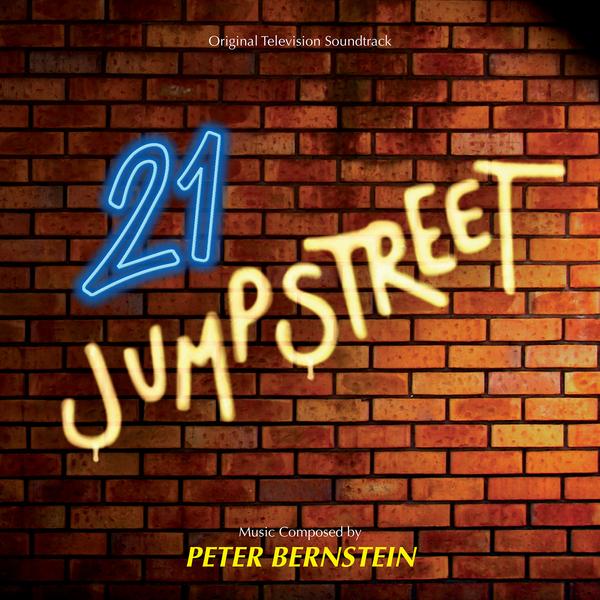 Somehow I never saw this show but I imagine it as being somewhere in between Maimi Vice and Buffy the Vampire Slayer: high school is literally hell and they're cops.

With the exception of some guitar overdubs Bernstein did almost all the music himself in a home studio, something that his father wasn't enthusiastic about at first. (Kids today!)

His synth score mixes rock, blues, country and dance music with ethereal textures and expansive open chords. In some ways the music is similar to Jan Hammer's work on Miami Vice but it has its own clear identity.

The main theme, which is apparently composed by Liam Sternberg, is sung by series star Holly Robinson. The lyrics emphasize the word "jump" in such a way that I wondered if Van Halen's "Jump" might have been on the somebody's mind as an opportunity to catch some reflected glory.

Bernstein had to come up with original music for every episode and for this double CD release, each of the fifty tracks (excepting the theme song) is from a different episode.

In "Rainbow" I think you might hear some of Elmer's influence as it's similar to the melancholy piano music from Stripes. "Hell Week" sounds like Peter had Bach on his mind.

"Christmas Day" has swelling major chords that suggest love and joy before moving onto a more propulsive and initially suspenseful section.

You can presumably hear some of the aforementioned electric guitar overdubs on wailing cues such as "Loc'd Out, Part 1", "Mean Streets" (which also has interesting harmonic and rhythmic shifts) and "1000 Points of Light".

Some of the more Miami Vice-ish cues include "Cruising with Angels" and "Date with an Angel" (which has some country rock-like lead guitar work).

Several cues are upbeat and driving dance numbers, such as "Higher" and "The Body". On the other end of the spectrum, Bernstein can do pensive and lonely, as in "A New Age" (which is also tense and suspenseful), the tender, mostly piano "Our Choice" and "A Big Disease". There's some gentle, nylon-string guitar playing on "What About Love", a piece of music that comes rolling in like fog and also has musical muscle to flex. There's a lot that Bernstein can get out of concentrating on rhythmic properties, and you hear that angle worked very well in "Riffing" and "The Dragon", the latter having more of a linear melody and the former using sustained chords and tones.

It's a great listening experience and of course I'm curious about the show. The first episode is on YouTube...
---