The 516th Soundtrack of the Week is a new release from the Intrada label, Johnny Mandel's jazzy score for Harper.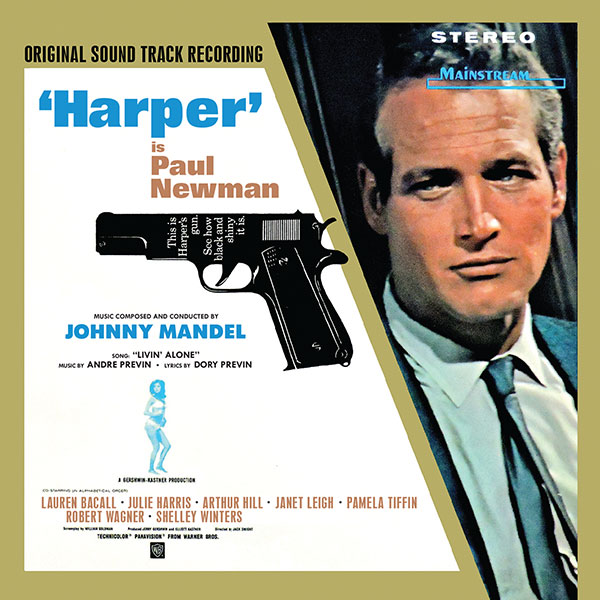 We threw on the movie Saturday afternoon and saw most of it, falling asleep somewhere in the second half. It was surprising how much the opening sequence mirrors the opening scene of The Ipcress File. It's probably not a coincidence.
For the main theme Mandel has come up with a jaunty, bouncy, west coast jazz-inflected tune that's groovy and playful and guaranteed to get toes tapping at the same time as rewarding ears on the alert for interesting harmonies.
His secret weapon, the organ, makes its first appearance here, but really comes into its own in the instrumental pop "shake" tune "Harper Does It Better".
Mandel also gets a chance to demonstrate his talent at writing ballads. (He did, after all, write the Grammy- and Oscar-winning song "The Shadow of Your Smile".)
Strangely, the wonderful song "Quietly There", sung by Ruth Price, is on the record but not in the movie, excepting a very soft background instrumental version.
Mandel's other song, "Sure As You're Born", is a catchier, jazzier number that essentially adds words, sung by Sam Fletcher, to the main title theme.
"Livin' Alone" is another song sung in the film, but it's by André and Dory Previn.
Things get pumping in that sixties groovy peppy style that has a ridiculous quality to it while also being irresistibly great in "Mexican Breakfast", which has a Herb Alpert feel to it.
"Harper's Ferry" is a great electric guitar feature and I wish I knew who was playing on this record. The usual suspects, no doubt, but I don't recognize this particular guitar sound.
Many fans of this score single out "Temple of the Clouds" as a highlight, and understandably so. It's a miniature modern masterpiece of mood and pacing, indescribably moving in its use of strings, harp and horns.
This movie came out in 1966 so of course there's bossa nova in it: "Bel Air", featuring piano with a beautifully laid back rhythm section.
Which leaves us only with "Finale (Susan)", a slowed down, brooding and melancholy variation on the main theme. It picks up at the very end to leave the viewer exiting the theater on a cheerful note.
---