2018 April 23 • Monday
Ten years ago the Film Forum in NYC screened a retrospective of moies starring the great Japanese actor Tatsuya Nakadai. Among these was the bizarre and brilliant spy spoof Age of Assassins, directed by Kihachi Okamoto, one of the best and most interesting filmmakers of all time, with music by Okamoto's frequent collaborator and Gutbrain favorite Masaru Sato.
The score from this delirious pop-art masterpiece was just released by the invaluable Cinema-kan label and it's our 514th Soundtrack of the Week.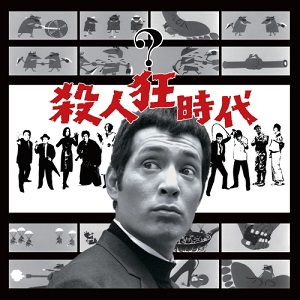 Like many a score, this one relies on just a very few themes. The main theme is an innocently jaunty number dominated by the harmonica, giving it a fuzzy-headed sort of feeling that is perfectly in tune with the wacky and whimsical nature of the film's plot, which does involve an insane villain with a deadly plan that can only be foiled by the mysterious character played by Nakadai. He's either the world's biggest nerd loser, whose socks smell so bad that he accidentally kills trained assassins who are out to get him, or he's that characters identical twin, a highly trained secret agent who can out-Bond Bond in his sleep. (A third possibility are that these two are the same person. As I recall, it's left ambiguous.)
The other main theme is a reworking of the popular song "O Sole Mio", whose melody received an additional boost in recognition when Elvis Presley recorded a version with different lyrics under the title "Now or Never". You hear this tune many times in the movie and I'm not really sure why. Sato certainly could have come up with his own original piece that would have been at least as good.
Dexter wanted me to mention that one of the cues on the CD has has high-pitched sound that hurt his ears.
The other notable element is the electric guitar when it appears. It's a deliciously rich and mellow surf guitar sound and had me wanting to know exactly what I was hearing, as in exactly what guitar and what amp and what reverb device. Because whatever it was, I'd like to have it!
---