2018 April 02 • Monday
Way back when, in a summer music camp, we were learning some basics of music theory. How to remember which interval is minor sixth? "Easy," said someone. Then they hummed the first few notes of the theme from Love Story by Francis Lai. And that score is the 511th Soundtrack of the Week.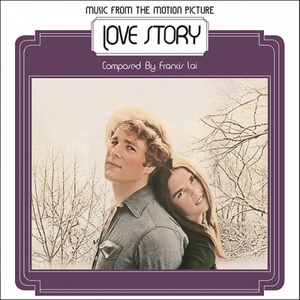 This is a movie you probably know about even if you've never seen it. You can probably quote one of the two famous lines and I bet you know the theme.
It's probably incredibly corny and hokey but I'd like to see it. According to Wikipedia Judith Christ called it "Camille with bullshit", which sounds like a recommendation to me.
So what about the music? Most of it is dominated by that theme, and various arrangements, quite often a fugue-like version to harmonize with the ambition of one of the characters to be a classical musician. The theme is overplayed and probably cloyingly sentimental but it's still effective and powerful and I'll confess to liking it though I don't really ever need to hear it.
I do, however, need to hear "Snow Frolic", which is a groovy and swinging number with some Edda dell'Orso-like wordless vocals. It was apparentl released as a single, perhaps the B-side to the main theme.
There's some Mozart and Bach on here and a couple of other bits of score business, such as the Morricone-esque "The Christmas Trees".
I hesitated to buy this but decided to take a chance on it and I'm glad that I did.
---