Rob Price
Gutbrain Records
rob + gutbrain.com = email
---
The 528th Soundtrack of the Week is really only barely a soundtrack. But it says "Motion Picture Soundtrack" right on the album cover and that's good enough for me on a lazy summer day. It's the recording of the David Bowie concert captured in the documentary Ziggy Stardust and the Spiders from Mars.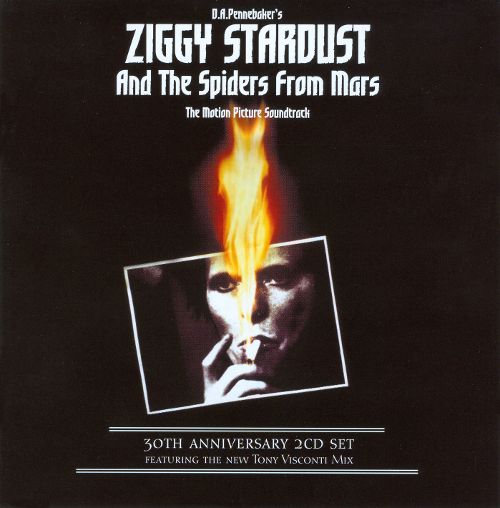 This album wasn't released for a while, apparently because Bowie wasn't happy with the recording quality. I like it, though. I like live recordings in general and while I love it to sound as good as possible the relative roughness of the sound can add to the intimacy and immediacy of the listeners' experience.
And so it is here. Though it doesn't sound "rough" to me, more like a democratization of the different voices with Bowie as the elected leader and representative, always up front and above.
A good demonstration of this is "Wild Eyed Boy from Freecloud", in which Bowie's singing hovers over all the other instruments while at the same time you hear the musicians doing all sorts of neat little things, adding embellishments and their own personal touches.
Live performance allows for different presentations of familiar material, such as stringing songs together, as Bowie does here with "Wild Eyed Boy from Freecloud", "All the Young Dudes" and "Oh! You Pretty Things".
The other way to go is to stretch songs out. And so there's an almost 16-minute rendition of "The Width of a Circle", with some great guitar playing.
Also included is Bowie's famous announcement that this show would be "the last show" this band would every do, which I think was the case. It's great that this document exists.
---
2018 July 23 • Monday
The 527th Soundtrack of the Week is another superb Barry Gray score, the new Fanderson release of the music from Doppelgänger (a.k.a. Journey to the Far Side of the Sun).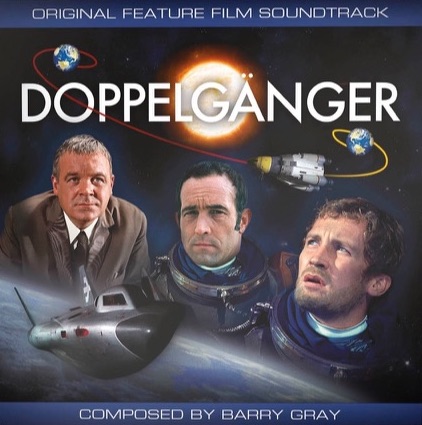 It's an interesting blend of Golden Age-style orchestral writing and Gray's very recognizable style. If I had been hearing it for the first time without knowing what it was I might have thought it was music for Space: 1999 or UFO.
The ondes Martenot plays a huge role in the music, perhaps the most prominent I've ever heard from this instrument. In "Food For Thought/Survival Test", for example, it takes on the main melody, going beyond its usual task to create eerie atmospheres and otherworldly textures (which it also does here).
Gray weaves triumphant-sounding and pulse-racing figures with sinuous and tender lines smoothly, bringing out numerous voices from the orchestra for solo moments.
The overall feel is romantic and stirring. It's certainly a wonderful addition to anybody's Barry Gray collection.
The CD presents the cues in both stereo and mono versions and, as a bonus track, Krzysztof Penderecki's intense and unsettling "Threnody to the Victims of Hiroshima", of which some was apparently used in the movie. It's certainly a dramatic and potentially cinematic piece of music. It also sounds like something that has been much imitated and I'm glad to have heard something which has perhaps influenced many composers since.
---
2018 July 16 • Monday
Michel Colombier's music for Colossus: The Forbin Project is the 526th Soundtrack of the Week.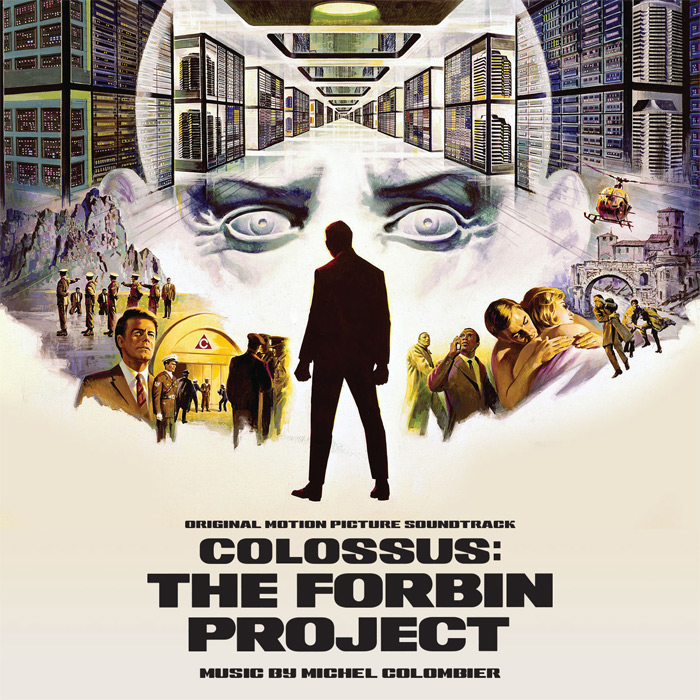 There's a surprisingly lack of electronic music or computery sounds in this score. The movie is about a rogue AI that takes over the world, so...
Mostly it's a straight-up orchestral dramatic score with a few detours.
There's a soaring and somewhat jaunty main theme that gets several work outs. And the piece "Under Surveillance", starts out as a groovy swinging type of tune, with the electric bass guitar leading the way, before sliding into what sounds like a love theme.
There still have to be musical colors that suggest something weird an Colombier went with African and Asian instruments, which contrast sharply with the traditional orchestral heard most other places.
When things have to get really weird he runs them through tape delays. Mostly we're hearing percussion instruments, and the effect is really good.
There's also a cool 6/4 jazz rock piece called "Schedule for Today" with the piano taking the lead in a Dave Brubeck style before wah-wah guitar comes in.
And "Forbin's Hi-Fi" is like a lounge, bossa sort of thing.
It's an intriguing blend of style and moods for a classic techno-thriller. Makes me want to see the movie again!
---
2018 July 13 • Friday
Today might be Friday the 13th but we have good luck! I refer to our copy of the new Coin-Op Comics Anthology 1997–2017.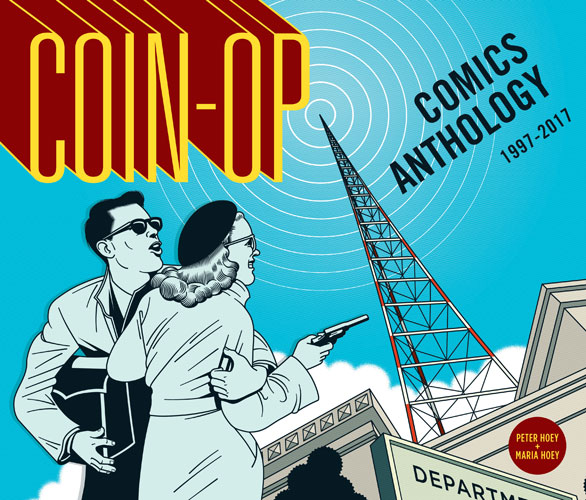 I'm pretty sure there's nothing in here that I didn't already have. Maybe some of the issues of Blab! but, who knows, they might be in this apartment somewhere. I certainly read them and did own them at some point, even if they're no longer with me.

And there probably isn't much for me to say about this since I think Gutbrain has managed to praise every issue of Coin-Op as it came out.

But if you don't know about Coin-Op, Peter Hoey and Maria Hoey's beautiful blend of narrative, design, art, storytelling, research, reference, daydreams, music, movies, monsters, comics, style, basically a massive portion of the potential of the comics medium, then here's your chance to immerse yourself.

And this time around you don't even have to order it from your website. You can get it from Amazon and also at actual bookstores in the real world.

I was determined to pick up mine from the first really cool place I walked into, and so it happend that last week I got a copy (signed by Maria Hoey) at Quimby's in Chicago, one of the coolest cool places in the world.

But where you get it matters a bit less than getting it does. Buy this book!
---
2018 Jul7 11 • Wednesday
Kem Nunn's novel Tapping the Source is somehow the inspiration for the movie Point Break, despite the fact that there are no bank robberies, no cops, no sky diving, no nothing really in common with the movie.
It is, however, an excellent book. I read it as quickly as I could and bought another one of Nunn's novels as soon as I had finished.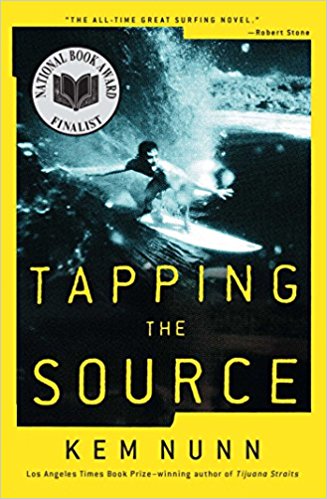 The story is multi-faceted. Martin Amis once pointed out that the two stories that are said to be all stories, a stranger comes to town and a person goes on a journey, are actually the same story from different points of view. Tapping the Source begins with a stranger coming to town, which thus impels the main character, a young man named Ike Tucker, to go on a journey which brings him, a stranger, to the surfing town of Huntington Beach.

Raised in the desert by his uncle and knowing nothing except how motorcycles work, Tucker is following in the footsteps of his sister, Ellen. He has the names of three men who he believes have murdered her. She was with them, then she disappeared. That's basically all he knows.

When in Rome... the men in question are surfers so Ike, a scrawny hick from the desert, has to learn to surf.

It sounds clear cut. But the mystery part of it turns out to be not simple or even linear. This is a novel with mystery as part of its DNA, as opposed to a mystery novel. It's not a puzzle with a solution. It's closer to a coming of age story and an exploration of the psychic landscape of adolescence, fear, desire, loss of innocence and acceptance of individual power and responsibility.

The title itself refers to an awareness of the beauty and strength of the natural world and something beyond that, something that escapes verbal summation, a feeling of the energy of life itself running through everything, including yourself. It's a source of, well, possibly everything, including power, and one of the tragedies mapped by the book is how this power can corrupt.

Nunn's writing style is robust yet economic, never overdoing descriptions or overwriting anything for that matter. It's also an extremely shadowy book, the only one I can remember that convincingly imbues pages of writing with the visual style of film noir.

A typically gratifying touch is how Tucker often sees reflections of himself in dark places, calling to mind the famous Biblical passage about seeing through a glass darkly.

The writing feels carefully crafted, never out of control and never missing the mark. The characters are distinct, well drawn and convincing, and their development is sure-footed and perfectly paced. It might as if the story is heading for an obvious and conventional conclusion but the direction it ends up taking is more plausible, more quotidian, sadder and more chilling.

It's a hard book to describe and a very rewarding one to read. You'll probably know pretty quickly after you start whether it's for you. Perhaps that's just like surfing. Tapping the Source makes learning to surf a big part of the book's structure, and finding a good point break a subtle, unobtrusive metaphor. It made me want to learn to surf.
---
2018 July 09 • Monday
The 525th Soundtrack of the Week is Ted Dicks's score for Virgin Witch.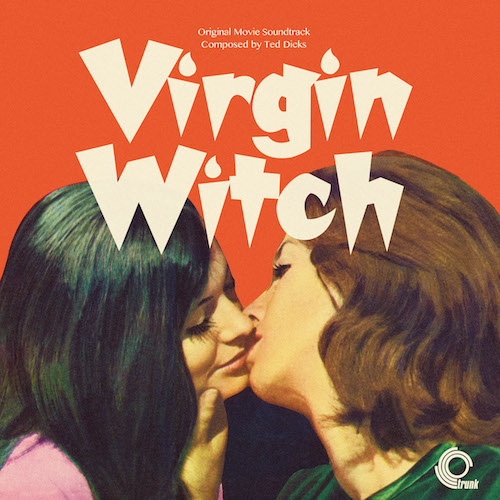 This new release from Trunk Records is vinyl only, I think. It's one of a very few cymbalom-centered soundtracks and the proprietor of Trunk Records speculates that it might be the same musician, John Leach, who played cymbalom on John Barry's music for The Ipcress File.
It's a fantastic album, wonderfully atmospheric but also swinging and jazzy in sections. The cymbalom has a haunting and otherworldly quality to it that immediately gets the ear's attention and imbues the music with interest and eeriness.
The cues are handled by a fairly small ensemble, mostly a jazz combo with a few orchestral instruments thrown in and a large contribution by the flute.
Some of the pieces start out sounding like Aaron Copland and then a sinuous and sultry saxophone line will come in and change everything.
So thanks to Trunk for a record that's as excellent as it is obscure! I think it sold out very quickly but let's hope another pressing or digital release is forthcoming.
---
2018 Jul7 06 • Friday
Our exploration of bookshelves in Columbo brings us to the episode "Suitable for Framing".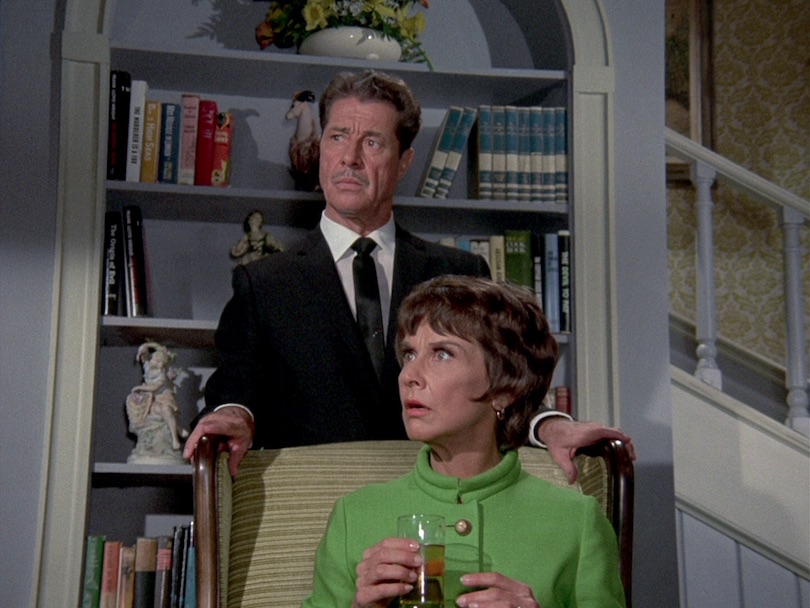 There are at least two books with Ellery Queen titles, The Origin of Evil and The Devil To Pay.
And McCall's Cookbook, which isn't too exciting. While the character might own this book, it wouldn't likely be on this living room shelf with a bunch of novels.
More interesting is the copy of Fred Allen's Treadmill to Oblivion, clearly discernible behind Don Ameche's right shoulder, on the left edge of this screenshot.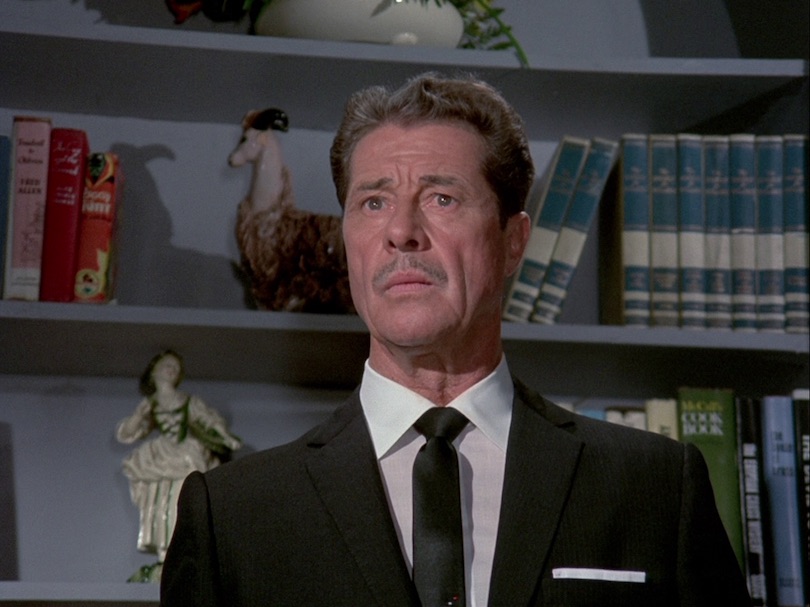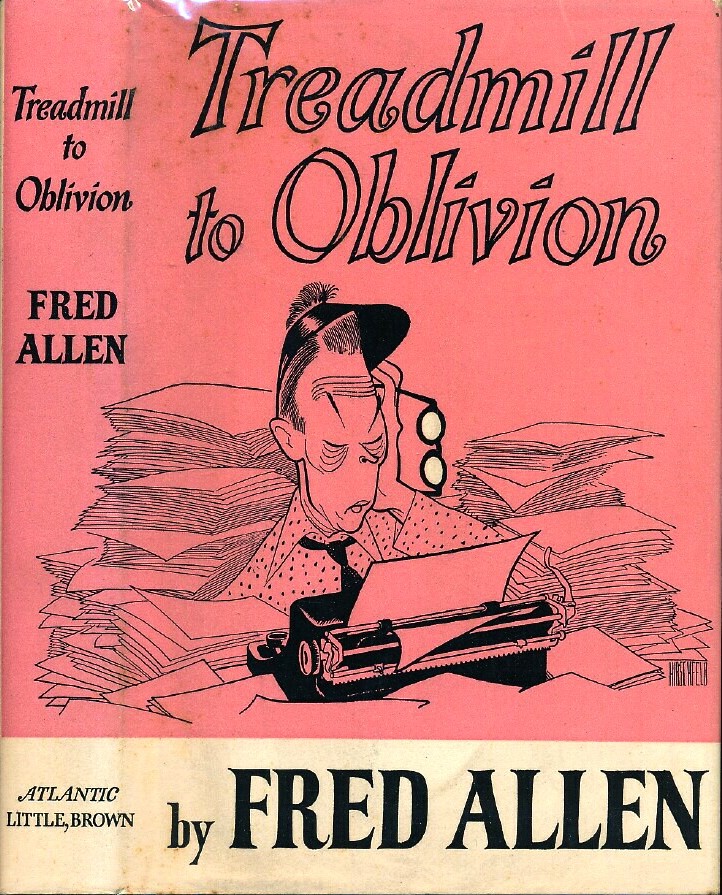 Fred Allen has been interesting to me ever since I was a kid, first brought to my attention by my father in response to my admiration for Jack Benny, a name often linked with Allen's.

While I have at least one of Allen's books, I don't have Treadmill to Oblivion, a situation that will almost certainly change if I come across a reasonably priced copy with dust jacket in a used book store.

The dust jacket is important. That's the work of the great artist Al Hirschfeld, who also did this wonderful portrait of Columbo, used for the cover of TV Gudie and a collection of Columbo short stories by co-creator William Link.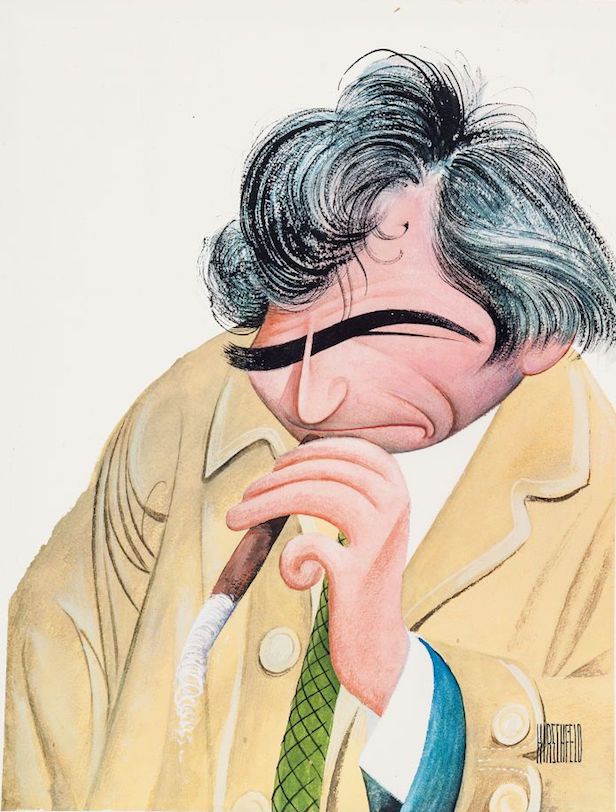 And right next to that Fred Allen book? A Mrs. Melville novel, of course!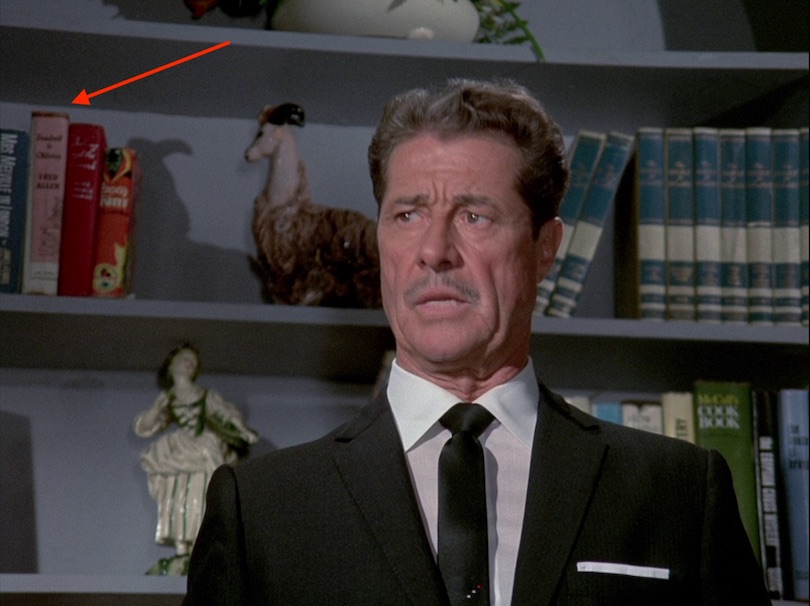 ---
2018 July 02 • Monday
Do isolated music tracks for Columbo episodes exist? Could they be released in a box set, all of them, complete and chronological, say, tomorrow? Apparently not. So we must scrounge, and if you look at ye olde YouTube you will find that a few enterprising hunters and gatherers have things to share with you. And thus the 524th Soundtrack of the Week is Billy Goldenberg's gorgeous music for the Columbo episode "Ransom for a Dead Man".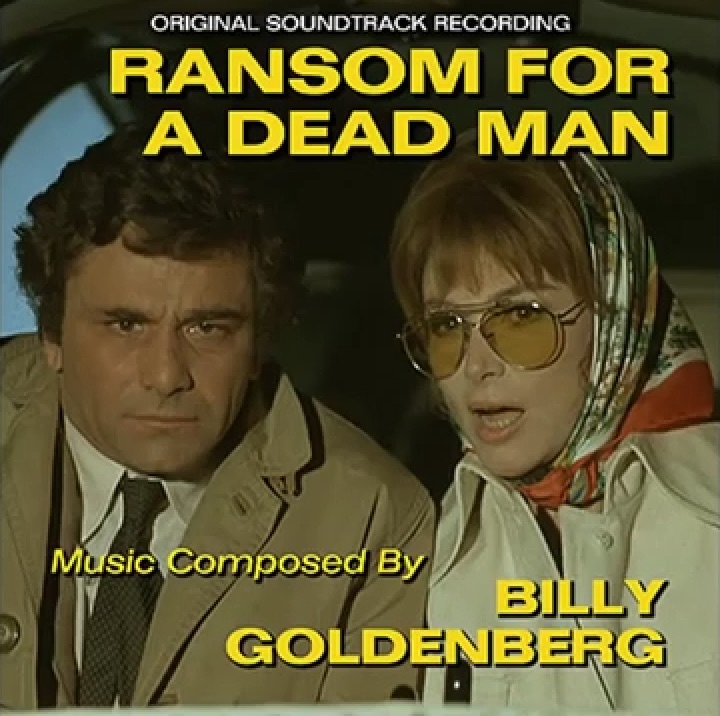 We'll start with the main theme, which recurs several times throughout. It's this tantalizing and haunting minor key melody which keeps climbing and climbing, modulating the key up a half step when it seems like it can't go higher. The blend of electric and acoustic instruments also gives it an eerie feeling. While this is a solid episode of Columbo, the music is more powerful than anything else in it other than the performances of the two leads.
The first time you hear it is in a pretty straightforward and mid-tempo 4/4 arrangement but it comes back as a sprightly waltz and, at the end, as kind of an old timey jazz swing tune.
Then there's this fantastic 6/4 piece that I think is used for the ransom drop scene, in which the triangle, that ubiquitous element of television scores of the time, plays a key role. It has a driving and soaring quality to it, reminiscent of John Barry's "007" and some of Joe Harnell's music for The Bionic Woman.
There's also another jazz waltz that's a close cousin to the main theme, similar harmonic structure, different melody, but very much companions to each other.
Somewhere in there also is a nightmarish piece with a maddeningly repetitive part providing the foundation for some strange figures. It eventually stops and then there are some equally strange sounds, what sounds like an overblown flute underwater and then some creative use of tape delays, again blending electronic and acoustic sounds to dramatic and atmospheric effect.
---