Rob Price
Gutbrain Records
rob + gutbrain.com = email
---
Fictional sleuth Mrs. Melville was introduced in the classic Steven Spielberg-directed Columbo episode "Murder by the Book".
Naturally I'm keeping an eye out to see if any of the books themselves, props for the episode, show up in other places.
And sure enough, it appears that Major Hollister, the murderer in the Columbo episode "Dead Weight", has some on his shelf.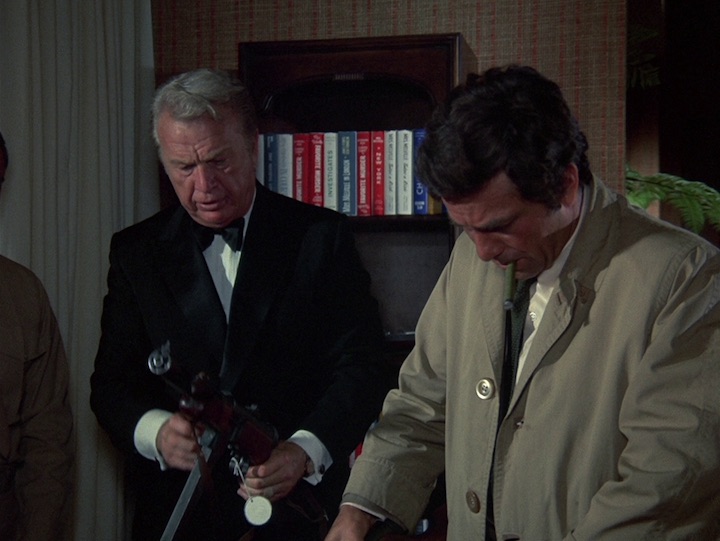 ---
2018 June 27 • Wednesday

It's officially summer and we find ourselves revisiting Columbo, wanting to spend more time with Peter Falk after seeing The Princess Bride on a bus and then watching The In-Laws at home.

Remembering Falk's first outing as the famous detective, 1968's Prescription: Murder (more than fifty years old now), we decided to revisit and were again struck by how much the character grew from that beginning.

My memory of it was that Columbo in that first TV movie was actually kind of creepy and disturbing. Watching it again I wasn't as unsettled but still felt that he was the least unlikable character in a story with no likable characters.

It doesn't take long for Falk to nail the Columbo character, and it's not long after that that he goes too far with it, or the writers or directors or producers do.

It's a similar thing with House. Both shows are well written and well directed, very well made and engaging productions, and completely dependent on the performance of the star. There's no show without them. And over time, as the success of the show and the popularity of both the actor and the character grow, the title characters pass through the sweet spot of being recognizable and plausible as actual people and become something more like an icon or a superhero.

Prescription: Murder also gets added to my "What the hell kind of airplane is that?" file.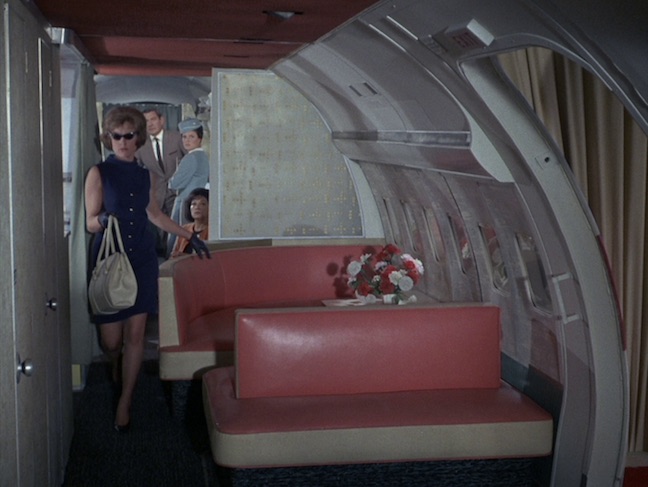 It's apparently a TWA flight, not going far, from South California to Mexico. Did that forward area lounge with flowers exist?

And then there's the wallpaper.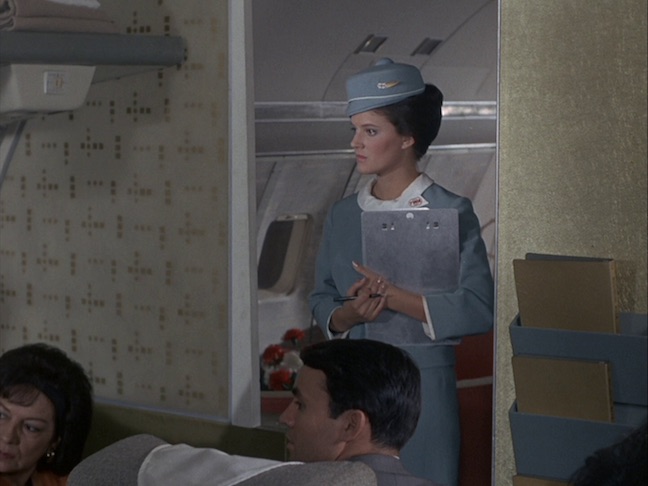 Some nice textures there, but then you notice that the passengers sit next to wallpaper that appears to have a parachute motif, which seems an odd choice for an airplane.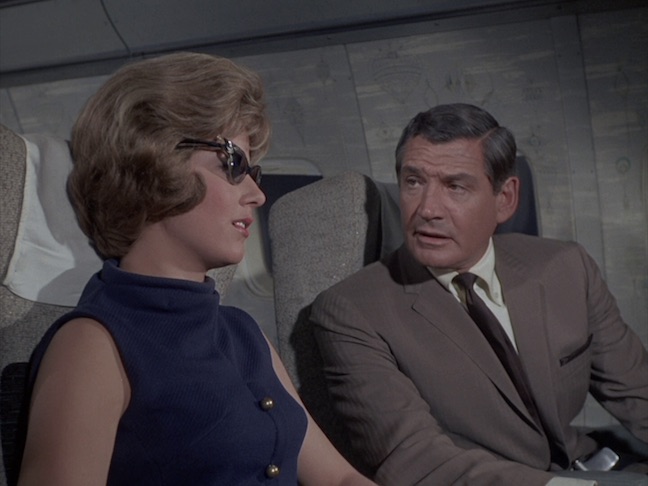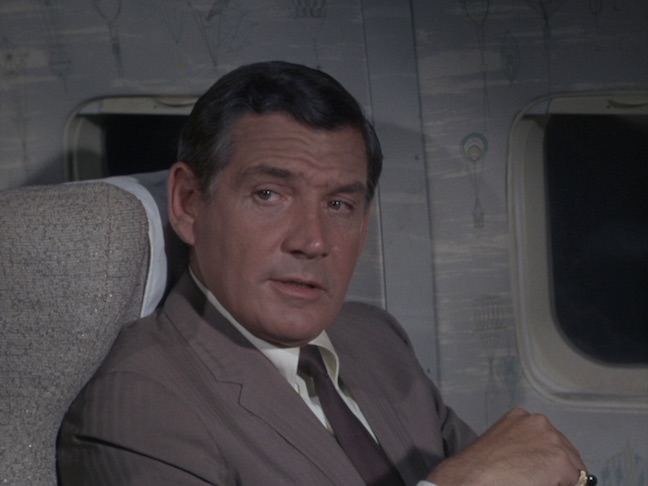 ---
2018 June 25 • Monday
For the 523rd Soundtrack of the Week we're listening to Stephen Trask's amazing rock score for the movie version of Hedwig and the Angry Inch.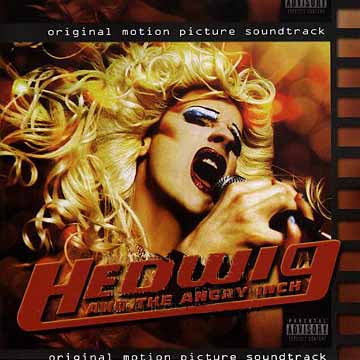 The first track, "Tear Me Down", immediately establishes the energy level and emotional intensity of the movie, using the Berlin Wall as a metaphor for other obstacles and oppressions that we inflict on ourselves as well as on others. While Hedwig's journey is intially presented as the seeking of justice, it becomes apparent that love and acceptance, both internal and external, are at least as powerful motivations.

After this opening blast, "The Origin of Love" starts tenderly, as a ballad, before increasing the volume and aggression. As with all the songs on this record, the lyrics deserve your attention.

"Angry Inch" is a straight shot of punk rock that refers to the main character's not entirely successful sex-change operation.

And again, after this they bring down the volume and intensity for a beautiful love song, the minor key and wistful "Wicked Little Town". It's hard first as sung by Trask, in character as Tommy Gnosis, and then heard later as sung by John Cameron Mitchell as Hedwig.

"Wig in a Box" suggests Hedwig's German roots, with a cabaret swing to it that also realls some of the glam rock activity that came from and was inspired by Berlin.

After this comes "The Long Grift", which I think actually isn't in the movie but was nonetheless recorded and is sung by Miriam Shor. It's another beautiful sad song. "Hedwig's Lament" is Hedwig accompanied just by piano, perhaps a nod to Marlene Dietrich, and is the kind of song you might expect from the association.

So of course it's time to pick up the pace again, with the very upbeat "Exquisite Corpse", which definitely has a Bowie influene, "Life on Mars" for one.

It's a hard act to follow, which might explain why the show-stopping number from the movie, the climactic "Midnight Radio", a heavy rock waltz again with a strong Bowie influence, is placed here instead of at the end of the album.

"Nailed" is another great solid rock number with cool chord changes, great melody and wonderfully textured sound. This time the influences sound more recent, like Nirvana, for one.

This band can take on all styles and they deliver a wonderful country song with "Sugar Daddy", to describe Hedwig's first love and the beginning of her journey. Then there's "Freaks", which references the Tod Browning movie of the same name and has a certain resonance with the story. It's another rocker, a little more restrained and less quirky than some of the others, but still compelling. And that leaves us with "In Your Arms Tonight", a dreamy and sensual love song, which is just right for this unusual and very touching movie.
---
2018 June 22 • Friday
Happy birthday, Lindsay Wagner!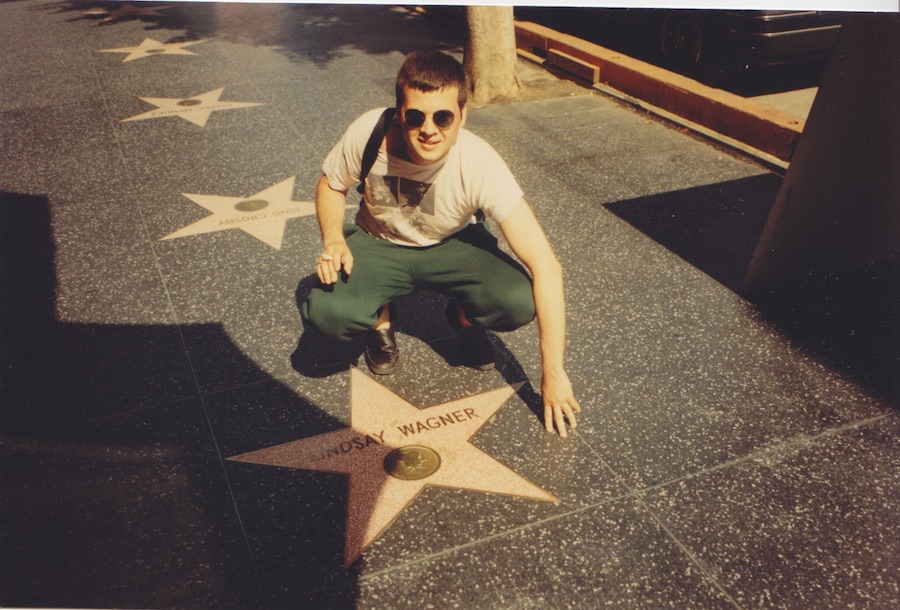 ---
2018 June 20 • Wednesday
It's time to take a look at the December 1923 issue of Physical Culture magazine.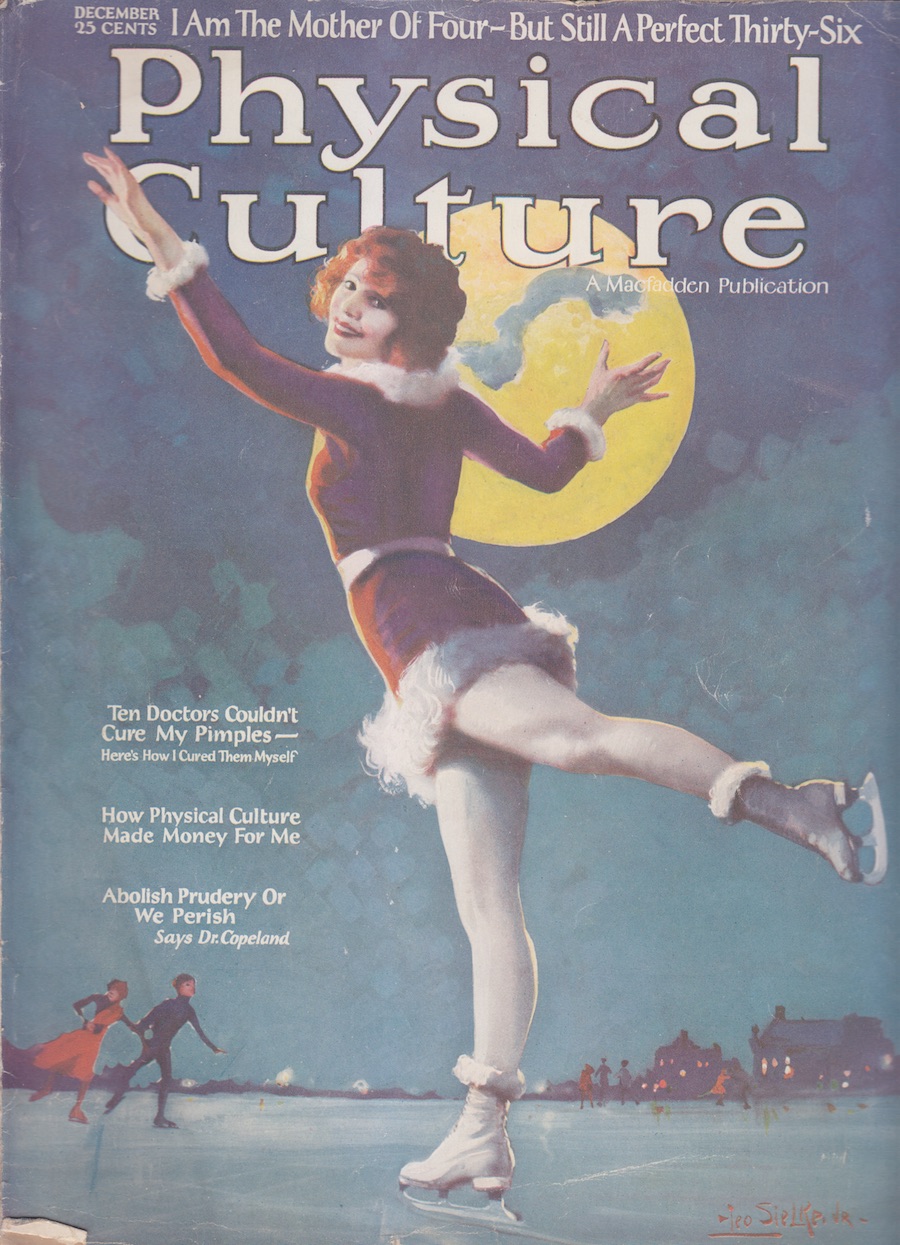 Bernarr Macfadden appears to have been the force behind it and its contents reflect an interest in physical fitness, sex education and a grab bag of progressive and new age type ideas.

There are also many ads, and these might be even more revealing than the articles and fiction that take up most of the space.

The allure and fear of sex are a theme throughout, and Macfadden has a book on "Manhood and Marriage" that I bet would make really interesting reading, perhaps more so now than then.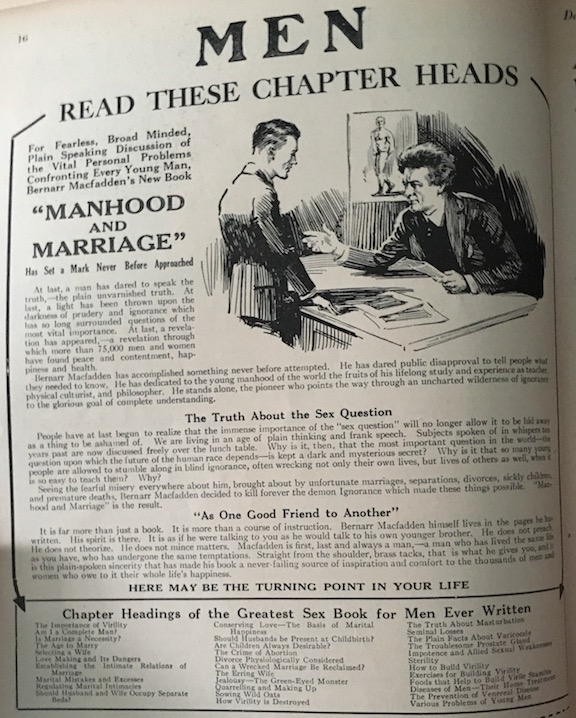 The command to read the chapter heads is a shrewd tactic. They include:
"The Importance of Virility"
"Am I a Complete Man?"
"Love Making and Its Dangers"
"Regulating Marital Intimacies"
"The Truth About Masturbation"
"Impotence and Allied Sexual Weaknesses"
"How to Build Virility"
"Exercises for Building Virility"
"Foods that Help to Build Virile Stamina"
Pretty familiar male anxieties. How about this one?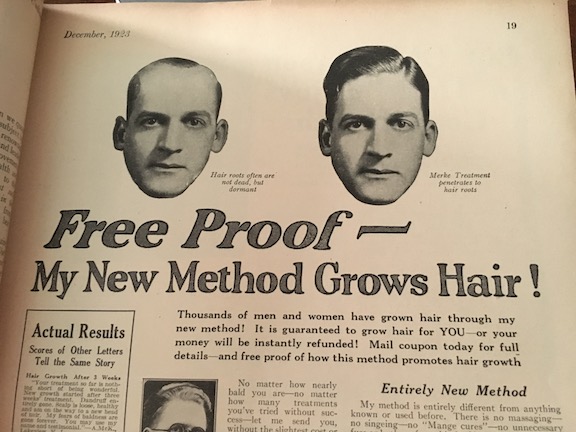 Women get their own book as well.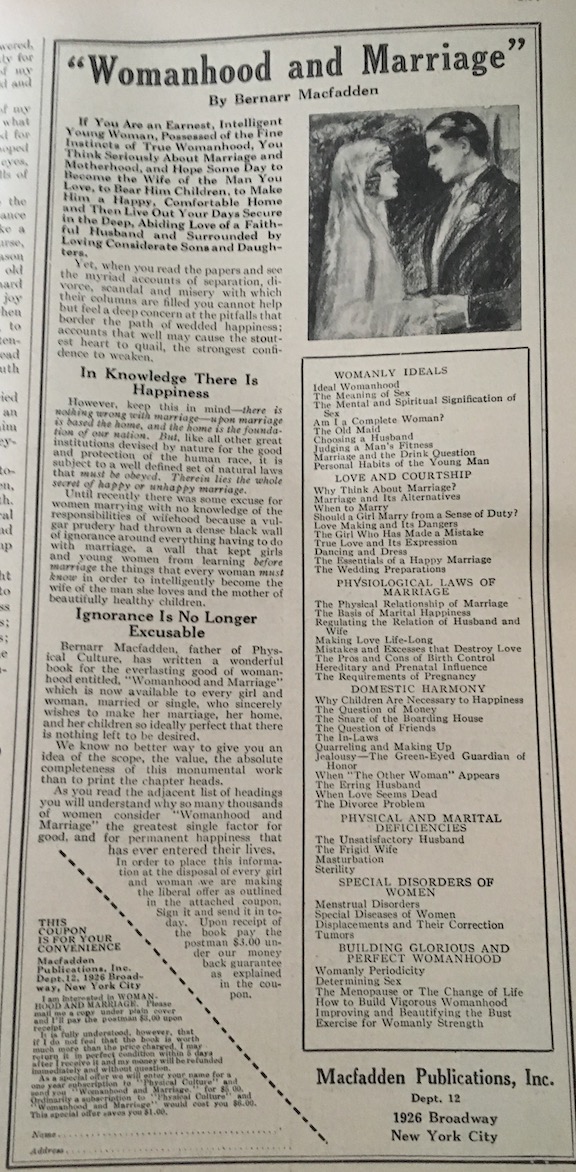 There's no urgency about the chapter heads but both books are part of Macfadden's anti-prudery line, a mission to discuss sexually transmitted diseases, abortion, divorce, sex and masturbation.
It even says "Abolish Prudery Or We Perish" on the cover. The accompanying article is on veneral disease.

"Spend Lesson Hogs and More on Children" is also a good idea.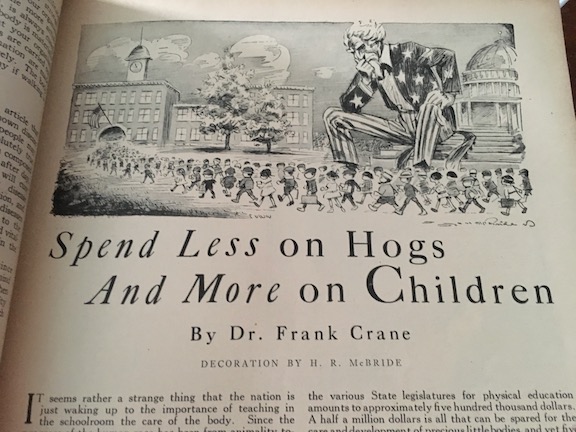 Speaking of children, a list of ways to prevent kids from feeling suicidal contains a lot of sound advice.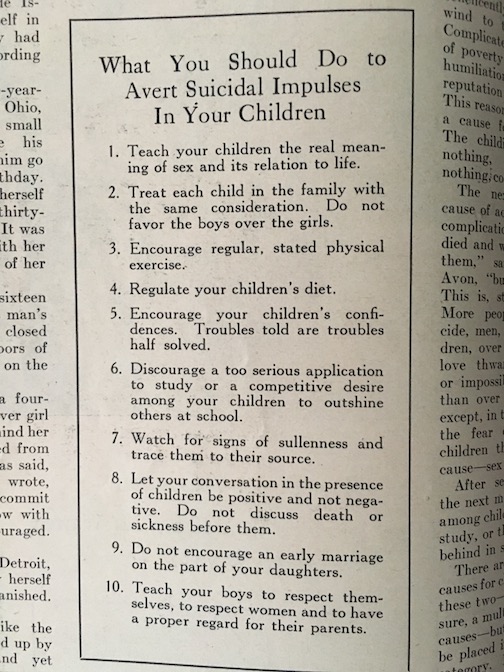 And then there was this ad, which was rather comforting. I'll take Science and Invention over whatever is supposed to be making America great today.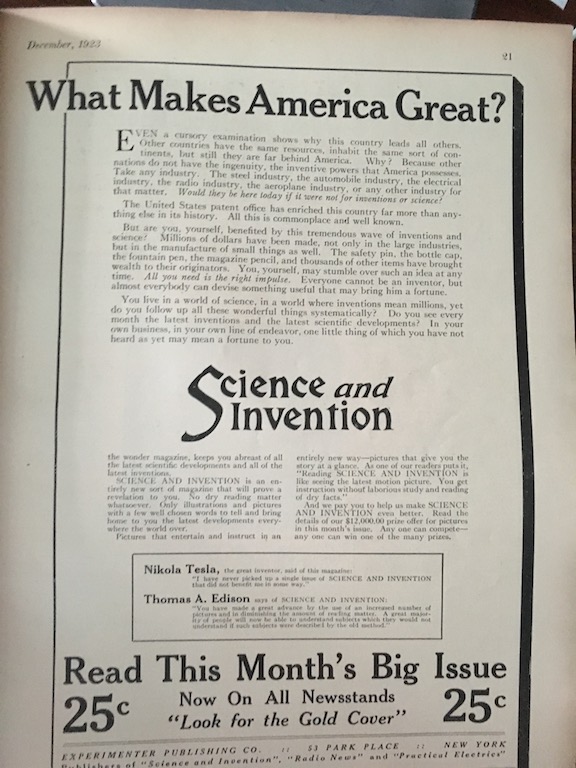 Macfadden is apparently skeptical of medicine and while not a Christian Scientist, does think they get good results. He's more of a naturopath or homeopath, perhaps, and both milk and walking are his strong medicines.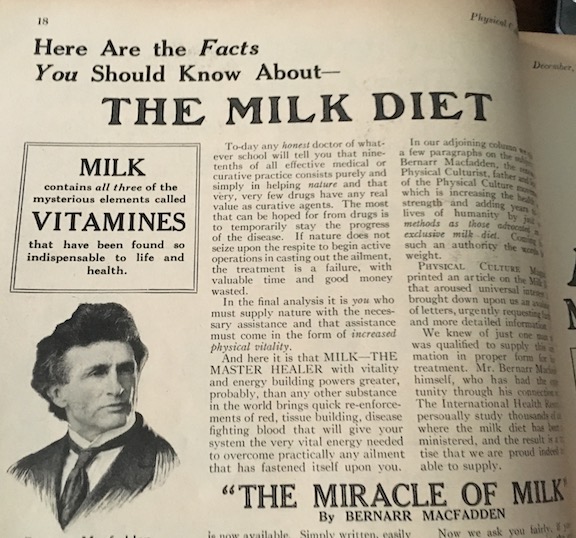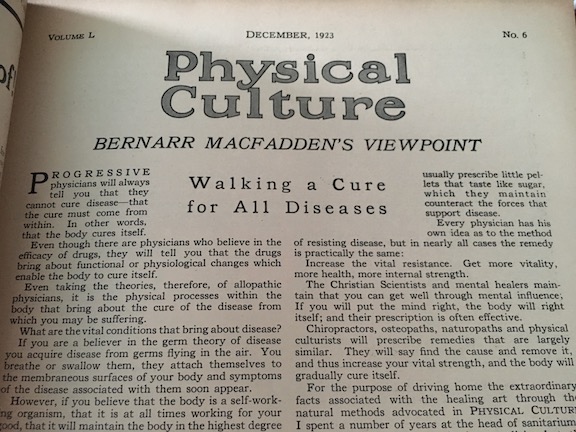 There's some nice layout work in this piece on physical fitness.
Charles Atlas has an ad here, and would go onto advertise in magazines and comics for at least another half a century.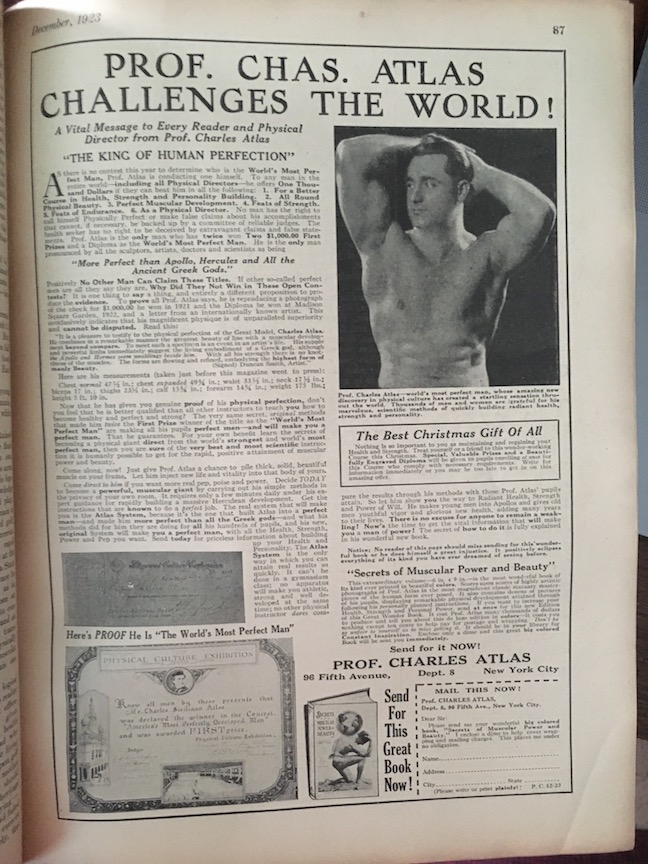 The recommended diet looks like vegetarian with poultry.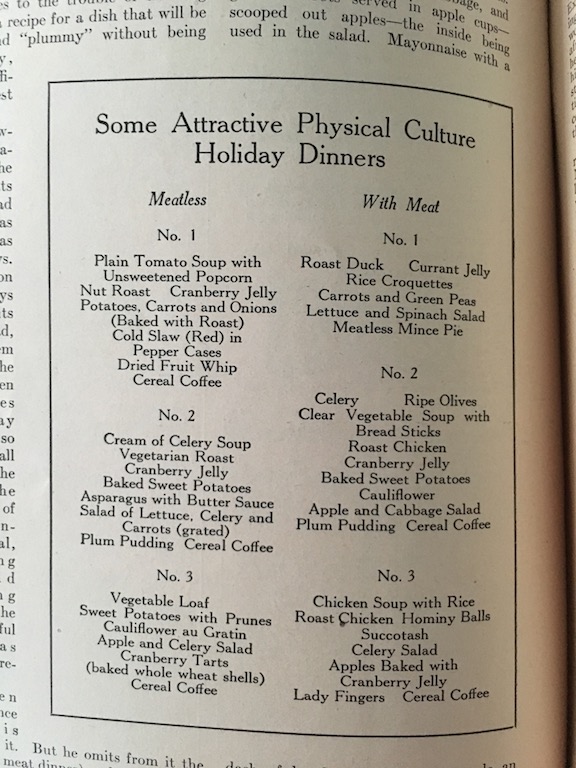 Bernarr Macfadden knew that smoking was bad for you. I think a lot of people did, maybe most people, but it wasn't something most people wanted to know.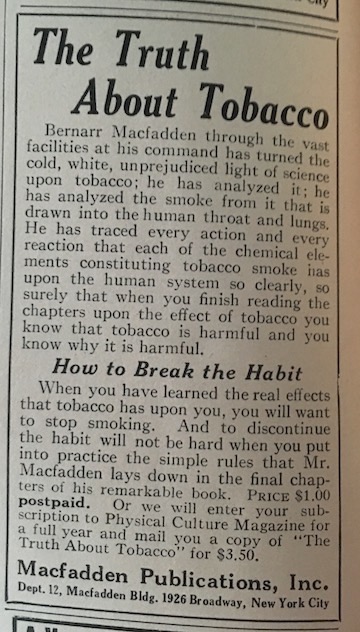 Slingerland is known for making drums but that didn't start until 1927. Here you see an ad for what they were doing before.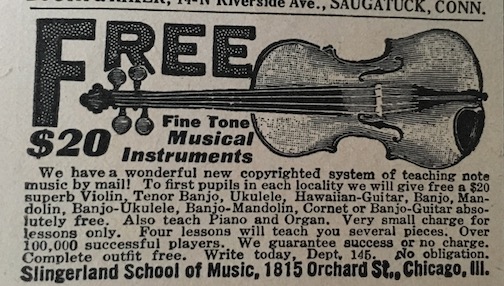 The company was a music school before it began making any kinds of instruments. Eventually, in the 1990s, they got bought by Gibson.
And some other miscellaneous ads, to conclude: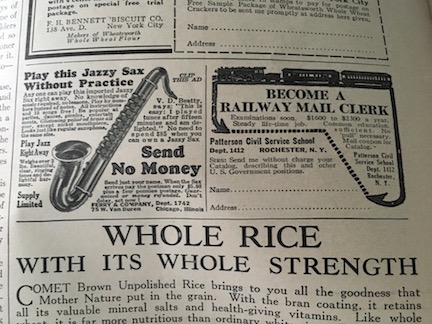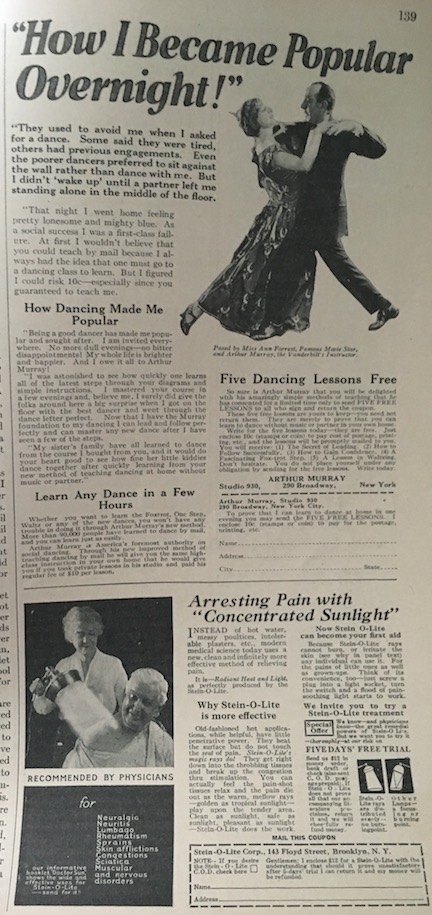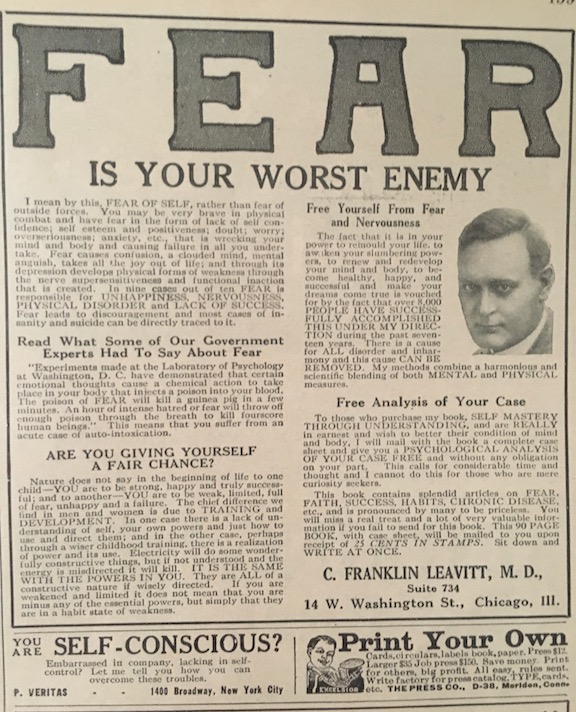 ---
2018 June 18 • Monday
Yesterday was Father's Day so we'll look at something by Peter Bernstein, whose father was the great Elmer Bernstein. Peter turns out to be a great composer too and the 522nd Soundtrack of the Week is his music for the television series 21 Jump Street.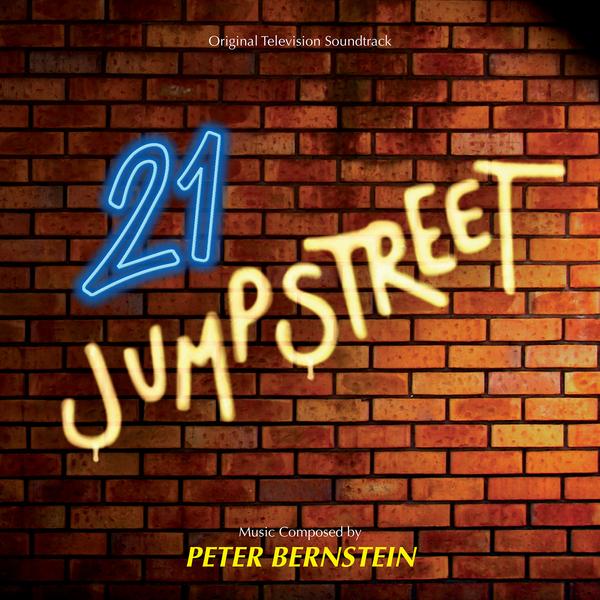 Somehow I never saw this show but I imagine it as being somewhere in between Maimi Vice and Buffy the Vampire Slayer: high school is literally hell and they're cops.

With the exception of some guitar overdubs Bernstein did almost all the music himself in a home studio, something that his father wasn't enthusiastic about at first. (Kids today!)

His synth score mixes rock, blues, country and dance music with ethereal textures and expansive open chords. In some ways the music is similar to Jan Hammer's work on Miami Vice but it has its own clear identity.

The main theme, which is apparently composed by Liam Sternberg, is sung by series star Holly Robinson. The lyrics emphasize the word "jump" in such a way that I wondered if Van Halen's "Jump" might have been on the somebody's mind as an opportunity to catch some reflected glory.

Bernstein had to come up with original music for every episode and for this double CD release, each of the fifty tracks (excepting the theme song) is from a different episode.

In "Rainbow" I think you might hear some of Elmer's influence as it's similar to the melancholy piano music from Stripes. "Hell Week" sounds like Peter had Bach on his mind.

"Christmas Day" has swelling major chords that suggest love and joy before moving onto a more propulsive and initially suspenseful section.

You can presumably hear some of the aforementioned electric guitar overdubs on wailing cues such as "Loc'd Out, Part 1", "Mean Streets" (which also has interesting harmonic and rhythmic shifts) and "1000 Points of Light".

Some of the more Miami Vice-ish cues include "Cruising with Angels" and "Date with an Angel" (which has some country rock-like lead guitar work).

Several cues are upbeat and driving dance numbers, such as "Higher" and "The Body". On the other end of the spectrum, Bernstein can do pensive and lonely, as in "A New Age" (which is also tense and suspenseful), the tender, mostly piano "Our Choice" and "A Big Disease". There's some gentle, nylon-string guitar playing on "What About Love", a piece of music that comes rolling in like fog and also has musical muscle to flex. There's a lot that Bernstein can get out of concentrating on rhythmic properties, and you hear that angle worked very well in "Riffing" and "The Dragon", the latter having more of a linear melody and the former using sustained chords and tones.

It's a great listening experience and of course I'm curious about the show. The first episode is on YouTube...
---
2018 June 13 • Wednesday
The Bookstore Restaurant in Wellfleet, MA, is one of the best places to eat in Cape Cod and one of a few that remains open in the off season.
The bookstore part of it has been of special interest to me for over twenty years. The original owner opened his first bookshop in Worcester, MA, in 1934. Oceans of Books by the Sea, as the Wellfleet store is named, was a treasure trove of old books and hundreds, perhaps thousands, of old magazines.
As far as I can tell, nothing was ever restocked. "Grandpa", as everybody seemed to call him, was just selling off everything he'd accumulated in more than half a century in the trade. (He was also a police officer in some capacity, perhaps deputy or something. He had a badge.)
Back in the '90s, the place was insane. I didn't have a lot of money to spend but I could have spent thousands of dollars, even though Grandpa didn't really care about keeping up with the price guides. The comic books could be on the expensive side, but I wasn't interested in those. All those old pulps and other magazines, for $5, $10, $20...
Grandpa died a while back, maybe seventeen or eighteen years ago, and since the bookstore part of The Bookstore Restaurant is only open between Memorial Day and Labor Day and I tend to go to the Cape in the off season, I don't get there very often.
I was there last weekend, though, for the first time in seven years. And while the stock has diminished, I did find a few treasures, all reasonably priced.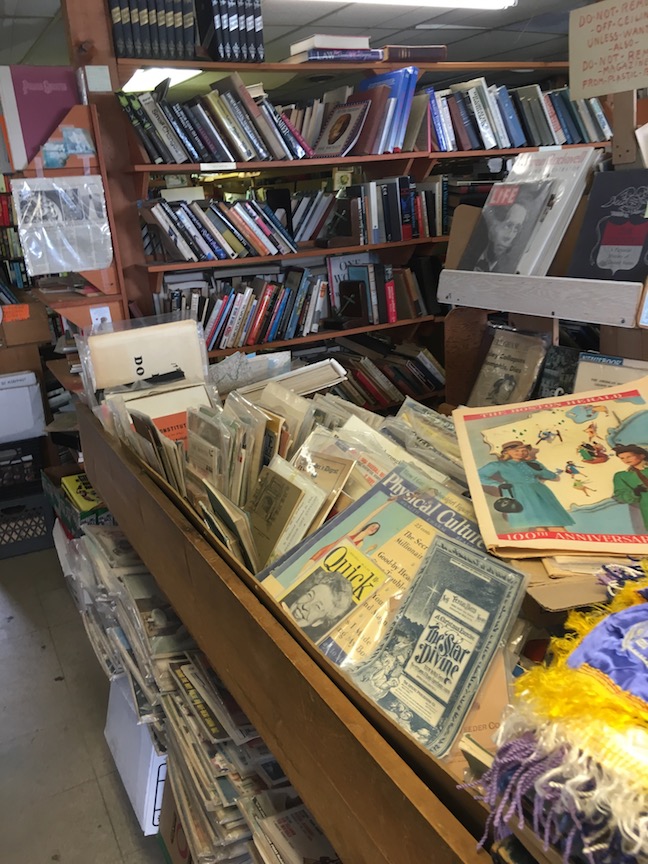 The first thing I saw when I got there was a table of old paperbacks outside, five for one dollar. I found twelve I wanted and was charged a mere two dollars.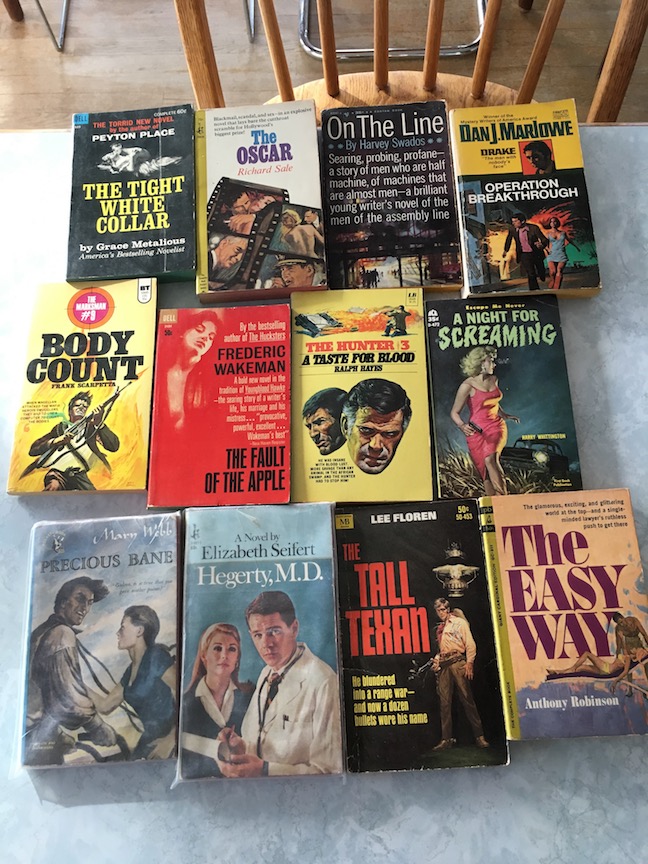 We'll take a look at the old magazines I got later. But of these books, the opening paragraph of Dan J. Marlowe's Operation Breakthrough is a startling example of genre fiction craft at its best.
Perhaps the rest of the book doesn't measure up. I've read a few of Marlowe's novels, probably more than twenty years ago, and I remember them as being inconsistent and perhaps unfocused. But I don't really remember them much at all, except for a few isolated bits of The Name of the Game Is Death, and Operation Breakthrough has got me interested in paying some attention to him again.
Here's the opening paragraph. The first sentence sets the action in motion while also establishing place and action: a bank robbery, as anybody familiar with this territory will immediately realize.
Each of the following sentences in this paragraph expands outwards from here, like ripples, enlarging the scene and our knowledge of what's happening, when and where and with whom. It was with great reluctance that I didn't keep reading, and I appear to have left this book on Cape Cod... I hope it's still there when I go back. If not, it shouldn't be hard to find, since I paid less than twenty cents for it.
The bank was on the ground floor of a four-story downtown Nassau office building. My watch said ten minutes past midnight when we started up the rust-encrusted fire escape at the rear of the department store next to the bank. I could feel the perspiration breaking out on the back of my neck in the humidity of the Bahamian night as we lugged our equipment up to the roof. With anyone less strong than Karl Erikson for a pack-horse partner it would have taken more than one trip.
Now that's how you set a scene, start a ball rolling, establish character and atmosphere, use descriptive writing sparingly ("rust-encrusted fire escape"). Later we learn that sweating makes the narrator's plastic-surgery scars itch, "especially under my wig", another wonderful detail.
Looks like I have to spend time with Dan Marlowe again.
---
2018 June 11 • Monday
There always seems to be another Jerry Goldsmith score to listen to and enjoy for the first time. I hope that never changes! The 521st Soundtrack of the Week is one: High Velocity.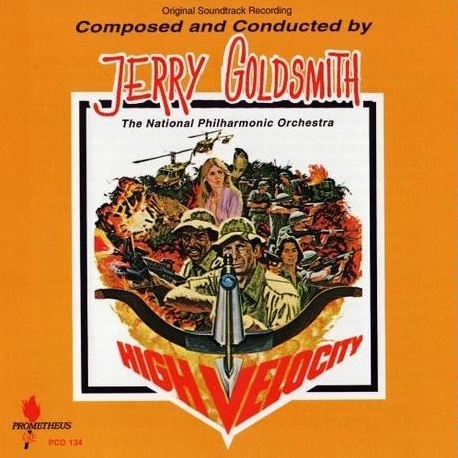 Much of the score finds Goldsmith working with Latin American folk music idioms, blending nylon-string guitar with marimbas and other percussion instruments as well as flutes.
Elsewhere he creates typically engaging and powerful moods of suspense, tension and action, particularly with staccato piano lines.
The cymbalom is also an occasional voice here, used sparingly and effectively. And there's an especially crafty deployment of electric guitar in "The Mission Begins".
He goes back and forth between these two approaches effortlessly and blends them on occasion. If the movie is half as good as the music, I'll enjoy watching it!
Unsurprisingly there's also music for tender scenes and presumably "Ring" is some kind of love theme, introduced by guitar and flute before more of the orchestra comes in.
---
2018 June 08 • Friday
Messages are where you find them.
I don't usually like beers with fruit in them but there have been exceptions and I'll try almost anything that Stone Brewing puts out.
And so I drank and enjoyed their new IPA that's brewed with peaches. It's called I'm Peach, but the way the can is designed, it looks like one word with a rather shy apostrophe.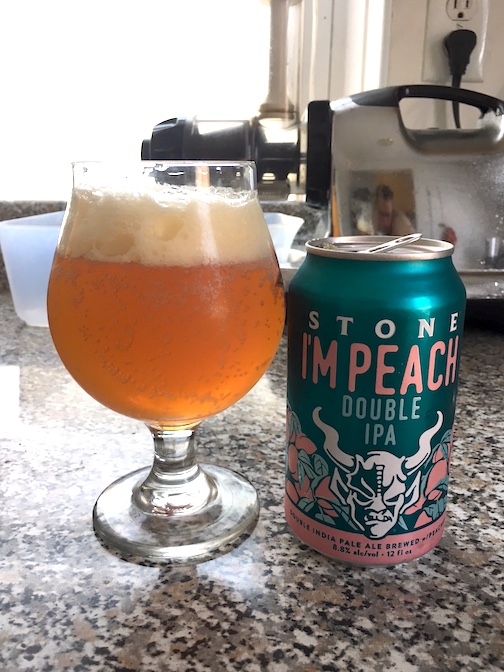 The case has a bit more to say.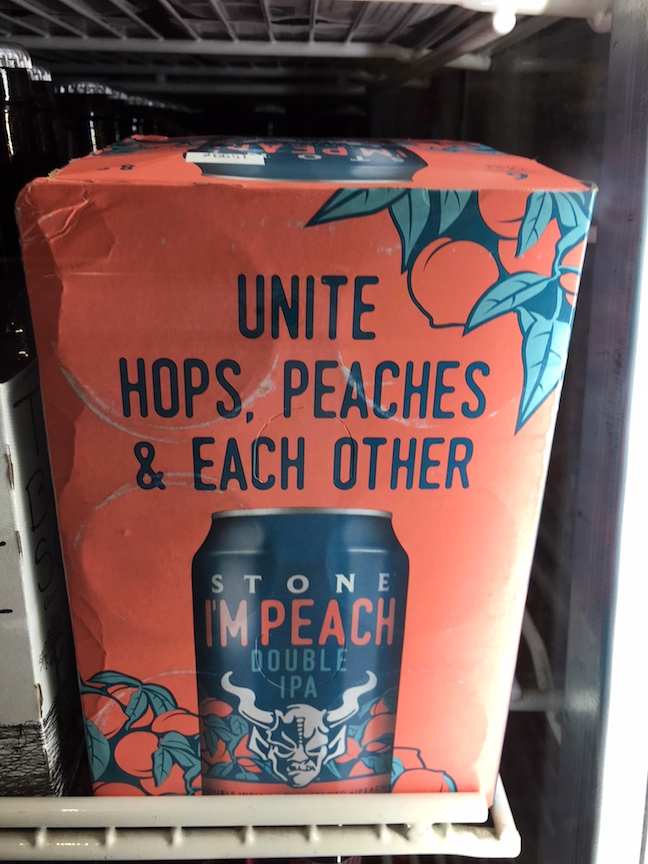 If this is a subliminal suggestion, I'm okay with it. And the beer is good!
---
The similarities between Spirit's "Taurus" and Led Zeppelin's "Stairway to Heaven" seem to amount to a guitar figure and that's it. If you could own guitar licks then Charlie Christian and Chuck Berry would have been zillionaires.
So never mind all that. But we will take a moment to consider Spirit's music for the movie Model Shop, our 520th Soundtrack of the Week.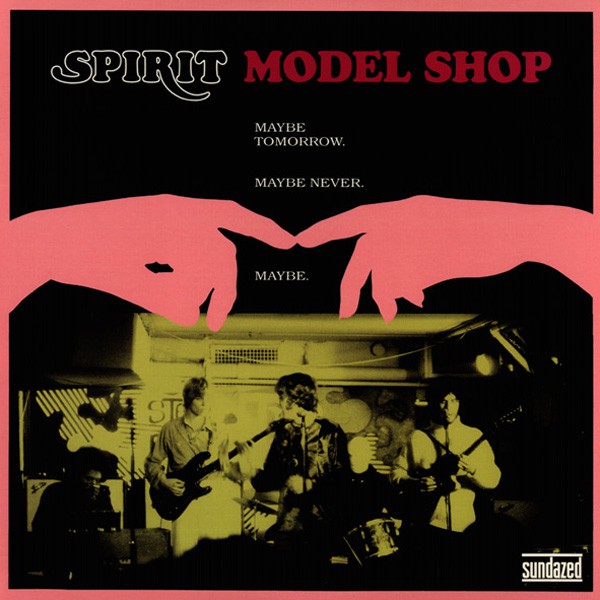 The first track, "The Moving Fan" is a laidback instrumental with the guitarist playing some jazzy octaves. Should Wes Montgomery's estate sue Spirit? Basically it's a vamp on a few chords, and has some tension and suspense while being relaxed. The vibes add atmosphere as well.
"Mellow Fellow" immediately creates a different feeling with what sounds like a Fender Rhodes and Latin percussion. The guitar sound is closer to acid rock now and the tune eventually takes off into a kind of psych-jazz jam.
After that is "Now or Anywhere", the first vocal number. It's kind of in the Black Sabbath vein and while the singing could be stronger it's a solid song. It ends with an instrumental section that sounds like some of Popul Vuh's stuff.
Then things heavier but also funkier or more soul-influenced with the deep pounding groove of "Fog", another vocal number.
"Green Gorilla" is a gentler tune, with piano laying down a pulsating background for more jazzy guitar octaves. The energy rises and falls gently, aided by percussion.
Then there are some tracks with strings, and a few others with interesting mixes of jazz and rock and even exotica elements. "Coral" is a drum feature, with Ed Cassidy on the kit playing an extended solo.
The last song is "Aren't You Glad", and those three words are sung over and over while overdriven guitar plays lots of long-sustaining notes and the band occupies a '60s-rock groove.
---
2018 June 01 • Friday
While sampling take-out from the new Halal Chinese restaurant that just opened up a block away we threw on this movie that we found in the mailbox the same day.
Both were good but the movie, Of Unknown Origin, was something special.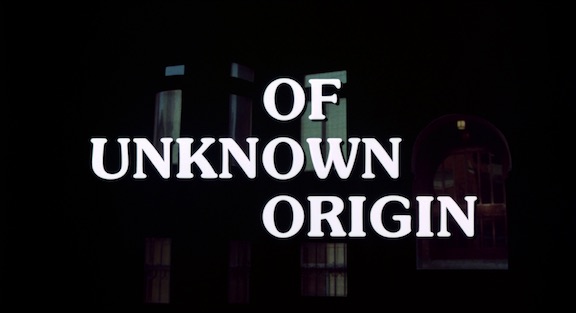 The shortest possible description would be human versus rat, but there seems to be so much more going on. If you enjoy Freudian interpretations of movies you could have a field day with this movie and its numerous subtextual possibilities, from Oedipus and Elektra to representations of the id and the subconscious, imagery both phallic and vaginal, the fact that the story is a about a male human versus a female rat and also a father versus a mother.

This is hardly my area of expertise but I'm certain you could go nuts with that approach if you wanted to. The main character has a replica of his house in the basement of his own house, for instance. Freud could have written a whole book about something like that.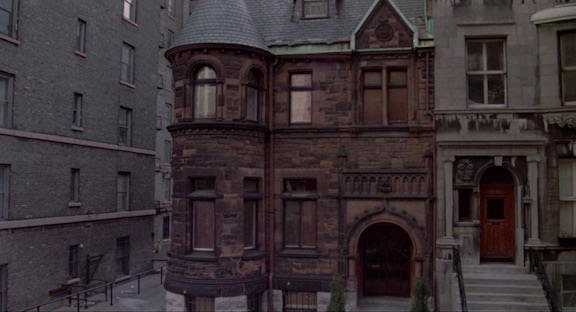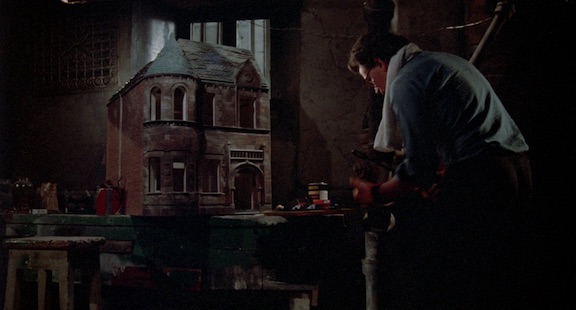 More interesting to me are the movie parts of the movie. The camerawork is exquisite, precise and beautiful, taking a cue from classics like the original Cat People to introduce the threat and horror with shadows and reflections of shadows, letting us know that an unknown menace is lurking before our protagonist is aware of anything wrong.

The sound design plays a crucial role in the development and eventual deployment of this threat, as does Ken Wannberg's brilliantly effective and perfectly modulated score.

The camera frequently uses eye-catching angles and movements to increase suspense and tension and there are a few bravura shots, such as one that begins with star Peter Weller sitting and then, after the camera moves around his house, ends with him in bed in a different room, disorienting the viewer both in time and space as Weller's character himself is. Weller is crucial to the success of the movie, in particular his fixed gaze and intense yet often placid face. It's hard to imagine what other actor could pull this off as Weller has to carry quite a bit of this movie. Christopher Walken could have done it, too, perhaps, but Weller is absolutely perfect and crucially less eccentric than Walken.

From the point of view of a movie-goer today, watching a movie like this, which relies on writing, acting, camerawork, music and sound to create an intense and immersive experience, and has no CGI at all, is almost like going to a museum. All the elements mentioned above are there to be appreciated and marveled at. They hardly exist in genre movies today except perhaps in moments. It's rare to see a movie so well constructed and thoughtful as this one.

Back in 1983 it didn't seem like a big deal. Predictably the New York Times dismissed it, with its critic writing that it was "rather terrible" and "mysteriously titled".

If he meant that he didn't know why it was called Of Unknown Origin, a reason is in the film itself; though, to be fair, you actually have watch the movie to catch that. It might not have been in the press kit.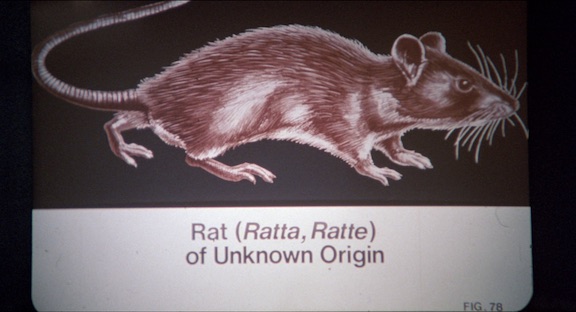 One obvious way to look at the story is as an exploration of a "man versus nature" theme, and at one point Peter Weller's character—"Bart", which contains the letters for "rat"—watches the film adaption of The Old Man and the Sea on television.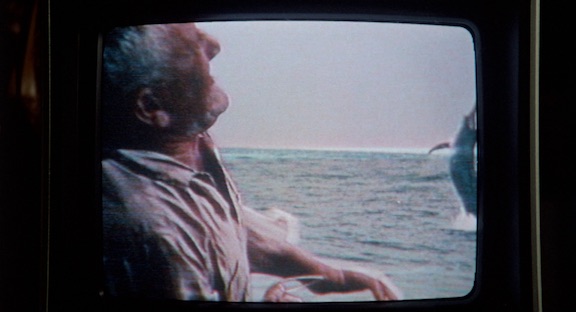 Bart becomes obsessed with his rodent opponent, though, calling to mind another famous tale about a man and an aquatic enemy. And so when Bart pounds a book on the ceiling in the spot where he hears the rat moving around, the book is Moby Dick.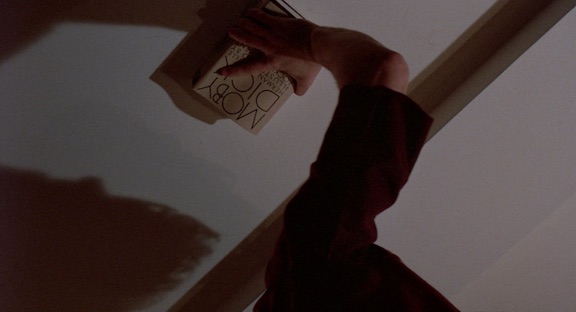 There's also the theme of gentrification. In 1983 we would have understood that Bart was a yuppie, working in finance while living in NYC's Lower East Side, in a brownstone that he bought cheap because it needed a ton of work. He's done all this work himself, with his own hands, declaring at one point that no machine touched the beautiful wood floors.
And now his home is invaded. But is it his home just because he bought it and claimed it? Was the rat there first? Is this particular kind of change, essentially money moving into poor neighborhoods good, bad or neither? Or is it impossible to generalize about such things? The movie doesn't get into it but it's yet another thing to consider.
(The fact that the movie is filmed in Montreal and not NYC is a tiny bit of a letdown, but they do a great job making it look like New York.)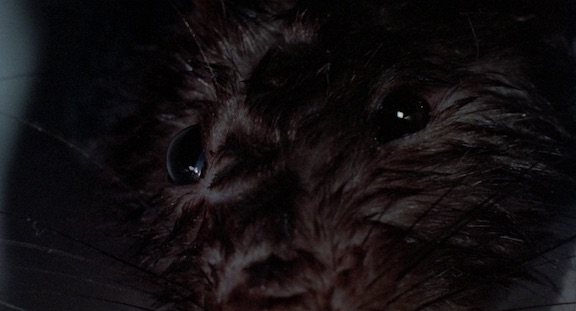 Speaking of invaders, there's also a subtle reference to another story of a moneyed arriviste snapping up an old house in a strange, new place and finding that a non-human presence wants to drive him out. The reference is to The Uninvited, the movie whose score gave the world "Stella by Starlight", and in one scene Bart is whistling that song while inspecting his house to see if he's succeeded in expelling the monster rat that haunts him.
Bart's job is an important part of the movie. He's been given an extremely important assignment and it's sink or swim time. This happens all the time in movies, this kind of unfortunate timing, because it acts as a stressor for characters and makes their extreme actions more plausible.
Everybody at the office is terrified of the boss. This is shown quite neatly in just a few seconds as an otherwise unseen employee quickly gets his feet off the desk when he sees the CEO approaching.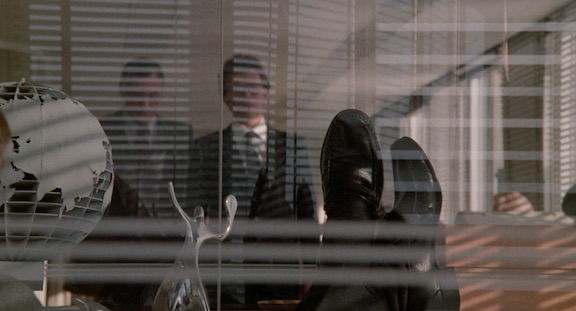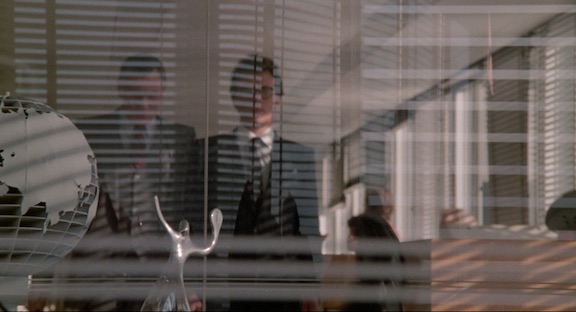 Shots and angles that show Bart literally close to the edge of the building, and the vertiginous drop below, suggest how precarious his position is. Dog eat dog, a rat race.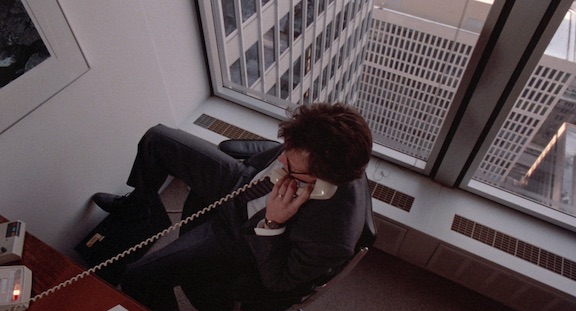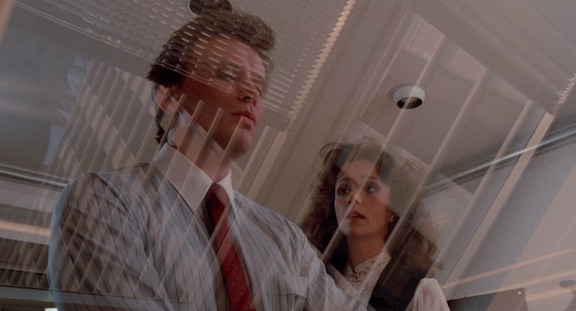 The woman on the right is his secretary, who cares for him and wants to help him succeed. Another effective set-up shows her reflection as the angel on his shoulder while the reflection of his nemesis in the company, is the devil on his other shoulder.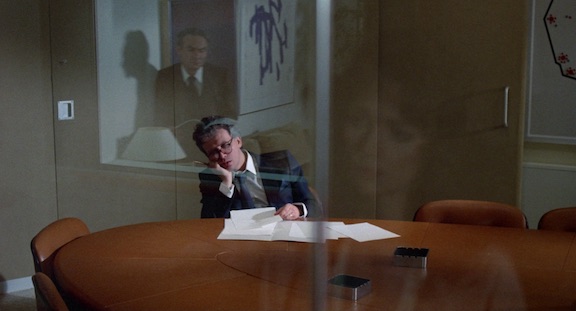 The rat race part of his work life is suggested by a stunning shot of Bart walking across the front doors of the building, suggesting a tunnel or part of a maze while the door constantly open and close and his fellow rats zip in and out in their manic fight for better position, more resources, a chance to undercut a co-worker and usurp their position.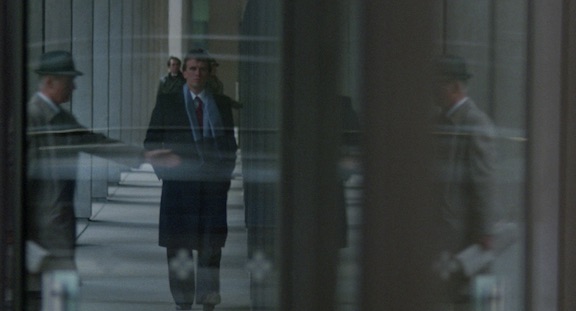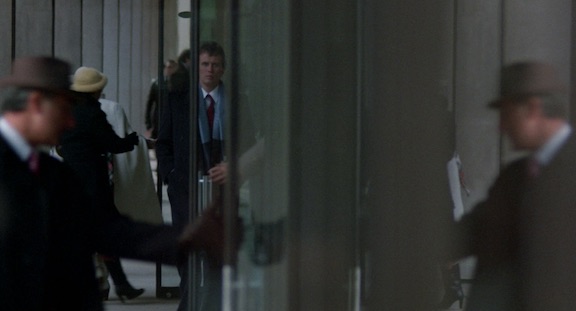 Interestingly Bart's approach to his assignment, reorganizing bank branches, goes against the grain of how the company has traditionally done business. His idea is admitrably progressive, at least for a bank.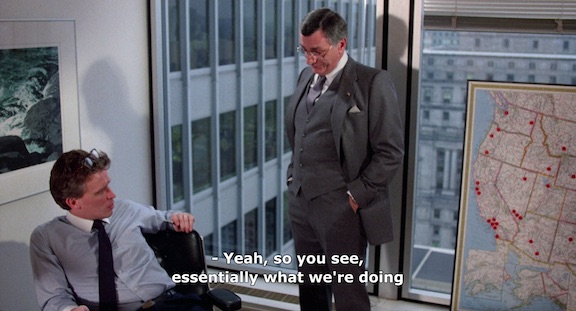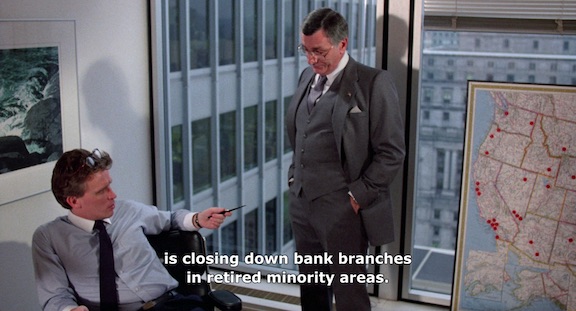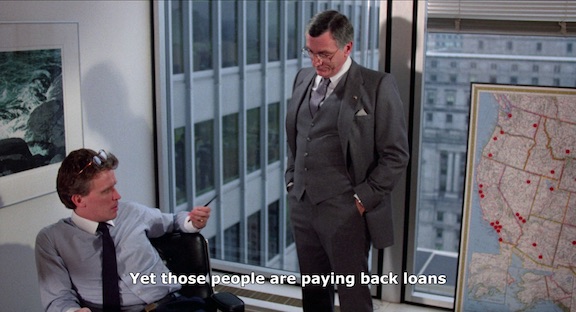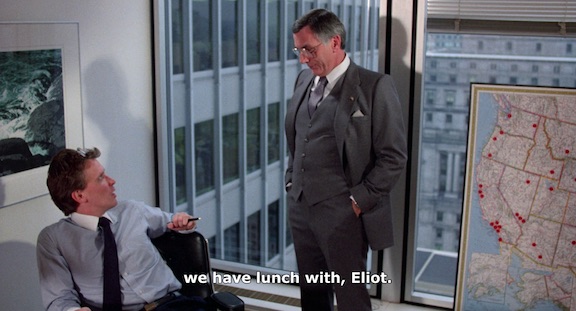 In that scene he describes what the bank intended to do and what he intends to reverse, to take care of the people in "retired minority areas" instead of the moneyed professionals that the people in this big city bank actually know. Out of sight, out of mind, unless you actually look at the books and realize who the better customers are.

The movie's biggest flaw is that this storyline, what he's doing at work, is dropped at the end. It was interesting enough and developed enough, and the other people from his work real and convincing, that I was engaged by this parallel track and wanted to know what woud happen there.

At the end of the day, though, it is a movie about a guy fighting a giant rat. And it's a pretty great movie about a guy fighting a giant rat!
---