Rob Price
Gutbrain Records
rob + gutbrain.com = email
---
For the 506th Soundtrack of the Week, let's take a look at this score for one of Jackie Chan's early attempts to break into the North American market: Lalo Schifrin's music for The Big Brawl.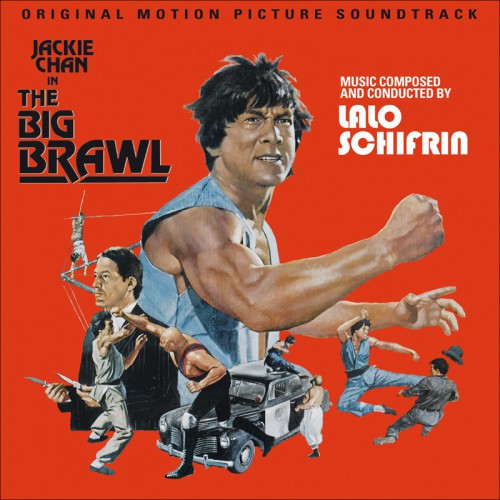 Most of it is one jazzy theme, the melody either blown on flute or whistled rather than played on an instrument, perhaps in a nod to Ennio Morricone's use of whistling in the scores for the first two Clint Eastwood spaghetti westerns, with both electric bass guitar and double bass providing much of the rest of the musical substance, along with sprightly and subtle drumming.
When music that sounds more like dramatic underscore shows up in "The Kiss of Death" it's rather surprising, the changes in sound and mood. It's also reminiscent of Schifrin's music for Enter the Dragon, which is almost certainly not a coincidence.
There's also some roaring twenties-type music, which reflects the period setting of the movie.
Thanks to Quartet Records for this release of music by one of our favorite composers!
---
2018 February 19 • Monday
Thanks to the good people at Trunk Records we have our 505th Soundtrack of the Week, a double feature of Basil Kirchin scores: I Start Counting and Third World.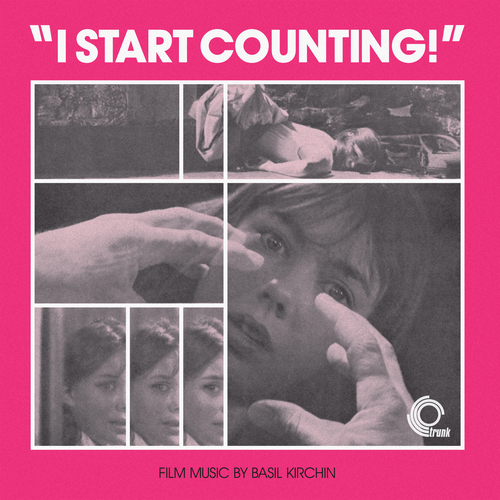 I Start Counting is represented by six tracks of ethereal beauty, a title song song by Lindsey Moore and cues that are a strange mixture of avantgarde jazz amd classical with international influences, tabla and electric guitar and harp and upright bass and strings etc. sometimes sounding like free improv and sometimes sounding like they're executing arranged and conducted compositions.
Third World is a later film, a documentary of some kind, and finds Kirchin inspired by international rhythms and using synthesizers in combination with percussion and great upright bass playing.
Less ethereal than propulsive and pulsating, it's an interesting and successful complement to the first soundtrack.
---
2018 February 12 • Monday
Here's the kind of record I love. From the early 1960s, a great small combo of guitar, piano, organ, tenor sax, bass and drums playing movie and television themes. It's King Jordan: The Phantom Guitar and the 504th Soundtrack of the Week.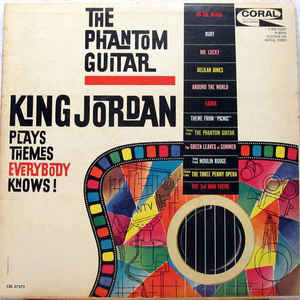 The phantom guitarist himself is actually ace session musician Bob Bain, who's played on zillions of soundtrack recordings and other dates.
With him here are the unmistakable Plas Johnson on tenor, bassist Joe Mondragon, drummer Frank Flynn, pianist Don Trenner and Paul Smith on Hammond organ.
It's a swinging record, laidback and extremely pleasant. Bain's guitar tone throughout is beautiful and Johnson's saxophone is mellifluous, tasteful and inventive as always.
It's an intriguing set of tunes. It's not surprising to see pieces like the theme from Mr. Lucky, "The Green Leaves of Summer", or the "Third Man Theme" but it's less expected to see music from The Man with the Golden Arm and Ruby Gentry.
There's also one original, "Theme from the Phantom Guitar", which has a dreamy and exotic feel to it.
It's wonderful to have this on CD. Available from CD Baby!
---
2018 February 07 • Wednesday
A relatively recent development in comics has been the idea of a daily comics diary, making a strip every day. The people who have been doing this tend to set their own terms, limitations and obligations, but the results are consistently rewarding.
The most recent example of this form that I've seen is Cathy Hannah's Springtime in Chicago, which I must have picked up at Quimby's several months ago.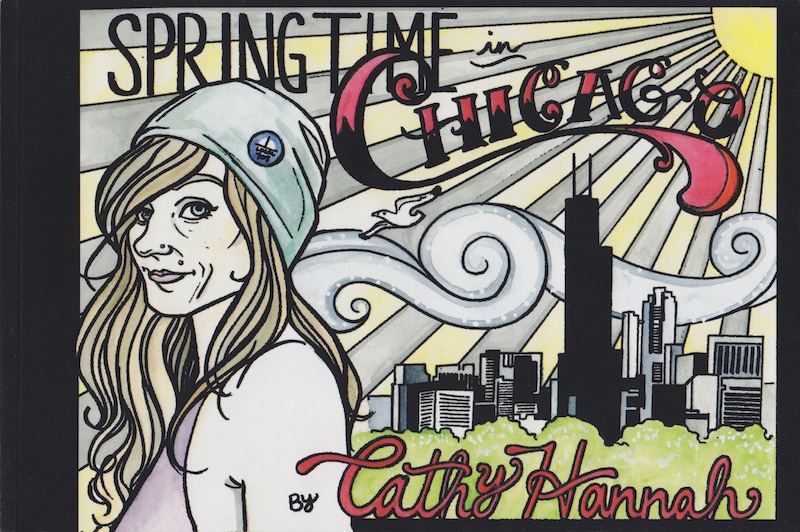 Hannah's approach is a four-panel comic strip every day, detailing friendships, crushes, sickness, work, pets, family, money problems and quotidian wins and losses.
Sometimes there's an actual punch line but usually there isn't. This is actually a satisfying twist as the visual presentation causes the reader raised on newspaper comic strips to expect the familiar set-up, build and release joke structure.
By offering these unsweetened shards of real life, Hannah's work should prompt you to see your own life differently as a result of glimpsing hers.
Of course none of this would work if her ability to draw weren't up to the task but she's a great artist with an apparent affinity for this medium.
---
2018 February 05 • Monday
Last year saw the arrival on CD, courtesy of Intrada Records, of a much desired score from one of the greatest and most beloved soundtrack composers of all time. It was only a matter of time before it was a Soundtrack of the Week. Here it is, #503, Jerry Goldsmith's music for Damnation Alley.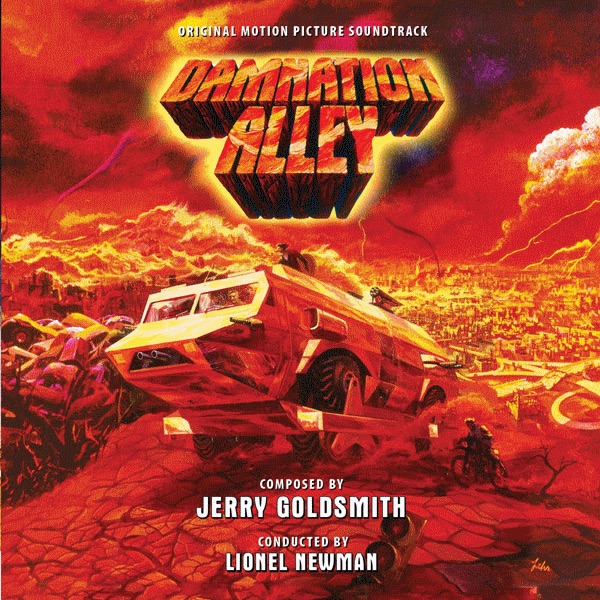 It starts with a brief trumpet fanfare and a lot of space, as different parts of the orchestra make themselves heard. The mood is anticipatory and heralding, building in density, volume and excitement before finally taking off.
As the record and movie progress, the music gets more intense and varied. Goldsmith blends synthesizers with the orchestra for startling effects as well as moments of lyrical beauty.
A great example of this is on "The Voyage Begins", where electronic instruments are used rhythmically and subtly, echoing the castanets which are deployed elsewhere. This cue also introduces a much recurring theme that happens to be my favorite from this soundtrack. It's perhaps most beautifully presented on "The Desert".
Several of the cues reminded me of Star Trek, both the original series and Goldsmith's score for the first movie. You can also detect the same intelligence at work that created the music for Planet of the Apes and Logan's Run.
It took me a while to get into the Jerry Goldsmith scores that weren't jazzy and swinging, like his amazing music for the two Flint movies starring James Coburn. I'm glad I did, though, because every encounter with his work has been rewarding.
---
2018 February 02 • Friday
I watched The Sentinel recently and was surprised to discover that it was a Michael Winner movie. What a strange career he seems to have had. And what an odd movie that is, worth watching for the NYC locations alone.
Early on my eye was caught by this news stand, and what appear to be these magazine-sized Six Million Dollar Man and Space: 1999 comics.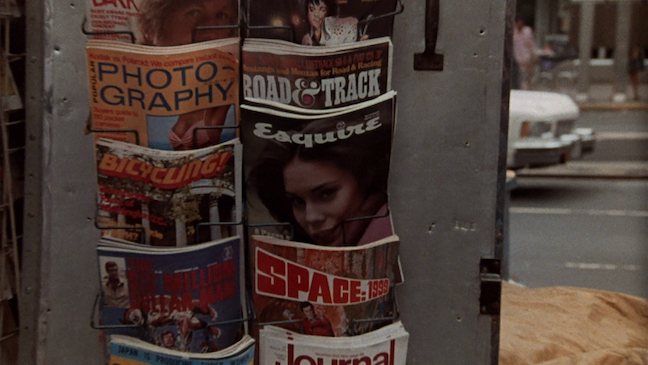 As a fan of both shows (though my favorites were The Bionic Woman and Star Trek) I would have had those or at least wanted them. But I'm not sure if I knew they existed. I don't know if I remember them. But there they are and maybe I'll see one in real life someday. It's not a priority right now.
---