2017 December 18 • Monday
For the 496th Soundtrack of the Week we turn to Bear Family, one of our favorite record labels, and this compilation CD: Wand'rin' Star: Movie & TV Songs.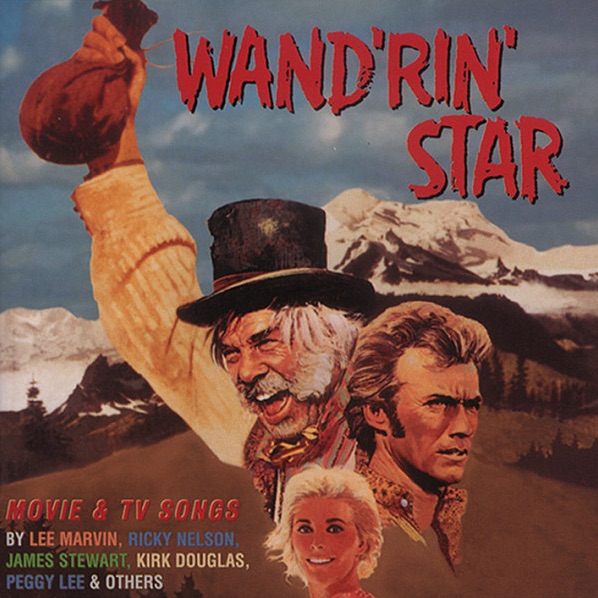 It opens with the title track, a number one hit for non-singer Lee Marvin. I bet nobody saw that coming. The movie it's from, Paint Your Wagon, was not successful at all, and Marvin is far from being a great singer. But his performance has a relaxed and honest quality and Nelson Riddle's arrangement does a lot of the heavy lifting. (More than the first minute is instrumental.)
Another famous non-singer on here is James Stewart, who throws himself into "You Can't Get Far Without a Railroad" from the movie Night Passage. While Stewart apparently also played the accordion himself, the instrument's backing was re-recorded by a professional.
Kirk Douglas also appears with "Whiskey, Leave Me Alone" from The Big Sky, in a duet with Dewey Martin, a shorter, more tuneful and drunker song.
Bridging the gap between singers and non-singers is Robert Mitchum, who did release albums and had some natural ability to go along with his love of music and deeply laid back energy as a performer. Here he does the title song from Young Billy Young, whose music was composed by the great Shelly Manne.
As far as the professional singers go, my favorites here are Gene Pitney's "The Man Who Shot Liberty Valance" (which was not used in the movie), Peggy Lee's "Johnny Guitar", Dean Martin's "King of the Five Card Stud" and Frankie Laine's "3:10 to Yuma".
---