2017 November 20 • Monday
Another biker movie album is our 492nd Soundtrack of the Week. This is a particularly infamous one, thanks to a certain episode of Mystery Science Theater 3000. We refer to The Sidehackers, a.k.a. Five the Hard Way, music by Mike Curb and Jerry Styner and performed by The New Life.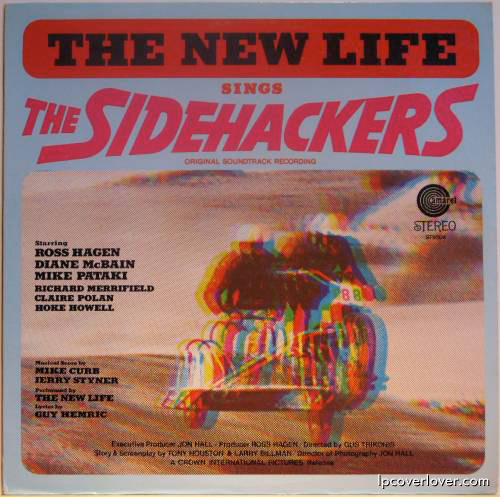 Whatever the merits of the movie, the music is actually pretty good, tuneful and catchy, very country rockish.
The opening number "Five the Hard Way", which would have been the main title theme before somebody changed the title, is especially easy on the ears and well executed. The sound of The New Life is solid, grooving and colorful throughout and their introduction with this tune is impressive. It might remind you in some ways of The Rolling Stones.
There are a couple of instrumental versions of it as well, with strings and horns.
"Ha Lese (Le Di Khanna)" is a fuzz and wah wah guitar freakout with pounding drums and a remarkably frantic pace and urgency.
The "Love Theme (Only Love)" is fairly schmaltzy and ridiculous, or at least hasn't survived the mockery it received on MST3K.
The other title song, "Sidehackers", has a great, deep, swinging groove and is also well written and engaging.
"Psychedelic Rape" is a heavy piece with strings and horns accompanying the rock band and might remind you of some Serge Gainsbourg music.
Finally there are two sunnier numbers, "Strollin' Sunday Mornin'" and "I Wanna Cry", of which the latter has a bit of gospel in it.
All in all a really good record, worthy of rediscovery or perhaps plain old-fashioned discovery.
---