The 487th Soundtrack of the Week is an exciting one: Thunder Road: The Film Music of Jack Marshall.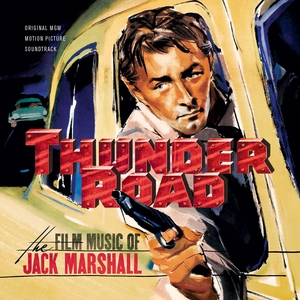 Thunder Road is a double whammy, one of the ultimate drive-in movies and one of the ultimate Robert Mitchum movies.
It's great to have the score available on CD after all this time. Bear Family was going to release it and maybe actually did for a few minutes before they were forced to recall it.
It's essentially a two-theme soundtrack, the two being the title theme and a song called "The Whippoorwill" which is sung in the movie by the great Keely Smith.
Jack Marshall was a great guitarist and this is very guitar-heavy music, ranging widely in styles. "The Road Block" cue is one example of some very loud and aggressive music that you'll hear on this disc.
Also on this disc is the dramatic and exciting jazz-informed music Marshall wrote for Take a Giant Step amd the more pop-influenced cues for The Rabbit Trap.
---