Once in a while it's nice to listen to a different take on a familiar score. Here's one we're very familiar with, as it's a favorite, but we've never heard it like this before. The 486th Soundtrack of the Week is Walt Dickerson's Jazz Impressions of "Lawrence of Arabia".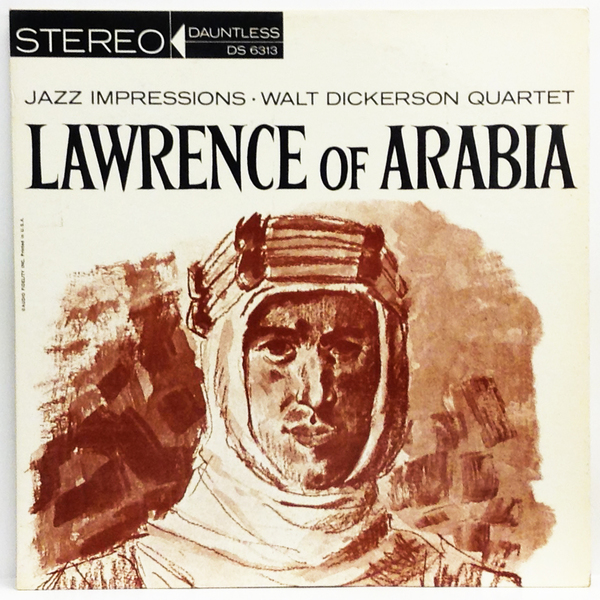 This was a big deal movie with a famous score. Jack Marshall & Shelly Manne covered the theme, as did The Ventures. The Walt Dickerson Quartet, with the killer rhythm section of Henry Grimes and Andrew Cyrille plus Austin Crow on piano, fo a swinging take on it after two different intros, one in a middle eastern style and another in a loungey Martin Denny sort of style. (Who is Austin Crow?)
Grimes anchors "This Is the Desert" with a looping bass figure that provides a hypnotic environment for the rest of the band to solo.
Then there's a two-part "Motif from Overture", the first part being a waltz run through a suggestion of Jarre's opening music for the film and the second being more free. This is really almost a unique record in its combination of material and execution and everybody's playing is amazing.
"Arrival at Auda's Camp" is immediately familiar though with such different instrumentation and feel that you might do a double take to reconcile the recognizable theme with his up-tempo jazz rendition.
After that comes another two-part piece, "Nefud Mirage". The first part is a strong and energetic modern jazz workout while the second half, is much more spacious and atmospheric, even balladic in places.
The record concludes with "The Voice of the Guns", kicked off with some machine-gun snare playing by Cyrille and with impressive bass work by Grimes throughout.
This quartet is just fantastic and it's a thrill to hear them do something like this!
---