For our 485th Soundtrack of the Week we listened to the music from The Sweet Ride, which is mostly by Pete Rugolo.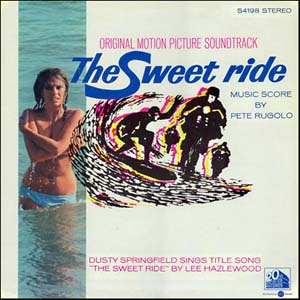 There was a surf movie trend and a biker movie trend and this was apparently a surf/biker movie "from the neon haunts of Vegas, the velvet traps of Hollywood to the Malibu beach parties. Here are the people trying to make the Sweet Ride, that one moment when you know you're on top and your're the best there is at sex, surfing, or cycling". "Or"? That should be "and"!
The record starts with the title song written by Lee Hazlewood and sung by Dusty Springfield. It's a great pop stomper and swinger with a soaring melody and a terrific arrangement. Of course the choice of singer is fantastic.
After that comes the first of several tunes with a wordless chorus. "Vicky Meets Denny" has a dreamy, calliope sort of sound and a bit of a Mancini feel, reminiscent of "Charade" and the standard "Embraceable You".
"Collier's Riff" is a sing-songy number, also with a touch of the merry-go-round but with a jazz influence that ends up taking over.
The title "Come Bossa With Me" tells you most of what you need to know. It's basically the "Vicky Meets Denny" cue with a bossa beat. The guitar playing is quite nice though often hard to hear under the vocals.
"Thumper" is a lilting and jazzy number with the vibes playing a catchy melody made up of trickling descending lines. There's a flute soul and some very exciting electric guitar playing. Whoever it is kind of goes nuts!
Side A wraps up with "My Name Is Mr. Clean", a tough, brassy and swinging number with a strong backbeat and some nasty electric guitar playing. It sounds like it could be for a go-go club scene.
The first piece on the B side is "Lost Wages Brash", which is kind of like the love child of a TV game show theme and Muzak on drugs.
"Turn Me On" is another arrangement of the "Vicky Meets Denny" theme, not particularly different but the bass playing caught my ears as especially good and there's some great electric guitar and baritone playing as well as some keyboard features.
Then we get an instrumental version of Lee Hazlewood's title song, called here "Sock Me Choo Choo", Choo Choo being the name of a character played by Bob Denver in the movie. There's a lot of frantic keyboard and guitar playing to make up for the lack of Dusty Springfield.
The energy and the mood come way down for "Bedroom Time", also another arrangement of the "Vicky Meets Denny" theme.
"Where's the Melody?" is a short, uptempo jazzy number, sprightly and energetic.
Then finally we have "Swing Me Lightly", one more statement of the familiar "Vicky Meets Denny" theme.
It's a cool record and I'd like to see the movie!
---