Nelson Riddle's music for What a Way To Go! is the 483rd Soundtrack of the Week.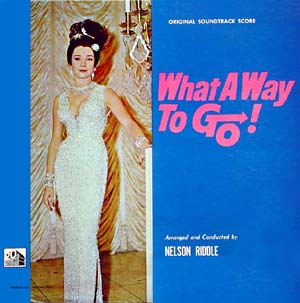 It starts with a briskly swinging main title that might recall his music for The Rogues or his numerous arrangements for Frank Sinatra.
Then the same piece gets a Mancini-ish treatment as "Louis's Theme", complete with wordless chorus and zephyr-like strings and horns.
The same piece is also "Fabulous Penthouse", with a more spacious feel and a short but tasty saxophone solo.
This is followed by "Get Acquainted", a standard-style song with a laidback swing to it, written not by Riddle but by Jule Styne and the film's screenwriters, Betty Comden and Adolph Green. I'd guess this is source music for a romantic late-night scene. The same trio also composed "Happy Houseboat", the last number on Side A, an uptempo jazzy number featuring the flute and trumpet with snappy percussion.
The other tune on the first side is the violin-driven and dramatic "Love in the Garret", the first piece that sounds like cinematic underscore, suggesting a range of feelings and situations, from suspense to mirth.
The B side opens with "Giggling Girls", whose feel and use of vibes recalls Mancini again, though there's something about the horns and drums that mark it as Riddle's. The wordless chorus is back and I could live happily without them. There's also a nice piano solo.
"Blue Flutes" comes next, a slow and relaxed tune that does in fact feature flutes and could be fairly described as bluesy. There's also some nice vibes playing.
After this comes "707 in 3/4 Time", a straight-up waltz, perhaps for a dancing scene.
The main theme then returns with "Accidentally on Purpose", this time in a slower, sadder arrangement.
Slow trills and descending lines distinguish "Chameleon Girl", a gentle and slightly lush piece of underscore that also has a stereotypical and cliché "Asian" section.
After this comes the end title music, unsurprisingly a reprise of our main theme.
The music and arrangements are very enjoyable throughout and I'd love to know the names of the musicisns.
---