Our 471st Soundtrack of the Week is another by the genius composer Toru Takemitsu. This one is his score for The Car Thief or Car Thieves. (It can be translated both ways.)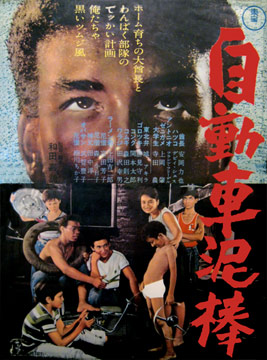 The first sound you hear is a human voice crying out. Then there's a haunting melody that's whistled by one person alone.
After this comes the main theme, a somewhat jaunty piece in 6/8 with some melancholy threads running through it. Harmonica and accordion are part of the ensemble and there's an Afro-Cuban influence.
African music is the strong theme of the next cue, which is just percussion and voice and sounds like it actually was recorded in Africa. It's short and cuts off abruptly so maybe this is a snippet from an album of African music.
The next cue is pure Takemitsu in his own particular avantgarde and unsettling atmospheric mode, 19 seconds of delicately constructed and sustained sound, using piano and electronic manipulation, it sounds like.
Then there's another short blast, ten seconds of skittering rhythm and, unexpectedly, a flourish of big band jazz. All in ten seconds!
Then we're back to the main theme for the next couple of tracks, with flute as the main voice in the first one and marimba in the second.
Then there's a weird track that sounds like Takemitsu is electronically manipulating a recording of an African percussion and flute ensemble.
Then we have an expanded version of that ten-second skittery rhythm and big band jazz track, followed by another iteration of the main theme, this time with electric guitar having a greater role to play.
Another short and distorted sting of a cue follows that and is in turn followed by what sounds like a warped mutation of west coast jazz.
The main theme is played a few more times in similar arrangements, with different instruments in the spotlight.
There's a very lyrical cue with harmonica set against a high-pitched drone that becomes something of a harmonic shadow, with gently strummed guitars urging the music forward.
And just in case there wasn't enough variety, a Spanish-sounding piece with castanets comes next, only to be wrenched aside by a dissonant sonic stab.
After this comes a very odd and creepy atmospheric cue, percussion and echoes.
Finally there's more African music and one more round of the main theme.
---