The temperature was around 100ºF a few days ago so let's go surfing with the 470th Soundtrack of the Week, music by The Sunsets for an Australian surfing movie called The Hot Generation.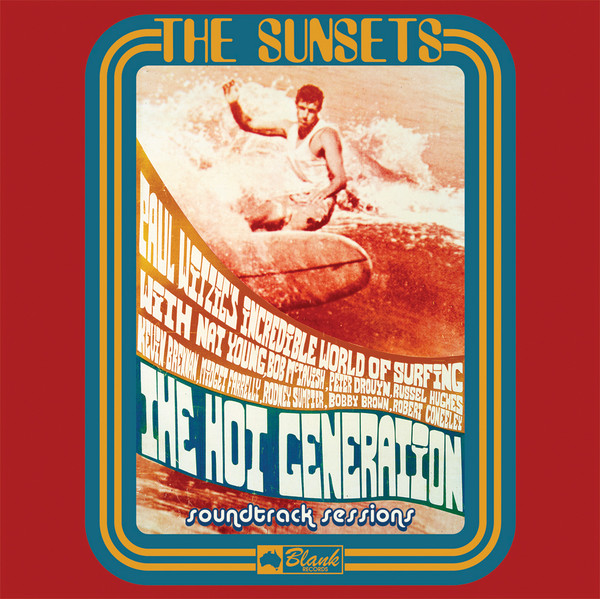 The main title is one of several vocal numbers, this one distinguished by a bass line that's a slightly modified Peter Gunn riff sped way up. There's a nice organ sound in here, Farfisa or Continental, I think, and lots of words that rhyme with "generation" as well as periodic reminders that they gave their hearts to the sea.
"This Is What It's All About" is another high energy rock song with a boogie-ish feel to it. This is followed by the garagey "Animal", which has a nice guitar solo in it. The director of the film thought that the use of "Animal" in the film was an important part of the development of Australian surf culture.
"Uptight, Out of Sight" starts with the band jamming on a couple of chords and after a bass break the singer comes in passionately calling out the title. Mostly it's a feature for some guitar vamping, though.
Then we get a couple of instrumental tunes, which are mostly the reason I buy records like this.
"Theme from a Life in the Sun" is wonderully atmospheric, recalling some of The Ventures' late night-sounding, lonely street, slow dance numbers.
After this comes the peppy and guitar-driven "Windandsea", which benefits from the nice tone of the guitar and more or less swiping Chuck Berry's "Memphis" riff.
And that's the first side of this record, which apparently collects single versions of these pieces of music. On the B side we have soundtrack versions of the vocal numbers, presumably the recordings that are heard in the movie as opposed to re-recordings.
They aren't really that different. Maybe some sections are extended but I'm not sure and I'm too lazy to investigate more closely.
---