The 464th Soundtrack of the Week reminded me how much I love West Coast jazz. It's Leith Stevens's music for the 1950s crime movie Private Hell 36.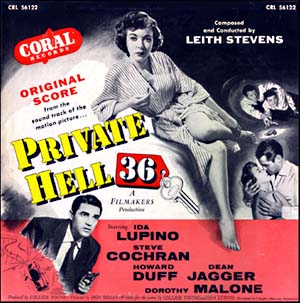 I saw this film years ago and remember expecting more from it. It would be hard to make a movie as good as this title, of course. So expectations might have been too high.
It was also directed by Don Siegel and stars Ida Lupino, which raised expectations even further.
And then there was its relative obscurity. It's probably not hard to find now but at the time I had to borrow it on videotape from a special collection at a New York Public Library branch that no longer exists.
All that stuff got me really excited for a movie that's probably but good not great. I don't remember it that well though after listening to the soundtrack I'm excited to see it all over again!
The music is excellent, mostly swinging or ballad-like, but handling dramatic tension very well, as in the main title theme.
The players include the impeccable rhythm section of Joe Mondragon on bass and Shelly Manne (my favorite!) on drums. Other names that meant something to me were the great Jimmy Giuffre on tenor sax, Shorty Rogers and Pete Candoli on trumpets and Bud Shank on, I think, bass saxophone.
Some releases might include a song that Ida Lupino sings while playing piano but the one I'm listening to does not.
"Havana Interlude" and "Daddy Long Legs" are the most upbeat and toe-tapping numbers here.
On the more subdued side of things, "Easy Mood" has a "Here's That Rainy Day" feel to it while "Lilli" is very much late night slow dancing with some swing era influences in it.
"Joshua" and "Dance of the Lilliputian" are quintessential West Coast jazz tunes. The record concludes with the smoky and slow-burning "Private Blues", which nods to the main title theme.
There were so many movies with jazz soundtracks in the mid-twentieth century. Regardless of how good a film Private Hell 36 is, and I don't really remember, the music is outstanding.
---