2017 April 10 • Monday
Back to one of our favorites of all time, John Barry, for the 460th Soundtrack of the Week: The Last Valley.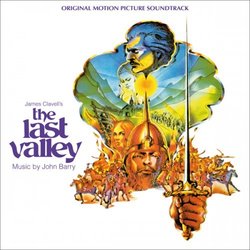 This is a powerful score for orchestra and chorus that shows Barry in his strong and serious aspects. It alternates a full-blast main title theme that exploits the density that can be created by slabs of voices and instruments with pounding percussion with an achingly tender "Last Valley Theme" that presents a lovely solo reed voice against a backdrop of ethereal voices and delicately hued strings.

Those two concepts are what this record is. The cues go from one to the other. Each time it feels like a discovery, even if some of it is familiar from other Barry work, such as his concert pieces or some of his score for Moonraker. And you can near echoes of music from Goldfinger in "The Village Attack".

A long time ago I was buying some John Barry CDs in a record store and another customer scouring the soundtrack section saw what I was holding and struck up a conversation with me. He was shocked that I wasn't familiar with The Last Valley and insisted that I buy it.

I did. It was a German import and maybe not quite a legal release. I never sat down and listened to it carefully until the release of this CD, legit and with excellent sound quality, but a soundtrack album and not the complete score.

It's definitely one of Barry's most important works nd we're fortunate to have this presentation available to us.
---