2017 April 03 • Monday
For the 459th Soundtrack of the Week we listened to another Eurospy movie score, this one by Bruno Nicolai, Agente Speciale LK: Operazione Re Mida.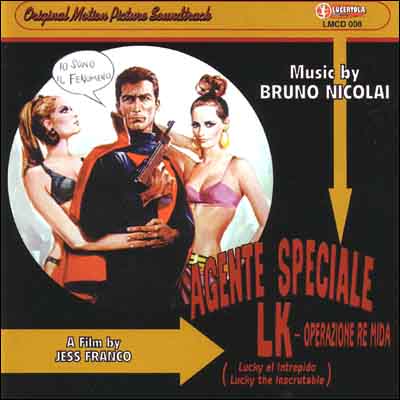 This movie is aka Lucky, the Inscrutable so the "L" must stand for "Lucky". The main title music is the "Lucky Theme Song" and is a fairly complex pop rock construction, not using a ton of instruments and voices but a handful with a wide range between them. I don't know what the Italian lyrics are saying but it's uplifting anyway. There's an impressive overdriven guitar solo in the middle of it. As usual, the theme reappears in different arrangements.

A few tracks feature circus music and some "classical music" and they're not much fun to listen to. But don't bail out of "Carnival Fanfare" before it segues into "Party", a wildly exuberant uptempo groove number.

"Group Therapy" is an odd cue with various crooning voices and a gong. Vocals are used instrumentally quite a bit on this record.

Whatever that stereotypically "Italian" plucked instrument is, "Lucky in Rome" is all about it.

There are some lounge and jazz numbers as well and an homage to silent movie piano accompaniment in "Funny Trains".

"Escape & Last Goodbye" stands out for its darker tone, harmonica feature and 3/4 time signature. This cue comes back in "Gold Glasses".

Every Eurospy movie soundtrack needs a "shake" number and here it is, predictably enough, "L.K. Shake". It's decent but nothing special.
---