2017 February 20 • Monday
For the 453rd Soundtrack of the Week we look to a biker movie off-shoot: Wild Wheels, a movie about the thrills of dunebuggies! A bunch of different bands are on the record but the composer credited on imdb (4.6 rating, sample user review: "Even if you like trash, you might still find this one boring and unwatchable") is Harley Hatcher, a pretty rad name for a biker movie soundtrack composer.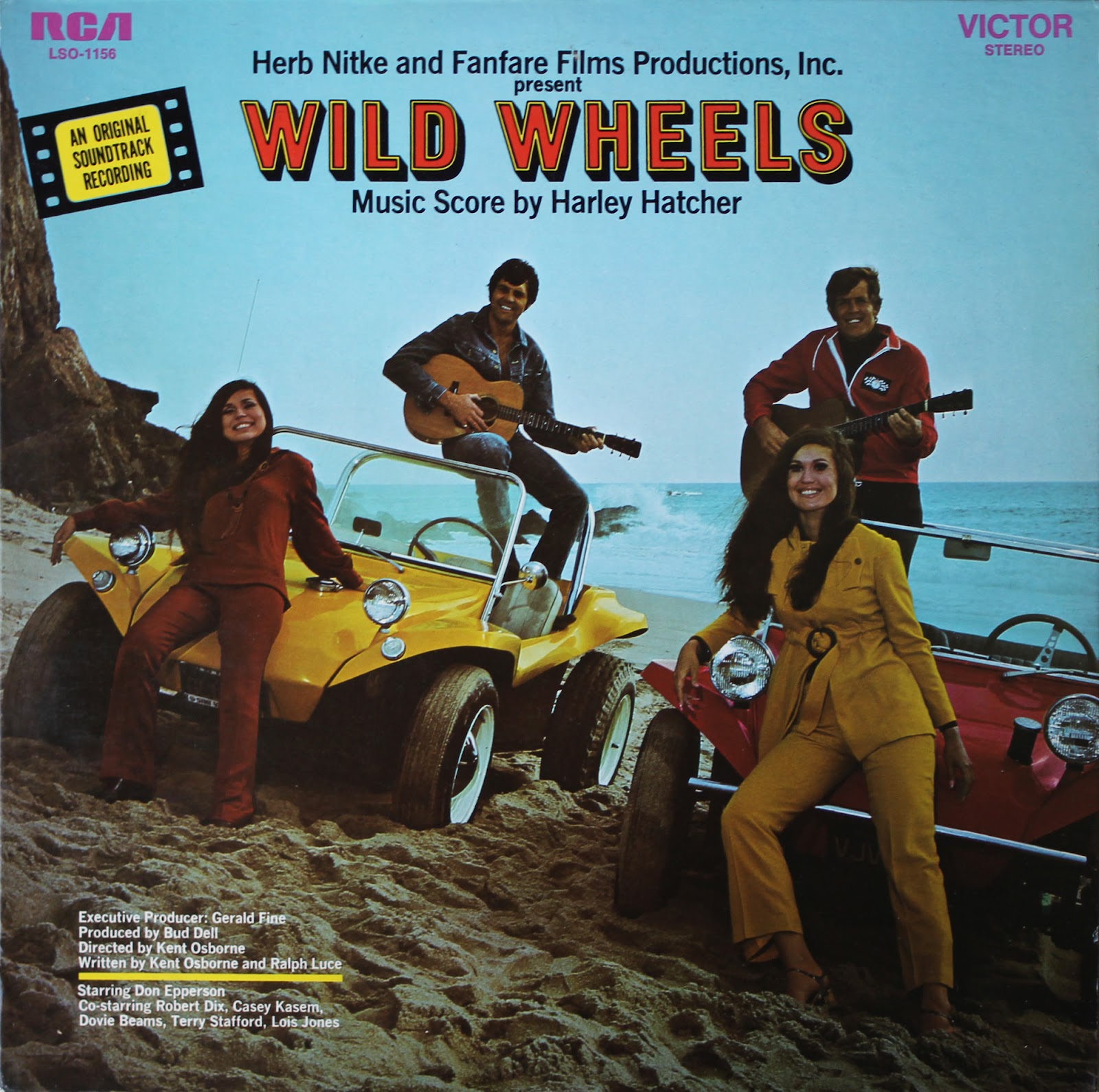 Looks like just another movie, doesn't it? But it's also another step down the road that leads to The Sidehackers.
Most of the songs sound familiar, like they're deliberately based on radio hits of the time. A few of them are performed by Don Epperson, who stars in the movie. "Sittin' by the Highway" has a Rolling Stones-ish riff with strings and a sunny blues feel as well as some not very original lyrics about having lost at life and love and being at loose ends.
Epperson's second number, "Jailer Let Me Go Home", is a catchy and lilting country song, short and simple and likable.
"How I Fell for You" is also countryish and lilting, and is comfortably in the familiar pop zone of the album.
The fourth and final song from the star is "A Hurt in My Heart", which sounds like it's aiming for Charlie Rich's zone but can't reach it. Epperson's voice just doesn't have Rich's weight, depth, resonance and smooth honeyed darkness. (Who else's voice does?) The arrangement is also somewhat saccharine.
Terry Stafford does two songs. "Wine, Women and Song" starts out agreeably stupid and base but tries too hard to be smart with longer phrases, too many chords and excessive instrumentation. The organ's okay but the horns aren't helping here.
"Night Ride" is simpler and better, too square to have much of an impact but with the potential, at least, to be eerie and dreamy.
A band called The Thirteenth Committee gets a couple of numbers also. The first one is "I Hear Music", which is such a phony, upbeat, "groovy" flower power sort of thing that it's actually slightly depressing.
They fare better with "Makin' Love", whose aggressive, double-picked distort