2017 February 13 • Monday
The 452nd Soundtrack of the Week is Xanadu. This was destined to happen.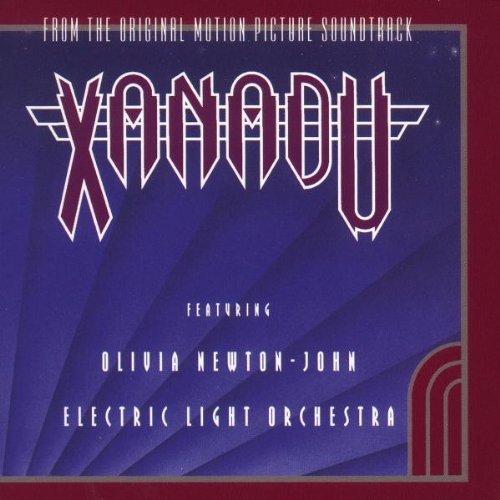 It starts out with Olivia Newton-John's "Magic", a pretty well known song that I've always loved, especially the melody.

Cliff Richard, an important name to those of us who love The Shadows and early British rock and roll, joins Olivia Newton-John for the seventies gold pop love song "Suddenly". This is followed by "Dancin'", which alternates between an Andrews sisters-ish 1940s era swing number with a more overtly sexual and aggressive '70s rock song, ultimately merging the two into one song, overlaying the different styles on top of each other. Xanadu doesn't get a lot of respect, it seems to me, but the construction of this song is at least a little ingenious and more sophisticated than it had to be. Olivia Newton-John gets another solo number, "Suspended in Time", a heartfelt song that, like "Magic", has a robustly lyrical melodic line and some unusual twists and turns. After this is the Newton-John's duet with Gene Kelly, another pastiche of swing-era music with some emotive string writing and orchestrations that come from mid-century Sinatra arrangements. This is the least interesting song on the record but it demonstrates how good these two voices are. Then it's time for the Electronic Light Orchestra and "I'm Alive". This is a pretty impressive blend of Beach Boys, disco, prog, psyche and who the hell knows what else (bits of The Who and Pink Floyd, I guess) and I love it but wish it had more urgency somehow. "The Fall" is a more straightforward song from ELO, also with a lush sound that suggests a moving multitude of bright colors. ELO slows things down for "Don't Walk Away", an emotional number that builds up gradually and sustains intensity for a long time. "All Over the World" is a return to a more triumphant and energetic sound, celebratory and invigorating. For the finale, ELO and Olivia Newton-John join forces for the title song, whose melody I've always loved. Again, I wish ELO had a little more drive in its rhythm section, a deeper, more open drum sound perhaps. The music has a lot of layers and balancing all of the different elements must have been challenging, but it might have benefited from a little shagginess, a little less control. I still love it, though.
---