Rob Price
Gutbrain Records
rob + gutbrain.com = email
---
The 493rd Soundtrack of the Week brings us back to a favorite composer, Akira Ifukube, and his music for The War of the Gargantuas.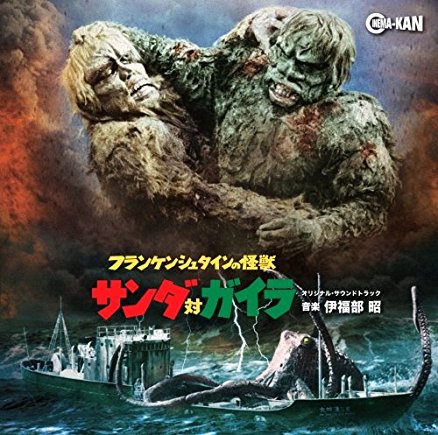 This is Ifukube in full Gojira mode, deploying what sounds like almost the exact same orchestra in much the same manner. Heavy stomping brass figures, occasional bludgeoning percussion and thick spectral strings.
There's really only a handful of cues, most of them similar to Ifukube's Godzilla music. Some of them seem to be more or less those cues slightly altered. The dreadful main themes, the march and so on...
Two things that stand out are the use of what might be a vibraslap or musical saw or some such thing, and also a fairly cheesy 1960s-ish love song called "The Words Get Stuck in My Throat", which has a cool electric guitar sound and some John Barry-like touches. (I'm guessing this was for a nightclub scene, which all Toho genre films of the period seemed to have been required to include.)
If you're familiar with Ifukube's soundtrack work, particularly his Godzilla scores, then you know what this sounds like and you've pretty much already heard it. But it is great music and a very welcome release, newly remastered and on the indispensable Cinema-kan label.
---
2017 November 20 • Monday
Another biker movie album is our 492nd Soundtrack of the Week. This is a particularly infamous one, thanks to a certain episode of Mystery Science Theater 3000. We refer to The Sidehackers, a.k.a. Five the Hard Way, music by Mike Curb and Jerry Styner and performed by The New Life.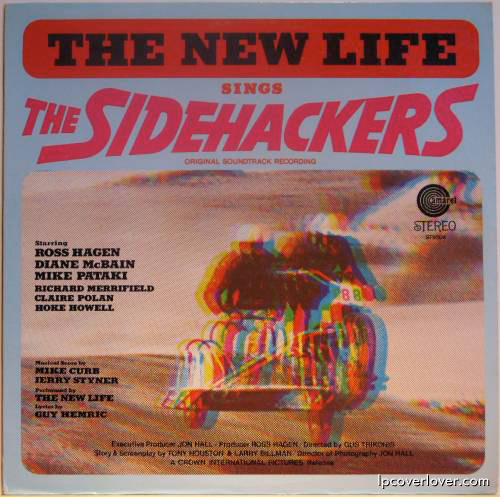 Whatever the merits of the movie, the music is actually pretty good, tuneful and catchy, very country rockish.
The opening number "Five the Hard Way", which would have been the main title theme before somebody changed the title, is especially easy on the ears and well executed. The sound of The New Life is solid, grooving and colorful throughout and their introduction with this tune is impressive. It might remind you in some ways of The Rolling Stones.
There are a couple of instrumental versions of it as well, with strings and horns.
"Ha Lese (Le Di Khanna)" is a fuzz and wah wah guitar freakout with pounding drums and a remarkably frantic pace and urgency.
The "Love Theme (Only Love)" is fairly schmaltzy and ridiculous, or at least hasn't survived the mockery it received on MST3K.
The other title song, "Sidehackers", has a great, deep, swinging groove and is also well written and engaging.
"Psychedelic Rape" is a heavy piece with strings and horns accompanying the rock band and might remind you of some Serge Gainsbourg music.
Finally there are two sunnier numbers, "Strollin' Sunday Mornin'" and "I Wanna Cry", of which the latter has a bit of gospel in it.
All in all a really good record, worthy of rediscovery or perhaps plain old-fashioned discovery.
---
2017 November 13 • Monday
Last Thursday found the Gutbrain Records staff at the Aragon Ballroom in Chicago on a mission of great soundtrack importance: seeing John Carpenter and his band perform themes from Carpenter's films along with a few Carpenter pieces that were created to stand alone as music and not accompany images.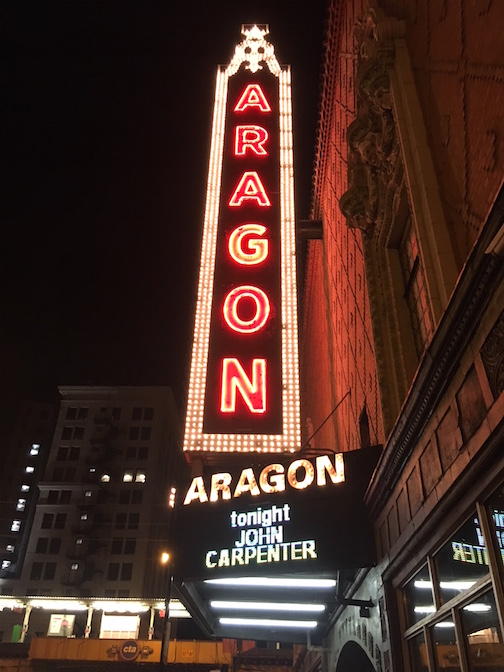 For the film music the band played while images from the appropriate movies were projected behind them.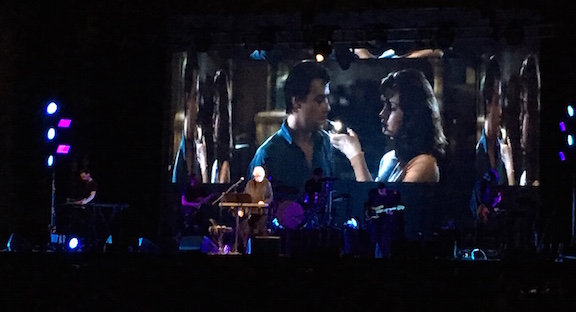 The reason this was happening is because this group, which includes Carpenter's son Cody on second keyboards and Carpenter's godson (and son of Kink Dave Davies) Daniel Davies on lead guitar, just released am album of their re-recordings of the music in question. And so John Carpenter's Anthology (Movie Themes 1974–1998) is our 491st Soundtrack of the Week.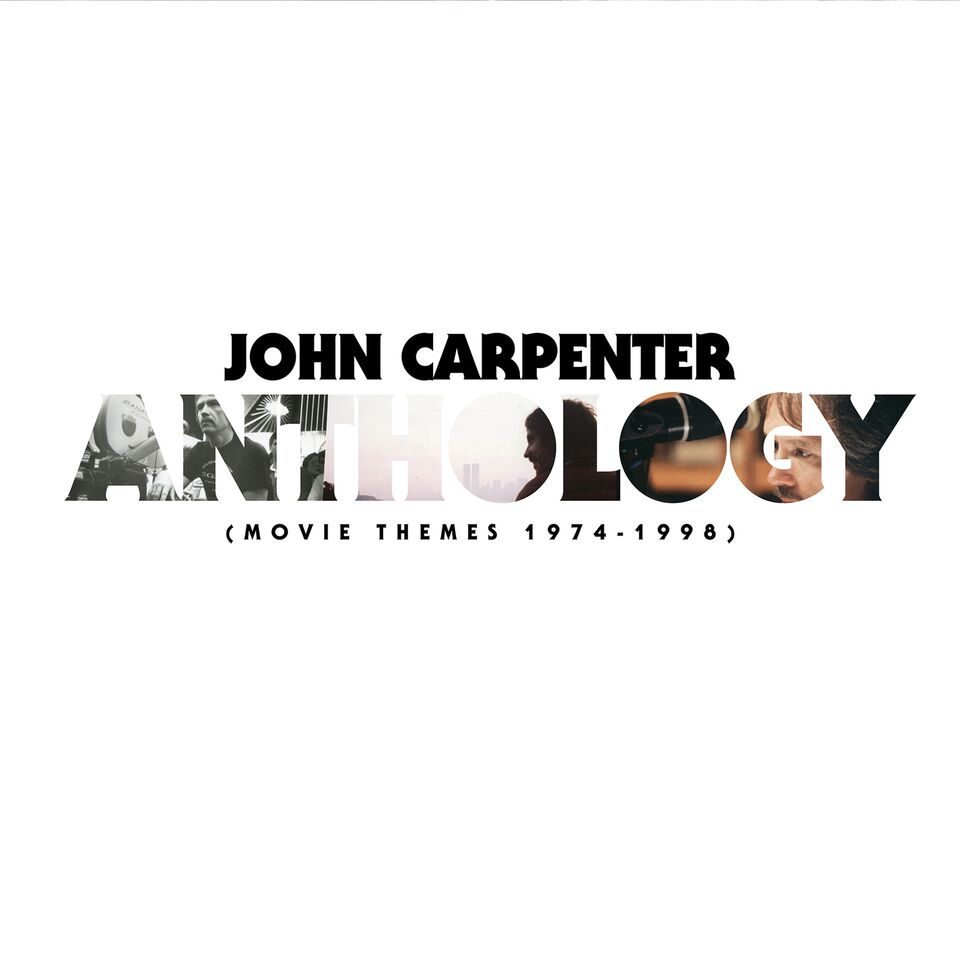 Most of these movies I've seen and most of the music I know, or so I thought.
But listening to the haunting cue from The Fog here made me want to revisit that movie, which I remember only as not being that interesting and whose score I didn't recall.
And there's a doomy urgency to Prince of Darkness that makes me eager to see that movie for the first time.
Morricone's cue from The Thing is perfectly handled with dread and gravity and the irresistible themes from Halloween and Assault on Precinct 13 are equally assured and exciting.
Starman is another Carpenter movies I never saw, despite its being one of his most successful, and I hadn't realized that Jack Nitzsche wrote the score. In concert Carpenter described it as his "only love story" and the music from it is strongly romantic and stirring.
Vampires is another one I missed but am curious to see after hearing the desolate countryish cue from it on this CD.
Then of course there are more familiar pieces, from Escape from New York, They Live, Dark Star (a particular favorite) and others. If you have the chance to see this concert on their tour, it's a really unusual and entertaining program as well as something that's not likely to come around again!
---
2017 November 06 • Monday
The opening notes of our 490th Soundtrack of the Week made me think immediately of Goblin and their music for Deep Red. But in fact it's Berlin Game's score for Down Twisted.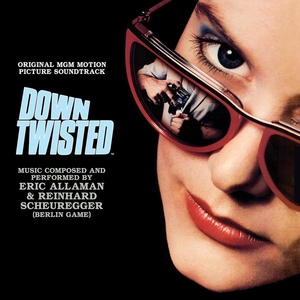 Most of the tracks are in that zone, with keyboards establishing a pulsating and driving rhythmic foundation for melodic and atmospheric elements to float over.
Another influence might have been Jan Hammer's Miami Vice music. The "Love Theme" in particular reminded me of that.
There's also a pop ballad called "I'm Closer Now", which is very 1980s.
The music is so electric and synth-driven that when you hear acoustic guitar in "Looking for Reno" it's genuinely startling.
It's nice to hear a continuation, if it is deliberate, of Goblin's film scoring style in this engaging and catchy record.
---
2017 November 01 • Wednesday
Of all the economically written books I've read from the 1950s about aimless tough guys, Henry Kuttner's Man Drowning is by far one of the best written.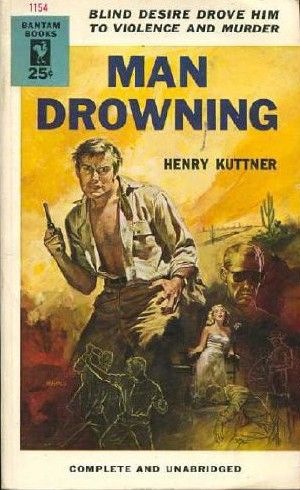 It actually delivers on that cover art though it's much more understated and subtle. Halfway through the book I was loving it so much that I ordered the first edition hardcover as well, whose delicate cover art aptly demonstrates the other side of the coin.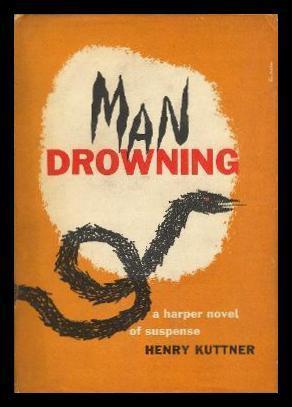 TThat's a snake set against a blazing hot sun. The whole story takes place in Arizona and most of it in the desert outside of Phoenix. The sun is in the book as is the snake. And it is about a man drowning where there's no water. But the desert itself used to be an ocean, we're told, and Nick Banning, the main character and our narrator, notes that the fingers of cactus stick up like corral.
On its way to its fatalistic ending Man Drowning hits most of the items on the 1950s novel checklist of thrills: sex, violence, drinking, drugs, fast driving, crime.
It kicks off with a quote from Job (never a good sign) and the first line written by the author is "First I thought she had a dogwhip hung around her skinny neck, with the ends dangling down the front of the sand-colored blouse".
Already you can see how Kuttner is developing his characters and setting. "Dogwhip" is ominous, "skinny" gives us a preview of a character we're about to meet and "sand-colored" helps establish the pervasiveness and significance of the desert setting. All in the first line! That dogwhip turns out to be a snake and while, combined with the opening from Job, that suggests a biblical angle, it isn't overdone. Nothing in this book is overdone.
Nick Banning is in this desert because he's trying to get to Phoenix. He's broke and dishonorably discharged from the army but all he cares about is getting his ex-wife back. She left him for a few reasons but the main one turns out to be that Banning has a rage problem.
He can't help it. He loves Sherry so much that he just goes crazy. The fury and violence build up in him like heat and pressure combined and he can't contain them, he explodes. Quite a bit of this novel is about a time bomb of a man who might go off at any moment.
And in the army Banning learned some new ways to kill.
But he's different now, isn't he? He'll show Sherry that he's changed. He gets a job, for instance. But, sadly, he gets the wrong kind of job for some truly weird and damaged people. And there are wolves circling around Sherry while she herself feels time running out and is desperate to make one last break for the good life while she still can.
In addition to being a real page-turner Man Drowning is astonishingly well written. Before finishing it I ordered a bunch of other things by Kuttner, who often wrote in collaboration with his wife, C.L. Moore. It's not always certain which books they wrote together and which they wrote separately as they sometimes published just under his name, due to sexist practices in the publishing industry. Maybe this is one of their joint efforts. Either way, it's a highlight of my reading history, particularly of books of this sort.
---