Rob Price
Gutbrain Records
rob + gutbrain.com = email
---
The 489th Soundtrack of the Week is this oddball record we picked up in Toronto a couple of days ago, after a great gig with Chris Cawthray and Jim Sexton: Kelso Herston and the Guitar Kings play Hits from the Great Western Movies.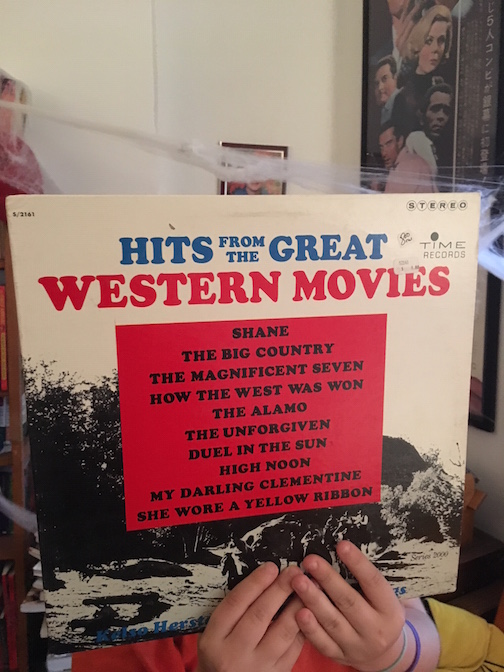 Herston was apparently an Alabama native who had a successful career as a guitarist and arranger and music director and composer of jingles.
I'd never heard of him before. He's one of four guitarists on this record and since one of the other ones is Jerry Reed, it seemed like a good risk at $8 Canadian.
And it's a great record! My only complaint is that I wish it were longer! But maybe that's the trade-off with making something as tight and swinging and polished as this, that it takes a lot of time and energy.
It's an interesting program, ranging from the fairly obvious (the theme from The Magnificent Seven and "Green Leaves of Summer" from The Alamo) to some less-covered pieces like themes from Duel in the Sun and The Big Country.
Jerry Reed's was the only name I recognized but all the musicians playing here sound great, particularly the drummer and the guitarists.
---
2017 October 23 • Monday
Tristram Cary's music for Doctor Who: The Daleks is our 488th Soundtrack of the Week.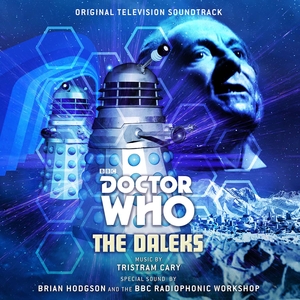 Some of this music I remember from a picture disc LP of Doctor Who music that I've had since I was twelve years old or so.
Almost all of it is very atmospheric and ambient, produced by the electronic manipulation of recorded sounds.
My brother and I always liked "Dalek Control Room", which is just one pulsing note. I covered it live one time!
The tremendous Doctor Who theme starts the CD but I don't think Cary had anything to do with that. And his music here is much different, very strange, not melodic, more "sonic".
Fans of Raymond Scott's electronic music will find this interesting listening, on a somewhat parallel track.
It pretty much defies description. Eerie, textural, layered, spacious, with great variety and versatility. It hasn't aged at all.
---
2017 October 18 • Wednesday
A recent trip to Barcelona involved, perhaps inevitably, a rewarding visit to a small used bookstore. We brought back a few choice items. As usual, I was judging the books by their covers.
First is this small book published in Madrid 1925.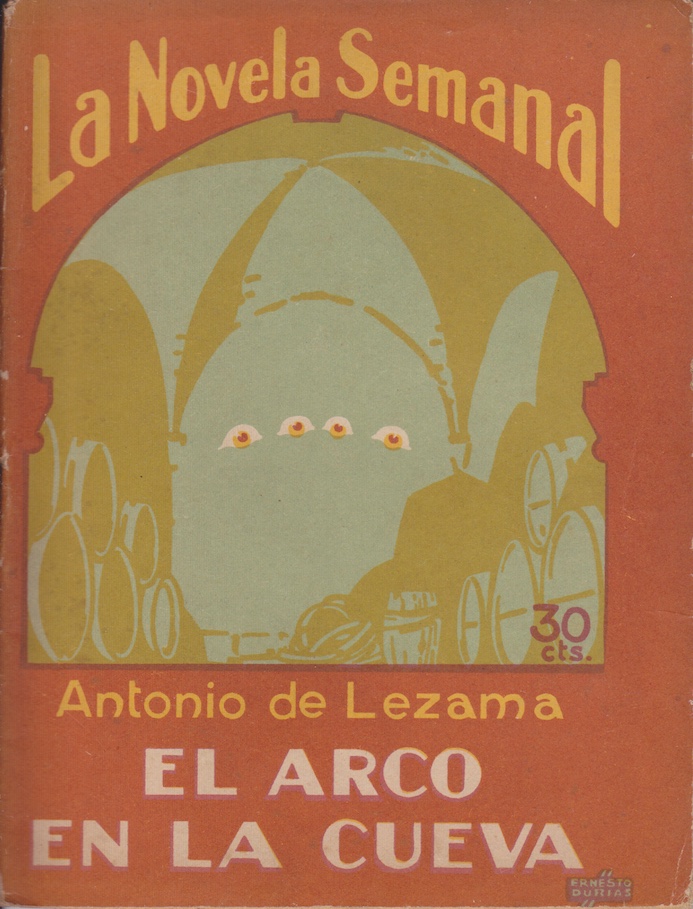 Next is this slightly larger book, published in Barcelona in 1947. It's No. 105 in the Colección Oasis.
This one is also from Barcelona but I don't see a date inside. The bookshop's price sticker says "1970s" on it.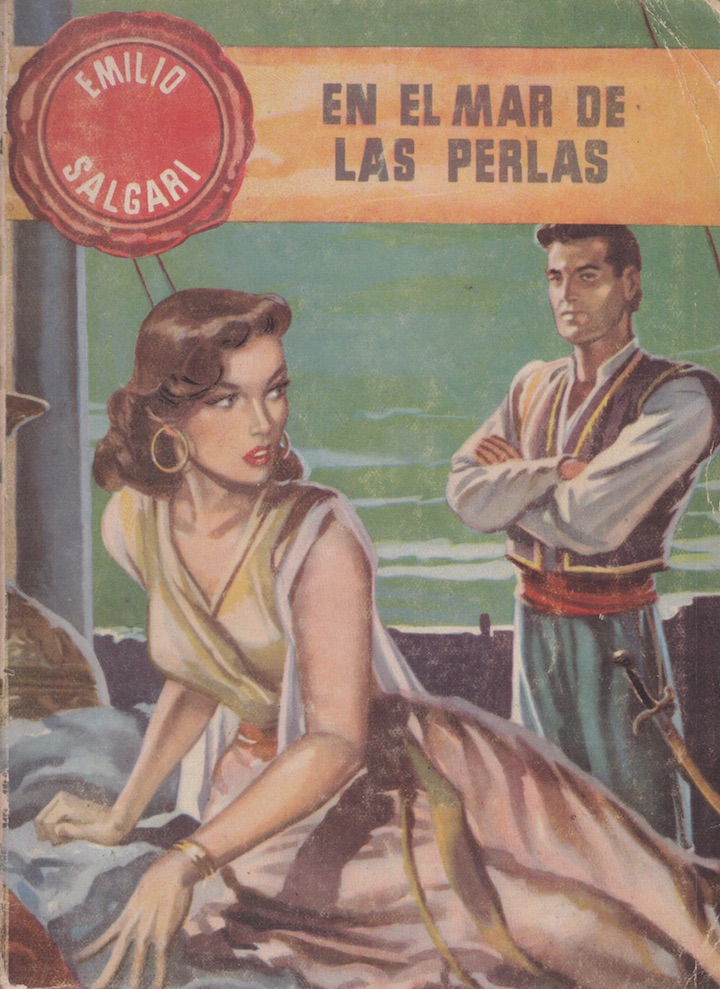 Of course pulp fiction is always welcome too.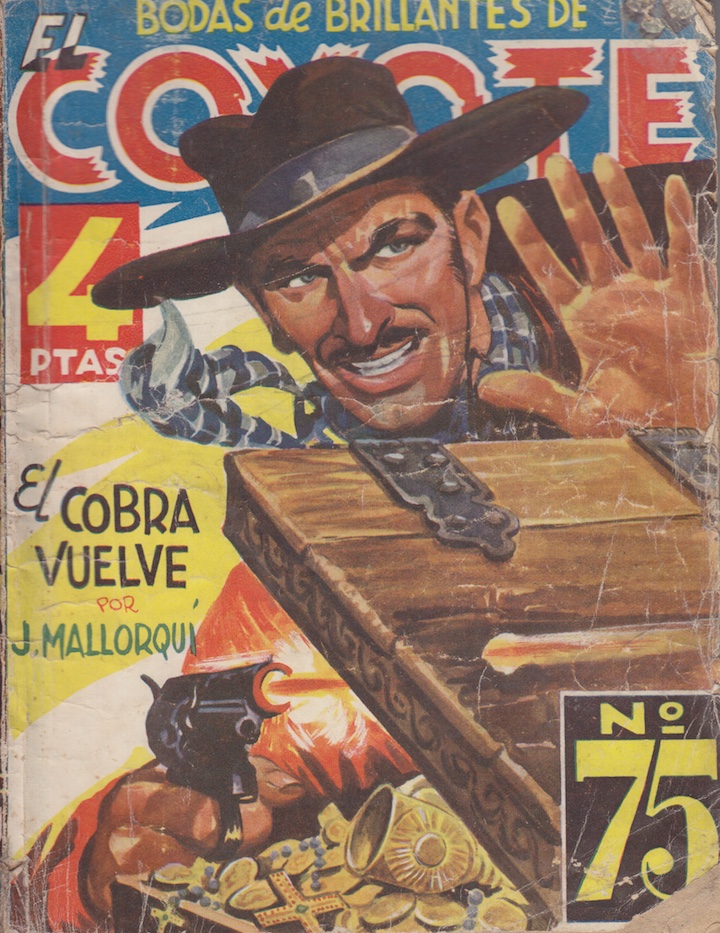 That's from 1948 and has nice illustrations inside as well.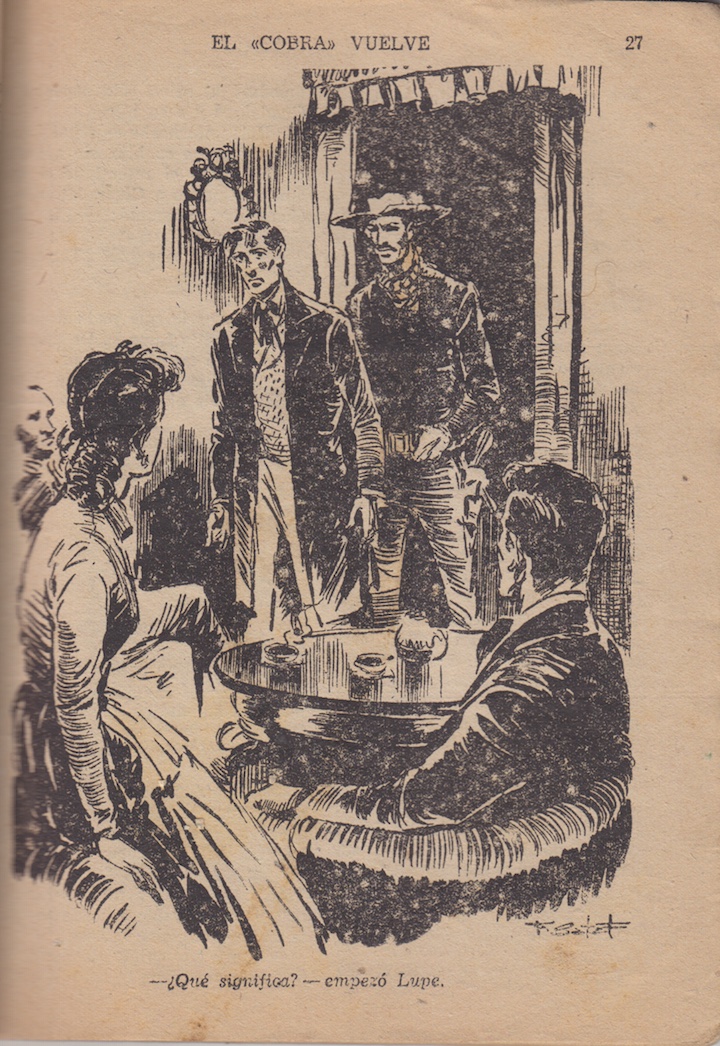 And then there are these two issues of Sucesos, "Cronica Sensacional del Mes".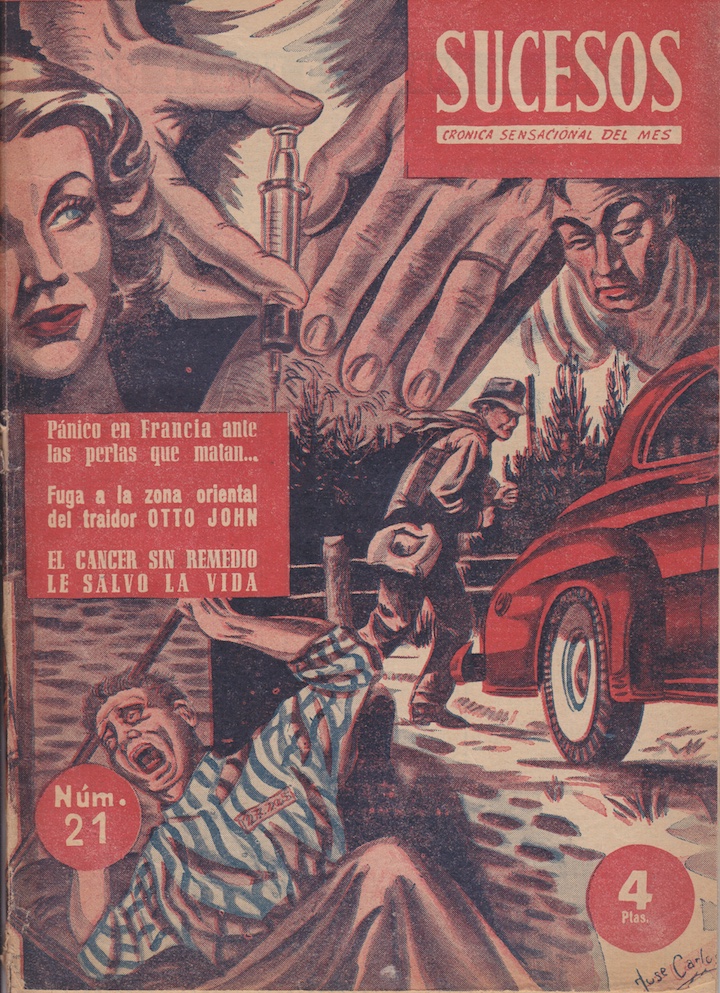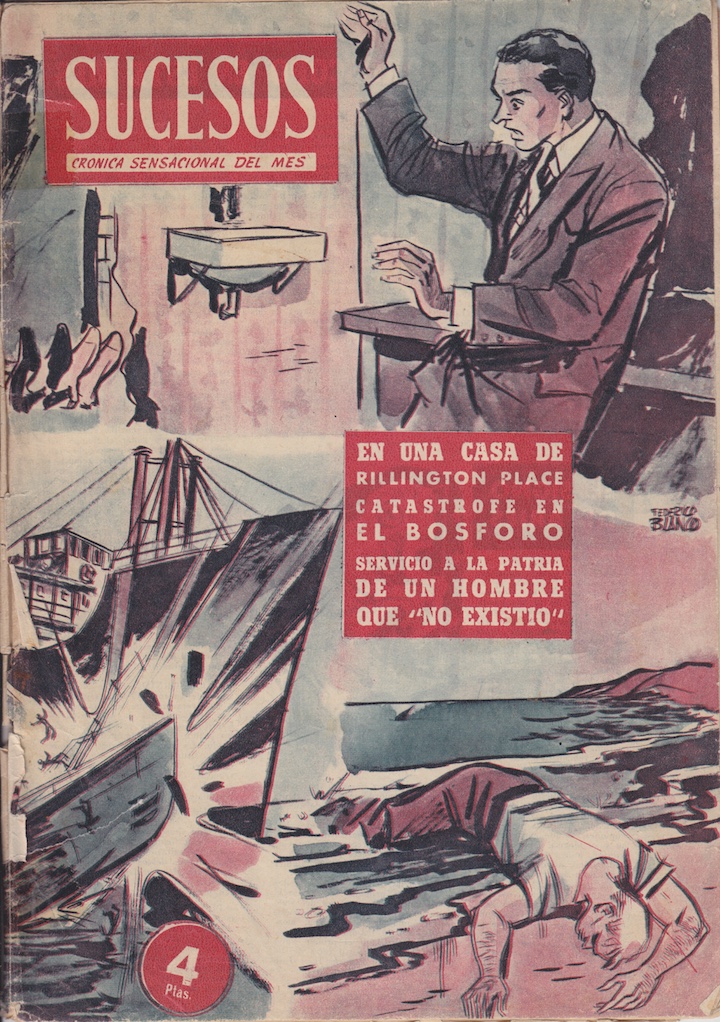 These appear to be from the 1950s and have varied contents: photographs, illustrations, comics, horoscopes, history, news, features about movies, stories, etc.
We also picked up a few old Catalonian pieces but those will be featured here another day!
---
2017 October 16 • Monday
The 487th Soundtrack of the Week is an exciting one: Thunder Road: The Film Music of Jack Marshall.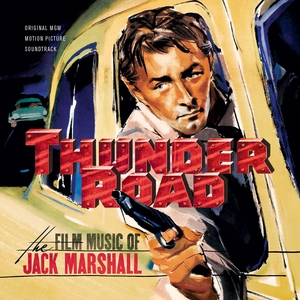 Thunder Road is a double whammy, one of the ultimate drive-in movies and one of the ultimate Robert Mitchum movies.
It's great to have the score available on CD after all this time. Bear Family was going to release it and maybe actually did for a few minutes before they were forced to recall it.
It's essentially a two-theme soundtrack, the two being the title theme and a song called "The Whippoorwill" which is sung in the movie by the great Keely Smith.
Jack Marshall was a great guitarist and this is very guitar-heavy music, ranging widely in styles. "The Road Block" cue is one example of some very loud and aggressive music that you'll hear on this disc.
Also on this disc is the dramatic and exciting jazz-informed music Marshall wrote for Take a Giant Step amd the more pop-influenced cues for The Rabbit Trap.
---
2017 October 09 • Monday
Once in a while it's nice to listen to a different take on a familiar score. Here's one we're very familiar with, as it's a favorite, but we've never heard it like this before. The 486th Soundtrack of the Week is Walt Dickerson's Jazz Impressions of "Lawrence of Arabia".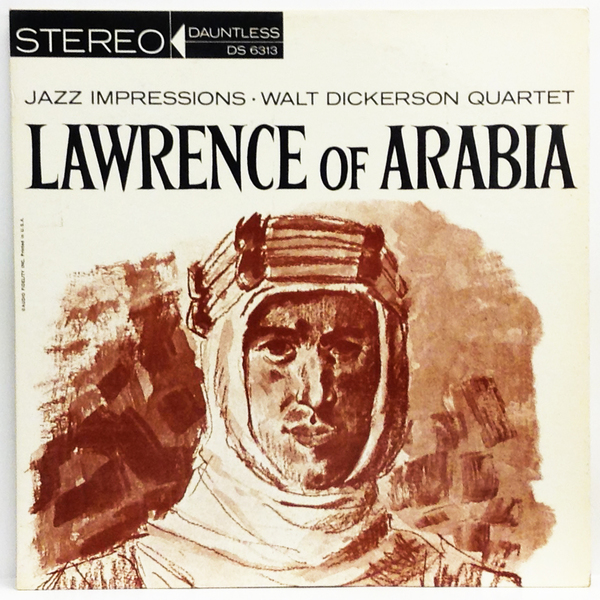 This was a big deal movie with a famous score. Jack Marshall & Shelly Manne covered the theme, as did The Ventures. The Walt Dickerson Quartet, with the killer rhythm section of Henry Grimes and Andrew Cyrille plus Austin Crow on piano, fo a swinging take on it after two different intros, one in a middle eastern style and another in a loungey Martin Denny sort of style. (Who is Austin Crow?)
Grimes anchors "This Is the Desert" with a looping bass figure that provides a hypnotic environment for the rest of the band to solo.
Then there's a two-part "Motif from Overture", the first part being a waltz run through a suggestion of Jarre's opening music for the film and the second being more free. This is really almost a unique record in its combination of material and execution and everybody's playing is amazing.
"Arrival at Auda's Camp" is immediately familiar though with such different instrumentation and feel that you might do a double take to reconcile the recognizable theme with his up-tempo jazz rendition.
After that comes another two-part piece, "Nefud Mirage". The first part is a strong and energetic modern jazz workout while the second half, is much more spacious and atmospheric, even balladic in places.
The record concludes with "The Voice of the Guns", kicked off with some machine-gun snare playing by Cyrille and with impressive bass work by Grimes throughout.
This quartet is just fantastic and it's a thrill to hear them do something like this!
---
2017 October 04 • Wednesday
John Blackburn has been on my radar for a while and I finally got around to reading one of his books. Even though I had his first book, I absentmindedly picked up The Cyclops Goblet instead, which is not only not his first book but not even the first book about the main character. (He wrote two different series that end up crossing over at some point.) But it was the only book I took with me when I left the house so it was read that or nothing.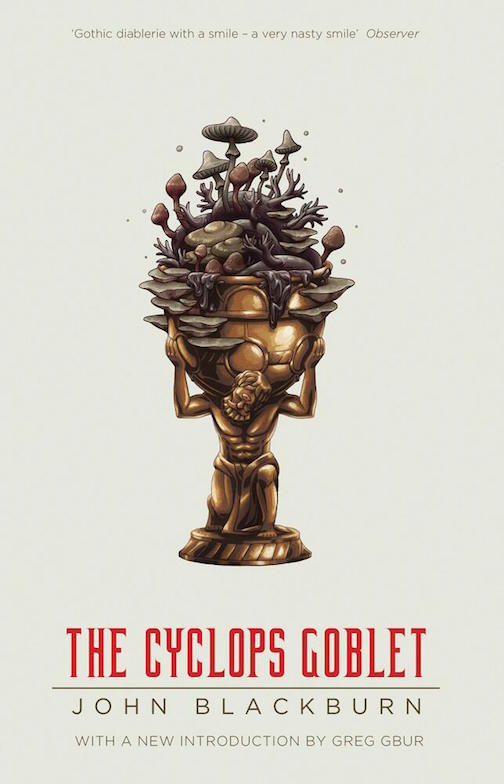 The best word for the protagonist might be scoundrel. He's a thief, an adventurer, a con man, whatever. Bill Easter is his name and he might remind some Donlad Westlake fans of Dortmunder. But while Dortmunder and his gang inhabit a fairly gentle world and lead pretty domesticated lives, Easter's stories are a lot less pleasant. This is not a cozy read, though it is quite witty.
While described as a heist novel, which is a big part of the reason I was anxious to read it, there's no actual heist. It's more of a treasure hunt caper with numerous twists and turns.
The tone is fairly mid-century British and does veer into some offensive language and attitudes, but these are clearly attached to the characters and there's nothing in the book itself to suggest that we're hearing the author's voice as well.
The basic story involves someone from Easter's past coming back from the dead and roping our "hero" into a scheme to locate and abscond with an incredibly value collection of rare art, not paintings but goldwork and such.
Elements of horror but nothing supernatural combine with this familiar plot to create something very unconventional. It's a "take no prisoners" approach to an entertaining thriller and if you enjoy it you'll find yourself swept along and always anxious to turn the page and find out what happens next.
Also of interest is Easter's first person telling of the story. It's in a style that I've never encountered before, familiar in its ironic understatement but with a unique (as far as I know) self-effacement. In recounting dialogue, Easter leaves out his own contribution, includes other peoples' reactions to it, and then casually mentions what he had said as an afterword.
He also delivers a running commentary on what's happening as well as on what's being said, annotating his adventures while having them.
The Cyclops Goblet was a short book devoured quickly. I'm hungry for more.
The first line is "Bank robbers, blackmailers and burglars, extortionists, forgers and perverts".
---
2017 October 02 • Monday
For our 485th Soundtrack of the Week we listened to the music from The Sweet Ride, which is mostly by Pete Rugolo.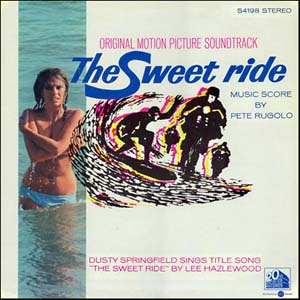 There was a surf movie trend and a biker movie trend and this was apparently a surf/biker movie "from the neon haunts of Vegas, the velvet traps of Hollywood to the Malibu beach parties. Here are the people trying to make the Sweet Ride, that one moment when you know you're on top and your're the best there is at sex, surfing, or cycling". "Or"? That should be "and"!
The record starts with the title song written by Lee Hazlewood and sung by Dusty Springfield. It's a great pop stomper and swinger with a soaring melody and a terrific arrangement. Of course the choice of singer is fantastic.
After that comes the first of several tunes with a wordless chorus. "Vicky Meets Denny" has a dreamy, calliope sort of sound and a bit of a Mancini feel, reminiscent of "Charade" and the standard "Embraceable You".
"Collier's Riff" is a sing-songy number, also with a touch of the merry-go-round but with a jazz influence that ends up taking over.
The title "Come Bossa With Me" tells you most of what you need to know. It's basically the "Vicky Meets Denny" cue with a bossa beat. The guitar playing is quite nice though often hard to hear under the vocals.
"Thumper" is a lilting and jazzy number with the vibes playing a catchy melody made up of trickling descending lines. There's a flute soul and some very exciting electric guitar playing. Whoever it is kind of goes nuts!
Side A wraps up with "My Name Is Mr. Clean", a tough, brassy and swinging number with a strong backbeat and some nasty electric guitar playing. It sounds like it could be for a go-go club scene.
The first piece on the B side is "Lost Wages Brash", which is kind of like the love child of a TV game show theme and Muzak on drugs.
"Turn Me On" is another arrangement of the "Vicky Meets Denny" theme, not particularly different but the bass playing caught my ears as especially good and there's some great electric guitar and baritone playing as well as some keyboard features.
Then we get an instrumental version of Lee Hazlewood's title song, called here "Sock Me Choo Choo", Choo Choo being the name of a character played by Bob Denver in the movie. There's a lot of frantic keyboard and guitar playing to make up for the lack of Dusty Springfield.
The energy and the mood come way down for "Bedroom Time", also another arrangement of the "Vicky Meets Denny" theme.
"Where's the Melody?" is a short, uptempo jazzy number, sprightly and energetic.
Then finally we have "Swing Me Lightly", one more statement of the familiar "Vicky Meets Denny" theme.
It's a cool record and I'd like to see the movie!
---