Rob Price
Gutbrain Records
rob + gutbrain.com = email
---
The 484th Soundtrack of the Week is Pierre Henry's music for Maléfices.
It starts out with a fairly pleasant and normal-sounding main title theme, despite the jacket text that describes it as a musique concrète score for a horror film.
But immediately after that we enter the land of tape manipulation, electronic effects and sonic layers upon layers.
The music builds in intensity as it goes along but isn't afraid of pockets of groove or moments of near lyricism.
The overall effect is so different and unusal sounding that it might be described as deranged if it weren't for the detectable intelligence and deliberate organizing and composing that forms each cue.
You'll hear a dizzying array of sounds shaped into music, airplanes, gun shots, bursts of people speaking, what sounds like African percussion, and all sorts of mysterious elements whose source or original form is unknown.
This is an exhilarating and way ahead of its time record. It still sounds cutting edge and way out in front today, 55 years after it came out. Thanks to Finders Keepers for the re-release!
---
2017 September 22 • Friday
We picked up a couple of old magic magazines at the Brooklyn Antiquarian Book and Print Fair. One from the '40s and one from the '50s, one from New York and one from Michigan. Both appear to be published by magic supply shops and are part fanzine, part catalog.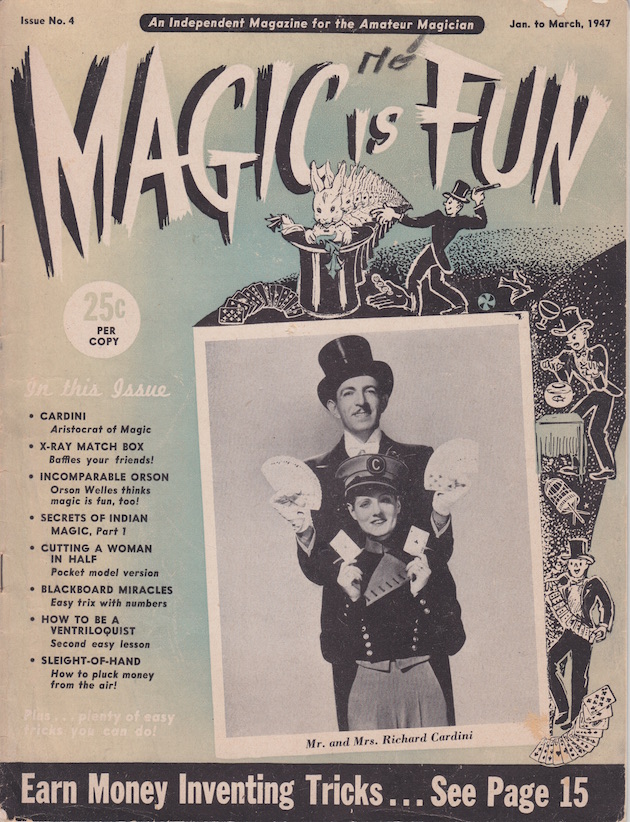 This one was particularly interesting for the inclusion of Orson Welles.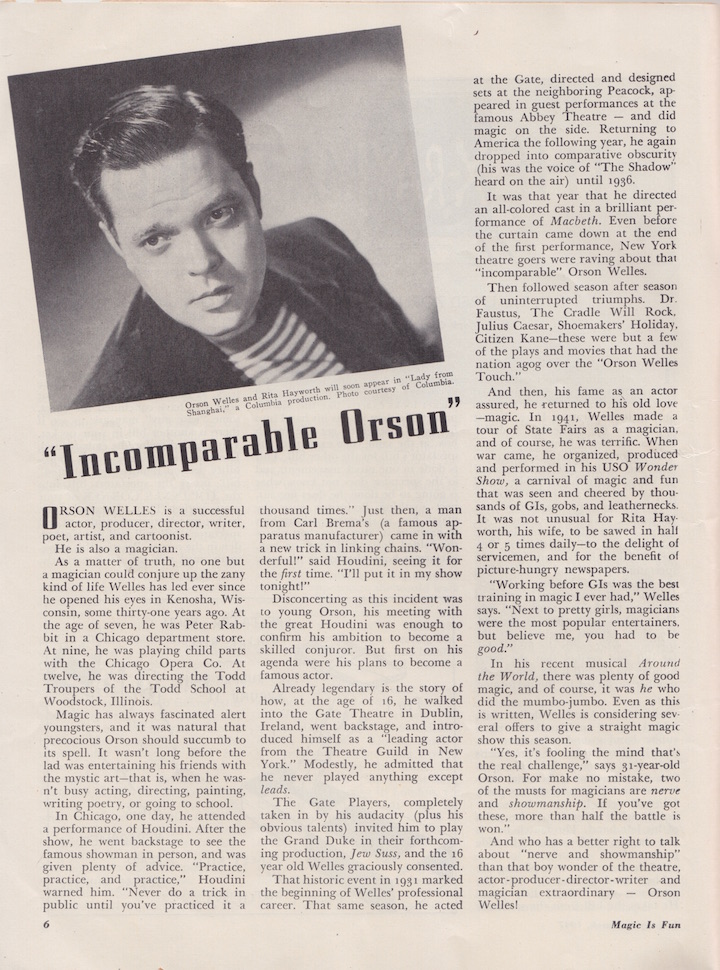 Here's the other one.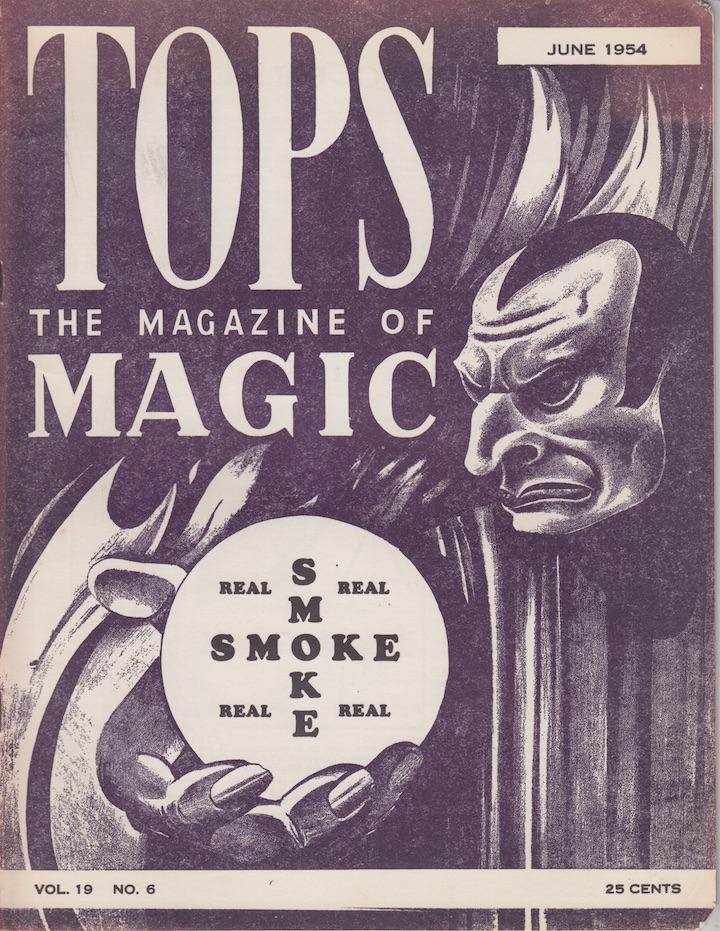 There's more about women in magic in this magazine, referring to them as Magigals and Magiciennes.
---
2017 September 20 • Wednesday
The Brooklyn Antiquarian Book and Print Fair did not go unattended by the Gutbrains Records staff. My associate and I were pleased to go to Greenpoint on such a lovely day. We returned with a few items of interest.
The first is this Swedish magazine from the 1950s. My friend Mikael has some of these but this is my first. I thought the cover was beautiful and the inside is a mixture of fiction, non-fiction, comics, photographs etc.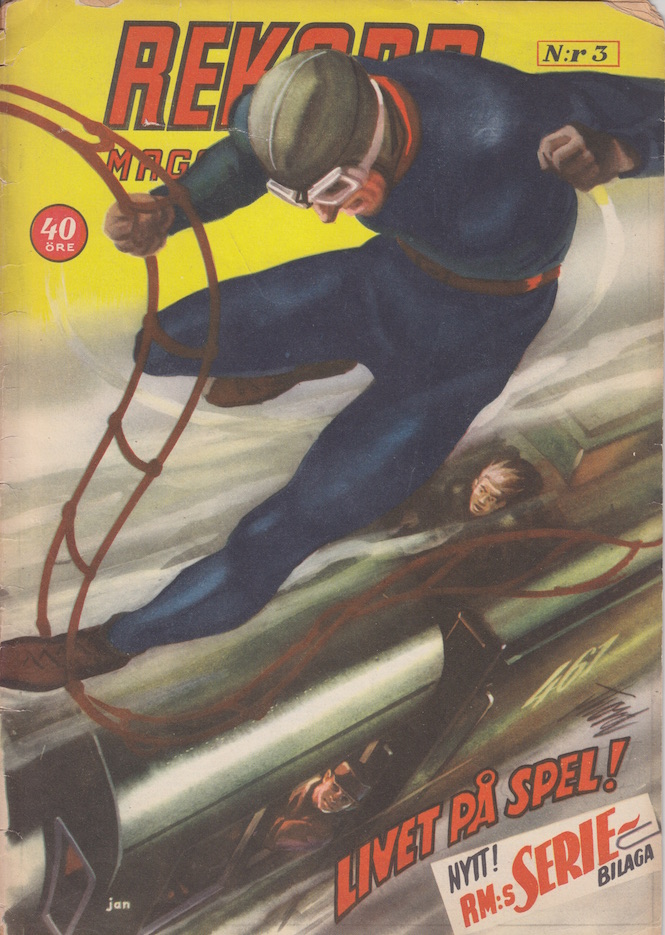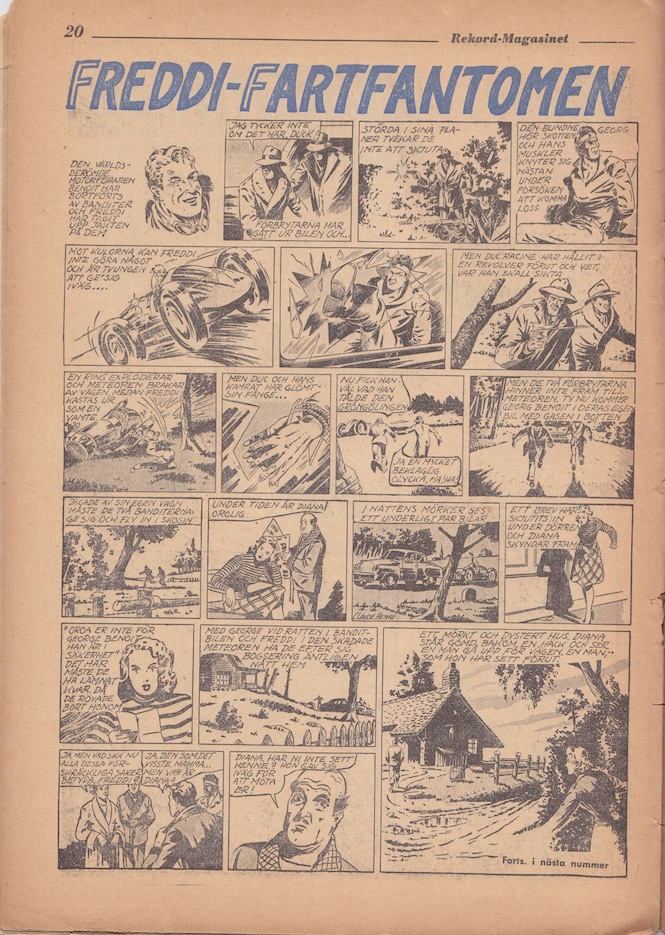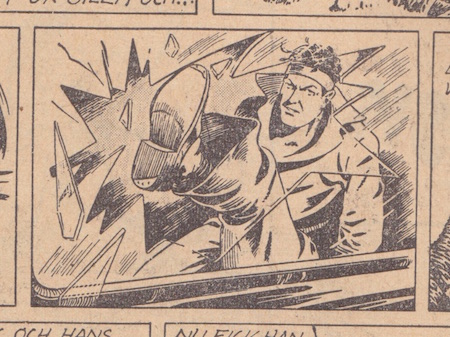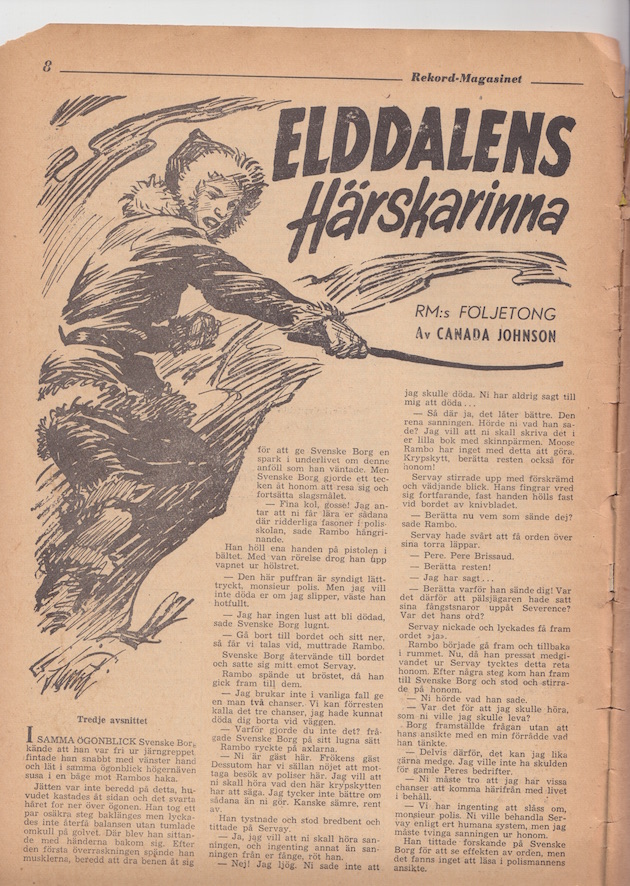 The illustrations are great. I'd like to know more about the artists.
---
2017 September 18 • Monday
Nelson Riddle's music for What a Way To Go! is the 483rd Soundtrack of the Week.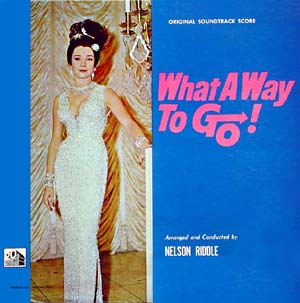 It starts with a briskly swinging main title that might recall his music for The Rogues or his numerous arrangements for Frank Sinatra.
Then the same piece gets a Mancini-ish treatment as "Louis's Theme", complete with wordless chorus and zephyr-like strings and horns.
The same piece is also "Fabulous Penthouse", with a more spacious feel and a short but tasty saxophone solo.
This is followed by "Get Acquainted", a standard-style song with a laidback swing to it, written not by Riddle but by Jule Styne and the film's screenwriters, Betty Comden and Adolph Green. I'd guess this is source music for a romantic late-night scene. The same trio also composed "Happy Houseboat", the last number on Side A, an uptempo jazzy number featuring the flute and trumpet with snappy percussion.
The other tune on the first side is the violin-driven and dramatic "Love in the Garret", the first piece that sounds like cinematic underscore, suggesting a range of feelings and situations, from suspense to mirth.
The B side opens with "Giggling Girls", whose feel and use of vibes recalls Mancini again, though there's something about the horns and drums that mark it as Riddle's. The wordless chorus is back and I could live happily without them. There's also a nice piano solo.
"Blue Flutes" comes next, a slow and relaxed tune that does in fact feature flutes and could be fairly described as bluesy. There's also some nice vibes playing.
After this comes "707 in 3/4 Time", a straight-up waltz, perhaps for a dancing scene.
The main theme then returns with "Accidentally on Purpose", this time in a slower, sadder arrangement.
Slow trills and descending lines distinguish "Chameleon Girl", a gentle and slightly lush piece of underscore that also has a stereotypical and cliché "Asian" section.
After this comes the end title music, unsurprisingly a reprise of our main theme.
The music and arrangements are very enjoyable throughout and I'd love to know the names of the musicisns.
---
2017 September 11 • Monday
Our 482nd Soundtrack of the Week is the wonderfully catchy music from A Hero Ain't Nothin' but a Sandwich. Who wrote it? It doesn't say on the record, rather coyly putting "Various Artists" on the spine (and nowhere else) even though all the music is performed by the Hubert Laws group with some suppplemental musicians and string section. Tom McIntosh plays trombone and also produced, arranged and conducted this session. He's also the only one named on the record label and is credited as composer on imdb so I guess he's the author.
On the first track, "School's Out (Benji's Theme)" Laws's flute sails above a buoyantly funky groove that's almost impossible not to tap to your toes to.

Things slow down and get late night and sensual for "I'm Your Fool (Butler's Theme)", which features some great tenor sax playing by either Plas Johnson or Herman Riley. (Both are on here and I can't swear that it's Plas.) Laws also takes a fine flute solo.

"Tiger's Pad" leads with the vibes playing of either Victor Feldman or Richard Lepore and is a laid back but groovy and smokey jazz lounge number that wouldn't have been out of place (except for sounding a little too ahead of its time stylistically) in the Peter Gunn soundtrack. There's some great guitar playing by Barry Finnerty.

Things get a little more energetic with "Trackin'", which is kind of mixture of funk and jazz with a bebop edge. The tenor sax flexes some muscle here and the rhythm section is right on it, as they are on all these tracks. There's also another great guitar solo.

Side A concludes with the tender and beautiful "Rehabilitation", a hauntingly sweet tune with both melancholy and optimistic strains running through it. Hubert Laws is the main voice here.

The B side opens with the sunny and jazzy "Drop and Pop" which has a bit of gospel in it and features great piano playing from Marc Grey as well as a great vibes solo.

"Somebody Right Now" is a relaxed jazz tune, almost a ballad but not quite. It's quiet and gentle with a lilting rhythm, good for late night dancing, featuring vibes and once again benefiting from the team of Michael Richmond on bass and Victor Lewis on drums.

This is followed by another gentle and easygoing tune, "Something To Feel Good", introduced by more of Barry Finnerty's tasty guitar playing and with sax playing that sounds very much like the one and only Plas Johnson to me. This is another romantic-sounding late-night mood.

After that comes "I Can't Leave You, Sweets", which sounds like a straight continuation of the last piece, same mood, same feel, same key, same everything, Plas still soloing brilliantly.

And then the record comes to an end with a reprise of "I'm Your Fool (Butler's Theme)".

It's a great album and an expanded CD of it would be most welcome.
---
2017 September 08 • Friday
Chris Moore has a new record, Threads, and it's fantastic! Five songs on a 12-inch vinyl circle and meant to be played at 45 rpm. Does this make it an EP?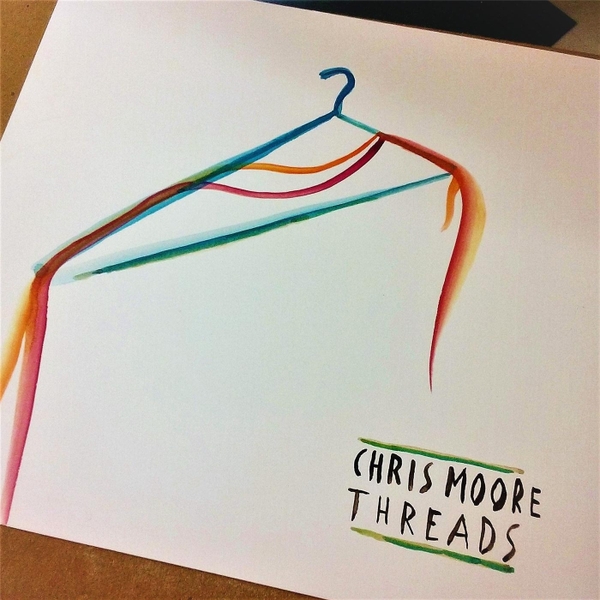 The indefatigable and prodigiously talented Moore, one of my favorite musicians and favorite people, sings and plays guitar, piano, bass and percussion here, assisted by producer and engineer Eric Hoegemeyer who also plays piano, bass and percussion. Trumpeter Dennis Cronin joins them on a couple of tracks.
The action starts gently with "No One Here Wants the Night To End", a song with a delicate beginning, guitar and voice leaving space in their introduction. On the word "tomorrow" other instruments make their voices heard, thickening the atmosphere and ramping up the energy. And then we return to the way things were in the beginning. The song itself has a cycle of day and night quality to it, not a surprise coming from somebody as creative and gifted as Chris Moore. It ends with an unexpected shift into a charging forward feeling.
The other song on the first side is called "Play It Up", which is an uptempo and swaying number that's very much in the Chris Moore style. If you've been listening to his music for a while you'll recognize this musical landscape as the territory that he's been developing for years now. It's a beautiful, earnest and honest expression.
"Relentless" begins the second side, with urgently strummed acoustic guitar, what sounds like just a bass drum and some tasty distorted electric guitar playing providing a back drop for Moore's intense and searing vocals. Keyboards come in at one point to add some lushness to the sonic environment.
Dennis Cronin's horn playing works plays off the acoustic guitar in the beginning of "Change of Costume". "It's a kind of game / Masks covering the pain"' sings Moore, and the metaphor of a costume change comes to life. The minimal percussion and absence of electric instruments gives it a spare and raw quality.
Finally there's "Side Street", a dreamy and hypnotic finger-picked guitar instrumental number, that's haunting, dreamy, soothing and exciting all at the same time.
You should get this. In addition to great music it's great sounding, too. I almost always listen to music on an mp3 player or on my computer and being forced to sit down and listen to an actual vinyl record and use real speakers was a very rewarding experience.
---
2017 September 06 • Wednesday
The movie Bullitt follows the plot of its source novel very closely and even retains many of its characters but the two are different animals.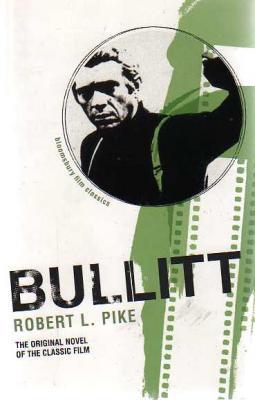 The movie opens with one scene in Chicago before moving to San Francisco. While both Chicago and California are mentioned in the book, and phone calls to the Los Angeles Police Department play a crucial part in the investigation, the novel is a New York story all the way, making the character, atmosphere, people, location, history and voices of the city into an essential part of the foundation of the action.

Names are important. The book was Mute Witness and along with the transformation of the title came the transformation of our hero, from weary, plodding, human Lieutenant Clancy, a product of Hell's Kitchen, a loner who's challenged more by bad coffee and sandwiches while sitting behind his desk than by car chases and gun fights, into famous, handsome, jazz-loving cool cat Frank Bullitt (the equivalent of naming your hero Straight Arrow) complete with gorgeous, happening and loving girlfriend.

Both book and movie are fast-paced and extremely enjoyable. The former is an old-fashioned and perfectly executed police procedural driven by characters, environment, precise writing and a satisfying mystery. The movie is a jaw-dropping exercise in visual style with a wonderful score by Lalo Schifrin and the kind of camerawork and editing that had me asking myself how they managed to pull off so many beautiful shots, movements, changes of focus and framing. The story is made more conventional and of course has more action than the book, most famously the brilliant car chase. The first line of the book is "Lieutenant Clancy of the 52nd Precinct dropped from his taxi in Foley Square and started slowly up the broad marble steps of the Criminal Courts Building".

Also of note is that this first line comes after the chapter header "Friday — 9:10 a.m.", which I think is probably clever, 911 being the emergency phone number and 9:10 a.m. therefore being one minute before 9:11, the author subtly indicating that our story begins on the brink of crisis, the last calm moment Clancy's likely to have before the last page.
---
2017 September 04 • Monday
Jerry Goldsmith came up in conversation the other day and it wasn't much longer before I was listening to this recent CD release of his music for Papillon. One of these days I should watch this classic movie. But for now we'll just make it the 481st Soundtrack of the Week.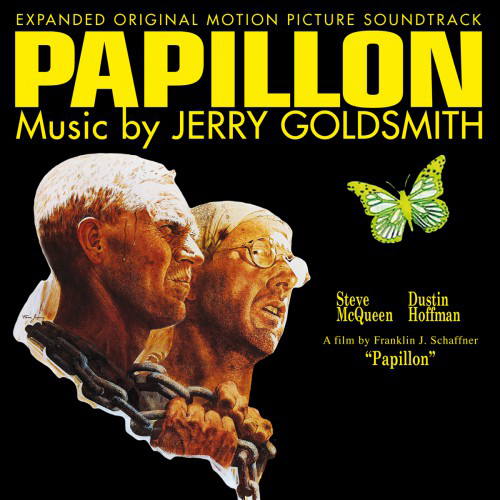 Using a single theme as the foundation for a score is a common and often effective approach. Jerry Goldsmith had a considerable advantage here since he was able to write an incredible number of powerful, lovely and engaging themes.

The Papillon theme clearly signals the French identity of the main character, using accordion as the main voice for a lilting waltz that suggests both uplifting and melancholy moods.

You hear this piece many times throughout the score, at different speeds and in different contexts. Goldsmith's ease with both emotional and more modernistic writing is demonstrated here. He also uses some instruments native to the Caribbean here, as appropriate for the setting of the film. It's a beautiful score, alternatingly haunting and soothing, and this new release from Quartet, which includes source music (arranged by Alexander Courage) and alternate takes, is fantastic.
---