Rob Price
Gutbrain Records
rob + gutbrain.com = email
---
There are so many great spaghetti western scores and the 476th Soundtrack of the Week is one of them: Luis Bacalov's A Man Called Noon.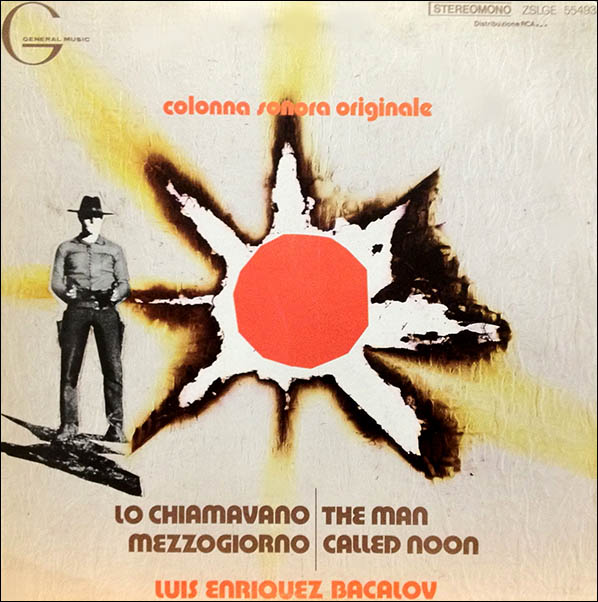 The main theme is very Morricone-like, particualrly reminiscent of Once Upon a Time in the West. Predictably, it's a beautiful piece of music.

The "Prologue" begins quietly with lots of space before building up to a reiteration of the main theme.

"Highlands" is a guitar-driven theme in a minor key with support from flutes. It's also achingly lovely.

Tension, suspense and action are the focus of the aggressively modern "Mr. Rubble Noon", followed by the very pretty and cello-dominated "Quietness".

Tense dramatic underscore returns for "In the Fortress" and "Fire and Guns" as well as "Discovering", which ultimately resolves to a beautiful orchestral section.

There's come clip-cloppy western-type music with harmonica in "Rimes" while "Following the Horse" is surprisingly ethereal.

"Fan" and "Warning" are other wistful and lyrical cues that fit in well with the other recurring themes, "Warning" having an unexpected pastoral sound to it.
---
2017 July 28 • Friday
While the horribilization of almost everything continues, there are many who still take positive actions. Surrounded by behemoths as we are, the diminutive size of the scrappy independent creator's gentle footprint is in itself an asset, a definite charm. David Grollman's five-minute tape series is one such example. Another is the mini-comic. Like the audio cassette it should be an obsolete format but, like the audio cassette, it never went away and probably never will. Since the mini-comic is an ephemeral artifact and comes in a dizzying variety of shapes, sizes and prices, whose content can be pretty much anything, it's best encountered in real life. That's almost the only reason I go into a comic book shop these days. Or into a shop like Quimby's in Chicago, which is more than a comic book shop. The last time I was there I picked up the fifteenth publication from Big Ugly Robot, described on its website as "An indie comics label based out of Nagoya, Japan, producing new comic books every month from creators living in Japan".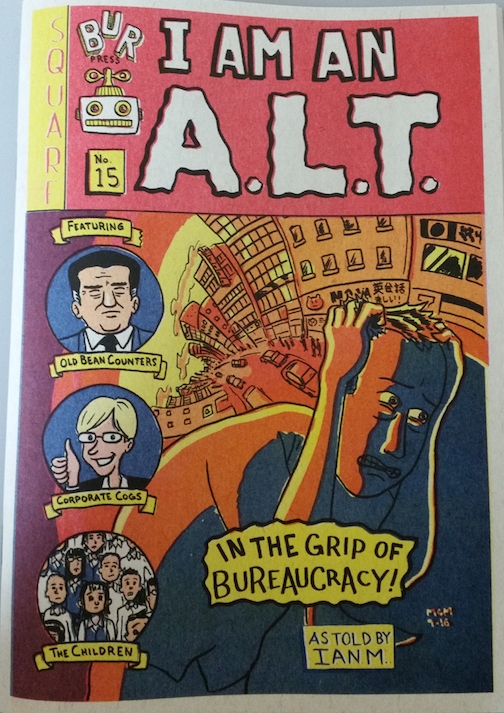 Square #15, as this seems to be called, is about the travails of an English language instructor living in Japan. Unlike many such, he's married and has a child and owns a house, so when his ability to work is threatened by the careless and apparently corrupt manipulations of various bureaucracies, he can't just shuffle off to some other town or city.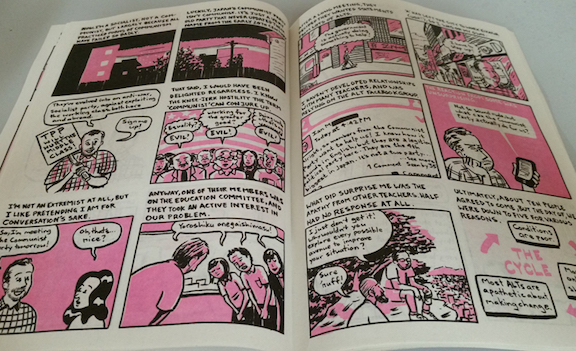 The book is very well dawn, the writing, illustration and composition, and the story it tells is frustrating and important. Countless millions, perhaps billions, perhaps all of us, are riding the waves of a turbulent ocean of corporate behavior that's bad for us and good for the company (in theory, in the short run).
It's an up-to-date tale that I hope gets additional installments.
---
2017 July 24 • Monday
For our 475th Soundtrack of the Week we're listening to the score for a film that's based on a song. Since it isn't Convoy it must be Ode to Billie Joe, based on Bobbie Gentry's hit pop ballad and with music by Michel Legrand.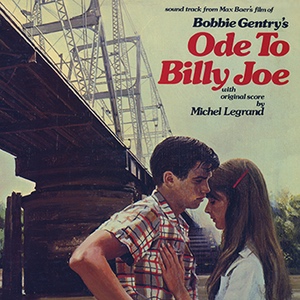 The first track on the CD is the title song, which is still powerful and compelling and mysterious after all these years and the dozens of times I've heard it.

I'm pretty sure I'd hate to see the movie. I don't know anything about it, even whether it's supposed ot be good, but the last thing I want is to be told what really happened on Choctaw Ridge.

Legrand wrote extremely romantic music for the film, driving the plantive melodies with expressive piano playing surrounded by lush string arrangements with flute sometimes answering the piano's call.

Most of the cues make use of one achingly longing theme, which occasionally recalls "As Time Goes By", one of Hollywood's most memorable and effective love songs.

Also on the record are some other numbers, presumably source music: Thurman Box's uptempo bluegrass number "Magnolia Turn-Around", Hoyt Ming's fiddle rendition of "Rattle Snake Daddy", Morgan Gilmer's "Standing Pine Breakdown", "Memphis Thelma" by Sherrill Parks and an instrumental version of the title song.
---
2017 July 17 • Monday
The 474th Soundtrack of the Week isn't much to get excited about. Hit Movie Themes Go Latin by Orchestra Del Oro (Juan Del Oro, conductor) sounds like a good idea but it doesn't deliver much.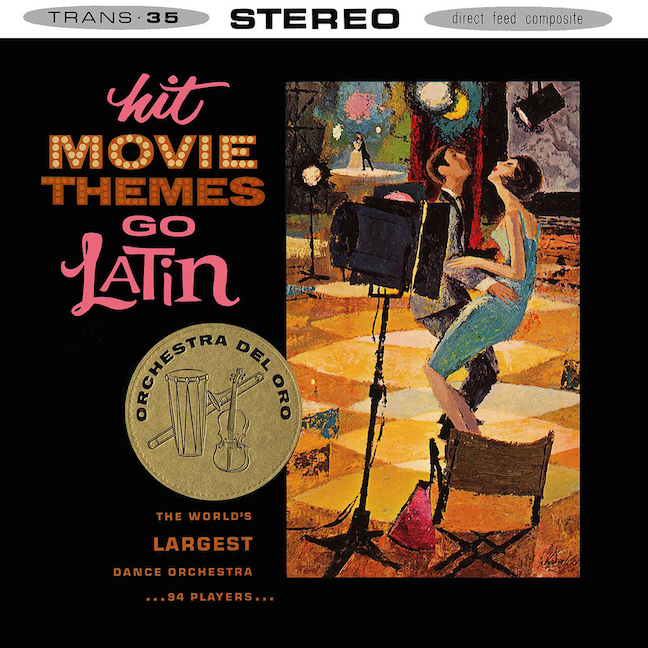 It's a collection of Academy Award-winning songs and themes, from Gone with the Wind to High Noon, Gigi to Exodus, arranged in a tepid easy-listening style with lots of strings while Latin percussion provides the platform for the melody.

The curious thing about this record, which I bought last month for $2.99 at In Your Ear in Harvard Square, is that it only has ten songs on it, as opposed to the twelve you'll find if you search for it online.

No "Moonglow" or "Third Man Theme" on here, but also no "Ruby" or "Song from Moulin Rouge". Which means four missing songs not two, but the difference is still between ten songs and twelve.

And the reason for that is that this pressing, which also has some typesetting pronlems, has "Prince Igor" and "And the Meek", both apparently missing from the other LP.

A mystery! But a mystery worth solving? For now I'm saving it for a rainy day.
---
2017 July 14 • Friday
These days I live in Chicago and New York, dividing my time almost equally between the two cities. Reymundo Sanchez's autobiographical My Bloody Life is a terrifying portrait of a neighborhood which is now one of the hottest gentrification zones in Chicao. Back in the 1970s (and even about ten years ago) it was a very different story.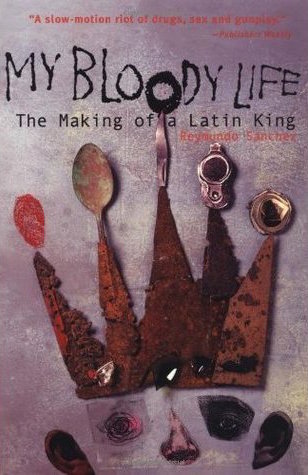 The front cover blurb from Publishers Weekly proclaims it to be "a slow-motion riot of drugs, sex and gunplay", and the popularity and vicarious thrills of gangster movies and books might cause you to interpret this as an invitation to an amusement park.
But while this is a true story of the author's childhood and teenage years, with his initiation into the Latin Kings being the center of the story, this is a work of horror.
In real life, there's no glamor or excitement in the life of street gangs, only fear and abuse, violence and addiction. The first thing that happens in this book is that Sanchez, aged five, is raped by an older cousin.
This is just the beginning of a young life of pain and terror, as young people everywhere are abandoned if not outright tortured by the families and institutions alike and lose themselves to gangs that appear to provide the only place to belong and be protected.
The author makes clear that that belonging and protection are flimsy and arbitrary enough to be an illusion. He has literally nothing good to say about this life and he tells his story not to entertain but to warn his readers.
The neighborhood in question is the Logan Square/Humboldt Park area and many of the locations described are still recognizable. You can stand on corners where people were killed and think about who they were and the senselessness of their deaths. My Bloody Life begins like this: "Puerto Rico, 1963. I was born in the back of a 1957 Chevy on the way to the hospital. I may have been born where I was conceived. Considering that my mother went into labor while sitting in the outhouse, being born in a car was not so bad."
---
2017 July 10 • Monday
Roy Budd is the primary composer of our 473rd Soundtrack of the Week, The Final Option. A few cues, mostly source music, were created by Jerry and Marc Donahue.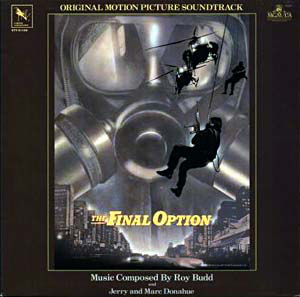 The first track, "Who Dares Wins", combines a menacing, slinky and pulsating bass line with Shaft-inspired wah-wah guitar and floating melody plus piano soloing. It's Budd's Get Carter formula, but with different textures and colors.
"Welsh Mountains" consists of a few synth layers and is atmospheric and suspenseful, reminiscent of some of Jan Hammer, say, as well as other 1980s synth soundtrack scores.
The flute is the main voice in "Jenny's Theme", which is a tender love ballad, melodically perhaps a distant cousin to some of John Barry's romantic cues.
"SAS or Nothing" is another statement of "Who Dares Wins" but with more space and a slow burn intro.
The weirdest cue on here is definitely "American Medley", a dissonant synth-dominated scramble of famous songs like "Yankee Doodle", "Dixie" and "America the Beautiful".
There are a couple of jazz ensemble tunes on the record, of which the first is "Blues for the Best". It's a standard blues with upright bass over-amplified or recorded too hot but with the refreshing presence of a banjo in the group. "Straight Ahead Blues" is much more uptempo but has the same unfortunate bass sound.
Another theme that pops up more than once is "A Smile You Can Resist", which is played on piano solo for the first minute before strings and harp (or maybe guitar) come in. It has a melancholy quality that reminded me of Joe Harnell's theme from the TV show The Incredible Hulk.
"Right on Time" is an exciting action-pop 1980s song, similar to a Pretenders song in some ways. There are some unexpected touches, like a flute flourish that comes out of nowhere, for instance, and an unexpected key and meter change near the end. "It's only life, after all / So burn it up and have a ball."
The two-part "Hi-Jack" cue is sustained minimalist tension that slowly increases its suspenseful mood and adds different textures and instruments. One of the electric keyboards is playing an odd percussive part through most of it, like a steel drum solo. "Jenny's Theme" is quoted at one point.
The main theme ("Who Dares Wins") is given a couple of very different arrangements in "Catch or Be Caught", mostly brighter and sprightlier. It comes back in a more familiar setting in "Nature of the Beast".
Finally there's "Reds Under the Beds", a recapitulation of "A Smile You Can Resist" that ultimately ends up concluding the record with "O Tannenbaum".
---
2017 July 05 • Wednesday
Writer and artist Joe Decie has a new book out, Collecting Sticks.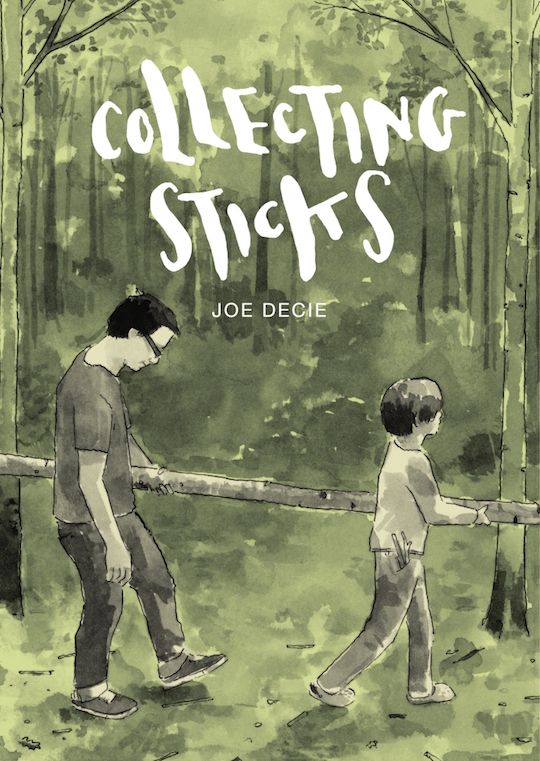 This is, I think, his first hard cover book and the first to tell one narrative story as opposed to being a collection of comic strips.
The story, loosely told and occasionally departing from strict autobiography for the sake of narrative virtue, is about Decie's experiment with "glamping", which is supposed to be "glamorous camping".
It's not especially glamorous to my eyes, though. Instead of pitching a tent, you rent a cabin. And that's about it.
But the situation is ideal for Decie, who is a quiet and gentle but ironical observer of his environment and himself.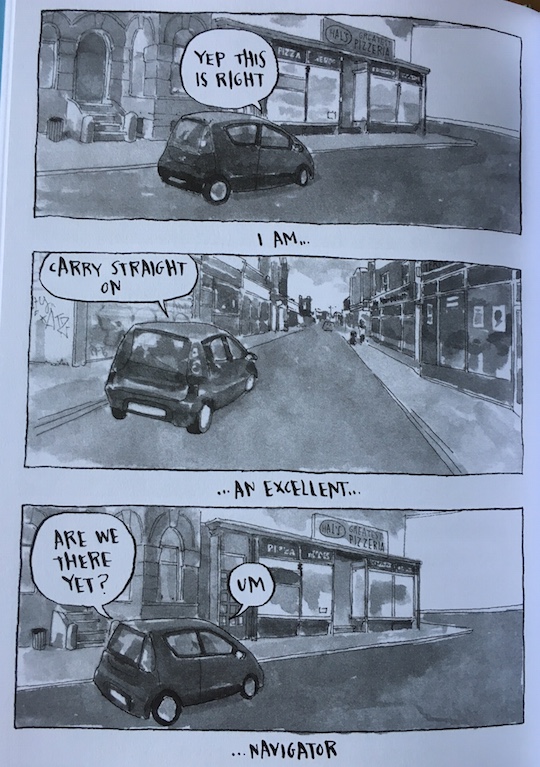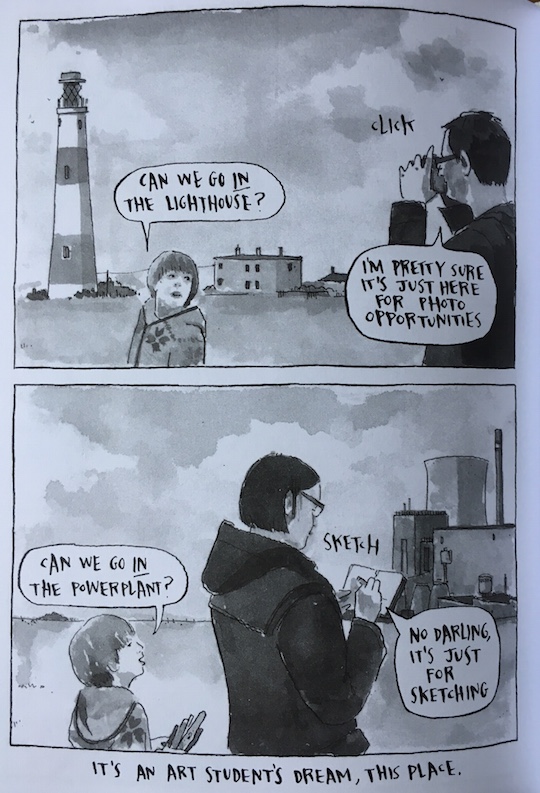 It's a tale almost completely lacking in sound and fury yet might also signify nothing. What is there to signify, though, and what could does signifying do? Decie seems to be the least judgmental and controlling of creators and this deft touch of his is one of the most alluring and enjoyable elements of his work.
---
2017 July 03 • Monday
The 472nd Soundtrack of the Week is, I think, the third score we've listened to from the great Mario Migliardi. This one is for a movie called or Prega il morto e ammazza il vivo.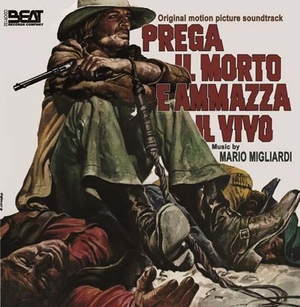 As is often the case, there are a few themes that get repeated with different arrangements and in between there are more atmospheric and/or dramatic cues.
There's something special about Migliardi's music, though. It goes to different places and reveals an unusually broad frame of reference, equally comfortable with blasting acid rock and contemporary classical music.
The main theme is "Who Is That Man?", initially presented as a song with English-language lyrics. It's a bluesy, late-night sort of torch song with organ creating sonic clouds and harmonica and whistling wrapping around each other.
Later we hear it as a solo Hammond organ piece, then in an arrangement similar to the song version but without the singer or the whistler.
The other song is "I'm Not Your Pony", a jazz waltz with a breezy, easy listening yet minimalist arrangement. There's an instrumental version with the singer replaced by harmonica.
"Sequence 2" is a great example of building tension as Migliardi weaves together percussion, piano and some kind of electronic keyboard.
"Sequence 3" is a weird, hallucinatory track that uses choppy strings and what sounds like manipulated recordings of bird calls.
"Sequence 4" is recognizable as a blend of modern and aggravated chamber music, mixed with bass and drums and percussion, reiterating the "Sequence 2" statement.
"Sequence 5" has a fever dream quality to it, with certain repetitive figures fading in and out, before switching gears to a slow, dark, heavy section.
"Sequence 6" continues to surprise, with all sorts of sounds bubbling up, from inside of the piano and what might be tape manipulation and keening dissonant tones.
"Sequence 7" starts much the same way before becoming a violin or viola solo, which in turn gives way to distorted, echoed and manipulated recordings of laughter.
And that's about the range of cues on this intense and fascinating record. Migliardi is responsible for some of the most interesting, unusual and enjoyable film music I've ever heard.
---