Rob Price
Gutbrain Records
rob + gutbrain.com = email
---
Our 471st Soundtrack of the Week is another by the genius composer Toru Takemitsu. This one is his score for The Car Thief or Car Thieves. (It can be translated both ways.)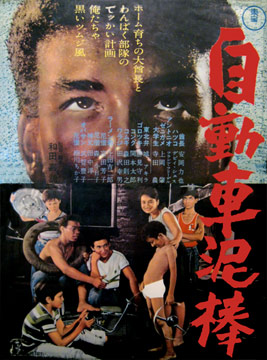 The first sound you hear is a human voice crying out. Then there's a haunting melody that's whistled by one person alone.
After this comes the main theme, a somewhat jaunty piece in 6/8 with some melancholy threads running through it. Harmonica and accordion are part of the ensemble and there's an Afro-Cuban influence.
African music is the strong theme of the next cue, which is just percussion and voice and sounds like it actually was recorded in Africa. It's short and cuts off abruptly so maybe this is a snippet from an album of African music.
The next cue is pure Takemitsu in his own particular avantgarde and unsettling atmospheric mode, 19 seconds of delicately constructed and sustained sound, using piano and electronic manipulation, it sounds like.
Then there's another short blast, ten seconds of skittering rhythm and, unexpectedly, a flourish of big band jazz. All in ten seconds!
Then we're back to the main theme for the next couple of tracks, with flute as the main voice in the first one and marimba in the second.
Then there's a weird track that sounds like Takemitsu is electronically manipulating a recording of an African percussion and flute ensemble.
Then we have an expanded version of that ten-second skittery rhythm and big band jazz track, followed by another iteration of the main theme, this time with electric guitar having a greater role to play.
Another short and distorted sting of a cue follows that and is in turn followed by what sounds like a warped mutation of west coast jazz.
The main theme is played a few more times in similar arrangements, with different instruments in the spotlight.
There's a very lyrical cue with harmonica set against a high-pitched drone that becomes something of a harmonic shadow, with gently strummed guitars urging the music forward.
And just in case there wasn't enough variety, a Spanish-sounding piece with castanets comes next, only to be wrenched aside by a dissonant sonic stab.
After this comes a very odd and creepy atmospheric cue, percussion and echoes.
Finally there's more African music and one more round of the main theme.
---
2017 June 19 • Monday
The temperature was around 100ºF a few days ago so let's go surfing with the 470th Soundtrack of the Week, music by The Sunsets for an Australian surfing movie called The Hot Generation.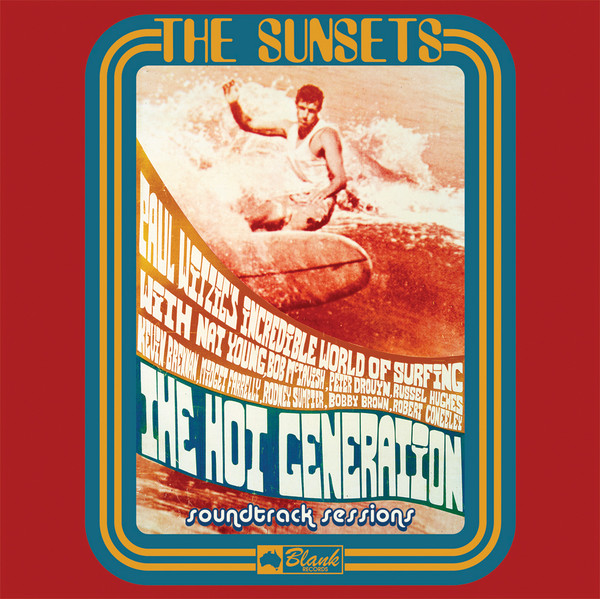 The main title is one of several vocal numbers, this one distinguished by a bass line that's a slightly modified Peter Gunn riff sped way up. There's a nice organ sound in here, Farfisa or Continental, I think, and lots of words that rhyme with "generation" as well as periodic reminders that they gave their hearts to the sea.
"This Is What It's All About" is another high energy rock song with a boogie-ish feel to it. This is followed by the garagey "Animal", which has a nice guitar solo in it. The director of the film thought that the use of "Animal" in the film was an important part of the development of Australian surf culture.
"Uptight, Out of Sight" starts with the band jamming on a couple of chords and after a bass break the singer comes in passionately calling out the title. Mostly it's a feature for some guitar vamping, though.
Then we get a couple of instrumental tunes, which are mostly the reason I buy records like this.
"Theme from a Life in the Sun" is wonderully atmospheric, recalling some of The Ventures' late night-sounding, lonely street, slow dance numbers.
After this comes the peppy and guitar-driven "Windandsea", which benefits from the nice tone of the guitar and more or less swiping Chuck Berry's "Memphis" riff.
And that's the first side of this record, which apparently collects single versions of these pieces of music. On the B side we have soundtrack versions of the vocal numbers, presumably the recordings that are heard in the movie as opposed to re-recordings.
They aren't really that different. Maybe some sections are extended but I'm not sure and I'm too lazy to investigate more closely.
---
2017 June 12 • Monday
It's been too long since we listened to Henry Mancini around here. So let's make his score for Two for the Road the 469th Soundtrack of the Week.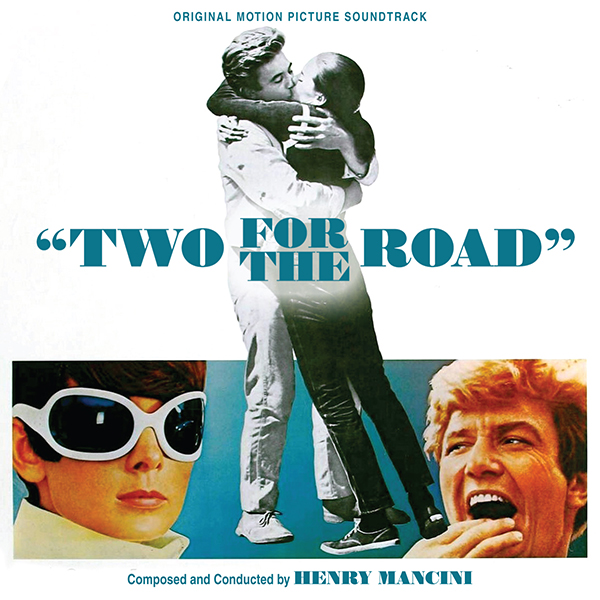 The main title theme, which dominates the score, is a classic Mancini piece, a velvety melody with a subtly shifting harmonic movement, a delicate bossa beat and assured deployment of the orchestra as instrument, with strings and accordion flexing the most muscles. It's a dreamy, loungey tune, and the huge success of "Moon River" was probably on everybody's mind as Mancini was again placed in charge of creating the musical identity of an Audrey Hepburn movie.
Another recurring theme is the music first heard in "Chicken Pox", which is sort of comic calliope music with a melancholy undertone.
One of the most powerfully atmospheric and bewitching pieces of music ever crafted is Mancini's "The Slow, Hot Wind". Written for the television show Mr. Lucky, it's been used in at least two other films I've seen. The opening of "Something for Audrey" briefly recalls this composition before sliding into a soft, late-night jazz mood version of the main theme.
Other cues that stand out include the pensive and suspenseful "Early Tea" (which ends up recapitulating the main theme) and "The Chaser", a jazz tune which starts menacing but quickly goes to a light, bouncy place.
Then there's "The Lovely Life", a stereotypically "Parisian" piece, a feature for the accordion.
---
2017 June 05 • Monday
The 468th Soundtrack of the Week is Basil Poledouris's score for a post-apocalyptic sci-fi/action movie that takes place in the futuristic world of, uh, 2017. Hmmm. The film in question is called Cherry 2000.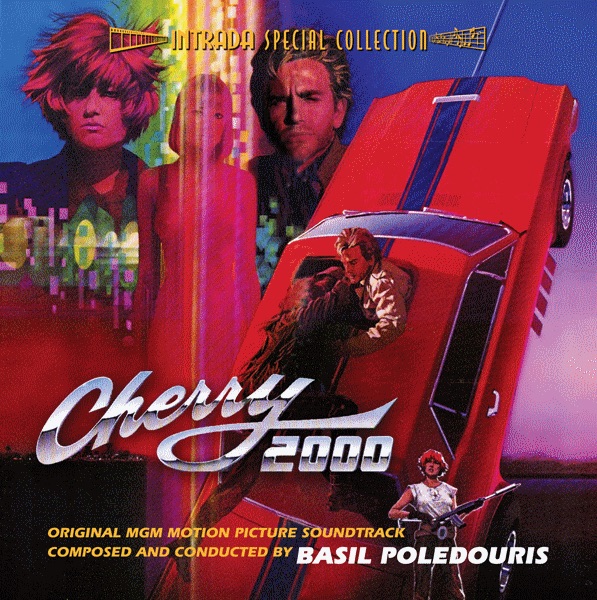 The overall feel of the music is soaring, flying above. Perhaps this explains why the music for a hot air balloon video game called Rogue Sky sounds so very, very similar to this music....
The main title theme is heard many timed throughout, on flute and strings, and is a lovely composition, sustaining tones and shifting harmonies, including some subtle dissonances in places.
And Poledouris uses the harp wonderfully in many of the cues.
Another recurring theme involves the brass and might remind you of some of Morricone's heroic music, such as the cues from the climax of The Good, The Bad and The Ugly.
"Photo Grab" is where you're most likely to be thinking of the music from Rogue Sky, though you'll hear this motif again also.
There's what sounds like a love theme in "Jake's Jukebox" and some other cues that reminded me of James Horner, especially his Star Trek music.
It's a great score, orchestral with a side of synth, lyrical and lofty, one of my favorites from this composer.
---
2017 June 02 • Friday
John Christopher's The Death of Grass was a haunting descent into terror as society breaks down and reverts to a kind of organized barbarism. This also describes his novel Pendulum.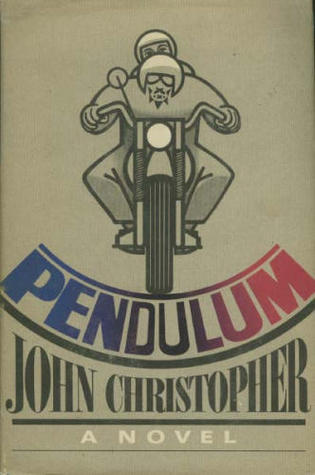 In this one, England regresses into a feudal society ruled by motorcycle gangs. It's caused by a snowball effect involving the actions of student protesters, unions and politicians.
A nice irony is that once the action is underway, the book is divided into parts that are prefaced by a newspaper article from the Times of London. In each part, a different government or power is in charge and the Times effortlessly speaks fluently for its varied political masters, changing easily to accomodate wildly opposing realities without losing its place on the perch.
One thing that doesn't quite work is the lack of a reaction from other countries. The United States helps people not to starve by sending them fish protein ("Frotein") but it seems like England has no trade partners, no alliances. Wouldn't NATO or the UN get involved?
But this is a work of speculative fiction as well as a series of character studies. It follows the grown members of one particular family. The father is a successful businessman who survives the first crash by becoming a junk merchant, going around on a horse looking for things to buy and sell.
Eventually his family is targeted by a particular motorcycle gang that he had clashed with before everything went to hell. They move in and take over.
Meanwhile his brother-in-law is forced by another gang to take LSD and ends up being swept away by his religious beliefs, which were always an escape but end up becoming something much bigger.
Pendulum approaches horror, mostly because of incidents of brutal violence and sadism that inevitably occur. A few scenes in particular were really hard to take, which says something about Christopher's unflinching and understated writing style.
And then there's the end of the book. It's somewhat ambiguous. I couldn't tell if there were hope or not, whether the final line was rational or delusional. It's genuinely unsettling.
The first line is "They drove back from Pallister through the dusk of a fine June day".
---